The Razer Kraken headset for the Xbox One is a comfortable headset with great sound quality. You could use more expensive headsets, pay twice as much, and get the same results as the straightforward Kraken.
The Xbox One version is available in black with some green highlights, like the 3.5in audio jack cord. That is quite the green on there. It makes the cord stand out and I for one, am glad the Xbox One variant does not come in this green. I was happy to have the basic black for use with my Xbox One. There is nice soft foam padding on each ear up that didn't cause too much sweat with long periods of wear. To keep your head comfortable they have some slight padding on the headband too. The mic can be adjusted up or down and hold its position with ease, and has a bendable arm. The Kraken is a comfortable headset overall, and sat securely on my head. It wasn't too loose or too tight which I've experienced with other headsets before, which cause me just not wear those things. Admittedly after prolonged use of the Kraken I did have to take it off because it was starting to become uncomfortable, and I believe it may be still just a nudge too tight around my fat head.
The headset has no real bells and whistles other than Razer touting the 40mm neodymium magnet drivers which do produce a clear sound. I played some Battlefield Hardline with them on and the bass wasn't overbearing with the sound of gunshots, and you could hear dialogue just fine over the other sounds too. During voice chat with Microsoft's upgraded Xbox One voice chat system, it sounded like the person was right there next to me.
What makes this an Xbox One headset though, is the stereo adapter that plugs underneath your Xbox One controller. The adapter has your standard mute button with 4 additional buttons for on-the-fly adjustments. The left side buttons are used to adjust the audio mix of chat vs game audio. I found this to be a really nice feature to suit my taste of a louder chat in multiplayer with a softer chat if I was trying to listen to the game; by default the audio mix is set to 50 / 50. The right side is your overall volume up and down, which will do as advertised and make the volume go up and down. Like I mentioned earlier though, what makes this an Xbox One headset is that stereo adapter, remove the adapter and you have yourself a standard 3.5m audio jack that will fit in just about anything, even a Playstation 4 controller. Over on that side of the gaming pond, the headset works just as eloquently, just wish I could control the audio mix like I could on the Xbox One. I may have also plugged it into my iPhone and used it there and it may have worked fine as expected. (I'm just saying)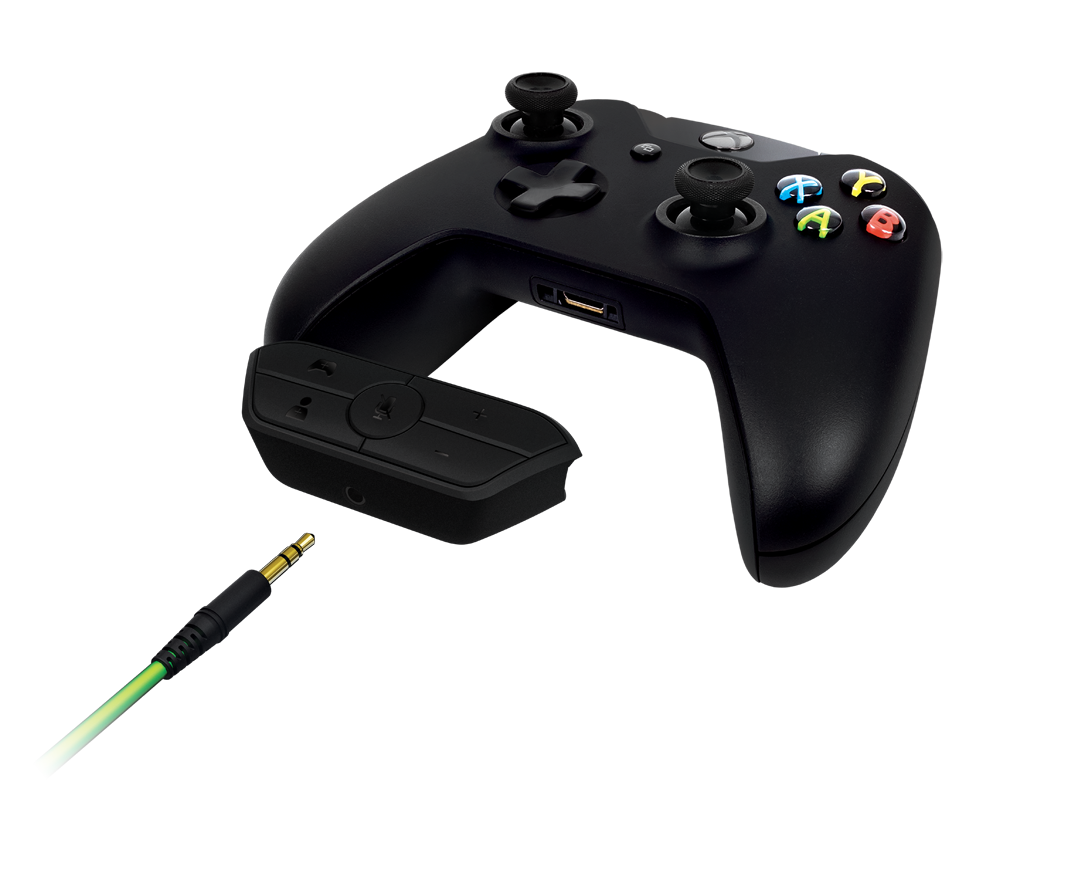 The box comes with the headset and stereo adapter of course but has included an extension cable for the PC that splits into two 3.5m jacks for audio and microphone. There's a USB cable also included to be used for updating the headset (or charge your gaming console of choice's controller as it's a standard micro-USB plug.)
The Razer Kraken isn't as fancy as some other gaming headsets out there, it doesn't have wireless or surround sound, but it is comfortable, clear, and simple. You can use this headset for a variety of different devices which makes the price tag better knowing it's multi-purpose, but without added features like surround sound, I feel the price could reflect that a little better.
This headset was provided by Razer for review purposes