The RTS genre is going through a bit of a renaissance, and as of late it has been helmed by Petroglyph. This is a talented group of developers who aim to return RTS' to their former glory. When Petroglyph makes a game, you pay attention because of their pedigree as a developer and the employees who have been involved in the creation of the classic Command & Conquer games. 8-Bit Armies is a reincarnation of that ethos, and is a solid entry only held back by budgets.
8-Bit Armies is very much a simple, back to basics approach to real-time strategy games. It has all the pre-requisite modes you need or want: campaign, co-op campaign, skirmish, and multiplayer. Unfortunately all of the maps repeat across each of the modes. The campaign itself runs 25-missions long, each mission with 3 star missions, beginner does not get rewards. Normal and above have the ability to unlock more units and to forward progression and vary your tactics. The missions structure is also basic, but is at least varied by asking you to destroy all the motor pools on a map, or by completely destroying the enemy base, or simply surviving 15-minutes with bonuses for destroying the enemy HQ.
The game has a striking look. Despite its name, it is not a game from only 8-bits, but rather voxels. There are similarities of a game like this visually, but it works really well. Units are easy to see, and cities are well designed and detailed when trampling your units through it. The pixel art menus are crisp and clear to understand and fit into the aesthetic of the rest of the game.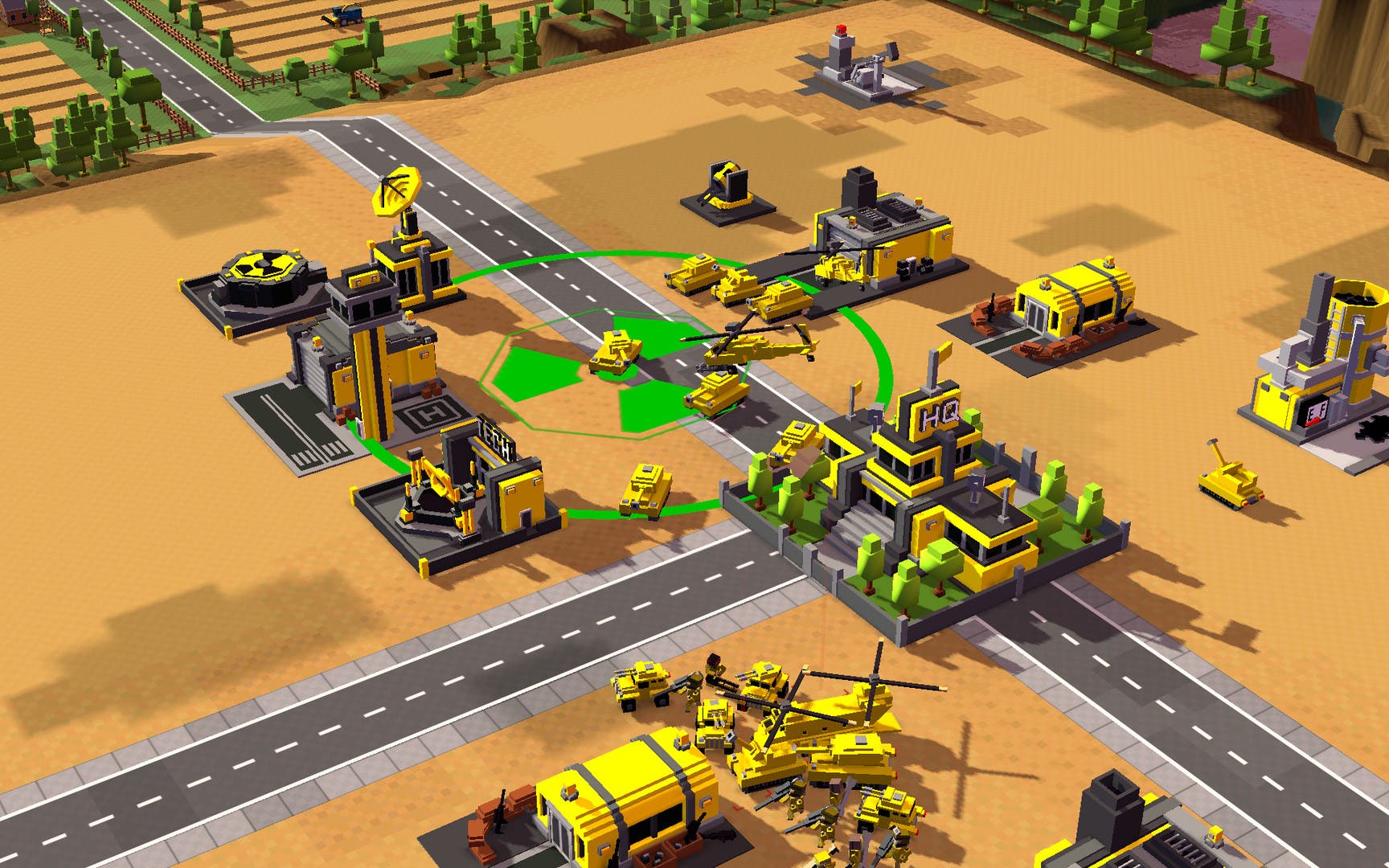 There's one thought that permeates my time in playing 8-Bit Armies: speed. It's all about speed, pumping out units as fast as possible, amassing them in great quantities, and dispatching them to the enemy HQ with great prejudice. The standard flow of a game is to build a refinery, barracks, motor pool, and then possibly some air stations for aerial units. Then you might want to build some turret defenses, gun and rocket to help keep your base safe and automated. But of course, everything takes power, so you have to build more power plants to sustain what you're pumping out. This all comes so naturally that it feels good to get into a game and just know what you need to do to get started. 8-Bit Armies has simplicity that cannot be understated.
Progressing through the game to unlock more units and build types, when the game allows you to, missiles and nukes can completely change the tide of battle. It offers the type of satisfaction that you're always looking for in an RTS, but rarely ever get to use it. The same goes with the ability to endlessly pump out infantry, land and air units with no impunity. There's no capacity to what you can manufacture, and being able to amass your units and wreck all over a map is so gratifying.
There's only one faction to play as, but makes for some even playing ground when playing online. Though, I often found myself getting stomped regularly as there were other players who had higher APM (actions per minute) than I did, and was able to conjure things almost out of thin air faster than I could blink. But then when playing teams, it was fun coordinating and getting victories over others. Oddly though, the multiplayer is a bit buggy, menus don't always respond to commands or clicks. And sadly, this is woefully underplayed, there just aren't enough players on a regular basis.
8-Bit Armies is quiet, save for the music of the famed Command & Conquer composers, Frank Klepacki. His music is rockin', like you'd expect, but with some 8-bit chiptune sounds mixed in. 8-Bit Armies does have sound effects, but there aren't many voiceovers except when starting the game, a female computer voice says "Welcome back, Commander". I will say, I do enjoy being able to select units multiple times and give many orders without repeating dialogue, because there is none. It works, but doesn't quite have a feeling all its own.
8-Bit Armies is a bit lacking in personality, but perhaps that personality might be coming soon with the teaser image after clicking a wizard on the main menu. If you're looking for that classic gameplay but with a bit more depth, the developer's own Grey Goo will scratch that itch. As it stands, 8-Bit Armies delivers that classic gameplay with that Command & Conquer nostalgia in uncomplicated fashion.
A Steam code was provided by the publisher for review purposes.