Nintendo 2DS gets a permanent price drop to $79.99 starting today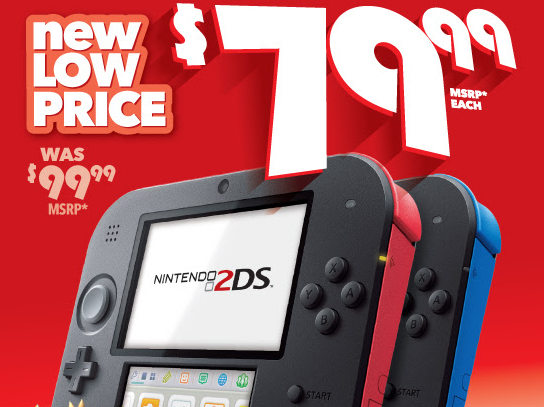 As of this morning, the Nintendo 2DS portable system is now only $79.99 at retailers nationwide. This is a better value than ever, especially for parents looking to introduce their  kids to their first gaming device. Some systems will even come pre-installed with the popular Mario Kart 7 racing game.
Nintendo 2DS is great for gaming on the go and a nice companion for families during summer travel. It comes with fun, built-in entertainment options, the ability to take photos and videos and wireless access toNintendo eShop to explore a large library of games for all types of players. The system includes two screens (including a touch screen) and plays Nintendo 3DS games, plus nearly all Nintendo DS and Nintendo DSi games in 2D.
A quality hand-held system from Nintendo, Mario Kart 7 and the ability to play thousands of different games on one device for only $79.99? It really doesn't get any better than that!
For more details about Nintendo 2DS, visit: http://www.nintendo.com/2ds.