VAVA Mechanical Gaming Keyboard comes out of seemingly nowhere to provide a surprising and welcome entry in the mechanical keyboard market. It's price is mid-range for its modest offering that gives you everything you want, and nothing of what you don't. VAVA may not have been a company you've heard of before, but might be one you want to pay attention to, if the Mechanical Gaming Keyboard is any indicator to their solid offerings.
VAVA is a relatively new company that has expanded to peripherals with the release of the VAVA Mechanical Gaming Keyboard and VAVA Chroma Gaming Mouse. I'm not one to care much about any products packaging as some sort of barometer for the quality of the company, but the box that this came in has a really nice presentation and makes a great first impression. From the braided USB to the overall design, simplicity is its strength and defining characteristics inside and out. Out of the box you get an 18-month warranty, and an additional 12-months when you register the product online. It's such a simple and almost instinctive thing to do, that getting 30 months of warranty coverage is a no brainer. VAVA is confident in their product, and so am I.
The VAVA Mechanical Gaming Keyboard has the standard features you'd expect: anti-ghosting, RGB, and to be ergonomic. What may not be standard is the fact that this has a non-fading coating to prevent the usual fade of a key over time due to rubbing and oils that naturally come off your fingers. While I couldn't test it to be sure, it certainly feels resilient to the types of things that would cause it to occur. The matte is great, so no fingerprints or smudging is ever visible.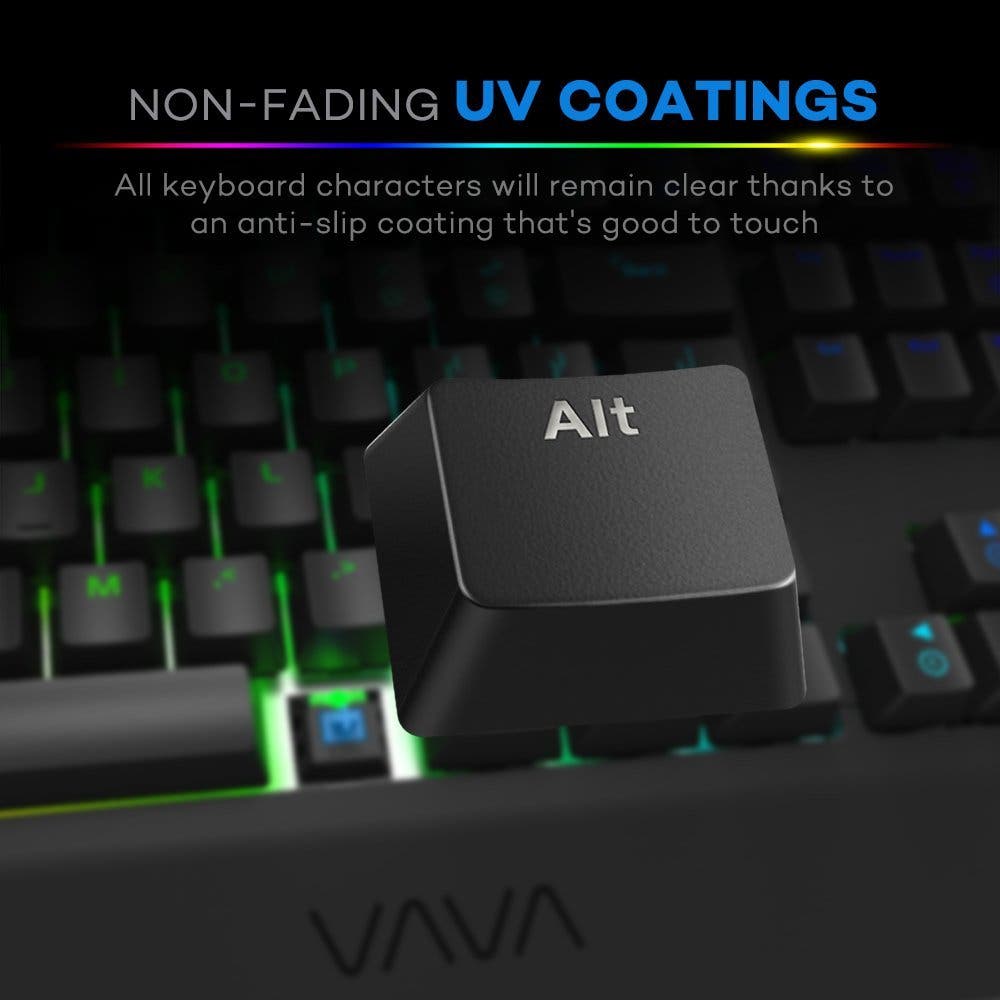 After plugging in the keyboard and letting Windows install the drivers, the RGB lighting was bright, clear, and had a crispness to the colors. What surprised me afterward was that I was not required to install a software package that was several hundred megabytes in size to control every aspect of it. Anything you want to do with the keyboard in terms of lighting can be done through hotkeys and its liberal and necessary use of the "Fn" key. There's presets like wave, snake, pulse, fade starlight, and straight colors. But you can also customize five options for the lighting of your choice, to set something like FPS, MOBA, and RTS keys to be the only ones lit up.
While this is VAVA's keyboard, I didn't find anything they really need to learn from. The construction, design, and presentation is slick. Under the hood, so to speak is the Kailh blue switches, which are the same ones used Razer's BlackWidow line. While many favor the Cherry MX switches, I found them close in similarity and very tactile. The responsive click with each keystroke is pronounced but not overwhelming or distracting when chatting with friends.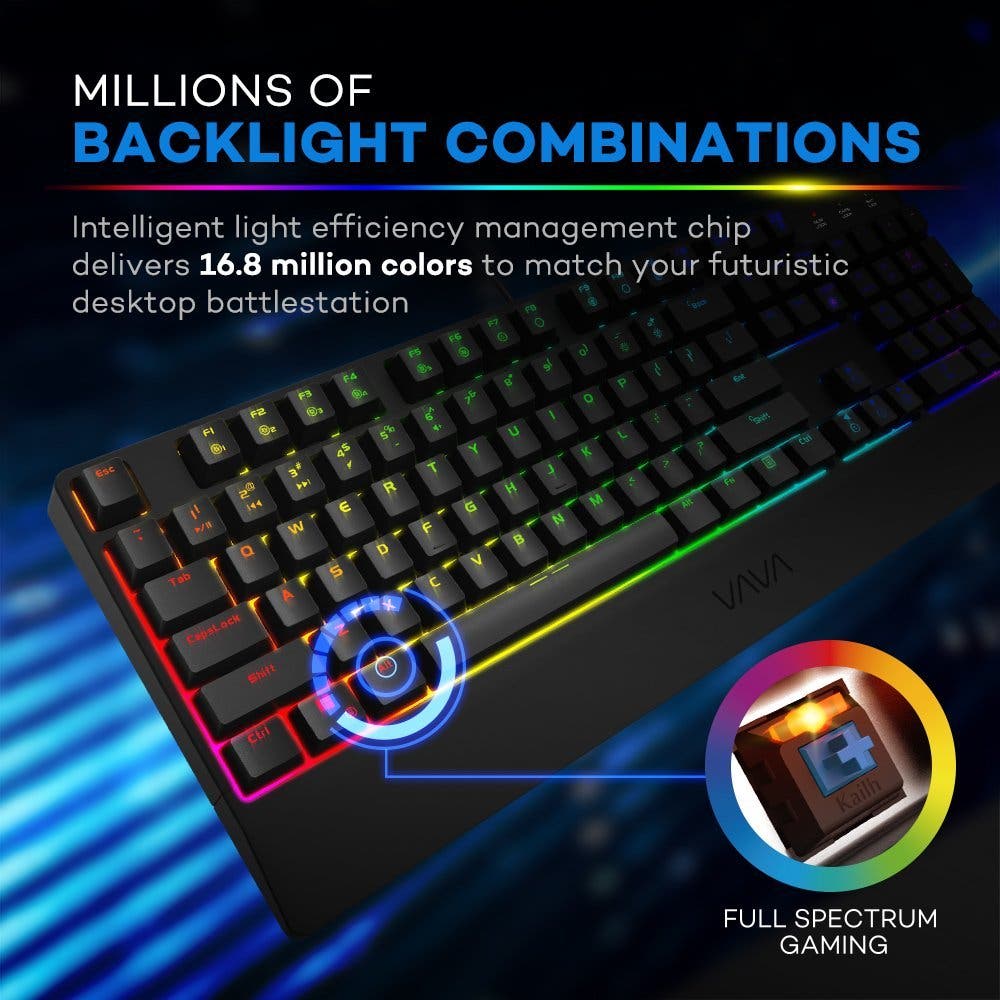 The lack of insistent software to do simple tasks make it a lightweight and versatile keyboard. The VAVA Mechanical Gaming Keyboard isn't the cheapest keyboard for what it offers, but it is one of the nicest and has a competitive price. Coming in at $79.99 (or cheaper depending where you look), is great for those looking to finally make the move to mechanical keyboards, or those looking for a secondary one for the office or a backup for a recently deceased keyboard. The VAVA Mechanical Gaming Keyboard may not be many people's first choice, but it should be.
A hardware unit was provided by VAVA for review purposes