Lenovo's Y27g Razer Edition Curved Gaming Monitor is a more expensive version of it's Y27g Curved Gaming Monitor, and the only difference between that and this is the price and the Razer Chroma lighting. Take that for what that means to you, but Lenovo's offering here with or without the extras is rather impressive if not for it being slightly overpriced for not being as pixel dense as it should be.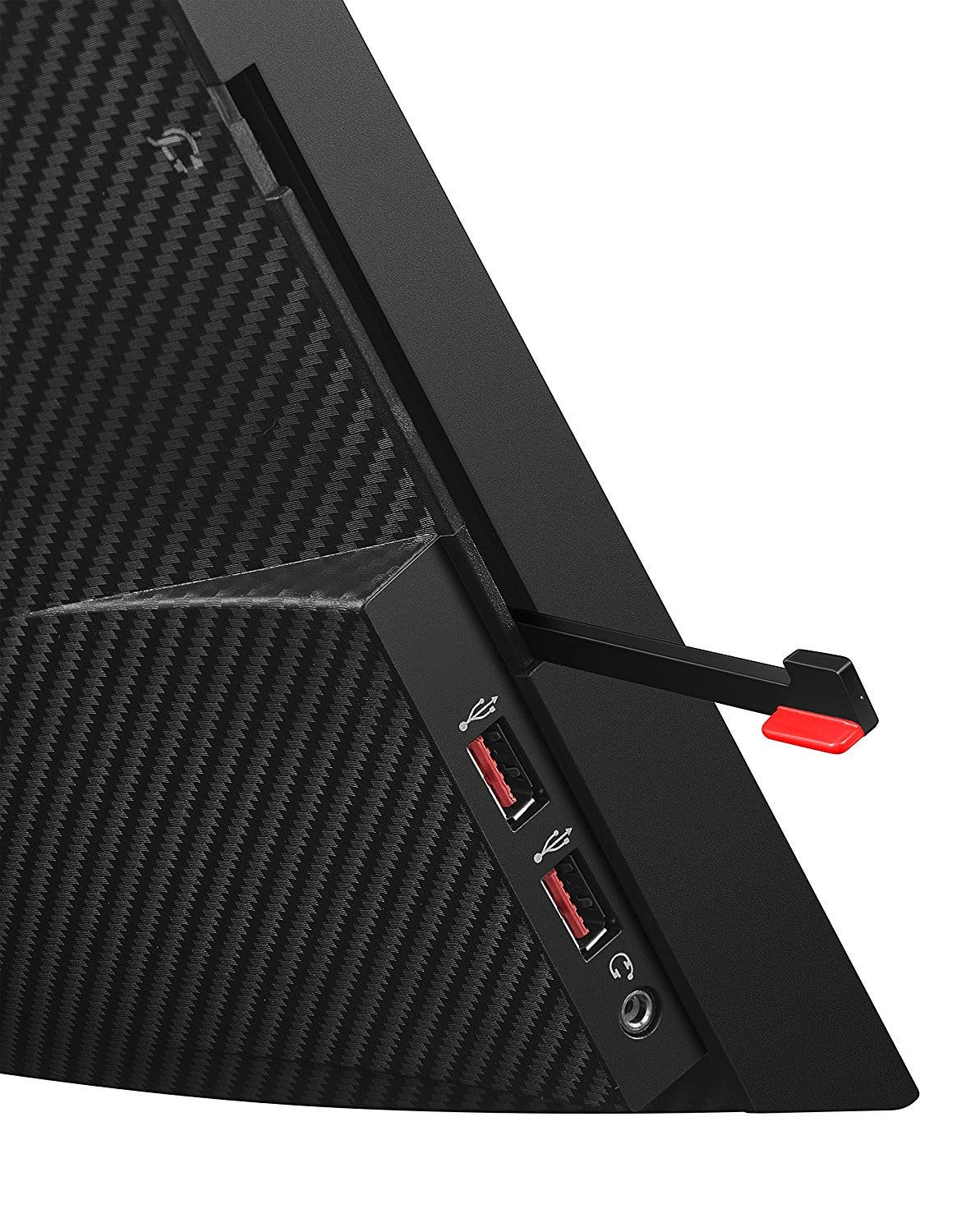 Assembly of the Lenovo Y27g Razer Edition was simple, and it feels like you're building something sturdy. From the wide and lengthy legs of the stand, you can tell it won't easily fall over due to accidental hits. The brushed metal bevels of the monitor give it an industrial look, and there's no garish colors, its straight black lets it blend in. There's a headset hanger that can be flipped down and is a feature I didn't know I wanted. This was my first experience with a curved monitor, and found it to be immersive for all types of media. When using it for typing or other non-media activities, it was a bit disorienting with what seemed to be distorted view. However, after a few days this became less and less an issue.
The number of display connections are limited to one DisplayPort and 1 HDMI port. It is really all you need, especially if you want to take advantage of the 144Hz refresh rate, DisplayPort is the way to go. For reasons that make sense, there's no speakers included, nor does the display rotate. Neither of those I felt were detractors from the quality of the monitor. This is a WLED backlit panel that has a 3000:1 color ratio that offers some pop in its visuals. The 4ms response time for the monitor is acceptable. The biggest problem I have with the monitor is that it is 1080p (1920x1080p), it should be 1440p (2560x1440p). As it stands, the size of the monitor makes the pixels of the resolution standout. A higher density panel would be preferred for its size.
There's no real required software, but if you want to enable special features for it, you'll have to install Lenovo Artery software which has minimal weight to its install. It is rather simple, but gives you basic details, and lets you apply a scenario for which you're using the monitor: movies, web, or games, and that'll automatically adjust contrast and brightness. The advanced settings will let you set resolution and refresh rate, low-blue light filter, and game tools like an on-screen reticule or frame counter. None of it is necessary, but it is nice that it exists. Now, if you want to enable the Razer Chroma RGB lighting on the back of the monitor, you must connect the USB cord to your PC and install Razer Synapse for it to work. Now, if you're not using Razer hardware elsewhere with your PC, the extra software is excessive. The Razer Edition lighting effects are not as bright as you'd think, and really only works when up against a wall. While I had to dig for it, there is a Lenovo Y27G color profile for Windows that helps handle colors more accurately.
The Lenovo Y27g Razer Edition offers G-Sync, the technology by which it synchronizes display refresh rates to the GPU in your PC, eliminating screen tearing and minimizing display stutter and input lag. That, in conjunction with a 144Hz refresh rate makes this monitor one that will offer smoothness in almost any situation. Each game that is played on this monitor looks its best at all times.
The Lenovo Y27g RE has an on-screen display, and I found it to be a bit cumbersome to navigate. If you can find it, it has a handy hardware FPS counter much like the way you can activate it through the Artery software, but can be done without it. The monitor offers a lot of "Game Modes", which serve as presets for the type of games it references. I found "FPS1" to be the best across all games.
Each of the game modes offer different brightness, and contrast and perhaps some more changes I can't quite put my finger on. For instance: FPS1 is dark but is the best across all games, offering smooth viewing. FPS2 is darker, but maintains the same smoothness. Racing is bright, and ups the sharpness on the display. RTS is brighter than Racing, but blurs on movement. Game1 offers a yellowish view, and doesn't seem smooth. Game2 is more of the same, and didn't look that different. Testing this across The Witcher 3: Wild Hunt, Call of Duty: WWII, StarCraft 2, and Forza Motorsport 7, FPS1 was the best game mode across all games, and offered smooth and accurate brightness and contrast levels where the other game modes felt mostly throwaway.
Tech Specs
| | |
| --- | --- |
| Part Number | 65C1GCC1US |
| EPEAT | Silver |
| Max Operating Humidity | 80% |
| Min Operating Humidity | 10% |
| Max Operating Temperature | 45C |
| Min Operating Temperature | 0C |
| Other Information | Windows 7 Windows 8 Windows 8.1 Windows 10 |
| Aspect Ratio | 16:9 |
| Connections | DP,HDMI 1.3 |
| Contrast Ratio | 3000:1 |
| Display Type | FHD Wide LCD |
| Maximum Resolution | 1920×1080 |
| Monitor Technology | TFT |
| Preset Display Modes | 4 |
| User Programmable Modes | 4 |
| Preset Modes Text | 26 |
| Refresh Time | 4Milliseconds |
| Screen Illumination | WLED Backlit |
| Viewable Image Size Inches | 27 |
| Stand | Lift Tilt Swivel |
| Swivel | -30~30 degree |
| Tilt | -5~30 degrees |
| Video Input | HDMI + DP |
| Depth | 242mm |
| Depth (US) | 9.53in |
| Height | 563.3mm |
| Height (US) | 22.18in |
| Weight | 6.75Kg |
| Weight (US) | 14.9 lbs |
| Width | 625mm |
| Width (US) | 24.61in |
| Warranty Period | One year |
| Warranty Types | Customer Carry-in or Mail-in Rapid Replacement Service |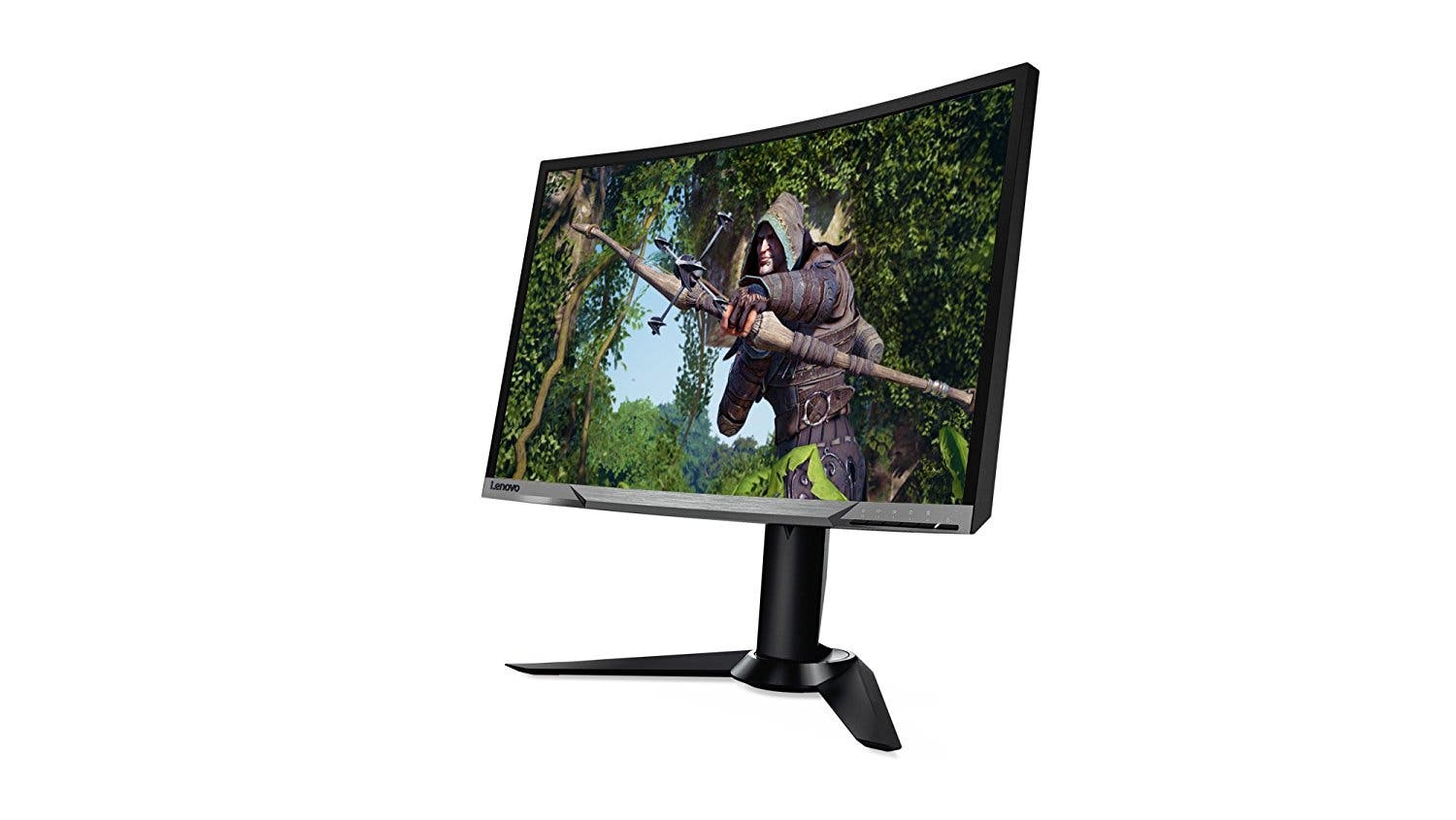 The Lenovo Y27g Razer Edition is a great monitor that's overpriced for what it offers. It is a tough sell for a monitor that only outputs 1080p, and while not in every aspect, you can get a 4K monitor for the same price. Who this monitor is for? I can't really say. It is likely for those who can't run games beyond 1080p, but want high refresh rates and uses Razer's Chroma for synchronizing their colors. This isn't a monitor for everybody, but it is a monitor for many.
A hardware unit was provided by Lenovo for review purposes