Railway Empire evokes nostalgia for games like Chris Sawyer's Railroad Tycoon and Sid Meier's Railroads! And developer Gaming Minds Studios. It's unfortunate to say that despite the looks and sounds, is a game that doesn't quite reach the end of the line before it runs out of steam. Railway Empire is a great starting game for those unfamiliar with the genre, but those looking for something deeper will have to go back to the classics. However, Railway Empire still captures the essence of running a train company like some sort of tycoon that will enthrall many.
Placed firmly into the Nineteenth century of the United States, you start in Omaha, Nebraska to start your railroad company. You don't get to name your train company, sadly. The map is segmented, so you won't be creating routes from coast to coast, or anything that exceeds Railway Empire's curious limitations. This focus shows the game's scope to a degree that's heartening as it's a nice homage to railroad pioneers and what they did in this specific time period. There are 40 trains and 300 technological developments that you can research on a tech tree, but that technology is rooted in the 1800's.
At first sight, Railway Empire impresses model set look and moving weather systems. You're given plenty of freedom with the camera control, even cameras to ride and view your trains. However, things start to fall apart UI is neat to look at, but cumbersome. The AI often cheats, as the AI's trains will pass through each other not wait for the signals you're required to build for yourself. The game is also plenty buggy in the early goings, where things refuse to trigger until done in a specific order the game expecting.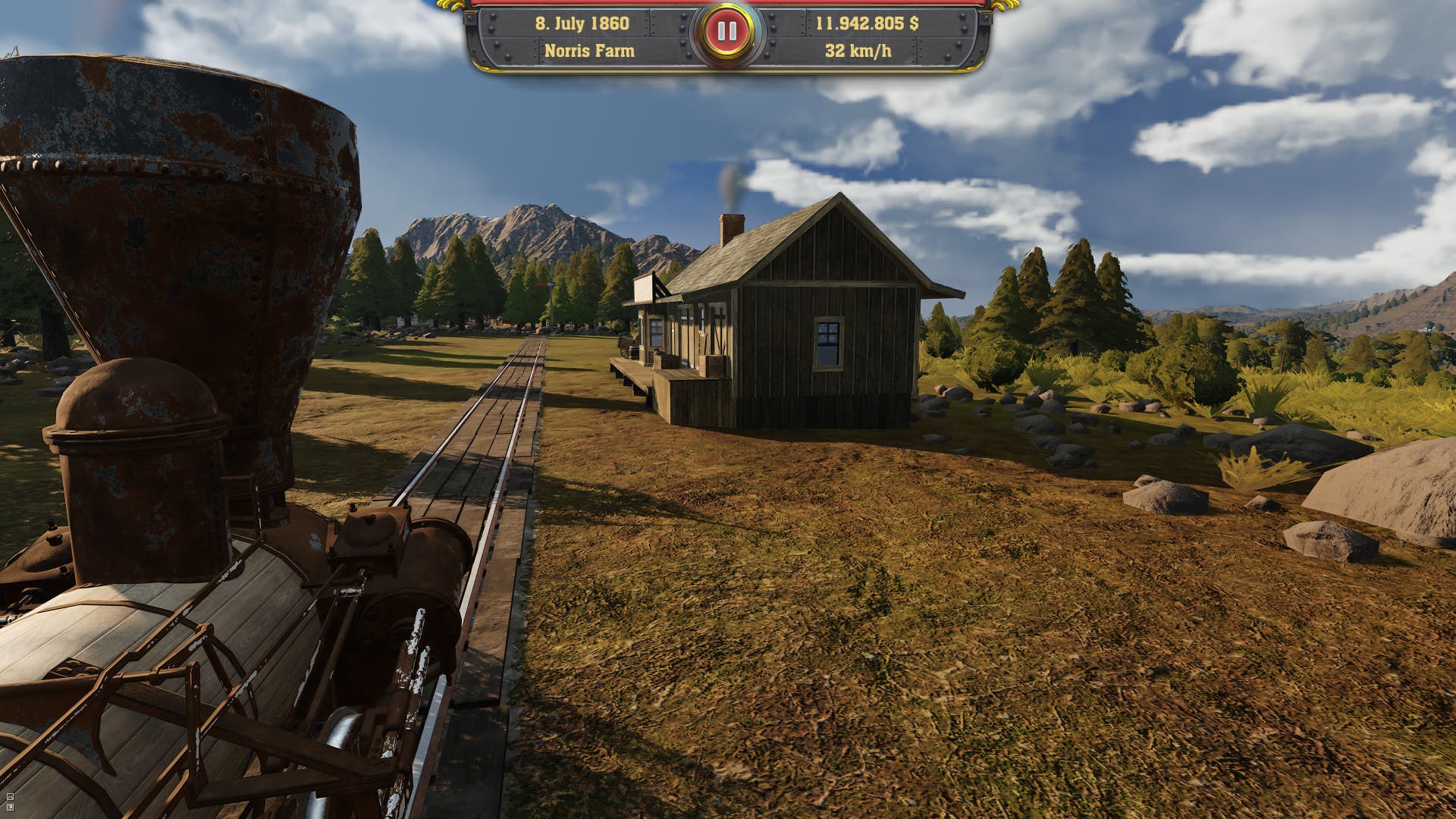 The campaign holds you by the hand enough to grasp its systems, and offers a healthy budget to start with to start forging your empire. The game is heavy in managing your own finances and local economy and not so much in basking in the thrill and expansion of rail systems. Sure, these things go hand-in-hand, but a balance was not struck here. So instead, Railway Empire becomes a game of meters and ensuring that everyone is pleased rather than the rather satisfying tech tree taking center focus.
Aside from the campaign, there's a sandbox mode that lets your creative side free without inhibition. The game's more advanced mode, Scenarios are of medium and hard difficulty, suggesting experience in other modes needed before diving in here. And that's true, and essentially hides Railway Empire's best mode. These scenarios are challenging, and hyper-focused that the campaign and sandbox lacks. Here you have to think much more strategically, and proactively as opposed to the campaigns reactive nature.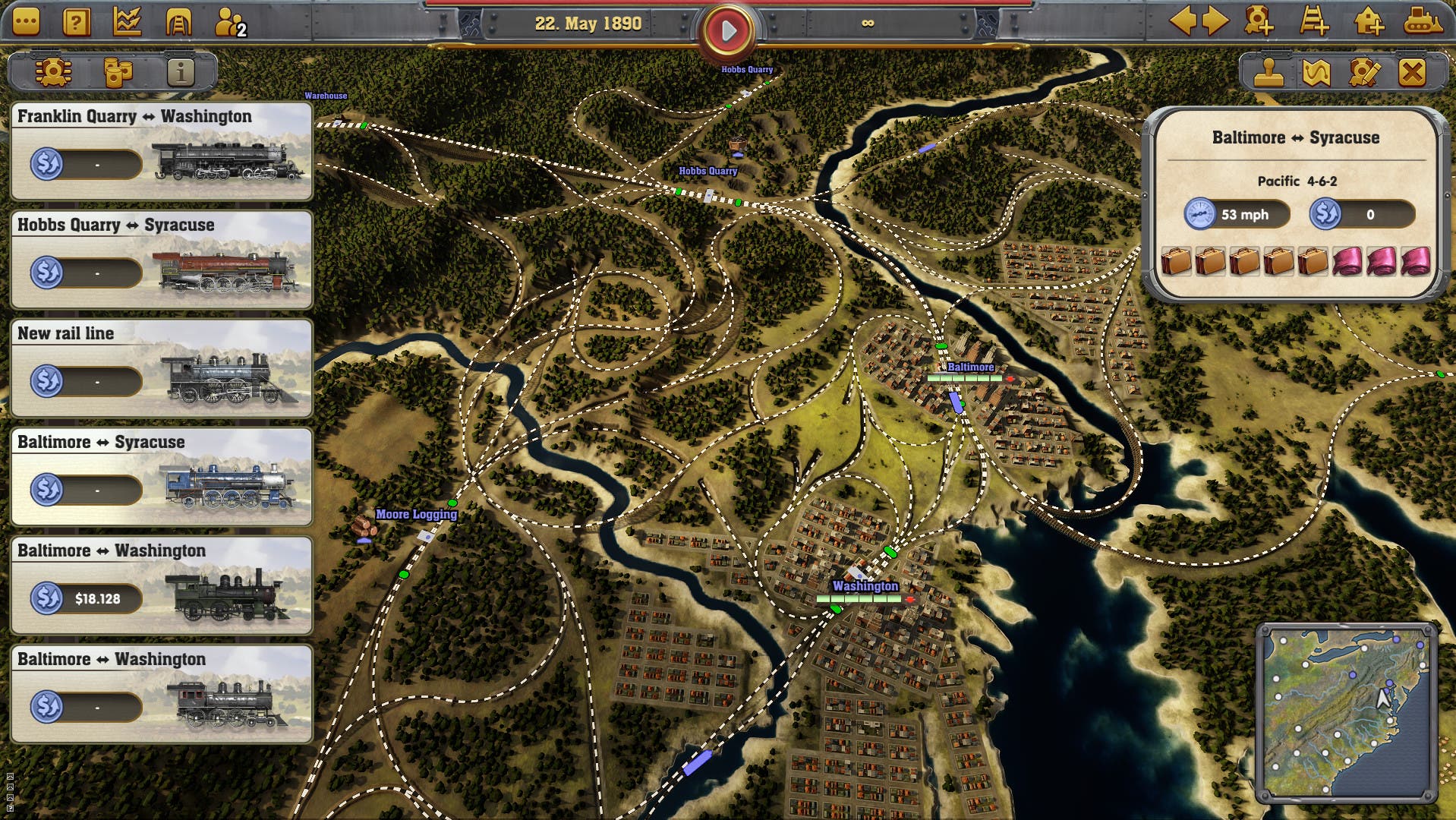 Railway Empire has a great system in which you can pause the action plan carefully. In this you will buy your train station, place it, create your rail line and place your locomotives onto it. As things get busier, you need to place signals, a second track, and more. Expansion happens rapidly and you'll need to be ready to make alterations and additions as needed. Expanding your railway empire also means you'll need to be efficient in the process. As you build your paths, inclines add time to travel of the trains and may cost you money, but there are short terms gains to be made as opposed to having to spend even more trying to get through mountains or over wide river expanses for a shorter route.
Railway Empire feeds you everything you need to know to meet needs of each city, which is both great and not-so-great. There's little sense of discovery and figuring things out yourself. However, the game should not be faulted for its generosity and being forthcoming with its information. Again, a lack of balance was struck here to ride a more careful line.
Railway Empire is a good game held back by its own design and general bugginess. They certainly don't make them like they used to, but this is a close facsimile of what those games were like. It's a game that has enough depth to keep you going, but not enough to losing a whole night to it. Railway Empire comes close to greatness, but settles for just being good in the simulation and management.
A pre-release Steam code was provided by the publisher for review purposes