Fortune Island is the first expansion for Forza Horizon 4, and it mixes the feeling of deja vu with something new. And in the end, it feels like a shallow offering. The new island is an unusual spot for the festival, as it's a treacherous, and treasure-laden island that resides north of where the main game takes place, and is one not to be trifled with. Fortune Island is a DLC that offers a lot to do, but asks you to make a lot of your own fun as well.
From the outset, this DLC seems like Forza Horizon 2's Storm Island, as Fortune Island in Forza Horizon 4 is also about extreme weather. And in a lot of ways, that comparison is apt. In other ways, Fortune Island is in stark contrast to Storm Island. First, this is a hostile landscape full of of craggy rocks, dirt roads, and steep cliffs. This is punctuated by the constant and dangerous barrage of lightning storms that rule the place. Though, there is a lot of beauty to be found, such as the aurora borealis (northern lights) making Fortune Island feel as if it exists on an alien planet. The aurora borealis is beautiful and equally distracting, especially in night races. The game's photo mode excels with what you can capture here.
The reason for the festival's expansion is the new championship of becoming the "Island Conqueror", a ten tiered series of races set to test your skills in every way. The series is cap-ended with "The Leviathan" and "The Kraken" races, which are sprawling races around the entire island. New to Forza Horizon 4 exclusive to Fortune Island is the new PR event, trailblazer. Trailblazer events task you from getting to point a to point b in the fastest way possible in a straight line. The catch is that forests, hills, and other obstacles are in your way. There is a new Horizon Story to complete, "Drift 2.0". This new story perfectly captures the natural drifty design of the paved and unpaved roads of the island. The two modes in addition to the existing PR events, and race types offer a lot of diversity, even if the DLC leans mostly towards offroading.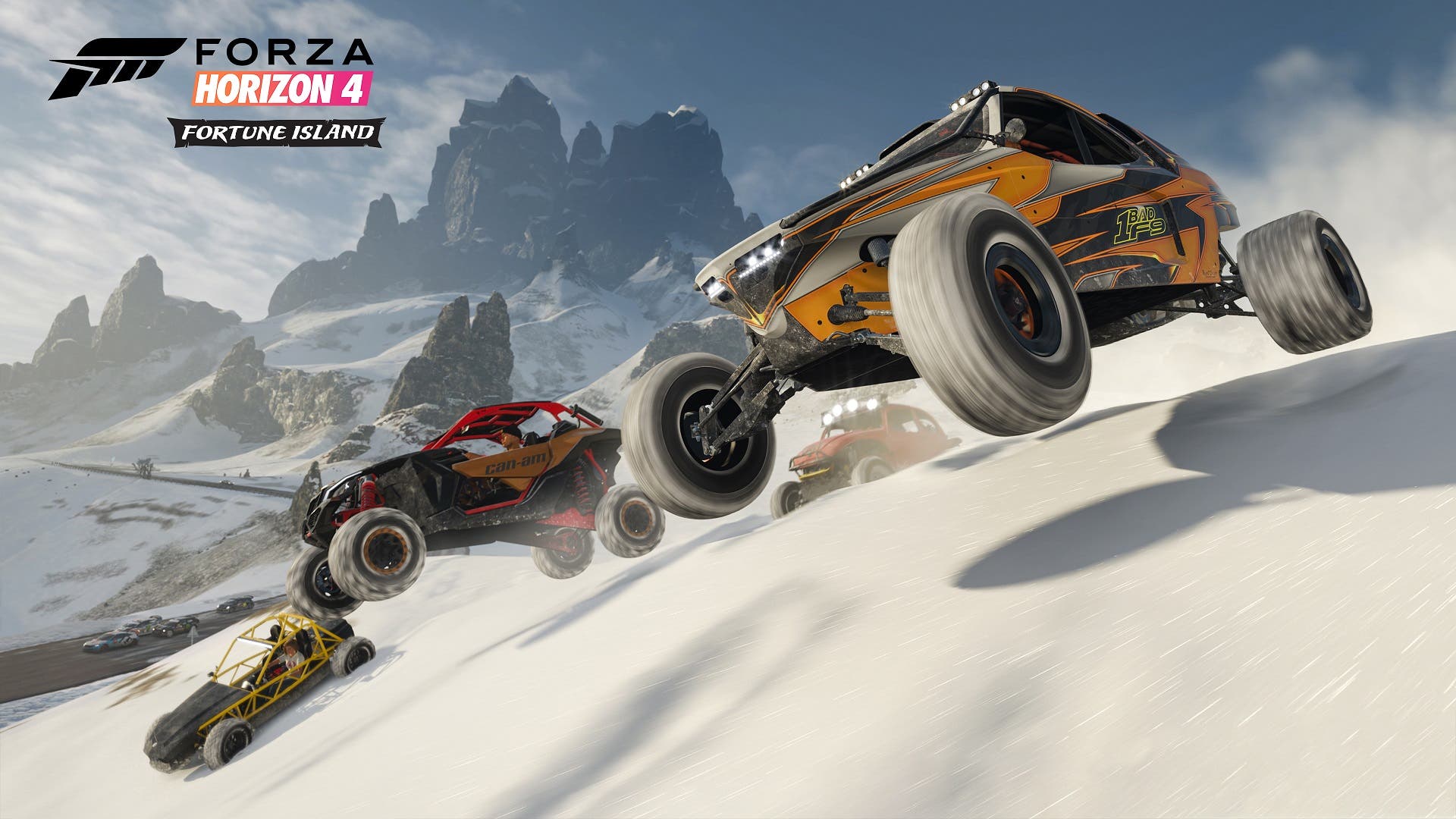 Perhaps the most surprising thing about Fortune Island is the fact that there are treasure chests containing a large amount of money with each discovery. In retrospect, given the name of this DLC, perhaps not. When you reach different tiers of progression, you'll be given a riddle. Solve the riddle, and be given the radius of the location of the treasure chest – just like you would a barn find. Upon smashing the treasure chest, you earn one million credits, and sometimes a car. This whole system seems to exist merely to correct the issue of you not making enough money to purchase the higher end properties on the mainland.
Sadly, there's no housing properties you can buy on Fortune Island. Most of the island is rundown from the constant storms and lightning strikes. You can set the Horizon Festival as your home location, but it feels so impersonal compared to the English countryside and numerous houses and castles on offer there. I'd like to see one or two houses you can purchase at different corners from some breathtaking views and vistas, but alas what we're left with is good enough, but undesirable.
Fortune Island is a driving and drift paradise. I found myself replaying a lot of the races and events because they were so fun, and so different from what I've played before. There's hardly any paved or even surface that lets you go flat out speed. This is about drifting, and windy roads that'll challenge any racer. Beyond that, you can craft custom races that encompass more of the landmass. At the time of review, Fortune Island was in the Spring season, with Summer season available as of today. It'll be interesting to see what happens in Autumn and Winter, which would provide the most visually interesting changes for this extreme island.
The progression through the Fortune Island DLC is the same. Complete races, PR events, discover roads, and smash boards to earn experience points to increase your ranking specific to the DLC's Horizon Life ladder. The race events are a mix of Dirt Racing, Cross Country, and Street Races that feel beneficial to the environment. There are ten vehicles that unlock over the course of play, returning some old favorite vehicles back onto the roster. All in all, this expansion's content can be perceived as easy, with a lot of the challenges having low bars to achieve three stars.
Forza Horizon 4's first DLC goes for the extreme and dangerous, a decision that's sure to be divisive. There is something for everyone, but a lot more could have been done with it. The weather, effects, dangerous roads, and treasure chests are the best things about this expansion. The content is a bit short, and the lack of housing is disappointing for those wanting to find permanent residence. Overall, Fortune Island isn't what you do in it, but what you do with it.
An Xbox One and Windows 10 Ultimate Edition code was provided by the publisher for review purposes