ASTRO Gaming has made a name for themselves with their gaming headsets that a premium audio experience. Now they've expanded their repertoire with their first competitive gaming controller, which aims to be a first-class controller for PlayStation 4 and PC. The ASTRO C40 Tournament Ready Controller is basically a white glove service, coming with extras like a carrying case, replacement hardware, configuration via software, and profile switching. As a standalone controller, it's extremely well designed that's worth the price of admission, even if it is a bit steep.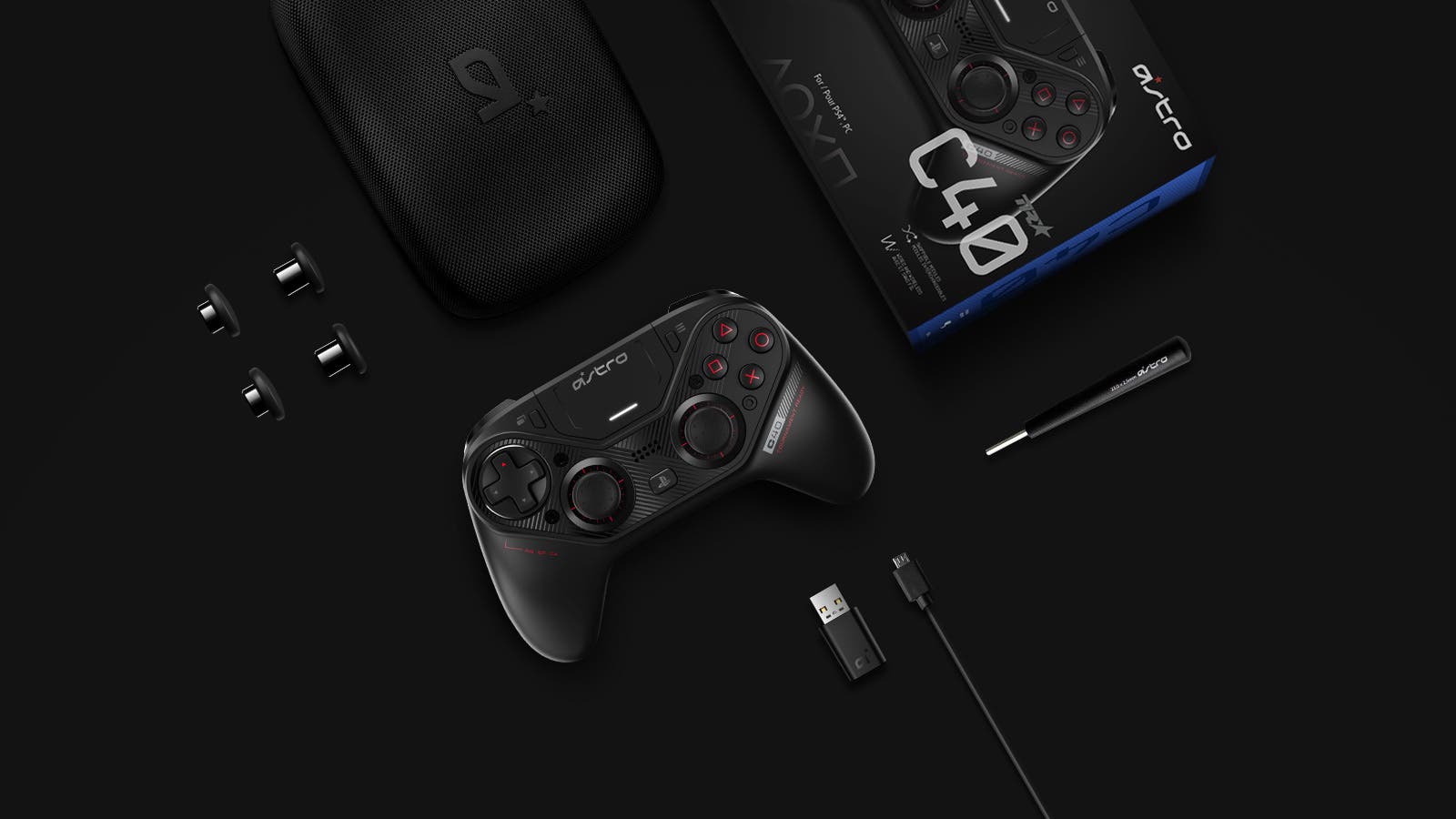 ASTRO Gaming's design for the C40 TR Controller features its trademark looks of blacks, reds, and white, but also include PlayStation's blues on the box. I'm actually surprised there's not more blue on the controller. Unboxing reveals an even slicker presentation. There's a "new car smell" associated with this controller that preserves the scent of it coming right off the production line, and into your hands. Taking the cap off is like opening a series of Russian nesting dolls. But then there it is, the controller is in its own branded hard nylon travel case. You unzip it to reveal the controller and all its accessories, including a toolkit that has a hex screwdriver to remove the face of the controller to re-arrange the sticks and buttons. The whole package looks and feels expensive, and that's because it is. And it's all you need.
This controller is designed for PlayStation 4 first and foremost, with Sony and PlayStation-branded logos all over the packaging, and the PlayStation-specific face buttons on the controller. It doubles as PC controller that works with minimal effort. Though, it should be noted that it's a great Xbox One controller that most games will think is 100% an Xbox controller with zero modifications to make it work. The C40 TR is the most customizable and future-proofed controller I've laid hands on. There's the aforementioned swappable sticks and buttons, but where the future-proofing comes in, is the fact that you replace the d-pad and sticks as they gain wear n' tear. Or you can replace them to use concave or convex buttons, based on your preference (they come at an added cost). The joysticks also have an extendable mode, similar to KontrolFreek stick extenders, just built right in. While this isn't anything to usually note, there's a deep socket for the USB cord to plug in to, that provides protection from bending. Lastly, and most importantly, is the ability for the triggers to be shorted on their throw so that they become hair triggers. This doesn't work for racing games, but for shooters, is essential. There's a noticeable heft to the controller when holding it, but it never feels too heavy even after long play sessions.
Wired
The standard way to use this controller is wired, whether it be to your PC or PS4 via a USB port. The drawback here is that the cable is only two meters in length. It makes it viable on a desktop, but not in a living room setting. From the moment to plugging it in, and letting Windows detect the drivers, install them to it being usable is really fast; on PS4 it is even faster. One thing to note is that wired is the only way in which the 'ASTRO C40 TR Configuration Software' works with the controller. This is the only way you'll be able to configure profiles and other settings of the controller. Even if you have it set up for wireless, settings cannot be modified unless it is connected over a USB cable. Lastly, any firmware updates also follow this model, to which there will likely be an update waiting for you the first time you connect it.
Wireless
Operating over a 2.4GHz wireless signal, the controller's wireless features are pretty solid. It doesn't use bluetooth, but its wireless dongle is small and invasive to plug in to any free USB port. From there comes the pairing, and you're off. The controller as a wireless controller beats out any wireless controller, first or third party. It boasts an impressive battery life of over twelve hours, and I can vouch that it is the case, and accurate to those estimates. I found the use of the controller in its wireless form to be the most preferred, and never once had any kind of signal interference from various distances.
This controller is grippy thanks to its rubber covered handles, which is great for palm sweaters and anyone who feels like they squeeze a DualShock 4 out of their hands almost regularly. The touchpad covers the same surface area as the DualShock 4, but on PC does not serve as a mouse cursor like Sony's controller does, natively. The onboard speaker works for the game's that supports it, and the volume can be configured through the software. It should go without saying, but the rumble is powerful, and its intensity can be set as you see fit. There's a 3.5mm audio jack for a headset to serve game audio and/or chat audio. In this, it behaves just like you'd expect the controller to.
You'll notice a toggle switch on the top edge of the controller with one dot, and two dots. These dots represent profiles. You can use the software to adjust trigger and stick sensitivity, completely remap buttons to other buttons, modify dead zones, LED light brightness, tweak equalizer settings for the audio that goes through it, and even the side tone volume. In my case, I used it to test joystick acceleration between the two profiles. I feel like this will be the least used feature, but it given the controller's audience, which is aimed at hardcore and power users, will find uses for it.
You'll notice through screenshots, or having it in your hands, but there's two extra buttons on this controller. They are labeled UL and UR, Under Left and Under Right, respectively. They're customizable to be mapped to any existing button. I can see them being useful for accessibility purposes, but I haven't found a practical way of using them yet. I use them often, but that's because I accidentally hit them when picking up the controller or squeezing the controller too tightly. There is a PlayStation button on the front of this controller, but I was dismayed to learn that it cannot turn the system on. You'll have to turn the console on before you sit down, or get back up. Which, is not a deal breaker, but quite inconvenient.
I tested the controller in a variety of games to see how it behaved. In all cases, the controller was immediately recognized and I never had to manually configure it for it to work. In Forza Horizon 4 on Windows 10, an Xbox game just worked. The locking pins to shorten the throw on the triggers has a negative impact here, as the game recognizes how far down the triggers are pressed to apply gas or brake, only applies half-pressure. So it's not ideal for this scenario. In Rocket League, a similar scenario for the triggers, but it plays like a dream and is incredibly responsive in wired and wireless mode. Mortal Kombat 11 was a great fit for this controller, as I was able to rest it in my lap as if it were a small fight stick setup. And finally, playing RAGE 2 was the best of both worlds as the hair triggers made me more reactive, and driving around the world felt natural over keyboard and mouse.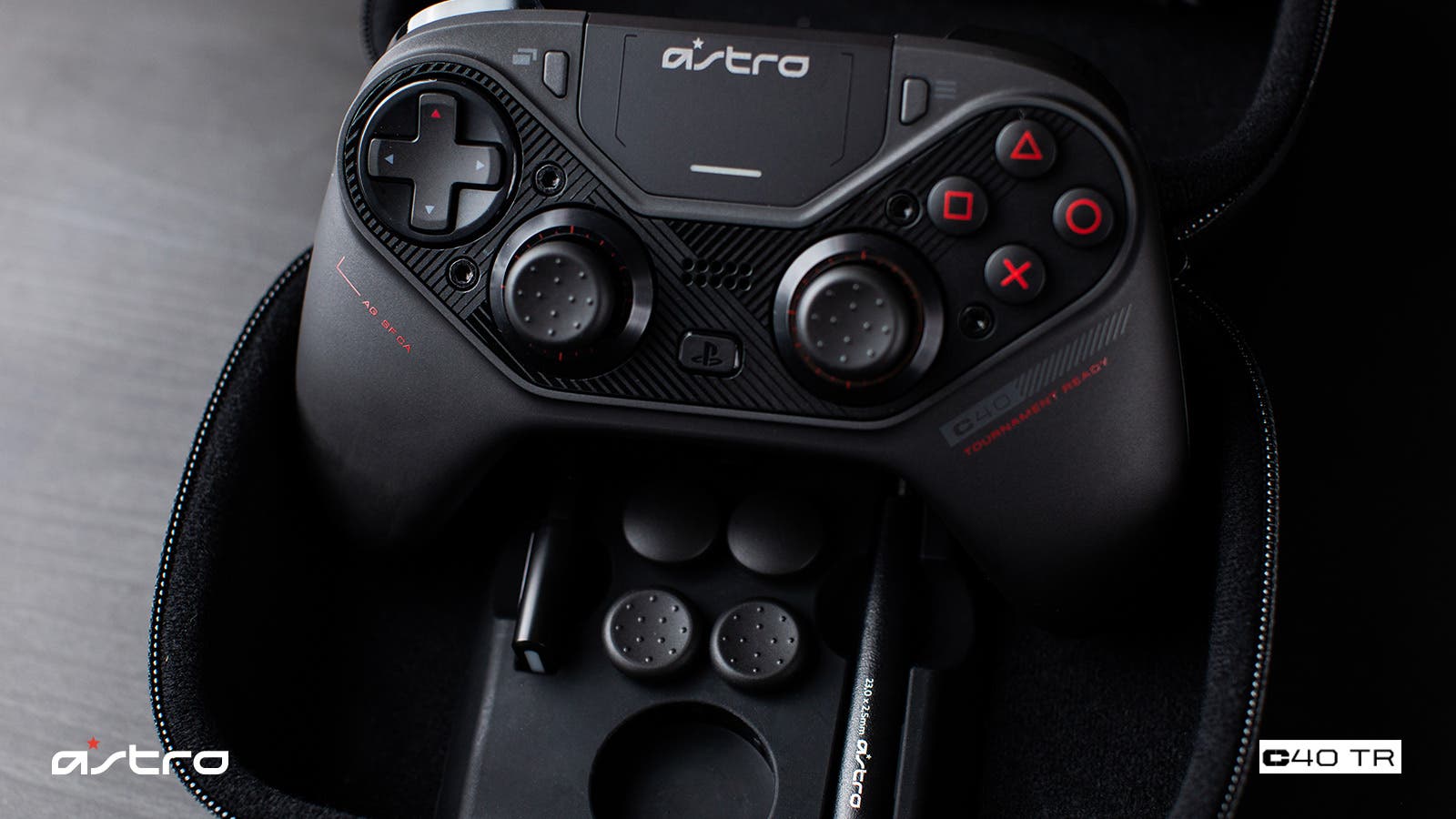 Even though it is branded as being a PlayStation 4 and PC controller, it quietly works just as well as an Xbox controller on PC, if you know the button layout. The ASTRO Gaming C40 TR Controller is expensive, it is extra, and it's probably more than you need. The "white glove service" is a nice touch, but this controller leans more towards esports, and professional gaming than it does a consumer product. Conversely, it is extremely well made, and offers accessibility and customization that no other controller offers, making it a standout peripheral. Sony doesn't have an "elite" controller for the PlayStation 4 to call their own, and ASTRO Gaming's C40 TR Controller fills that void exceptionally well.
A hardware unit was provided by the publisher for review purposes