ASTRO Gaming has had a fantastic year so far. They released their first controller with the C40 TR controller, then followed that the A40 TR Headset + MixAmp Pro TR, and now the A50 Wireless Headset + Base Station is here, and a perfect way to finish the year strong. The A40 is a wired headset; with the A50 being for those who don't want to be tethered, have fantastic audio quality, free of wires and entanglement. While this fourth generation headset that has some concessions, don't mistake the ASTRO A50 Wireless Headset + Base Station for being anything less than incredible all-around.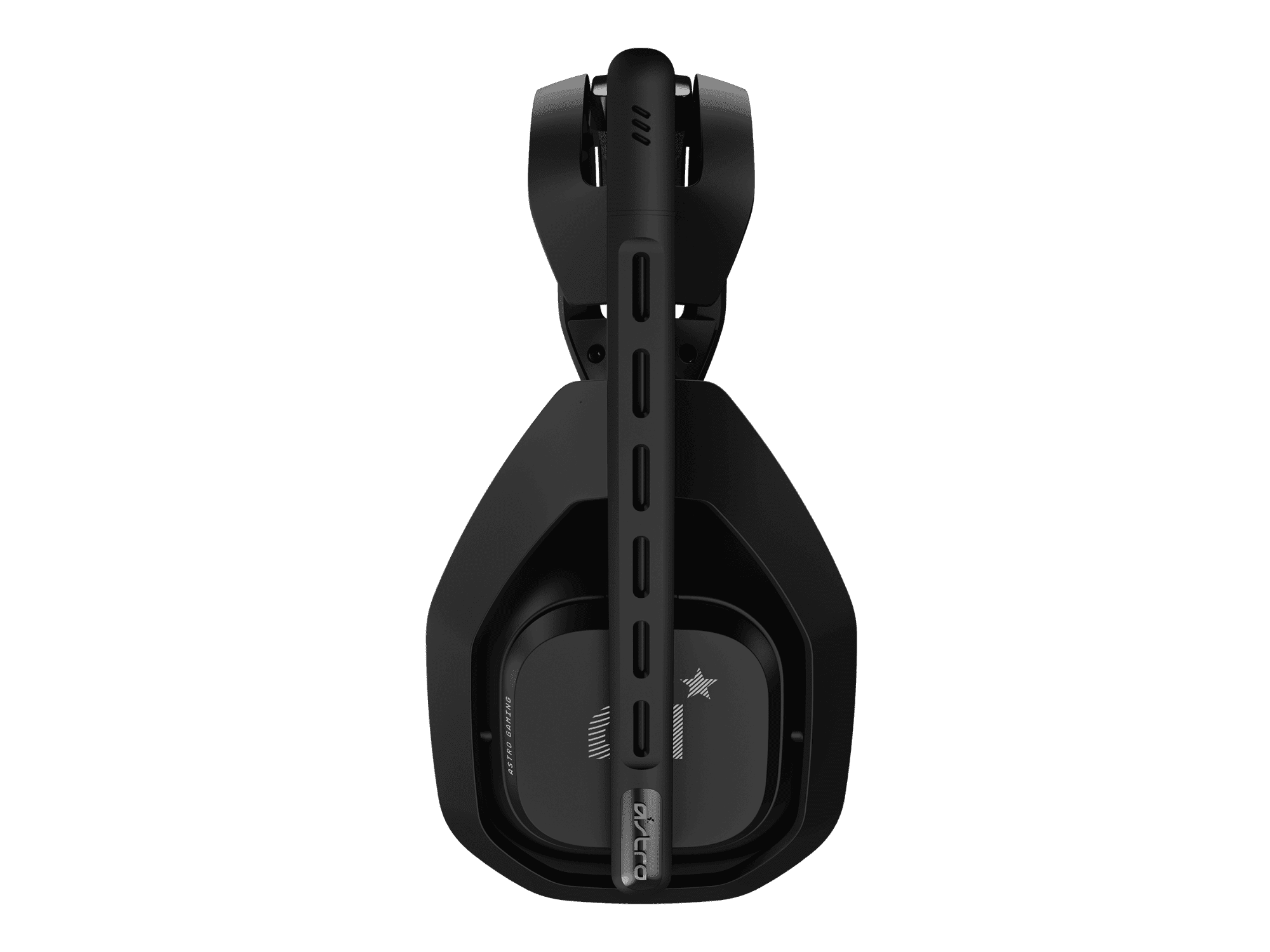 This wireless variant of the ASTRO A-series headset comes in two flavors: PC and PS4, or PC and Xbox One. It's a shame there's no universality that accommodates PC, PS4, and Xbox One – but that's never been the case for many headset makers, not just ASTRO. It just makes things difficult for those who own multiple consoles and can't use a singular headset across them. Given that, those who use this headset on consoles are going to be blown away. The way the headset splits game and chat audio is always an wonderful feat. In addition, Windows Sonic or Dolby Atmos can be used on Xbox One and PC. These two formats offer 3D positional and spatial audio awareness you don't get otherwise. This headset and base station combination has a sleek look with a small footprint that has just a single cable to power it all.
New with this generation of headset is the improvement to the audio quality, offering an end-to-end complete experience. It's called "ASTRO Audio V2", and was present in the A40 TR, but also brought to the wireless A50s as well. There's also a built-in USB sound card that gives ASTRO Gaming headsets the ability to split game and voice audio into their own channels for a finely tuned audio you actually want to hear, without the need to use optical cables to achieve it. Simply put, the ASTRO A50 Wireless Headset + Base Station is everything the ASTRO A40s are, but wireless.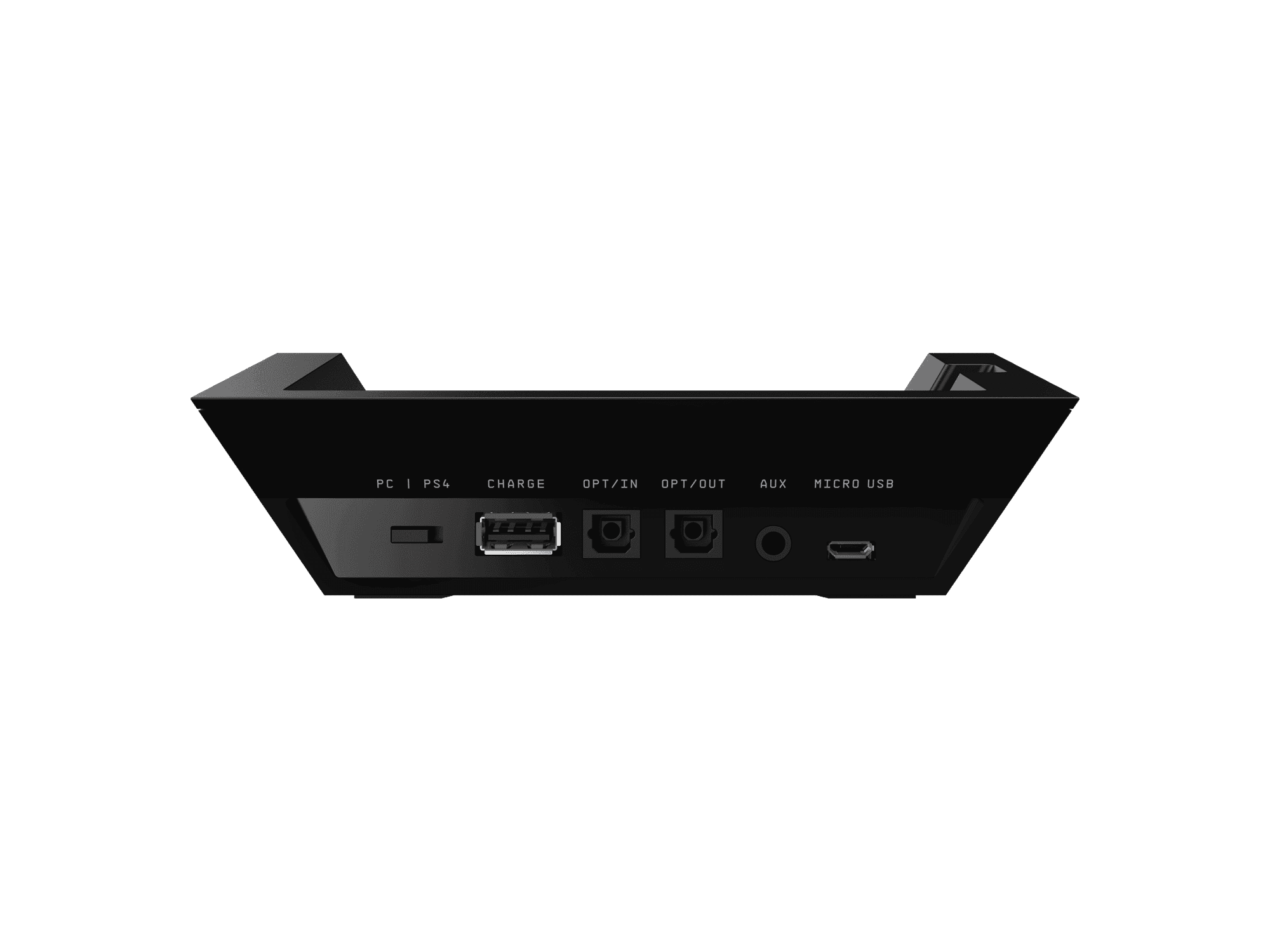 A50 Wireless Headset
How come "Tournament Ready" is not part of the name here? Well, I'm not fully qualified to answer that, but if I were to give you my best guess, I'd say that the A50s are not used in tournament settings like the A40s are. But the quality of this headset is absolutely on par with the A40s in every way. Color-wise, this gen goes for a more modest and sleek color scheme. The last generation of this headset had a bright green for Xbox, and a deep blue for PlayStation. Now you've got black with gold accents for Xbox, and black with silver accents for PlayStation 4.
You can cycle between three presets, with five in total within the preset library, there's: A50 Mod Kit, Astro, Media, Pro, and Studio. Each of these has different equalizer settings that achieve different goals for different kinds of games, or even for media use. The headset has a built-in mixamp, but with none of the weight – this is the USB sound card that separates the audio channels. One of my favorite features, is the headset's flip-to-mute microphone. Simply by flipping the mic to the up position, will it mute you. There's no need to clumsily navigate an in-line cable or search for a button. There is some memorization needed to understand where the button is to change between Dolby audio and passthrough, the volume knob, selecting a preset, and adjusting if you want more game or more voice audio. It's nothing insurmountable, but there's an adjustment period. That said, the A50 Wireless Headset is only one part of the complete product.
Base Station
Don't call it a charging dock — it's more than that. There's an LCD panel that will tell you whether the headset is configured for PC or PS4. It also tells you which preset you're using, one through three. There's an icon for whether you're using Dolby or Passthrough: 🎧 or ⭐, respectively. Finally, it tells you battery level, indicated by four square dots. Conversely, this tells you how much far it has charged the headset with slow blinking dots. The lights are only white, and not super bright, enough to see but not blinding or overwhelming. This combined with the headset make for a powerful combination that has no equal.
Compared ASTRO A40 TR Headset + MixAmp Pro TR (Gen4) , there are some trade offs or compromises. When directly comparing it to the A40, it's noticeable. Those used to wireless headsets or the A50 of previous generations, won't find anything to be missing. It is worth noting that there's no stream port to send audio to, like external speakers. Mod kits are supported, but due to the construction of the A50, speaker tags can't be used. You can however, switch the top band and the ear cups to transform it from open-back to noise-canceling. For what cables are provided, mostly to power the base station, are rather short. The headset can be used in a "play-n-charge" scenario, but the cable to do so is a separate purchase. And its use case would be primarily for a PC gamer, as a console player is generally going to be too far from the base station for it to make sense. If there's anything about this you don't like, you're likely going to want the ASTRO A40's instead.
ASTRO touts a 15 hour battery life, to which I can say is absolutely accurate. I didn't experience any variance in its usage, based on volume, preset selected, and whatnot. The A50 Wireless Headset is a consistent headset early on into its battery life-cycle. ASTRO also claims a 30ft range, which is a bit ridiculous but absolutely true. I was able to go upstairs and downstairs, with the signal going through floors and walls without interference until well after the 30ft range. If you're listening to music, or chatting with friends, you don't have to leave the conversation while you get a snack or fill up your water. The battery and range are especially impressive, can't say I've experienced anything like it in a wireless capacity before.
The Astro Command Center software remains optional, but proves useful for at least one usage. Upon using it with the headset connected, you'll be prompted to update the firmware. Though if you decide to use it, whether a PC user or console, you can do a lot of things with it: You can configure your top three presets to be used out of the five, set custom EQs, set a default balance between game and chat audio, and set mic noise gate for streaming, night-time, home, and tournament levels. Once done, you can sync to the device and disconnect. The software also tells you the exact percentage of the battery, a piece of information you can't get anywhere else.
Who's this headset for? Mostly console players, I'd say. On PC, I never got comfortable with using it as I'm not far from my tower or PC in general. For Xbox One and PlayStation 4 users, it makes more sense they'd have the base station near the console, grab the headset and controller, then head over to the couch for the next few hours. Either way, anyone who uses it will love what they hear, and not have to worry about wires being in the way.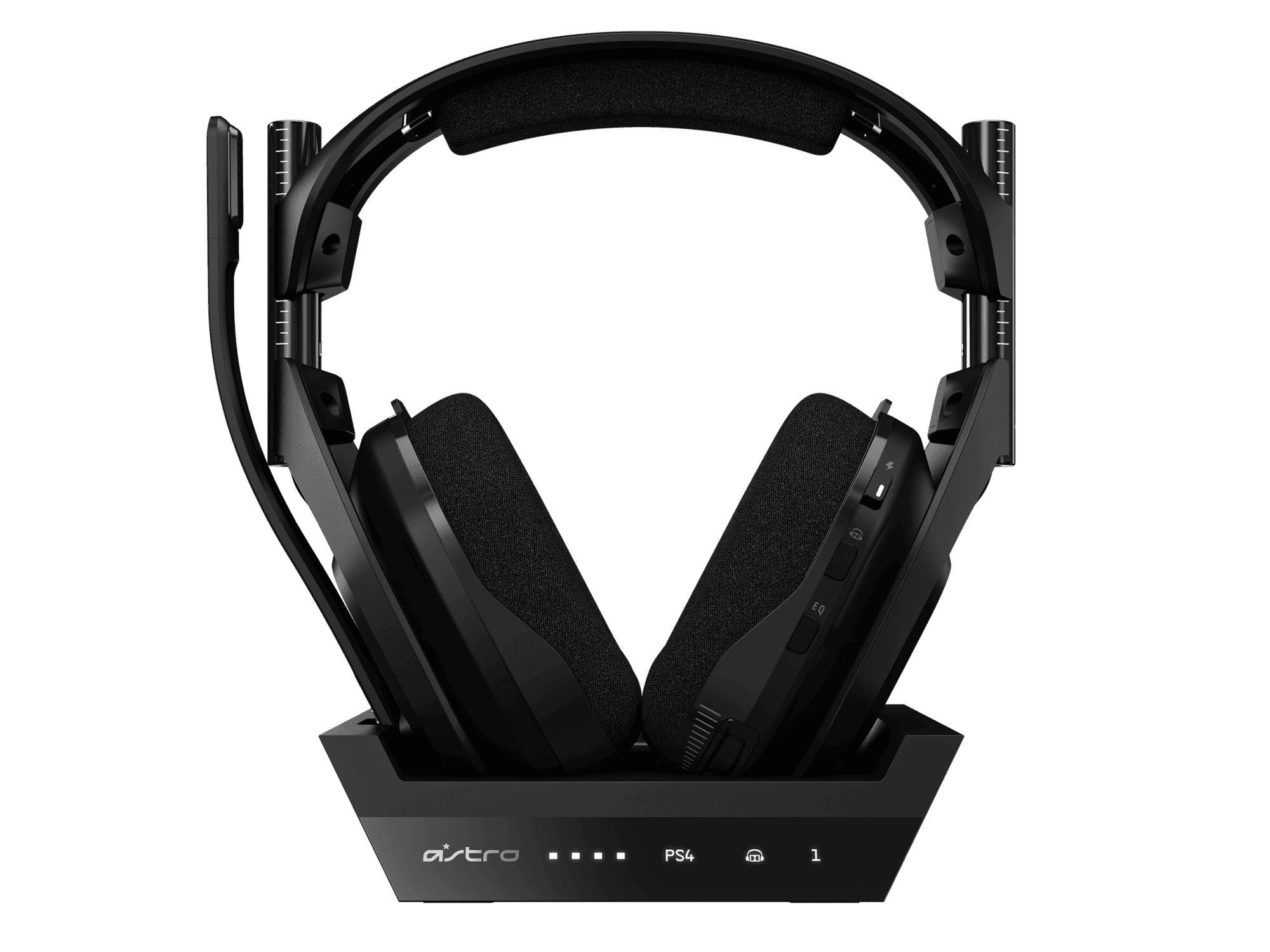 ASTRO's top tier headset has a higher price-point to that of its wired counterpart, the A40 TR + MixAmp, but the A50 is exemplary in its execution worthy of the asking price. There's many differences between the headsets, but the one constant is the excellent audio quality that's delivered into your ear drums. The A50 Wireless Headset + Base Station redefines what wireless headsets can and should be. You get what you pay for, and that's a gaming headset at the pinnacle of audio, delivered without wires, and it's impressive as hell.
An A50 Wireless Headset + Base Station (Gen4 / 2019) was provided by ASTRO Gaming for review purposes.