The ASTRO A40 TR Headset and MixAmp Pro TR are a winning combination. Back in 2016, I reviewed the third generation of the A40 TR Headset and MixAmp Pro TR, to which I gave it our highest rating, and believed it to be the best of the best for desktop and console audio. With ASTRO Gaming's fourth generation release, my feelings are stronger now than they were then. The updates and changes for the 2019 version just has to be heard to be believed. ASTRO Gaming's combination of the A40 TR headset and MixAmp Pro TR makes for an uncompromising and unbelievably great audio.
Make no mistake, this is a premium package purchase. The ASTRO A40 TR Headset + MixAmp Pro TR (Gen4) will run you a total of $249.99 to own. They can be purchased separately, but are enhanced when used together. This comes in a variety of flavors to choose from. The available colors are Black/Red for Xbox One, Black/Blue for PS4, X-Edition featuring Red/Blue for PS4 or Xbox One. While there is distinct PS4 and Xbox One versions, the headset and mixamp are compatible with PC, Mac, and Switch. I received the Black/Blue version for PS4, and have primarily been this on my PC. It's a multi-platform powerhouse.
With the 2019 edition of the Astro A40 TR + MixAmp Pro TR, you'll notice that the MixAmp is what's changed most dramatically. It shifts from vertical to horizontal MixAmp. Why this is important, is that it allows for the actual mixamp portion to have more real estate. No longer relegated to a small knob, you now have a larger one to mix game and voice chat easier. The new mixamp gives details as to whether you're using it in PC or PS4 mode, as better LEDs on knobs and what audio mode you're in. Long-time fans might miss the power button, but it's not something that ever bothered me. The new horizontal look of the mixamp takes a bit to get used to, but its design is clean and feels like a proper mixer.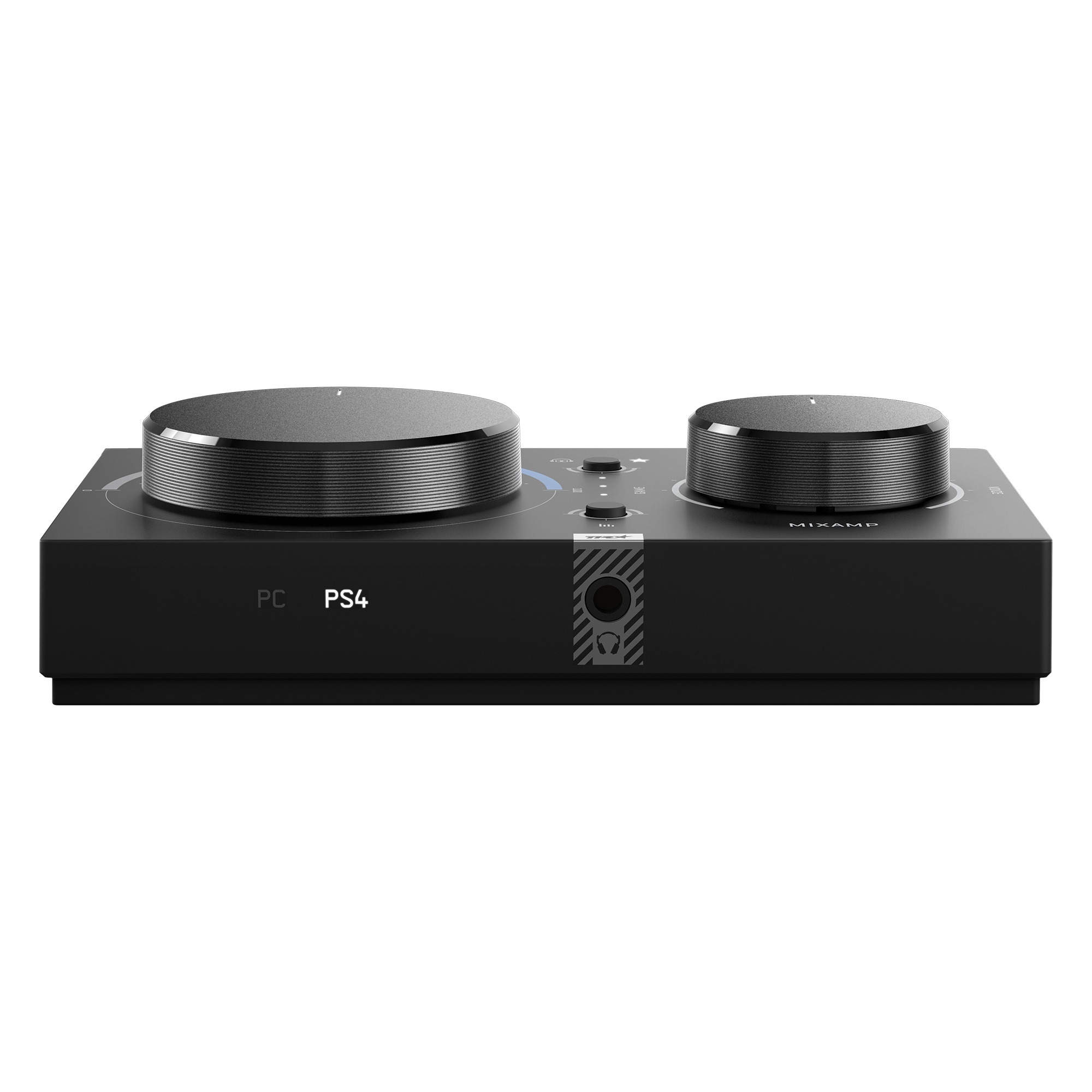 On a basic level, what is all of this about? This pairing of headset and mixamp provides high-quality audio that you'll find your favorite streamers using, esports athletes competing with, or those who like the cleanest audio wearing. If you like to game with your friends, that means you're hearing all game and chat audio together. Depending on the game, it can overpower the voice chat, and there's nothing you can do. Here, you can adjust it so the game audio goes down, and your chat volume stays high. It's quick and easy to adjust. Now, that's not all. There's presets, and other enhancements like Dolby Digital Surround Sound that help complete the package.
So tell me about the "TR". Well, that stands for Tournament Ready. Both the headset and mixamp are designed to be used in esports settings. There's even a special TOSlink port on each of the mixamps to connect them together for lag-free chat audio between teammates. Even without that, there's presets and mixes that you can use to dial down certain elements of game audio, such as focusing on footsteps in Apex Legends or Fortnite. Despite these being "Tournament Ready", there's no reason it can't be used out of tournament conditions.
This is a combination of hardware that delivers exceptional audio, that can be tweaked and modified down to every detail by you. Now let's get into the details of the two parts that make this so great.
A40 TR
This is an open-back headset, which means it doesn't completely isolate you from the outside world. That said, this headset can get loud, and dominate external noise factors very easily. The form-factor is almost identical to previous generations, which I'll get into why later. But it does follow the mantra of "if it ain't broke…". The headset is sleek and fits wonderfully. The cloth ear cushions and head cushions are so soft, that you hardly ever feel you're wearing it. You certainly will notice its lightweight feel on and off your head. This is a wired headset that doesn't pull any punches.
MIXAMP PRO TR
This mixamp offers a lot of versatility in just a few button presses. Beyond your volume and mixer knobs, you have the choice between Dolby Surround Sound or Passthrough, indicated by these icons: 🎧 or ⭐. I found that the passthrough was best for voice-based things such as certain YouTube videos or livestreams. Anything with the Dolby activated watching these, sounded a echoey and unnatural. Next are the presets, which both Dolby and Passthrough offer: ASTRO Mix, Tournament, Balanced, and Natural Bass. You can modify these to suit your style, but more on that later.
I do think that the mixamp is missing faders like on Turtle Beach's TAC for background noise limiting, outbound mic boost, and mic monitoring levels. It then would have increased the overall size, and not worked for what it's going for this time around. The volume and mixer knobs have ridges, but they go in the same direction as you twist them. I feel as though they should be going vertical to create grip when adjusting them, but that's just me. There's a minimal amount of LEDs here, but when used, are white and red. White lines highlight the center of the knobs and have a great look to them that was clearly missing before. These turn red when the headset is unplugged. While no audio is being sent to them, if you use the stream port, you can avoid sending noise to the headset to preserve them while using external speakers.
Gaming with this headset and mixamp has been eye and ear-opening. Games like Apex Legends are crisp when you hear the sounds of shields shatter, or in Battlefield V when the bass kicks in for a hefty explosion. Then there's Forza Horizon 4 which elevates all engine noises to hear their true tones. Even something like Rocket League benefits when you can hear the crowd and the large ball bouncing its way across the field.
Every game you play, every video you watch, and ever piece of music you listen to is enhanced. As I said before, this headset can get really loud. In most cases, I never put it above 75% audio because of it. All this means, is that you won't be unnecessarily turning up the headset to hear something due to improper audio handling or poor 3D audio.
While it isn't a requirement, the ASTRO Command Center is software you can download onto your PC to update firmware, and make changes to the EQ settings, mic levels, and stream port settings. The mic quality is really solid, but nothing will beat a dedicated microphone that's not connected to a headset. What's here is clear and reliable. With the EQ settings, you can re-arrange their positions, or create new settings based on your preferences. The microphone settings let you adjust between some preset options like for streaming, or if it's nighttime. You can then adjust tones and volumes, and sync them to the headset right away. Lastly, the stream port is to send audio to another device or external speakers, and while I never needed to make adjustments here, it's great having the option should I need to.
Now, the headset hasn't changed that much over the years, but that's for your benefit. If you're interested in a Mod Kit, you can convert these open-back headphones into noise canceling headphones. And with tags, you can replace the headband and the side plates for something more your style. And if you have made these purchases for previous headsets, the good news is that they can transfer over seamlessly, without having to repurchase them. It's such a smart move to preserve brand loyalty and ensuring the upgrade goes as smooth as possible.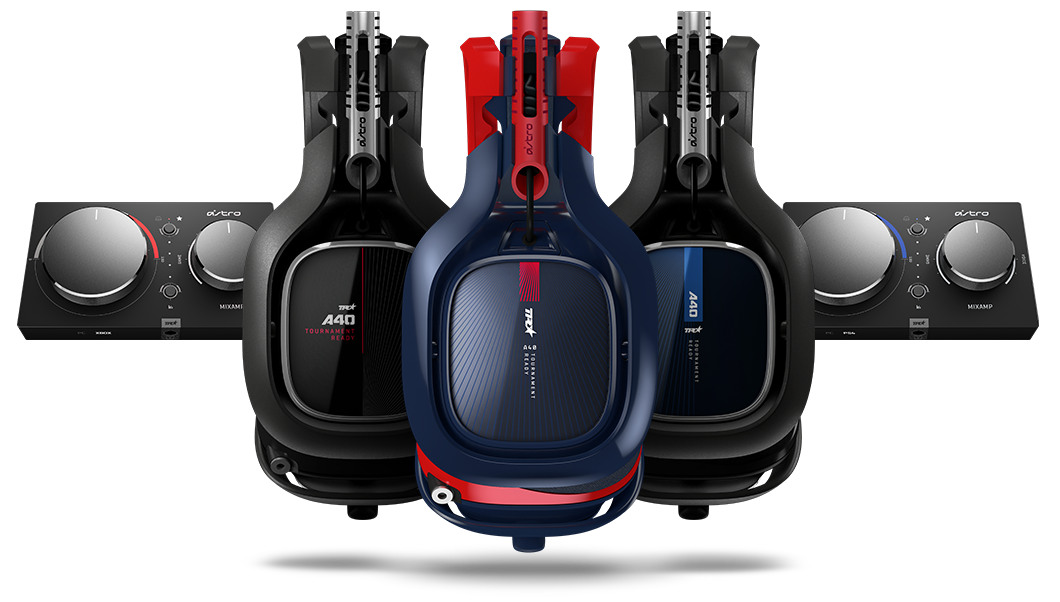 I used the Astro A40 TR + MixAmp Pro TR at my PC, and I have no complaints with any part of it. Any audiophile will be right at home here. The Astro A40 TR + MixAmp Pro TR delivers the cleanest, loudest, and deepest audio I've had the pleasure of hearing. It feels like up until now that I've had cotton in my ears, keeping me from hearing things like I should. This is exceptional audio at a premium price, but it's absolutely worth it. ASTRO Gaming again proves they know audio, and if you're serious about it too, you won't be disappointed.
An A40 TR + MixAmp TR (Gen4 / 2019) was provided by ASTRO Gaming for review purposes.