MotoGP 19 sees many big changes for this year's entry, and all of them are positive. This is also a year of additions and refinements, building off of what came last year in exponential ways. Milestone has given the game a fresh coat of paint, that's brighter and more vibrant, making it feel more alive. The simulation of seeing your rider shift side-to-side for narrow turns while simultaneously trying not to let the bike fall to the ground. MotoGP 19 is best the series has been, but has room to grow and improve.
The game features all of the 2019 season's nineteen tracks and available riders. Also new this year is the new 765cc engine for Moto2, which offers more power and torque, with less weight and inertia. Though I think the biggest addition to the game is MotoE. This is the new class of electric bikes you can race. However, a misstep here is that it's only available in Time Attack, Quick Race, Championship, and Online. There are no options for MotoE in the career, unfortunately. Having the changes reflect what's happening in the sport of MotoGP 19 is welcome.
The career mode continues to be MotoGP's bread and butter. You're presented the choice of starting a standard or a pro career. The main difference is that the pro career offers no assists, and is for the hardcore players. You again have a choice in what series you race in, whether it be with the rookies, or the pros. As you get signed on to teams, you'll develop key areas using points earned from racing. And you'll be asked to partake in winter testing of bikes on ice, which is the coolest and most diverse thing in the game. There's oddly no tutorial this time around. So if you're wondering how to learn and ease in, the rookie's cup is probably the best way.
For the first time, MotoGP 19 introduces historical challenges. They let you play through some historic moments in MotoGP, going back as early as 1993. There's a total of 60 challenges across three historic tracks you can't play elsewhere in the game. Each challenge has a rating for time or specific challenge to acquire bronze, silver, or a gold medal. There's something really special by recreating an event in racing history. This is the best, and my personal favorite mode in the entire game.
The other modes via Quick Modes bring in Grand Prix, Time Attack, and Championship for you to create your own challenges.
You have access to MotoGP, Moto2, Moto3, Red Bull Rookies Cup, MotoGP 4-Stroke (historical), and 500cc 2-stroke bikes, with the exception of MotoE. Multiplayer returns here, but due to the pre-release nature, I wasn't able to get into it. They have new online architecture, with Director modes that offer a more dynamic multiplayer experience. What's on offer here is more than MotoGP 18 ever did.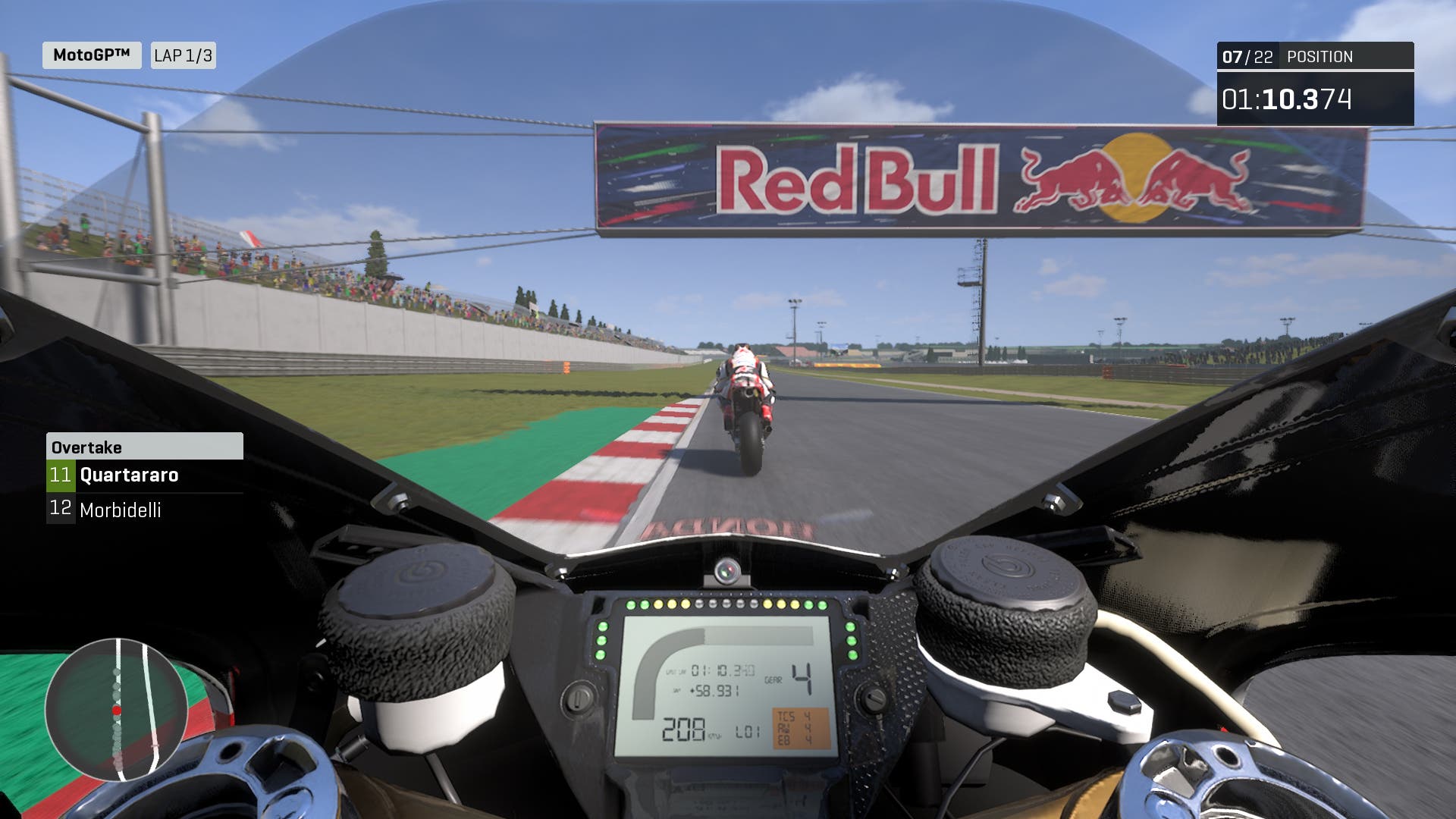 One thing you might need consider is a racer's riding style. You can select a style that works best for you: centered, shoulders out, body out, or old school. There's weight and positioning concerns with how you tackle turns, the default works just fine. While the game lacks a tutorial, it retains all of the assists to help you: physics simulation, auto brakes, joint brakes, offtrack help, ideal trajectory, gearbox, and rewind all make a return. New are meters that show your tire consumption as well as their associated temperature levels. As you wear down tires, taking turns at higher speeds become more dangerous, and you'll see this visually as you'll wobble through turns at too high of a speed.
MotoGP 19 brings visual customization into the fold with livery editing, stickers, and more. Not only can you create your own designs, but they can be shared and for you to download from others. While this isn't new to the genre, this is new for the series, and one that's been sorely needed for not only its singleplayer, but for the multiplayer as well.
On the AI side of the house, Milestone has introduced A.N.N.A. (Artificial Neural Network Agent), a reactive AI. Though, it's one I found to be very aggressive. A.N.N.A.'s implementation is designed to learn, and make races closer without relying on rubber-banding or older techniques to keep races tight. The end result is the previously stated aggression, and I felt like the AI is still learning my behavior before it's been able to counter me productively.
MotoGP 19 continues to run on Unreal Engine 4, and the visuals have received an upgrade. The lighting and quality of the riders, tracks, and environments are much crisper and the game runs even better. I liked last year's HUD better, but ultimately there's more information presented in this year's HUD. I wish you could customize it more than toggling some items on or off.
MotoGP 19 has so much new going on that makes this a must-own for those following the franchise. The series still manages to lack a personality, but is now forming its identity with this release. The before and after TV-style presentation is really solid, but I wish there was more. Fans and historians of the sport will love the challenge mode, and everything it offers. If you've never played the series before, this is the year to get into MotoGP. MotoGP 19 has no shortage of simulation racing to be found in its multitude of well-rounded modes.
A pre-release Steam code was provided by the publisher for review purposes