Corsair's DARK CORE RGB PRO Wireless Gaming Mouse is the closest thing to being actual magic. It's wireless, it's got more RGB zones than I can count, it's virtually lag-free, and it has amazing battery life. You usually get one or two things from that kind of list, but not all of them. So there must be some kind of sorcery going on for Corsair to have it in one device. The DARK CORE RGB PRO is an absolute delight that is the best of what Corsair has to offer today.
Setup
Unboxing the DARK CORE RGB PRO is rather standard. Much like with the GLAIVE PRO, the DARK CORE RGB PRO doesn't come with the accessory bag to hold the replaceable side plates. This mouse comes with two for the right side: the default is matte and essentially flat with a mild contour, and the replacement is a textured, bumpy grip with a shelf for your trailing fingers to rest on. Upon removal of the side plate, you see that the USB receiver can be stored here when not in-use or for portability.
I chose to go wireless from the get-go and out-of-the-box it has a great charge, so you can get gaming quickly.
What's the difference between this and the "SE" model? The DARK CORE RGB PRO SE has Qi Wireless Charging that adds $10 to the price tag.
Let's connect
There are three (!) ways to connect the DARK CORE RGB PRO to your computer. Since this is a wireless mouse, there are two modes available. The first of which is with Corsair's Slipstream Wireless, this is a proprietary technology that utilizes a USB receiver and offers sub-1ms response time. While I can't measure that, it's an absolutely flawless experience, and one you couldn't tell if it was wired or not. The other wireless mode is in bluetooth, which will not be as fast, but a completely solid experience, just isn't the best or fastest option available. The DARK CORE RGB PRO comes with the USB receiver for their Slipstream Wireless, so there's almost no reason not to do it. Lastly, there's a wired USB connection. Sure the mouse is sold and marketed as wireless, but it doesn't have to be. If you're two days into gaming, haven't charged, and it runs out of battery, then there's uninterrupted gaming by just plugging in the nylon-braided cord USB cord. This offers uninterrupted gaming, and removes the need to search for batteries since they are rechargeable and not replaceable.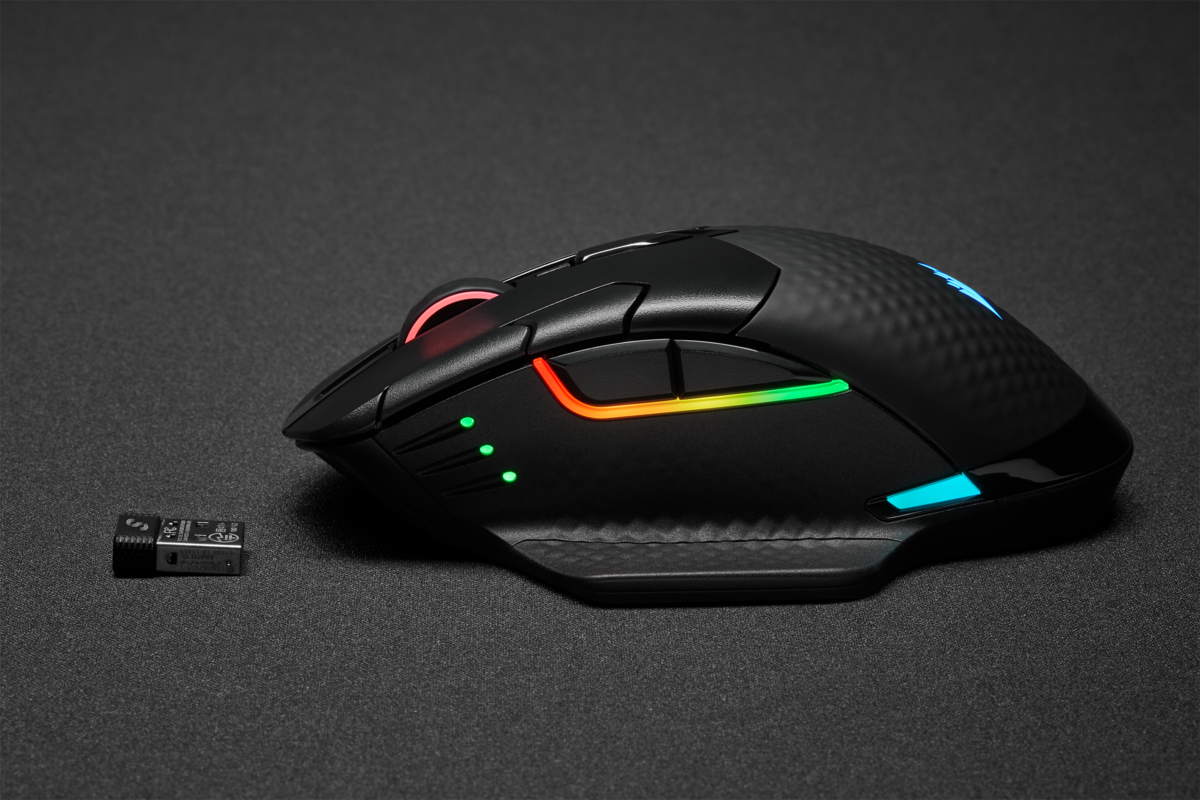 Ergonomics
In terms of ergo, this is one of the most comfortable mice I've had in my hand. I'm a palm grip player, and this mouse is designed for that. As mentioned, the mouse features swappable side plates on the right side of the mouse. I prefer the textured and contoured shelf for my fingers. The left side has a built-in thumb shelf that doesn't swap out, but it's extremely comfortable, and I can't imagine using it any other way.
The mouse is rated for 50 million clicks with its Omron switches. These mouse clicks are not noisy, either. Every mouse button press takes minimal effort. On a lot of mice I've used, there's hard edges where the mouse buttons (mainly mouse1 and mouse2) reside, and here that edge is lessened, and softened. It never catches on any kind of material or with skin. The middle mouse button is soft to the touch, quiet when scrolling, but clicking is incredibly responsive.
iCUE
Corsair's iCUE software has improved and grown immensely. You of course can switch profiles with a default button press of the mouse, on your keyboard, or in the software. All devices connected will change thanks to linked profiles.
In terms of specifics for the DARK CORE RGB PRO, you can show the battery indicator in the system tray for easy "at-a-glance" battery check. Set when the mouse falls asleep, which is default 15 minutes. There's a power save mode which disables RGB to extend the life of the mouse between charges. Lastly, you can define polling rates. By default, the mouse uses a polling rate of 1000Hz, which is an insane amount. But that's not the end of it, the polling rate can be increased to 2000Hz for the quickest response and least amount of lag. However, this will be a drain on the mouse with the increased signal requests and sends.
A couple things to note for wireless mode: You can't run the "Calibrate Surface" option without it being connected via USB. This is where you have either a hard or soft cloth surface, and can calibrate for how the mouse moves across the surface so the mouse knows how to adequately respond. In addition, you can't add Onboard Profiles unless it is connected as well.
In total, there are eight programmable buttons. It seems as if there are only five to work from, but the default buttons of profile switching, DPI up, and DPI down are not hard-set. These buttons can take on different actions or perform different macros altogether. In iCUE, there's a listing for a "sniper" button, but on the PRO version of this mouse, that button was removed. It can be reconfigured for use, but feels like a holdover from the previous iteration. And the biggest improvement is all of the RGB on this mouse. There are nine RGB lights, or zones that can be configured and its bright LEDs are just gorgeous.
Playing games like Call of Duty: Modern Warfare / Call of Duty: Warzone, Fallout 76, Escape from Tarkov, and Valorant (Closed Beta) all saw improvements. This is all anecdotal of course, but a great mouse can make a better player. And I feel that's the case here. The mouse is responsive in multiplayer games (where it really matters), it's got a huge range in DPI to work with, and I'm able to change DPI on-the-fly to match different scopes and needs in extreme comfort.
This is my first time using a wireless mouse, ever. So I'm well aware of the latency in most mice, the need to recharge, and overall unease in wanting to use them for gaming. I've had those feelings, which is why I hadn't tried one before. But Corsair's DARK CORE RGB PRO has none of those issues; even when it's wireless, it feels like an invisible cord is plugged in. It's that smooth.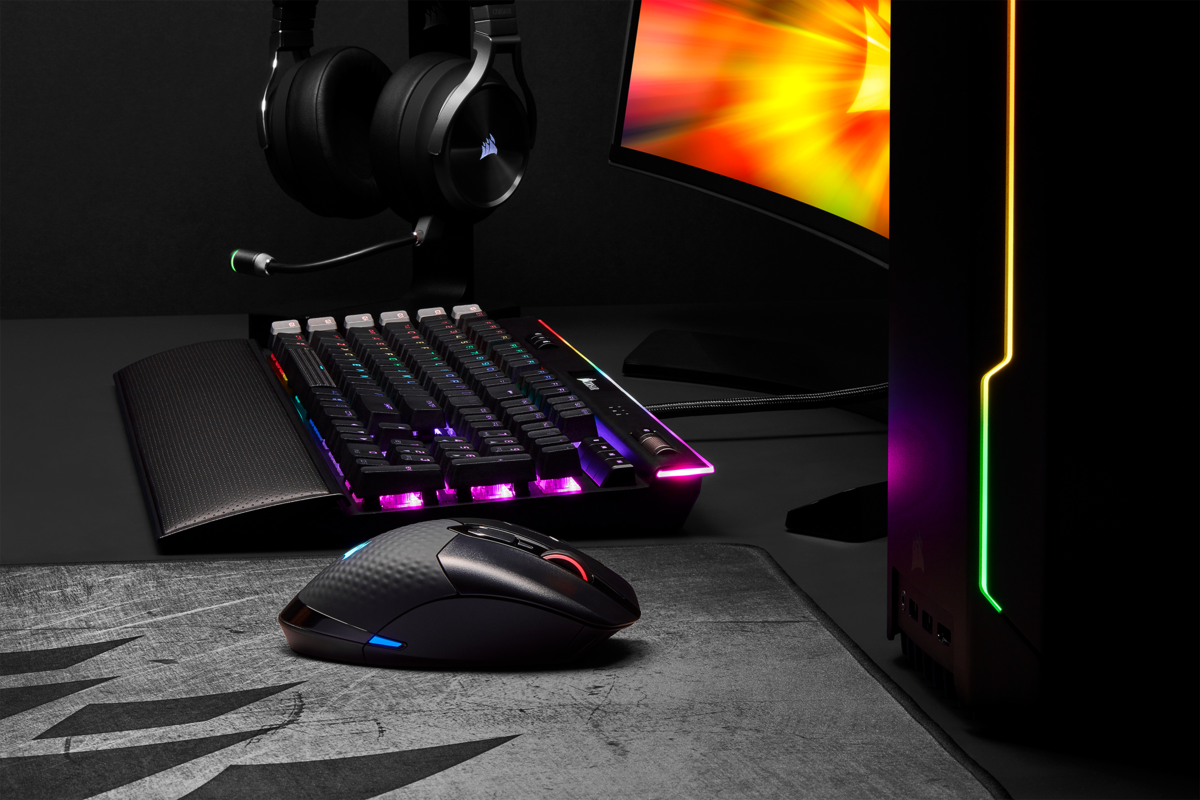 Simply put, the DARK CORE RGB PRO Wireless Gaming Mouse is elegance and brilliance. We've reached a point of parity for wireless with wired mice, free of lag and performance concerns. This is my new favorite, and go-to mouse. It's portable, rechargeable, and available for a killer price. In two week's time, I'm convinced that this mouse is not only great, but it's the best of both worlds in terms of offering excellent wired and wireless usage.
Corsair provided the DARK CORE RGB PRO Wireless Gaming Mouse for review purposes