I've been a fan of ASUS routers from a distance for a while now. And it wasn't until a couple of years ago before I went out and bought my own. From that point forward, I've been a fan of ASUS routers from my own experience. My households consumes a lot of internet, whether it's for streaming television and movies, playing online games, or now for online school. ASUS' RT-AX82U is a flexible powerhouse, able to take on the demand of today's requirements, while also being forward thinking and ready for the next-generation of wireless internet.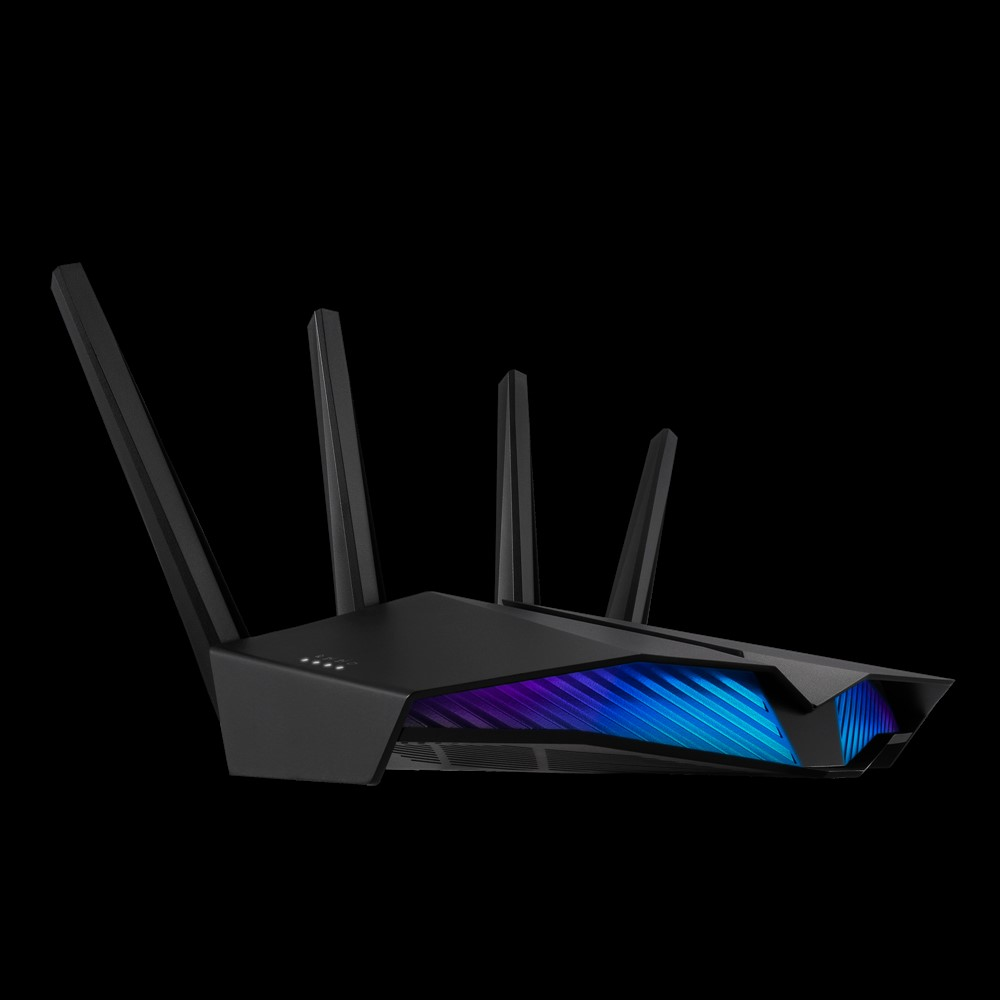 The RT-AX82U utilizes the new 802.11ax data rate with speeds up to 5400mbps, which is where the AX5400 comes from. Only newer devices will be able to connect over 802.11ax, also called Wi-Fi 6. It allows for a wider wireless range and faster speeds. It's a device that can potentially support Wi-Fi 6E later this year. It's worth noting that it is backwards compatible with 802.11b, 802.11a, 802.11ac, 802.11g data rates as well. This is a router designed for large homes.
After unboxing, its four medium antennas are already attached, and it's just a matter of plugging in the RJ-45 cable from modem to router, and giving it power. The antennas are adjustable but not replaceable. From looks alone, it's a stunner. Equipped with RGB lighting, the out-of-the-box default lighting garners attention. The RGB can be customized just like all AURA SYNC devices, or turned off completely. These changes can come from the web or mobile app. This router is horizontal in design, in that it covers more lateral space. On the back you've got a flip-switch power button, an update to what I've been used to with ASUS on the RT-AC5300 of the spring-loaded power buttons. A USB 3.0 port is there for serving files off a NAS or other server, or just some quick file sharing. Lastly, and most interestingly there's a dedicated "Gaming Port" for Ethernet, which is the first spot. Which, interestingly is in reverse order than anything else I've experienced, but not the end of the world. It's got a real good look, but maybe not one everyone will like. This is classified as a "gaming" router, thus RGB is a part of that now.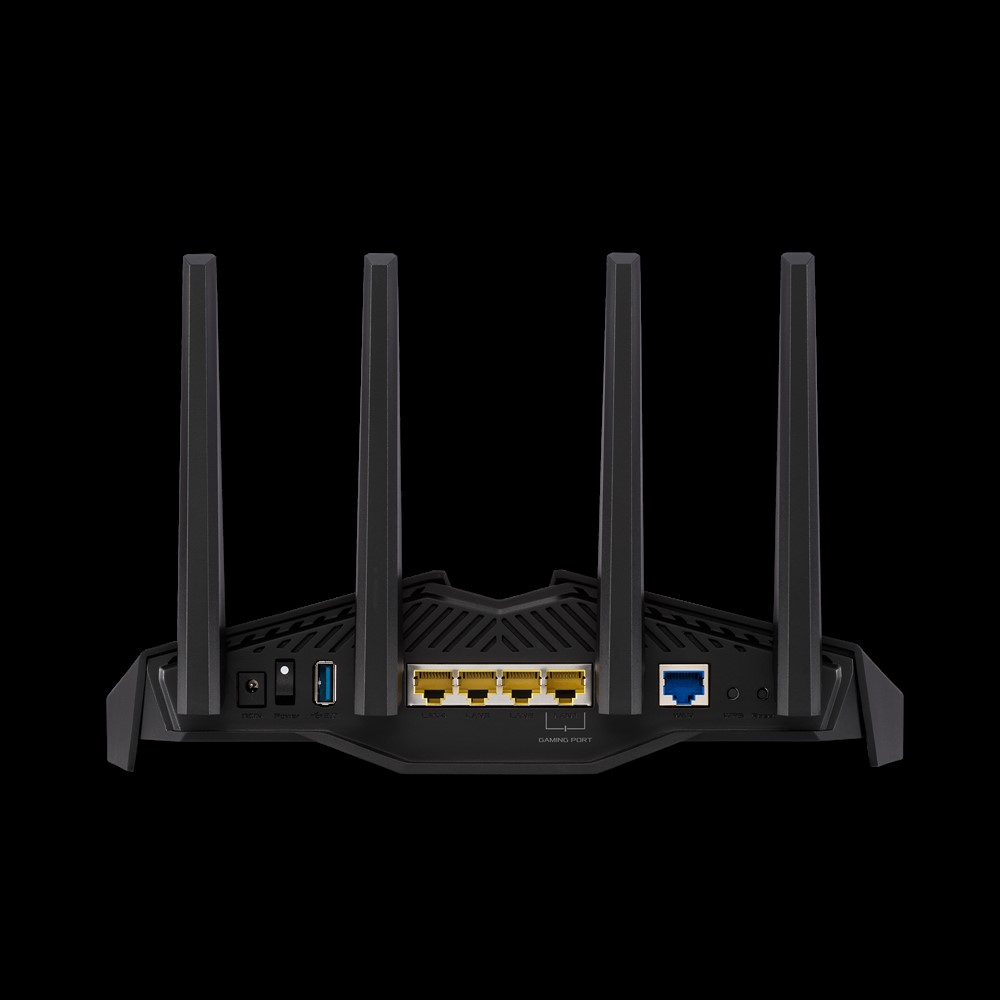 The RT-AX82U Dual-Band router replaced my long-standing RT-AC5300 Tri-Band router (1 x 2.4GHz band and 2 x 5GHz bands). For the time being my RT-AC5300 sits off to the side and the RT-AX82U takes over for the whole house.
Perhaps unsurprisingly, the web app interface is yet unchanged. This is really looking dated and feeling more unintuitive. This is especially noticeable when using the mobile app, which has received a huge facelift and is much more user-friendly. I think the web and mobile app serve different purposes, but the differences are noticeable. I did find that changing one setting like QoS, were not showing in the mobile app, or vice versa. So there's some desync in some of the settings. It's not a deal breaker, but when it happens, it's hard to know what the source of truth is.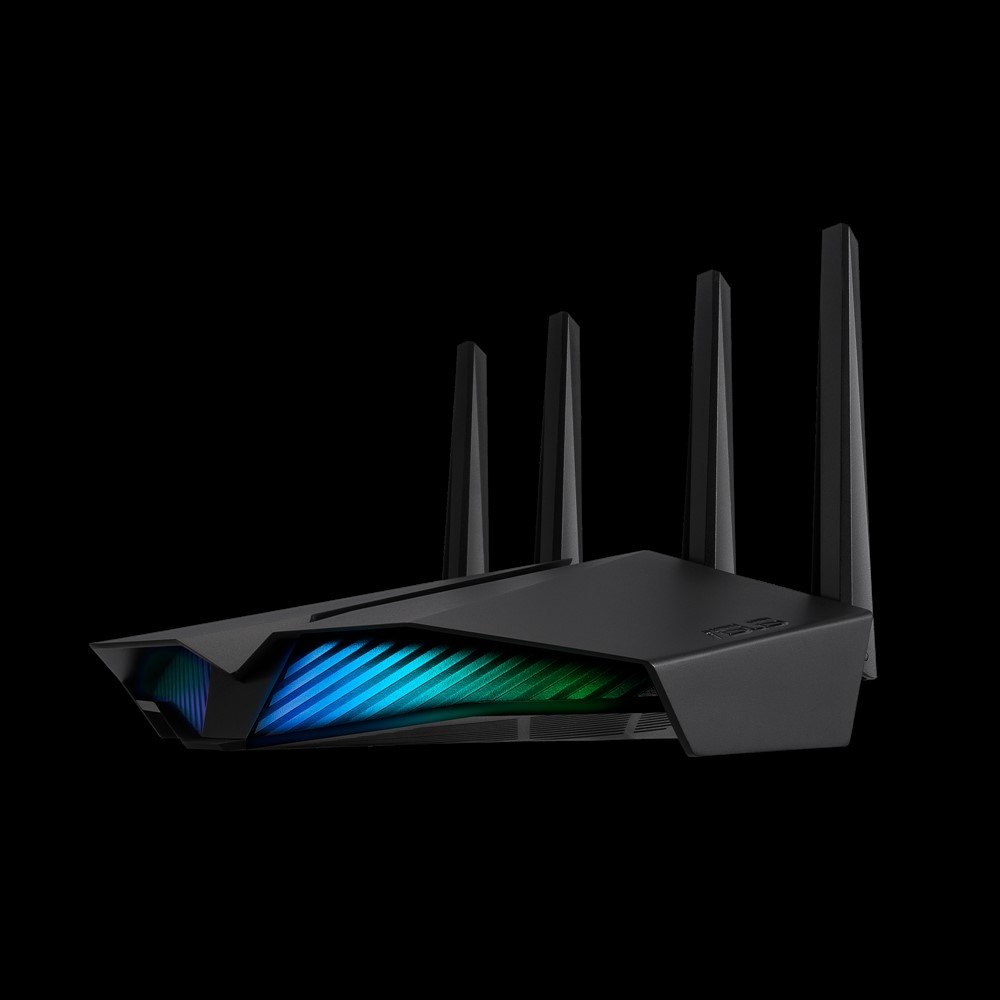 QoS
The Quality of Service (QoS) options are great, but perhaps a bit too restrictive or forced to balance to cleanly by default. When traversing the options, the RT-AX82U evenly distributes the bandwidth to each device, and depending on their need, might not be enough. It uses "Traditional QoS" when its enabled, and priortizes based on parameters you feed it. Which is nothing at the start. I switched to "Adaptive QoS" so that it would allow me to select one of several presets: learning at home, working from home, gaming, streaming, web surfing, etc. These options are much more flexible and are able to send bandwidth to the devices that need it most. There's also a "Bandwidth Limiter" mode, but I didn't find it useful, where Adaptive QoS handled this without my manual intervention. There's even an option to turn on GeForce NOW QoS settings, making it so it ensures that you get the best signal from this cloud gaming service. And if you're gaming on mobile, there's a specific mobile gaming mode that further prioritizes devices for the best experience, and it works really well.
Security
For those security-concious, there's firewalls and parental controls. But you get a lifetime subscription for AiProtection Pro as well as WPA3 protocol to secure you devices. There are a lot of options for locking down access and protecting your home's internet from nearly every intrusion. For my Wi-Fi 6 enabled devices, they seemed to run a bit slower than expected. Being a lone router, I found the signal strength to be a little less than I would have thought.
Speedtesting
Now it comes to the fun part: speedtests. Let's account for internet weather, congestion, and other oddities, but in most cases I saw marginal to fantastic improvements across wired and wireless devices, to include phones and tablets. I have Xfinity as my ISP with their Extreme Pro Internet which is rated at 500Mbps, but over-provisioned to be closer to 600Mbps. I did all of my tests with ASUS' latest firmware (v3.0.0.4.384_9703-g5caec4f) for the RT-AX82U. Without further adieu:
Speed Tests via Fast.com, Speedtest.net and Xfinity
Throughput Tests via TamoSoft Throughput Test (v1.0 build 34)
AiMesh
I've seen this on my RT-AC5300 for so long now, but didn't have another compatible device to try this with, until now. AiMesh is the system in which I can connect one or more ASUS routers to form a mesh network, where it'll cover the home better and can be controlled from the primary router (the one connected to the modem).
This was my first opportunity in checking this out. Once I had done all my other testing, then reset and added my AC5300 to my upstairs corner that has been identified as a wifi dead zone for a while. The setup for this is a breeze, and really smart. Once connected, I was able to walk around the house and see my phone traverse from the mesh router (the RT-AX82U) to the mesh node (the RT-AC5300) with ease, and no interruptions or loss of signal, even temporarily. Even running a mobile speedtest while moving about the house was consistent.
The ASUS RT-AX82U has a permanent fixture here in my home. There's a lot of controls in the apps to prioritize bandwidth manually, but its automatic handling is really smart. This is a feature-rich router with cutting edge technology, and its only drawbacks are the slightly slower Wi-Fi 6 speeds and shorter wi-fi range. The ASUS RT-AX82U is a bit pricey, but it strikes a balance between performance and cost efficiency amidst its multitude of options to be in a class all its own.
A hardware unit was provided by ASUS for review purposes