While I'm just coming off having used the RT-AX82U for several weeks, I've now been introduced to its big brother, the ASUS RT-AX86U. It's a router that boasts faster speeds and wider coverage, which we'll put to the test. The router's biggest feature is being able to serve an aggregated 2Gbps of internet bandwidth, which makes it rest comfortably between being a professional-grade and a personal-grade monster. This dual-band router surpasses the RT-AX82U, ever so slightly but in important ways. The ASUS RT-AX86U is a whole home internet device that looks to the future, while providing you a secure method of traversing the internet right now.
ASUS offers the RT-AX86U as the successor to the beloved RT-AC86U. This router, unlike the RT-AX82U, is made for very large homes. Where as the former was made for large homes. Its quad-core 1.8GHz CPU is powerful and offers ultra-fast boot-up times that are unparalleled. It offers 802.11ax data rates for up to 5700Mbps, which is incredibly fast.
Unboxing the this router was a delight, I was treated to seeing all black finish with a bright red accent at the bottom. The three antennas were disconnected initially, but I noticed that the connectors were gold. And the ASUS logo looks premium with the gold accents on it. This router has a vertical stance. Once I plugged it in, I saw that there are front-facing status lights with bright white LEDs. Despite the red accent, there is no RGB or lighting of any kind here. What can be seen as a top-tier gaming router, doesn't contain any extra illumination. It does feel a bit more formal, especially as this router can have applications in a home as well as a place of business. I think what's worth noting, is that unlike the RT-AX82U, the power brick is separate from the plug that goes into the outlet or surge protector. It's like a laptop in that way, which I assume it consumes more power but also gives it more versatility to be placed in a more convenient place. This too supports USB 3.0 for NAS or USB devices to serve files within the network, and does so with incredible speeds. Lastly, the power button is once again a flip-switch, and it is such a fantastic, but minor detail. Overall this is aesthetically pleasing, if not a bit of a downgrade over the RT-AX82U.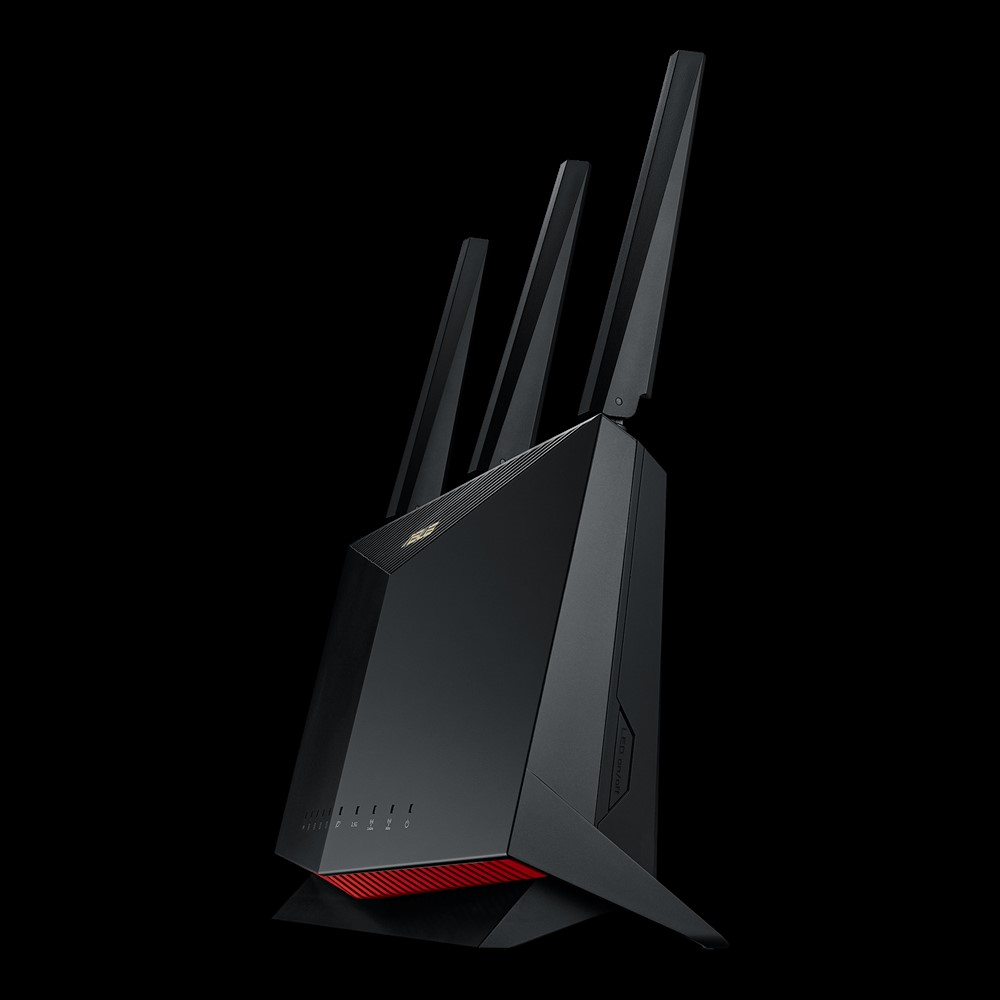 I do wish this router was tri-band, but it's dual-band offerings are still strong. Where as the RT-AX82U replaced my RT-AC5300, the RT-AX86U now is the primary router for the RT-AX82U. The RT-AX86U on its own is able to serve the whole house, but I still noticed a few dead spots for the wifi, which was remedied by using AiMesh, which I'll get to in a bit.
Aggregated 2Gbps connection
ASUS has something special here. If you have two separate 1Gbps internet services, they can be combined for a maximum internet connection speed of 2Gbps. It's an incredible deal, but really only beneficial if you have it. If you don't, you can use the 2.5Gbps port on the back for WAN or LAN connections. It's a really smart deal, even though it's real-world application is going to be limited to those who would have such a way of using it.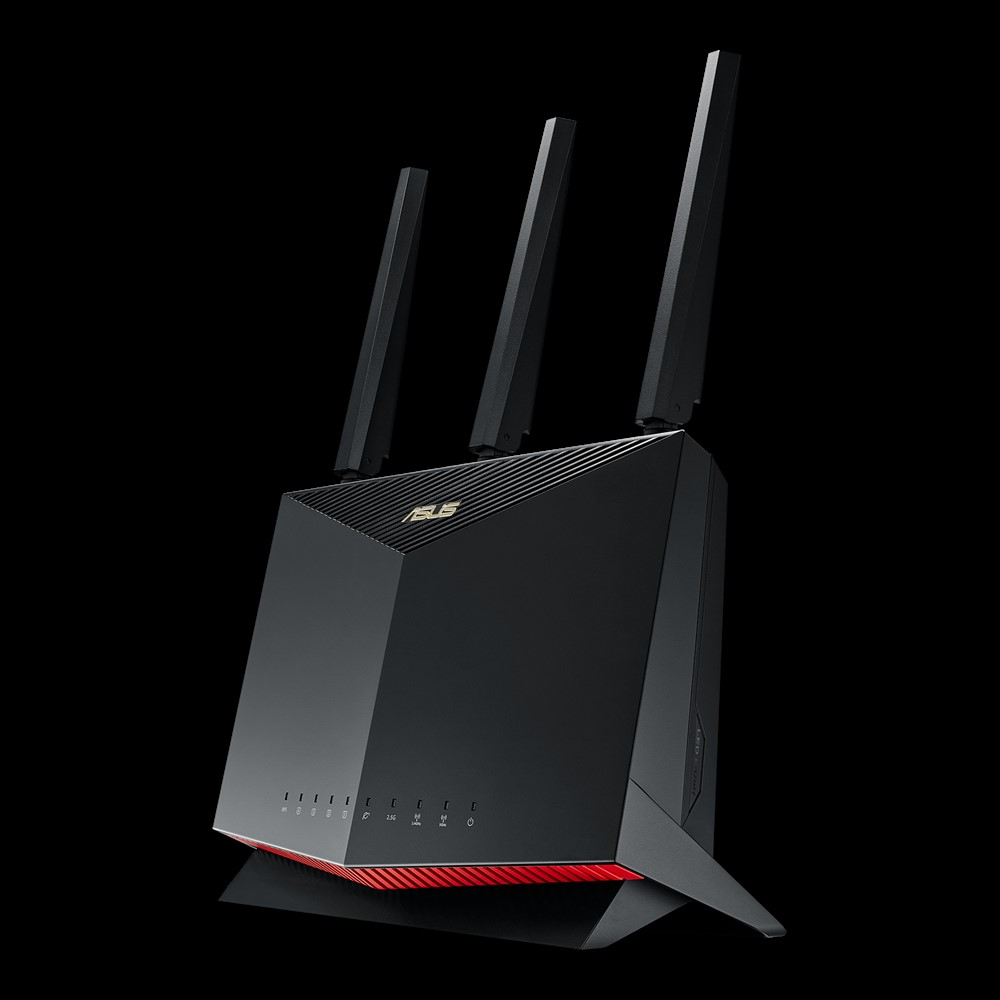 QoS
The quality of service offerings are identical to recent ASUS routers. I switched to Adaptive QoS and am utilizing controls for how I'm using it during the day, and changing it for at night. It's really easy to make the changes, but if you're making them between web or app, there can be a desync in what you've selected. You can use the mobile game accelerator to boost mobile gaming, and it shows. It gives mobile devices that added oomph for games like PUBG Mobile or Call of Duty Mobile, where being competitive and less latent is prudent. There's also support for GeForce NOW, which when activating the QoS settings there, gave me that extra bandwidth to have a lag-free and high-bitrate connection that looked close to playing it on my own PC.
Security
Like with most ASUS router products, you get a free lifetime subscription to AiProtection, a Trend Micro product that gives you peace of mind, and internet security is a single location. You have plenty of options at your disposal: WPA3 security keys, and parental controls to setup a firewall or block/allowlist. Aside from the outdated web interface, it's easy to navigate and create rules and methods to protect yourself from outside forces.
Speedtesting
Here we are again. As a general disclaimer, we're going to account for internet weather, congestion, and other oddities, but in most cases I saw improvements across wired and wireless devices, to include phones and tablets. I have Xfinity as my ISP with their Extreme Pro Internet which is rated at 500Mbps, but over-provisioned to be closer to 600Mbps. I did all of my tests with ASUS' latest firmware (v3.0.0.4.384_9298) for the RT-AX86U. Let's get started:
Speed Tests via Fast.com, Speedtest.net and Xfinity
Throughput Tests via TamoSoft Throughput Test (v1.0 build 34)
AiMesh
AiMesh is probably one of my favorite features right now. I mean, mesh technology isn't new, but I feel the way its implemented here is really intuitive and easy to setup. Of course the firmware of the device has to support it, but when it works, it's a great way to extend your existing network and not need to purchase anything new and "recycle" your old router hardware. It makes it simpler to upgrade and expand.
Due to its increased range and speeds, the RT-AX86U now services as my primary mesh router. I then reset both of my prior routers to create a larger AiMesh network: AX5700 (this one) + AX5400 (RT-AX82U) + AC5300 (RT-AC5300). This proved to be too much, and I think actually caused congestion. So then I placed one router, one on each floor with the RT-AX86U in the middle. This seemed to resolve any issues I was experiencing, and provided maximum coverage, utilizing all of the space in my home with no dead spots and consistent speeds.
It goes without saying that this offers excellent coverage, range, as well as great Wi-Fi 6 and Wi-Fi 5 speeds. It offers a better performance to price ratio than the slightly weaker AX82U. And of the two, this is the one to get, especially for the nominal price difference between them. This is everything you want and more. The ASUS RT-AX86U AX5700 Dual-Band + WiFi 6 Gaming Router is a bit of future proofing, while being incredibly fast, versatile, and secure in the present.
A hardware unit was provided by ASUS for review purposes