News
Dec 14, 2020
Shakedown: Hawaii comes to PlayStation 5 on December 15th, and will be the first four-way crossbuy game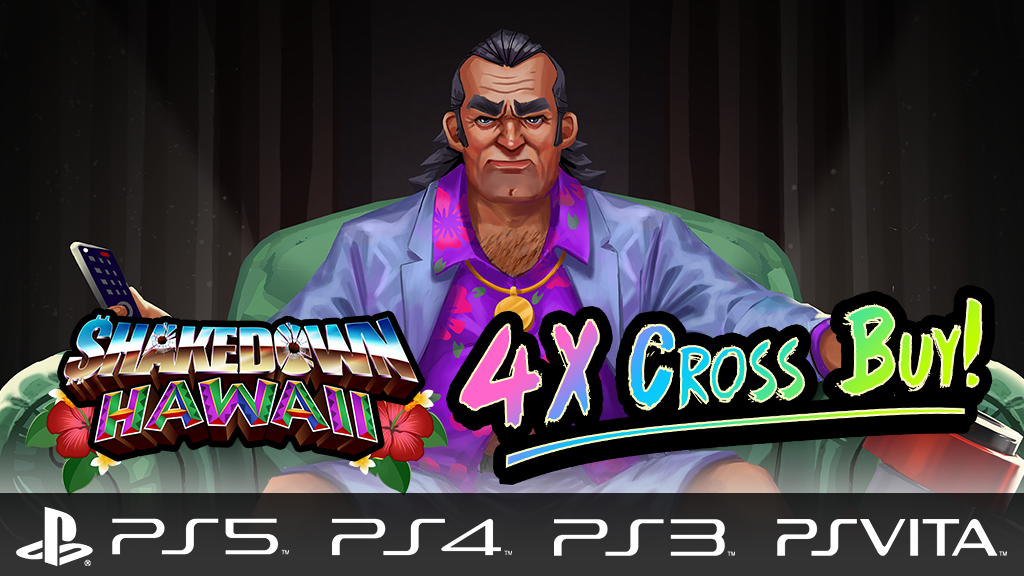 From Press Release:
Shakedown: Hawaii is coming to PlayStation®5 on Tuesday, December 15th.
Now 4X Cross Buy, everyone who purchased it digitally via the PlayStation Store on PS4, PS3, or PS Vita will get the PS5 version for free.
Check out the latest post on vblank.com for the full details.
I know, I know! So many ports! I need to make more games, not ports… but I just couldn't resist adding PS5 to the list… not to mention the 4X Cross Buy.
The PS5 version includes all of the latest updates (including the new difficulty mode), plus added PS5 functionality.
Shakedown: Hawaii supports the DualSense controller's adaptive triggers, giving the weapons a more distinct feel on PS5. It also delivers a whole new level of vibration, far beyond that of the PS4 version. Whether you choose to use the triggers or opt for the twin sticks, the enhanced vibration makes sure each action has that much more of a reaction.
These new features really are awesome (if I do say so myself). Of course, if do you want to retain the more retro experience, both features can be toggled on or off independently under the options menu.
It also brings an expanded trophy set to the PS5, including the much-requested Platinum. The new set takes advantage of the latest enhancements, including progress trophies (which display how close you are to achieving them). Your story mode completion will also be displayed on an Activity Card, and you can use that to jump directly back into the game.
Don't have a PS5 yet? Not to worry! These added trophies/achievements will also be coming to the PC version. Keep an eye out for that update to roll in… and get after that new-new 100%!