With the latest generation of graphics cards available from both Nvidia and AMD, 4K gaming on the PC at high frame rates is finally a reality for more people, and for those lucky enough to secure a beefy new graphics card, finding the right monitor to go with it can be a challenge. Display technology continues to improve year over year, and the market for 4K displays is increasing in demand along with it. Finding the right display that can support high resolutions, fast refresh rates, accurate color reproduction, and including HDR support (which is becoming more and more relevant a consideration) is no easy task, but LG has stepped up to the plate to take a swing at an offering set to satiate enthusiasts looking for the best display available. Enter the LG 27GN950-B UltraGear™ 4K Gaming Monitor, an incredibly impressive display boasting loads of features and no compromises, making a solid case for the best gaming monitor available on the market.
Display & Image Quality
The LG 27GN950-B sports an IPS panel that supports refresh rates of up to 144Hz, and in practice the screen absolutely delivers. High-refresh rate IPS panels have been harder to come by until the past few years, with most users having to opt for TN panels to get higher frame rates on their displays. The panel in the 27GN950-B is based on LG's Nano IPS panel, and it offers all of the accurate color reproduction you would expect, but seeing that paired with an incredibly crisp 4K resolution is truly amazing. The Nano panel technology offers a 1ms response time which completely eliminates ghosting at high frame rates, which helps keep the picture sharp and detailed.
The color gamut on the display is incredibly wide, so wide in fact that it can result in an over saturated look for some colors. Some people prefer this look (I tend to be one of them when it comes to gaming), but it is possible to restrict the range of the gamut through the monitor's settings if you prefer more accurate color reproduction. Plus, the panel sports a viewing angle of 178°, meaning you can position and tilt the display exactly how you want it without needing to worry about losing out on color quality and accuracy.
The display also supports HDR, with a peak brightness of 600 nits. Overall the quality of the HDR on the display is pretty good, especially in more dynamic scenes, but in scenes with a more muted brightness range, the effect is fairly similar to what you'd get in an SDR image, or at least not drastically different. That said, overall I found the HDR implementation combined with the image clarity and color gamut to make for an incredibly immersive experience and an overall excellent picture that can keep up with whatever action is playing out in front of you.
Worth noting is that because this is a relatively small panel (27″) for 4K resolution, the tradeoff for all of that image clarity is a high pixel density which can make UI elements and text throughout your operating system (and games) small or tough to read, so taking advantage of scaling features at the OS level is something of a must.
Testing the monitor out in several games at 4K on an RTX 3080, it's apparent that the 4K era of gaming on the PC has truly arrived. While many modern triple-A releases will be too demanding of any GPU to run at a full 144Hz in 4K with all of the settings maxed out, if you have the silicon to drive a 4K image at high frame rates, the LG 27GN950-B is exactly the kind of display you're going to need in order to do it, and it is a truly excellent way to showcase what the new generation of GPUs can achieve.
Lastly, I did also test using the monitor in 1440p to get a feel for how images would scale up, as I both game and stream from the same PC and can't necessarily afford to use all of my GPU's horsepower on rendering at 4K. I was pleasantly surprised to see that while obviously the image wasn't as crisp as native 4K, the display does a solid job of smoothing things out and making that particular lower resolution still very usable. One could also conceivably opt for using DLSS in supported games and a target resolution of 4K in conjunction with capping the frame rate to help free up some headroom on the GPU, but if for some reason you do need to drop to a lower resolution, the 27GN950-B still does an admirable job of representing the content well.
Features
For those who want to eke every last bit of performance out of their hardware, the 27GN950-B can be overclocked up to 160Hz by enabling the "Overclock" option within the On-Screen Display, though only the most sensitive of users will be see benefit from the 16Hz increase. Such a change might be beneficial to people who play competitive games like Valorant, Overwatch, CS: Go, or League of Legends (or to a lesser extent, Call of Duty), but most users won't see a noticeable improvement. There are reports of some units experiencing flickering when using the Overclock feature, but the unit I was provided for testing did not exhibit this problem.
The LG 27GN950-B offers a response time of as low as 1ms via its "Fastest" response time overdrive mode, but in practice this produces some undesirable image quality issues in the form of pixel overshoot, and so you're best off using the "Fast" setting to ensure a respectable 4ms response time that still ensures well-timed display refresh without any negative impacts to image quality.
It also supports Variable Refresh Rate, making it compatible with both AMD FreeSync and Nvidia G-SYNC technologies out of the box, though as is more commonly the case these days, the LG 27GN950-B is "G-SYNC Compatible," and doesn't sport the extra licensed Nvidia G-SYNC hardware required for some of its more advanced features.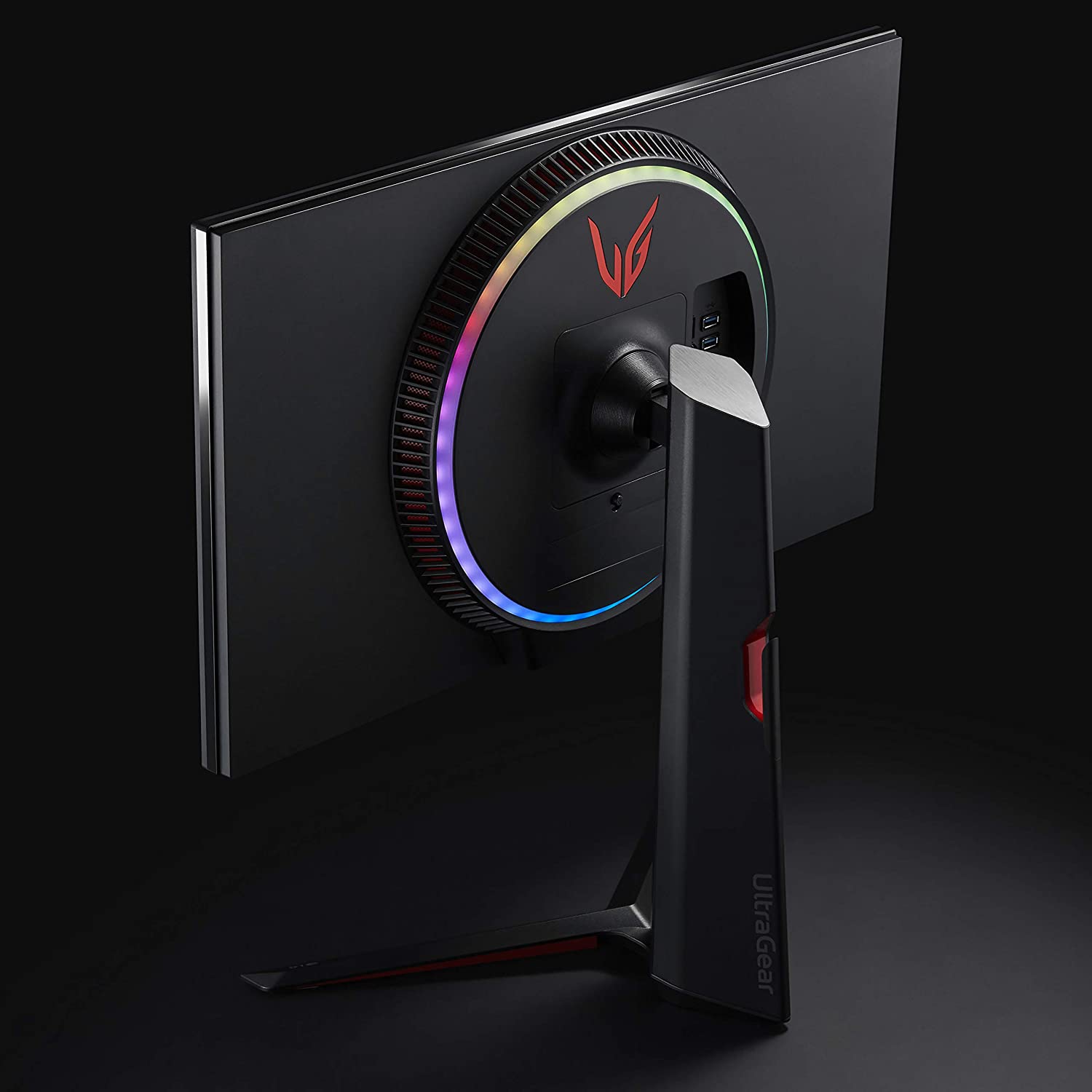 The On-Screen Display provides access to a number of features, including low blue-light mode, multiple picture profiles (useful when using the display with multiple devices), Black stabilizers, and specifically calibrated "Game mode"s to choose from. You can optionally set custom aiming reticles to be overlaid on the center of the screen to provide consistency across all of your games. The Display's Local Dimming feature is also accessible through the On-Screen Display, which when enabled helps to really boost the overall performance of the HDR implementation.
The On-Screen Display is controllable via a small joystick on the underside of the monitor, next to which is a small wheel which can be used to quickly control and adjust the display's built-in RGB LEDs. Pressing the wheel turns the lights on, and scrolling it chooses from six presets, and the light that comes off the back of the monitor is more than just for decoration, but acts as ambient lighting if you have a wall directly behind your desk. These lights can be coordinated with what's on the display by installing the Ultragear Control Center desktop application, adding a deeper sense of immersion to your games (and a feature I always love to see).
Build & Form Factor
The LG 27GN950-B has an extremely thin bezel, aiming for a "borderless" design intended to put the panel front and center with minimal distractions. Notably, this design applies to all four sides of the monitor and not just the left, top, and right sides as is common with most displays. The included stand is quite stable and provides a great deal of range of motion for positioning the screen, however the central support structure lacks any kind of way to route cables, which is less of a problem for the inputs and more an annoyance for peripherals from your desk like a keyboard. Not a deal breaker by any means, but it can lead to an awkward cable routing situation on your desk. The stand also doesn't provide the ability to swivel the screen to the left or right, but it does allow for a 20° tilt range and a 90° pivot.
The overall design of the display and the stand aims for a mix of minimal style where it matters, paired with aggressive flourishes where they can be worked in. It cuts an impressive profile on any desk, and if paired with a VESA mount arm, I'd argue it's a nearly perfect blend of form and function.
I mentioned RGB LEDs in the previous section, and these come in the form of a large, well-illuminated ring on the back of the monitor. The support stand mounts directly in the center of the back (and of the ring itself), meaning that if you choose to take advantage of a VESA mount instead, the RGB lighting is unaffected.
The inputs for the display reside in an inset piece to the side of the mounting point, and it sports the typical array of one DisplayPort 1.4 DSC input, two HDMI 2.0 inputs, a headphone jack, two USB-A 3.0 inputs, and one USB-B 3.0 output to carry all of the data back to your computer. Unfortunately because the HDMI inputs are only HDMI 2.0, you'll be capped at 60Hz at 4K when HDR is enabled, so you'll want to utilize the DisplayPort input for the full range of available features. Getting a proper 4K, 144Hz, HDR 10-bit image means you'll also need a graphics card that supports DisplayPort 1.4 DSC, so that rules out nearly all but the most recent two generations from both AMD and Nvidia. An Nvidia 30-series, 20-series, or 1660 GPU will do, or an AMD RX 6000-series or 5000-series GPU.
Conclusion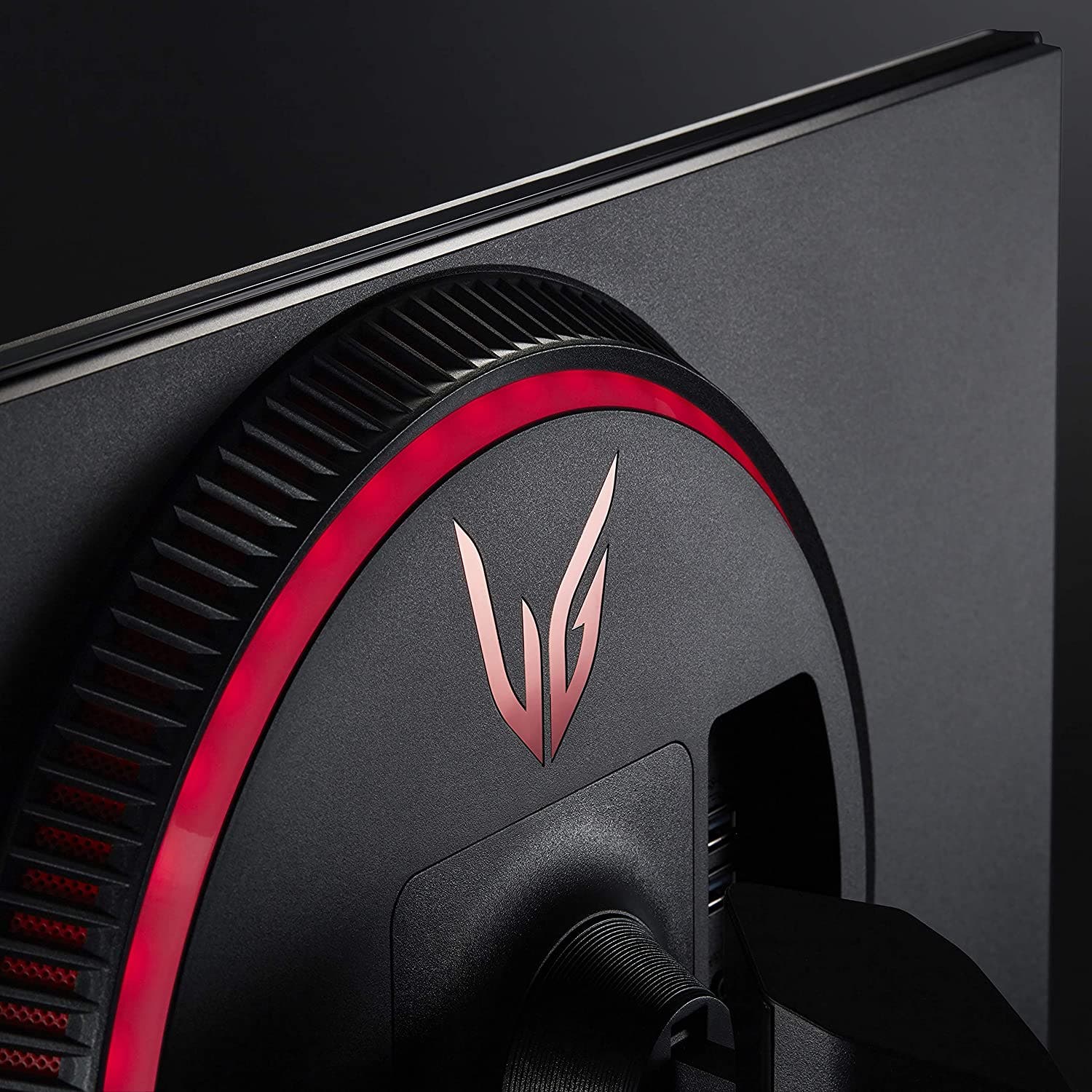 At a price point of $799, the LG 27GN950-B isn't cheap, but for a high-end 4K gaming display it's an incredible deal, especially compared to other popular 4K gaming displays like the ASUS PG27UQ with a steep asking price for relatively little visual quality improvement. It also blows the competition in the same price range out of the water, offering an incredibly smooth, clear, vibrant picture and consistent performance. This monitor pairs especially well with a new Nvidia 30-series or AMD RX6000-series GPU if you're among the lucky folks able to get your hands on one, and it's a great way to showcase what the latest gaming hardware can do.
Barring the tiny percentage of users willing to spend any amount of money, I think the LG 27GN950-B is an incredible, feature-packed 4K gaming monitor at an excellent price that puts it well above its direct competition. If you're on the hunt for a 4K gaming display and you're not trying to spend cost of your entire PC build over again, the LG 27GN950-B is hands down the best option available.
The LG UltraGear 27GN950-B was provided by LG for review purposes