We're just about halfway through the real-life Formula One season for 2021, which means it's time for Codemaster's annual Formula One game, with F1 2021. This is the first Formula One game from Codemasters after being acquired by EA last year, and it's off to an impressive start with no other changes to what we know and love. F1 2021 is full of returning modes, refined systems, and all-new story mode that's got heart. Codemasters continues to make the series accessible for newcomers and challenging for its advanced players. F1 2021 is clearly a team effort, and Codemasters have pulled out all the stops, making this by far the best one yet.
It wouldn't be surprising to say that the first thing you notice once arriving at the main menu, is the emphasis on Braking Point (which is a great name, by the way), the story mode for F1 2021 that follows several fictional characters within the sport. You play as a young, cocky upstart named Aiden Jackson, paired with veteran teammate in Casper Akkerman – both of whom can't seem to get out of each other's way. There becomes a rivalry within the team where there's egos compete and clash. Aiden also has an external rival in Devon Butler, who is insistent on stirring the pot any chance he gets. Regardless of spelling, it's a literal and figurative breaking point for all.
It's compelling TV, as it were. With mechanical failures like tires nearly falling off or losing a gear mid-race, you'll have to overcome unique obstacles to complete challenges wiithin the campaign. There's drama, tension, and exciting moments that unravel over the sixteen chapters or roughly six hours of story — it all works so well. Now there are moments where you'll perform really well, or even win a race you weren't supposed to, and the game doesn't acknowledge these correctly. And just when you think it's going to one thing, it does another. Braking Point avoids predictability, not by unforeseen twists, but rather poignant and touching moments, like Formula One itself.
Serving as a companion to the 2021 FIA FORMULA ONE WORLD CHAMPIONSHIP, you can start a Career either to match the current round of Formula One in what they're calling Real-Season Start, or go to the very beginning of the season with Round 1 in March. Career mode offers multiple avenues in singleplayer, either as a solo driver part of a team, or the dual-role of both owner and driver, letting you manage your own team. This level of flexibility is so rare, and the attention to detail of letting you play how you want, even if you want to following along with where they're currently at is so great. The career mode lets you invest in making improvements to your vehicle, and enhancing relationships with your crew with after-race interviews. These distill down to positive, neutral, and negative responses, but lets you form the kind of driver you are, and where your morality lies.
There's no season mode this time around, like we saw in F1 2020. So career mode will take you through ten years as a driver, which will have to suffice. Other single-player modes include one-off Grand Prix events, and Time Trials. These are pretty standard fare at this point, but it doesn't mess with the formula to be problematic. You will find in these modes, you'll be able to use Formula 2 vehicles from the 2020 season. I do want, and miss the historical races to recreate events, but the story mode does fill in this gap nicely.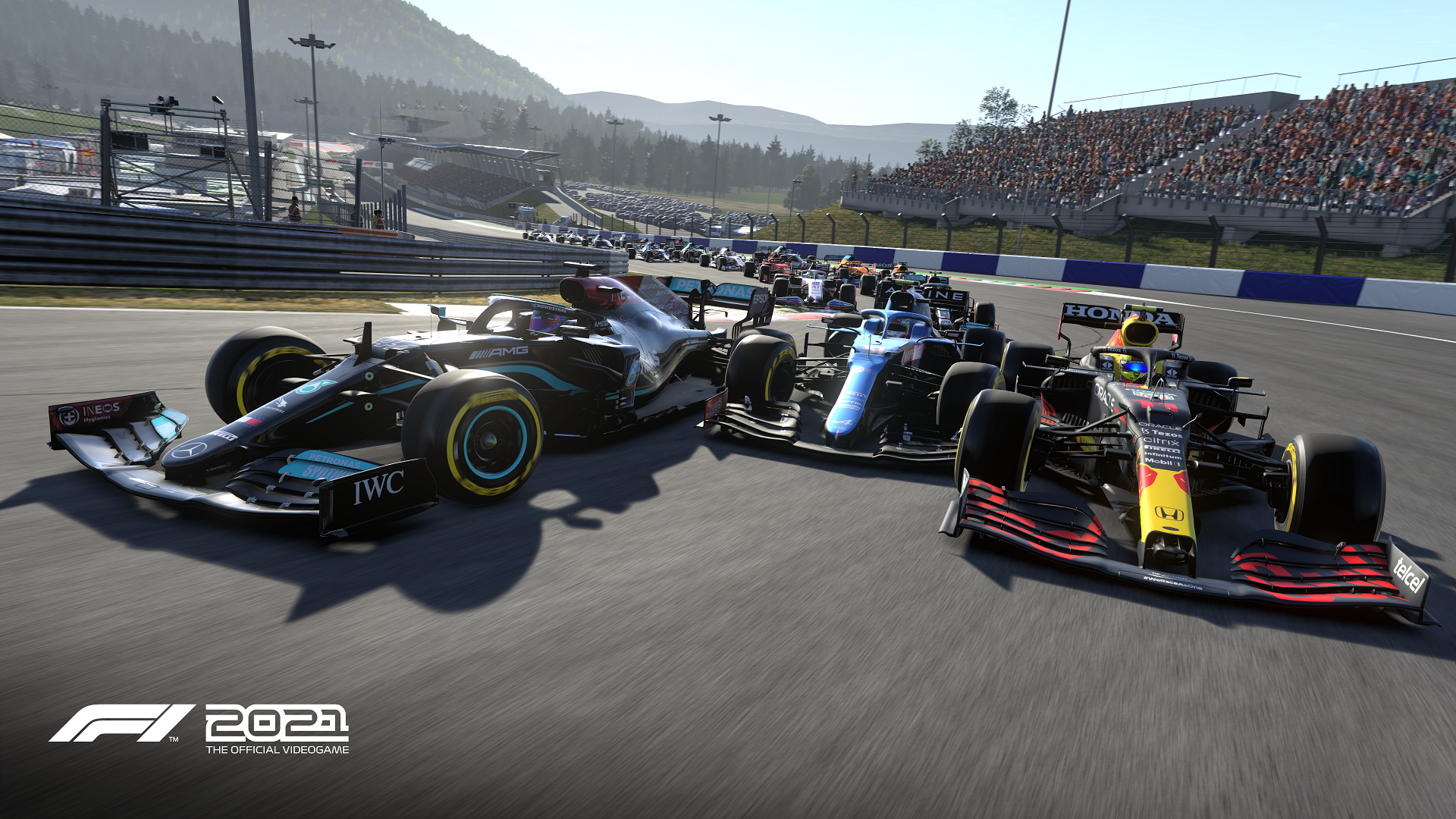 F1 2021 has streamlined its difficulty options, allowing you to find the type of gameplay you want and need to make the experience more enjoyable. There's a better focus on customization this time around. From helmets, to gloves, to outfits, and even the car's livery, you can select it or make your own. There's an item shop from earned currency to unlock even more options the more you play.
There's not a tutorial by definition in the game, but the story mode is a good way to get used to what the game asks of you, while also learning the lingo. You'll be able to tell the difference between DRS and KERS after just a few hours of play. There's a handy system of managing your pit strategy with your crew chief of tires, fuel, and other needs. There's also consideration not to pit when your teammate is pitting. You'll also have a rivalry with your teammate for position as individuals, and as a team. And the game helps keeps track of that.
After so many years, the F1 2021 sees the return of the two-player career. It can be played one of two ways, either cooperatively or adversarial with a friend. It's a mode that was included with prior Formula One games, but it hasn't been seen in a very long time. So long in fact, that I forgot about it. But honestly, I'm so glad it's back. It's such a fun way to play with a friend.
Multiplayer consists of the things you'd expect, like casual and ranked playlists, weekly events, and even some esports. Know that the ones populating the servers day in and day out are very dedicated and very serious. So make sure to stick to the casual play if that's what you're after. There's competition everywhere you can find it, and Codemasters have made something for everyone here.
With F1 2021 on PC, it uses DirectX 12 by default. This introduces Raytracing and DLSS into the option, offering some great visual enhancements that will also be present on PlayStation 5 and Xbox Series X|S consoles. The DLSS library used here is version 2.2.9, which is just about the latest library available with the best performance. Now, enabling DLSS in the options does not give you a choice between: Ultra Performance, Performance, Balanced, and Quality. I can only guess that it's using either Performance or Balanced, but it isn't clear. And to that point, it is noticeable when it's in use. The game's visuals do have a bit of blur to them, with some ghosting while playing. Other anti-aliasing options are TAA and AMD's FidelityFX Upscaling + TAA as well. The latter certainly has more sharpness and quality for the image, but at the cost of frames. The raytraced shadows and reflections work in concert with DLSS, and provide a nice balance of immersive technology and framerate. There's nothing "last-gen" about how this game looks, and it performs great no matter what.
My PC Specs:

– Microsoft Windows 10 Pro
– Intel Core i9 9900K @ 5Ghz (Turbo)
– Corsair H115i RGB PLATINUM 97 CFM Liquid CPU Cooler
– Corsair Vengeance RGB Pro 32 GB (2 x 16 GB) DDR4-3200 Memory
– EVGA GeForce RTX 2080 Ti 11 GB XC ULTRA GAMING
– Seagate FireCuda SSD (500GB)
– Seagate BarraCuda SSD (1TB / 2TB)
For an annual release, Codemasters manages to top themselves year over year, and this time is no different. After being bought by EA, I can only see positives by this relationship, and shows a promising future for the F1 series. The story of Braking Point is an absolute highlight, the return of fan-favorite Two Player Career mode is a delight, career mode is as fun as ever, and makes for a wonderful package. With raytracing, DLSS, and other next-generation features, F1 2021 feels truly fresh and exciting, like it hasn't been before.
A Steam code was provided in advance by the publisher for review purposes