Maneater: Truth Quest explores conspiracy theories, hoaxes, and the unexplained. This is the first DLC to expand on the core game, and it's a weird one. Maneater wasn't exactly grounded, but it had a sense of reality about it. With Truth Quest, things go off the rails early and often. Like the docuseries it emulates, there's not much in the way of explanation here. The things you'll be tasked with doing are too familiar with what you've done before. Truth Quest has entertainment value and gives you more of Maneater, but the invariability leaves you wanting better.
Editor's Note: This review was underway before the President of Tripwire Interactive's tweet in support of Texas' ban on abortions after six weeks went out. It was decided to continue with the review for the sake of the developers who work at Tripwire that do not share this view. At the time of this writing, John Gibson is now the former CEO of Tripwire, having stepped down since sharing that he is anti-women.
Truth Quest picks up right where Maneater left off. Trip Westhaven (once again voiced by Chris Parnell) has completed his work with the "Maneater" TV show, presumably canceled after the events of the base game. Having learned about the Naval Wildlife Organization (NWO), Trip goes off the deep end by starting a new show called "Truth Quest" to get to the bottom of it. As you play, you'll hear ad reads for his new online-only show, that are great parodies of what you hear and see today. There's a slow disintegration of Trip's mental faculties as he delves deeper with the investigation over the course of this. Whether on purpose or not, the game poorly explains what you're really after. Trip Westhaven says it's a bio-weapon. And the shark you play as, is chasing something a bit more organic seeming. I wonder what's even incentivizing the shark. This whole premise is wildly concocted, so it's best that you don't think too hard about it.
There's a new location to explore with Plover Island. Its code name is "Site P", and you'll even come across a water-based Area 51 – perhaps the true, Area 51 despite what we've been told. It's a sizable chunk of map to explore, but still smaller than all of Port Clovis. It has a great look to it, almost always at night with lots of references and phenomena happening. It definitely looks and feels like a Halloween special of your favorite TV show. Truth Quest does give you reasons to return to the original map, outside of the story beats.
There's a lot new in Truth Quest. One of the first mission objectives is to destroy radio towers. Taking these towers down requires using and perfecting the tailwhip ability. Maneater didn't really ask you to use it before, now it's a necessity. In order to use the tailwhip effectively, it requires the new military enemies to throw a projectile into the water. From there, you have to grab it before it explodes, and then throw it at the tower. It takes some getting used to, but it become second nature quickly. This is made easier with the new Godzilla-like nuclear breath blast you get. There's a frequent need to kill ten sailors at a time, for every section of the new map. Somehow they make killing groups of enemies monotonous. Time trials make their debut here, and you almost wonder why they weren't in the game when it first launched. But I'm here to tell you that the time trials are in fact a Shamu jump show in disguise, except there's no fish reward for what it asks of you. These are very frustrating tasks, and reminiscent of Superman 64, no joke. Familiar collectibles return, like: license plates and food caches, which are easy to find but all too . What's not easy but are fun to find, are the addition of Questors. These shiny, tinfoil hat wearing folks can't be detected by sonar, only by hearing them spew nonsense.
There are five new bounty bosses to fight, once you reach the Infamy Rank for Plover Island. When you reach higher tiers, you'll start to see the new enemy vehicles like an armored speed boat and helicopters come out, which change the dynamic of these fights. There are new, mutated Apex Predators to engage with. They're imbued mostly by radiation, and are more exciting and challenging to fight than they were previously. Now, when it comes time to the final boss fight, prepare for pain. It's pretty much everything a final fight shouldn't be, and summons every apex predator you've fought before to join it. It's an arduous and lengthy battle, and defeating it is wholly satisfying. You'll feel like an apex legend killer.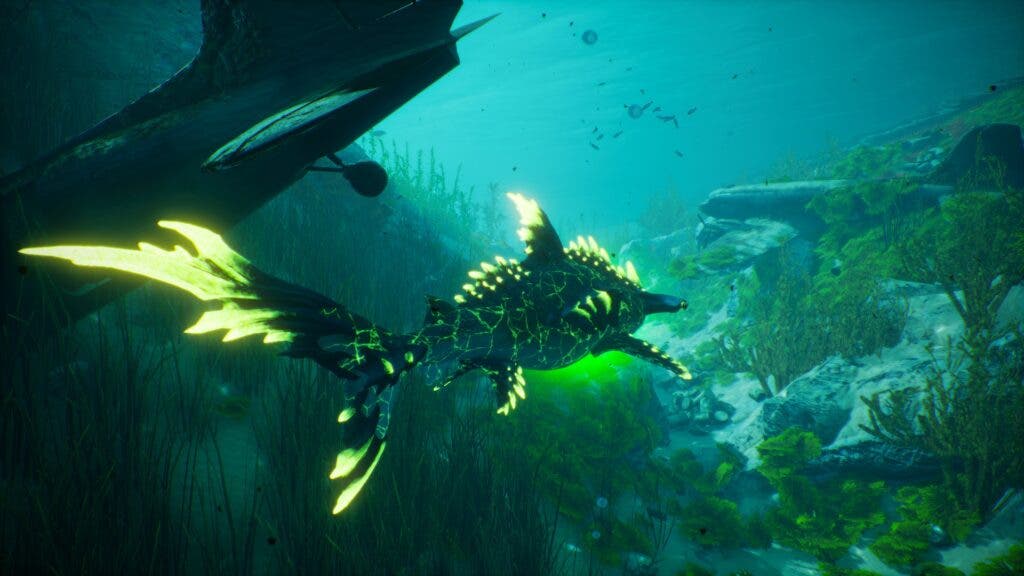 While there's lots to see and do, there's still evolution for your megalodon to achieve. Previously capped at level 30, now you can work your way up to level 40. And at level 35, you get access to a new organ slot. This'll allow you to use one of either the previous passive abilities, or one of the new ones unlocked by defeating bounty bosses. This bite-sized content is roughly one-third of the base game, taking around four hours to roll credits. It'll take another couple of hours to reach 100% with this DLC.
As far as performance goes, Maneater still looks fantastic. It's unfortunate that this is still locked to 60fps on PC, even with VSync turned off. I do wish that framerate was unlocked, or had higher thresholds. The game feels a little buggier than usual. I often saw enemies launching into the air or getting stuck underneath the map. And the camera gets really wild and obnoxious, stuck on geometry. It's a gorgeous looking game that's bright and colorful.
My PC Specs:

– Microsoft Windows 10 Pro
– Intel Core i9 9900K @ 5Ghz (Turbo)
– Corsair H115i RGB PLATINUM 97 CFM Liquid CPU Cooler
– Corsair Vengeance RGB Pro 32 GB (2 x 16 GB) DDR4-3200 Memory
– EVGA GeForce RTX 3080 Ti 12GB GDDR6X FTW3 ULTRA
– Seagate FireCuda SSD (500GB)
– Seagate BarraCuda SSD (1TB + 2TB)
– OWC Aura P12 NVMe SSD (2TB)
Truth Quest is aimless, offering little motivation to drive this mystery home. The short runtime makes it easy to chew, however. It does recycle a lot of content from the base game alongside the new activities, though it isn't quite enough to keep things exciting. But if more Maneater is what you're after, then Truth Quest has that in spades. This DLC just lacks the charm of what made Maneater so special, yet it remains fitting for the tone of the game. Maneater: Truth Quest is an inessential add-on, but there's enough interesting things to satiate most.
A Steam code was provided by the publisher for review purposes