News
Sep 30, 2021
Here are the PC Specs for Forza Horizon 5, releasing November 9th onto Windows 10 and 11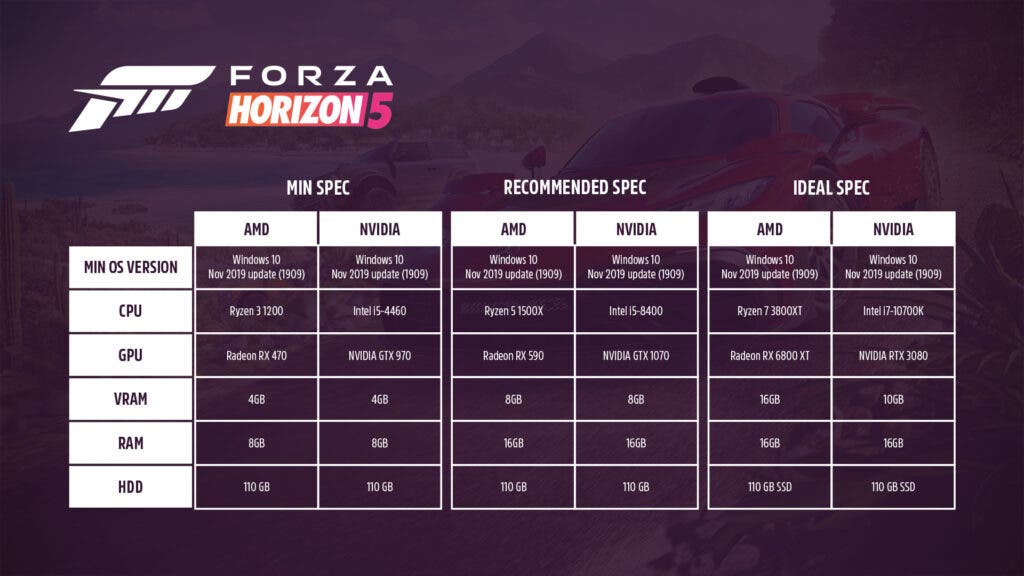 From Press Release:
Today, at Tokyo Game Show 2021, Xbox and Forza Horizon 5 unveiled the title's recommended PC specs, peripheral support (including some of the most popular steering wheels) as detailed via Xbox Wire and on FM.net.
As shown in the infographic below, Forza Horizon on PC will look and play fantastic across a range of PC hard configurations on both Windows 10 and Windows 11.
Additionally, Mike Brown, Creative Director of Forza Horizon 5 at and Ben Thaker-Fell, Principal Game Designer from Playground Games showcased a demo on the new Surface devices. Players can explore Mexico beginning on November 9 when Forza Horizon 5 releases for Xbox Series X|S, Xbox One, PC on Windows and Steam, and Xbox Game Pass including console, PC and Cloud Gaming (Beta) with Xbox Game Pass Ultimate (where available).
For the latest updates on Forza Horizon 5, check out Xbox Wire and follow @ForzaHorizon on Twitter.