News
Mar 18, 2022
Stand With Ukraine Bundle features 122 items from games to books to tools, 100% of proceeds to Relief Efforts in Ukraine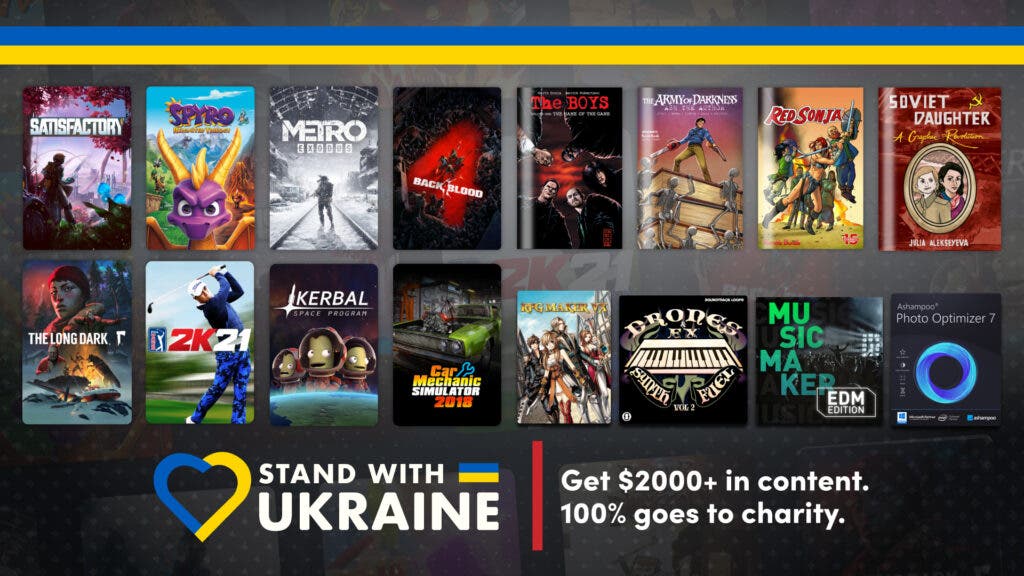 From Press Release:
In the past few weeks, Ukraine has been devastated with terrible violence that's taken a tragic toll on everyone who calls it home – displacing people and families, and creating an urgent need for food, water, medical supplies, shelter, and safety.
Today, Humble has joined forces with game creators, book publishers, and software makers from around the globe to launch the Stand With Ukraine Bundle that will give 100% of its proceeds to support the humanitarian efforts in Ukraine through charity partners: Razom for Ukraine, International Rescue Committee, International Medical Corps, and Direct Relief.
Available now through March 25, 2022, the bundle features over 120 games, books and software. Featured games include: Back 4 Blood, Metro Exodus, Satisfactory, Fable Anniversary, Spyro Reignited Trilogy, The Long Dark and more. Featured books include: Pathfinder Second Edition Core Rulebook, Starfinder Core Rulebook, Warhammer Fantasy Roleplay 2nd Edition Core Rulebook and many others. Featured software include: GameMaker Studio 2 Creator 12 Month license, RPG Maker VX, Polygon Farm, Unity to Music Maker EDM Edition and more.
For more information on the Stand With Ukraine Bundle and how you can help, please visit: here. Assets for the bundle can be found here.
For more details on the charity partners, check out the below and the Humble blog here.