Tiny Tina's Wonderlands tries not to be exactly like Borderlands, but borrows just the right amount of things from the the looter shooter action RPG template. It's game full of relentless humor, over-the-top quests, and lots and lots of loot. If you've been waiting for the Borderlands series to do something different, this does that in spectacular fashion. Through the creativity in avoiding being too much like Borderlands is actually what makes Tiny Tina's Wonderlands so endearing and clever.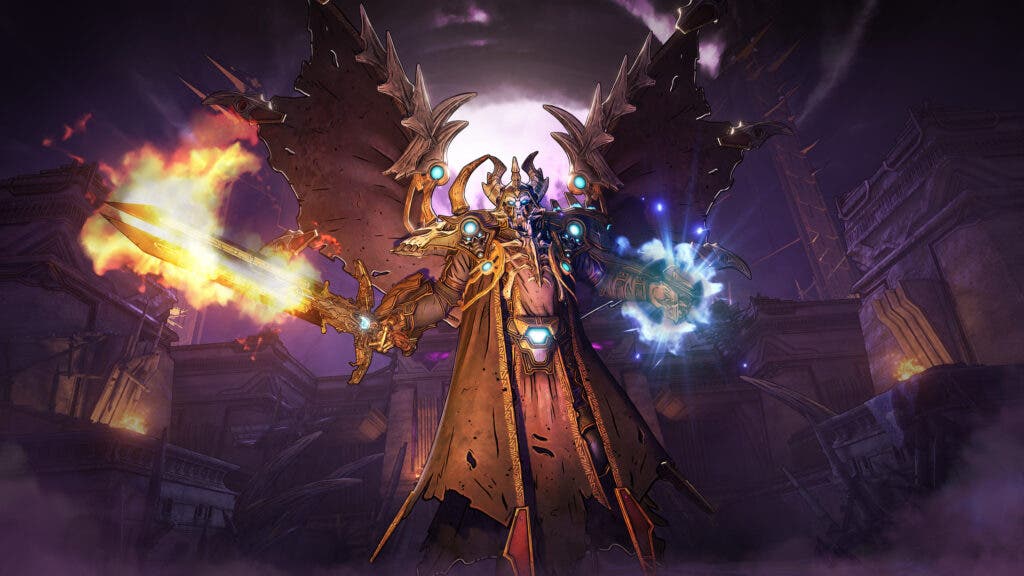 You are a newbie to this crew of B&B (Bunkers & Badasses, you know, like Dungeons & Dragons?). And as part of this role-playing game that gets made-up as you go, you are the Fatemaker, seeking the Sword of Souls to defeat the Dragon Lord. It's pretty standard fantasy fare here, but of a different flavor than you're used to in these kinds of games. The titular Tiny Tina is once again played by Ashly Burch, with a little more restraint and less annoyance. Other characters voiced by Wanda Sykes, Andy Samberg, and Will Arnett are wonderful additions and overall improvements. While the premise is simple, the depth and customization is far from that.
Because this isn't D&D, strays from the usual fantasy or known rules, so things like binicorns exist, as well as guns, because Tiny Tina said so. Guns will take the form of crossbows and muskets, but sometimes shotguns and rocket launchers are just what you'd expect them to look like, but with some fantasy flare. The parallels to Borderlands is apparent: wards are shields, spells are grenades, and even the premium golden keys to unlock chests are now skeleton keys. None of this is a bad thing, the way they've transformed the familiar into something new totally works. And for once, you get a meaningful melee weapon as a loot item with rarity to equip and use as a last resort, that doesn't actually feel like a last resort.
It wouldn't be B&B (or D&D for that matter) if you didn't have full customization of your character. For the first time in one of these, you're free to design any character you like; complete with pronouns, colors and patterns, and being able to name the character helps put a stamp on it. Before you can do any customization, you must select a class, as there are six of them to choose from. The Brr-Zerker has a skill much like the Barbarian from Diablo where you perform whirlwind attacks. The hunter class is the Clawbringer, with a pet wyvern that delivers vicious attacks. The Graveborn is a necromancer who summons a demi-lich companion to deal dark magic damage. Spellshot is your wizard class, casting spellweaving that charges based on casting a spell or reloading a gun but cools down fast. The Spore Warden is accompanied by a mushroom companion that deals poison damage. And finally, the assassin-like class with the Stabbomancer increases critical hits to an impressive degree like no other class, for quick kills. After this you'll even have access to not only skills to invest in, but a character sheet to boost strength, dexterity, intelligence, and so on. After level 40, you'll be able to invest in multi-classing. This blows the skill tree wide open as you can mix'n'match to create really devastating and nearly broken character builds.
The way you traverse the Wonderlands is largely the same. You will unlock fast travel in just a few hours, but each area is its own contained zone that must be cleared before moving on to the next one. There's now an overworld, where you as a caricature of a figurine roams the land. You'll encounter large Cheetos and soda cans, which reminds you you're playing a tabletop game. Then sometimes random encounters will stop you, where you'll find an arena full of enemies to gain experience, coin, and loot before leaving. It's really fantastic how much Gearbox committed to the B&B experience, to retain things such as that.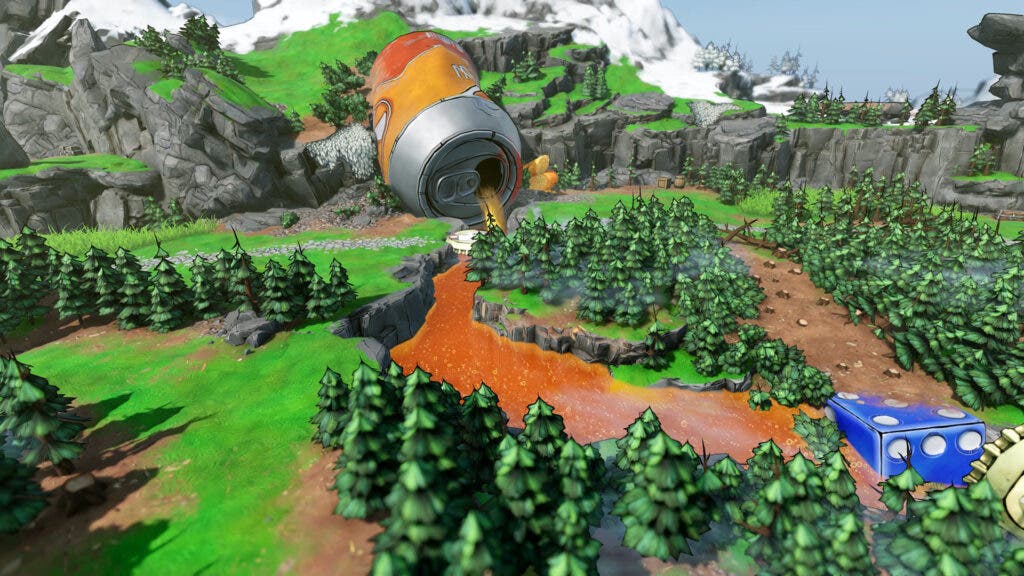 Tiny Tina's Wonderlands is a smaller game than ones that have come before it. Completing the main quest will take about 15 hours, but those looking to get the most out of their game will spend two to three times that amount. The enemy variety is rather low, as you'll encounter endless trolls, undead, goblins, and wyverns. It's not terrible by any stretch, just monotonous. It isn't helped by the fact that the bosses aren't as memorable as the ones in the universe this fictional tabletop game exists in. After the campaign is over, there's a series of myth ranks (see: badass rank) to attain, and nearly endless dungeons to take part in, the endgame is only the beginning.
The game has collectibles, but they provide a meaningful reason to hunt for them. There's die scattered through each region you visit, and snagging them increases your luck find. Meaning, the loot that drops has a better chance of being of a higher quality than had you not collected it. Gearbox worked hard to add crossplay to the game, ensuring that no matter which platform you're on, you can always play with your friends. Removing this barrier is a huge benefit to all players, and coop games can be had from nearly any console or PC.
Optionally, you can purchase Tiny Tina's Wonderlands for just the base game or also the version that gets you the Season Pass which includes three of the four planned DLCs: Molten Mirrors, Glutton's Gamble, and Coiled Captors. As separate and standalone entries, are rather unimpressive, but together add value and legendary loot opportunities that makes the package worth it.
Coiled Captors
While there's not much of a story around these DLCs, this is the first entry in the Mirror of Mystery. Simply put, these are extra dungeons that will garner you better loot, but only after encountering a major boss. The theme for this all about fighting snake-like enemies in this new dungeon. The DLC is not that expansive, and is pretty underwhelming. Most would agree that it's not substantive, as it can be completed in about 20 minutes. Though I'll say it's meant to be replayed often.
Glutton's Gamble
This is an improvement over the first DLC as part of the Season Pass, but honestly it's not improved by a lot. There's been weekly legendary drops that you can take part in, now that it has all wrapped up. Thematically, it's like Borderlands' Bloody Harvest, a Halloween-themed series of maps that are more interesting than the last DLC. Again, you get a steady stream of legendary loot drops, each better than the last.
Molten Mirrors
This is the third and most recent DLC to be released for the Season Pass, and it's yet another improvement with lots of variety but about the same length as what's come before. It's great to see a mountain environment, complete with lava just beneath the surface. It's a great dungeon set that on its own fails to be interesting, but part of the whole is a fantastic package.
Tiny Tina's Wonderlands is not too dissimilar from Borderlands 3 in terms of performance and even in-game settings. In my time with the game, it's far more stable, and just ever so slightly performant. I was able to consistently get over 100fps in a wide range of environments, and it does seem that Wonderlands is far more detailed this time around. The colors of this game are more flat than before, but when colors do appear, they really pop off the screen. If you had no problems running Borderlands 3, then you should expect the same performance when playing Wonderlands.
My PC Specs:

– Microsoft Windows 11 Pro
– Intel Core i9 9900K @ 5Ghz (Turbo)
– Corsair H115i RGB PLATINUM 97 CFM Liquid CPU Cooler
– Corsair Vengeance RGB Pro 32 GB (2 x 16 GB) DDR4-3200 Memory
– EVGA GeForce RTX 3080 Ti 12GB GDDR6X FTW3 ULTRA
– Seagate FireCuda SSD (500GB)
– Seagate BarraCuda SSD (1TB + 2TB)
– OWC Aura P12 NVMe SSD (2TB) – Fanatec CSL Elite with Pedals and Clutch
While any of Gearbox's looter shooters are better with friends, the solo experience can be just as fun here. Those not into the futuristic sci-fi setting of Borderlands will likely find solace and endless refuge in the fantasy world found here. This change proves that the Borderlands formula has the room to stretch its legs and do more going forward. Wonderlands' humor works because it makes jokes on the style it's emulating rather than making pop culture references. This shows every dungeon master can make a messy, but fun campaign, and Tiny Tina's Wonderlands shakes up the Borderlands formula enough to be a exceptionally honed fantasy adventure.
A Steam code was provided by the publisher for review purposes