From Press Release:
TORONTO, JULY 29th, 2022 – Capybara Games are thrilled to reveal today that their critically acclaimed puzzler, Grindstone, will receive one of its most ambitious and content-rich updates to date in the Cosmic Darkside update available today on Apple Arcade, Nintendo Switch, and PC! The Cosmic Darkside update includes remixes of Grindstone's first 60 levels, a completely new cosmic horror-themed world to explore with new enemy creeps, new resources, new items, and so, so much more.
The Cosmic Darkside update is Capy's unique take on a New Game + mode for Grindstone. It puts a series of new challenging twists to the levels of the original game in a new cosmic horror-themed world, starting in this update with the original game's first 60 levels. Upon completing level 200 of the main game, players will be treated to a new cutscene that will establish the strange world Jorj and Jorja will be transported into.
In the Cosmic Darkside players will be introduced to two new enemy types, the Cosmic Creep and Cosmic Jerk, who come with a new infection mechanic that when not killed fast enough will explode and infect other nearby Creeps, Jerks, and Grindstones. These enemies and the introduction of cosmic infection bring a new crafting resource in the form of Osmium, a volatile resource if left on the board for too long that can also be used to craft new cosmic gear and can even infect Grindstones, changing them into Cosmic Grindstones that will also explode and continue infecting the board if left uncollected for too long. When Jorj or Jorja themselves are hit by a Cosmic Creep or are infected, a special piece of Osmium with a heart around it will appear, and if collected fast enough players will then be able to regain the heart they lost when first attacked! With the infection mechanic, there will also be new level goals and methods for unlocking gates in the Cosmic Darkside. All of this should provide the most dedicated stonegrinders out there with quite the new challenge to tackle in a new otherworldly setting.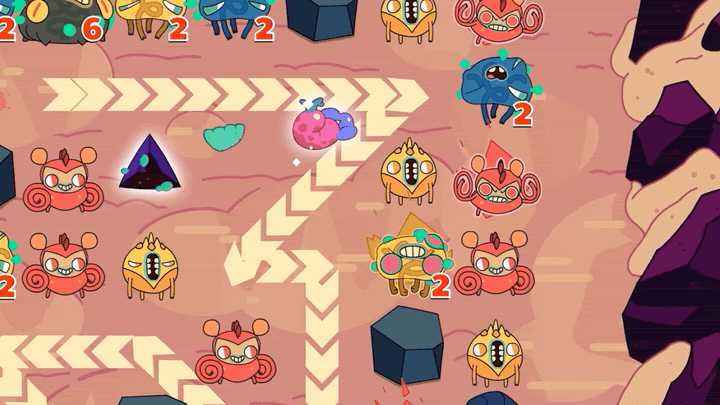 Complete list of new additions to Grindstone with the Cosmic Darkside update:
New map progression including 60 remixed levels with new goals
New story content, including a new cutscene
The new Cosmic Darkside themed map
Updated fast travel map to include Cosmic Darkside content
New Cosmic Creep and Cosmic Jerk enemy types
New Osmium, Infected Hearts, and Cosmic Grindstone resources
New level goals and map progression
New Cosmic Darkside specific challenges at the Howling Wolf Inn
All new Cosmic gear set and blueprints (Cosmic Arrow, Cosmic Spinny Sword, Cosmic Spiked Shield, and the Hazmat Suit)
About Grindstone
Grindstone is a game of sword-slashing puzzle battles from the award-winning studio behind BELOW, Sword & Sworcery EP, Super Time Force Ultra, Critter Crunch and Might & Magic: Clash of Heroes! Grindstone first released on Apple Arcade in September 2019 to widespread acclaim, earning many awards and nominations. Grindstone has since come out on Nintendo Switch, where it has also garnered much acclaim and was one of the best reviewed Switch games of 2020. It's also on PC via Steam and the Epic Games Store.
Grindstone Mountain is overrun with vicious Creeps! Slay your way up its treacherous peak where fortune, glory (and death) awaits!
It'll take sharp puzzle skills and an even sharper blade to slice your way through the swarms of bloodthirsty Creeps dwelling within Grindstone's dungeons. Battle bosses, loot resources, discover long-lost blueprints for powerful gear, all while eviscerating the innards from your deadly foes! Over 300+ levels of intense puzzle-battling madness!
For more information on Grindstone, visit https://www.grindstonegame.com/. Follow Capy on Facebook, Twitter, and Discord.
Find the game on Steam: https://s.team/a/1818690
Find the game on the eShop: http://nintendo.com/games/detail/grindstone-switch/
Find the game on the Epic Games Store: https://www.epicgames.com/store/p/grindstone
Find the game on the App Store: http://apple.co/grindstone 
Find the OST on Steam:
https://store.steampowered.com/app/2023450/Grindstone_Soundtrack_Volume_1/
https://store.steampowered.com/app/2023460/Grindstone_Soundtrack_Volume_2/
About Capybara Games
Founded in 2003 in Toronto, Capybara Games (aka "CAPY") is an award winning, independent game development studio. Starting out in the early days of mobile gaming, Capy helped spearhead the indie games movement and has become known for mobile, PC, and console favorites such as Superbrothers: Sword & Sworcery EP, Might & Magic: Clash of Heroes, Super Time Force Ultra, Critter Crunch, Grindstone, and BELOW.
###