From Press Release:
Oberhaching, Germany, August 11, 2022 – Render Cube and Toplitz Productions are excited to release the latest and most comprehensive update to date for the successful open-world survival game Medieval Dynasty. Eagerly awaited by fans of the medieval simulation, with the "Heir Update" the developer and publisher put the focus on the family in terms of narrative and content: Extensive mission lines and corresponding new items such as toys to keep the offspring occupied, offer a new level of immersion and offer a new depth to the Dynasty feature like never before. Players can enjoy family quests, numerous personality forms for the descendant, a ceremonial special event for the heir and many more new elements – even veterans who have already explored all the nooks and crannies of the rich world in Medieval Dynasty, will find fresh content for dozens of hours of new exciting entertainment in the visually stunning environments.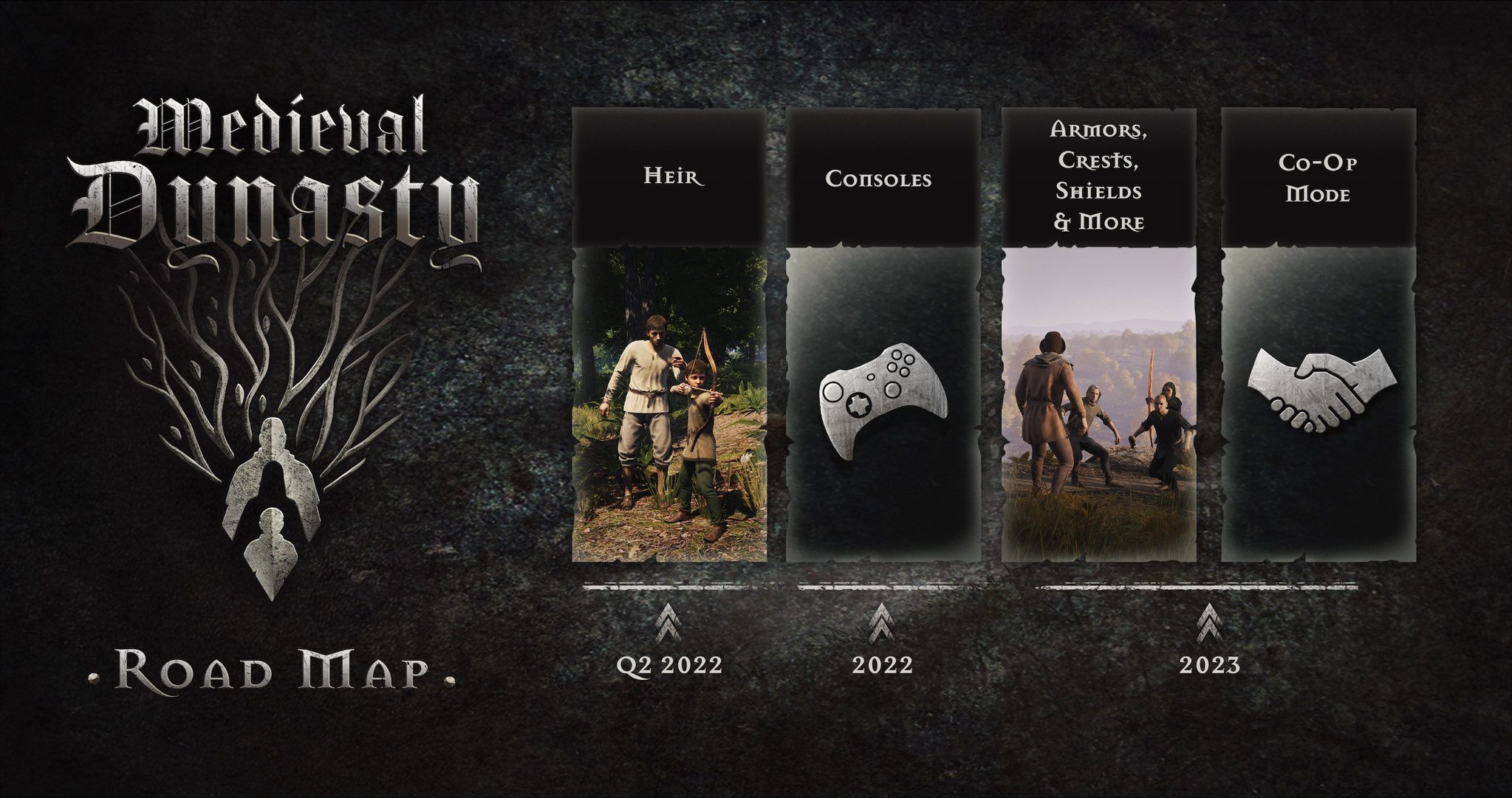 Numerous bug fixes, optimizations, visual and audio improvements as well as a variety of other fresh content such as a new building and six more NPCs that have missions ready for the player round out the current step on the roadmap, that is still filled to the brim. The complete list of content for the Heir Update can be viewed here. The console versions for Medieval Dynasty are still on track for release this year, while the world of Medieval Dynasty will be all about 'togetherness' in 2023 when the cooperative game mode launches.
Getting into Medieval Dynasty's captivating world has never been easier: To celebrate the release of the Heir Update, the medieval adventure will be available on Steam until August 15, 2022 with the highest discount ever of 30%.
Medieval Dynasty is available on Steam, Epic, GOG.com and the Microsoft Store (also on the Xbox Game Pass for PC) for and is available in 17 languages, including Portuguese, Russian, Simplified Chinese, Japanese and more. A deluxe Digital Supporter Edition is also available, featuring the game's original soundtrack, a digital world map, a digital artbook, a Medieval Dynasty History Video, a set of 4k wallpapers and more.
Features:
Beautiful and realistic open-world 3D landscape with state-of-the-art graphics
Family life: Expansive questlines with special interactions bring you closer than ever to your medieval family.
Full 4 seasons with day/night cycle and realistic weather conditions
Interactive environment with trees to fell, various fruit to pick, stones to collect, caves to explore and much more
Many different buildings with various levels from hay shacks to full stone mansions
Hundreds of pieces of equipment to craft, including weapons, tools, furniture and clothing
Realistic wildlife interaction with plenty of different animals such as wolves, wild boars, deer, rabbits and others
All activities have an impact on food, water, health and endurance status
Detailed skill tree for individual character development
Comprehensive trading system that allows for buying/ selling goods across the whole map
Unique events and decisions with direct impact on gameplay
Dynasty reputation system triggering events with the king
Quests, trade and economy, sandbox option, social connections to NPCs and much more
About Render Cube 
Based in Łódź, Poland, Render is a small team of 20 game enthusiasts aiming to create artistic content of the highest quality for game projects across all major platforms.
Together with Toplitz Productions, Render Cube are hard at work on their most ambitious project yet – the historical sandbox life- and survival sim Medieval Dynasty, which quickly became an enormous critical and commercial success after launching into early access.
About Toplitz Productions
​The German-Austrian publisher, whose name originates from the mysterious Toplitz Lake in the heart of Austria, develops and publishes games with "heart & soul" for all platforms. The company consists of a healthy mix of experienced industry veterans and young talents, all of whom are passionate gamers. They enjoy working with creative developers on many exciting titles, such as those from the "Dynasty" and "Giant" series.
Join our social media channels and get all updates directly: