The ROCCAT Kone XP Air is expensive, and the price tag will be enough to dissuade even the most devoted to stick with what they have or avoid entirely. That said, it's one of ROCCAT's best pieces of hardware that's extremely versatile and retains that ultra-lightweight frame that it's well known for. It's a wireless mouse that lives up to its battery life claims, and works as wired mouse in the most dire of circumstances. It's been five months since I got my hands on the Kone XP, and the Kone XP Air just elevates the mouse game to new heights. ROCCAT's Kone XP Air is a premium mouse with premium quality for a premium price, and worth every penny.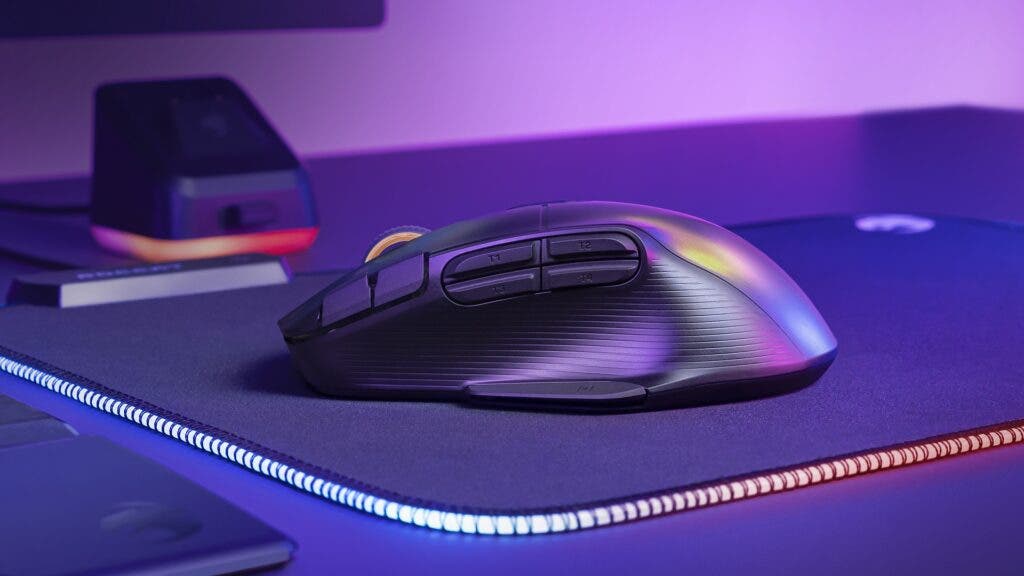 The first thing I noticed upon looking at the box was how much bigger, and a little heavier it was. There's a reason for that. Once I unboxed it, I then saw the larger box was needed for the docking station that's included with the mouse. Uncovering the mouse revealed that it retains the exact same shell shape, but is less translucent than the Kone XP. It features a different LED design, which is great for helping set it apart from the others in the series. There's five LED lights across two zones, and allows for customization with the RGB standard of 16.8 million colors to set it to your liking.
The Kone XP Air's arrived on a Friday with the battery being 90% charged, and it wasn't until the following Wednesday where I had to start charging it. It's a powerful mouse that somehow doesn't consume too much of it where more time is spent charging it, than using it. ROCCAT claims a 100hr battery life, and given my usage over the past several weeks, is something I can attest to being true. The docking station deserves special mention as the mouse looks awesome when it's docked for charging, resting vertical and at a slight angle, which is great for photos. This is accompanied by the fact that it supports AIMO lighting, and intelligently blends itself into your setup. The docking station also has support for passthrough USB. The USB to USB-C cable plugs into the dock, which you can plug-in anything else like a smartwatch charger or even the wireless dongle for optimal signal and minimal interference. If you're in a pinch, and battery life is dire but you still need to play, you can disconnect the USB cable from the docking station and plug it straight into the mouse.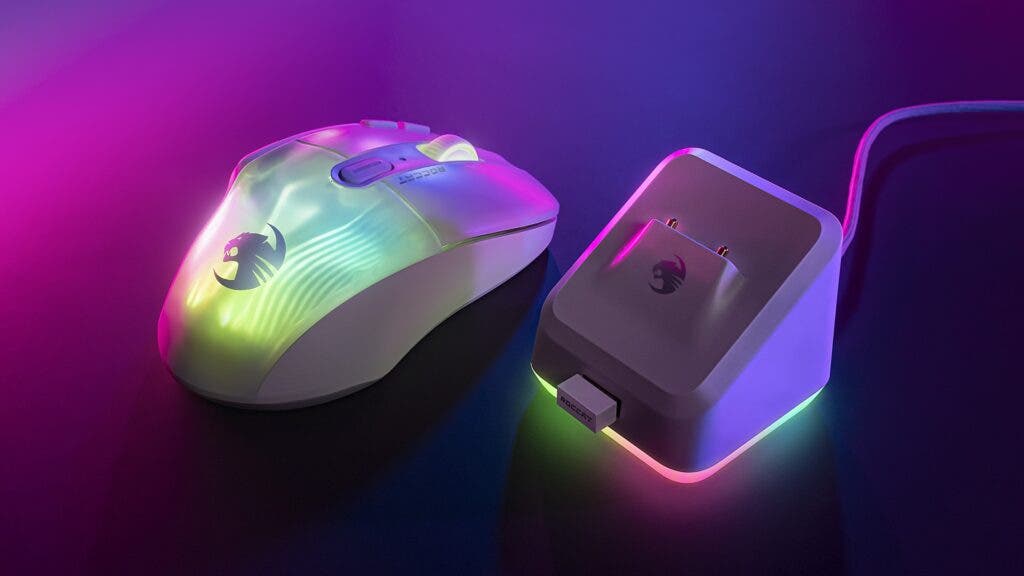 The mouse doesn't have any upgrades over the Kone XP, as every feature there is retained and returns here. So you've got the ROCCAT patented 19,000 DPI Owl-Eye sensor with a 1000Hz polling rate for utmost accuracy. While braided USB cables are commonplace, ROCCAT's phantom flex charging cable remains top-tier with being able to protect from wear and tear. I think my favorite thing is to peel off the protective layer off of the PTFE glides (please don't make me spell that acronym out). They make the mouse glide across any surface with zero friction. It's just such a wonderfully designed mouse.
For all the clicking, ROCCAT's Titan Switch Optical buttons ensure a 100 million click lifecycle. The Krystal 4D wheel clicks, scrolls, and tilts effortlessly. It's hard not to notice the four thumb buttons, assigned T1 through T4 that gives you more options that you don't have to think about when in combat. Lastly is the Easy-Shift[+], where your thumb rests during play can be pressed like the Shift key on a keyboard to unlock a whole new set of buttons presses you can customize. This all adds up to 29 button functions on this mouse alone, there's so much literally at your fingertips, you are bound to be competitive just by owning this mouse.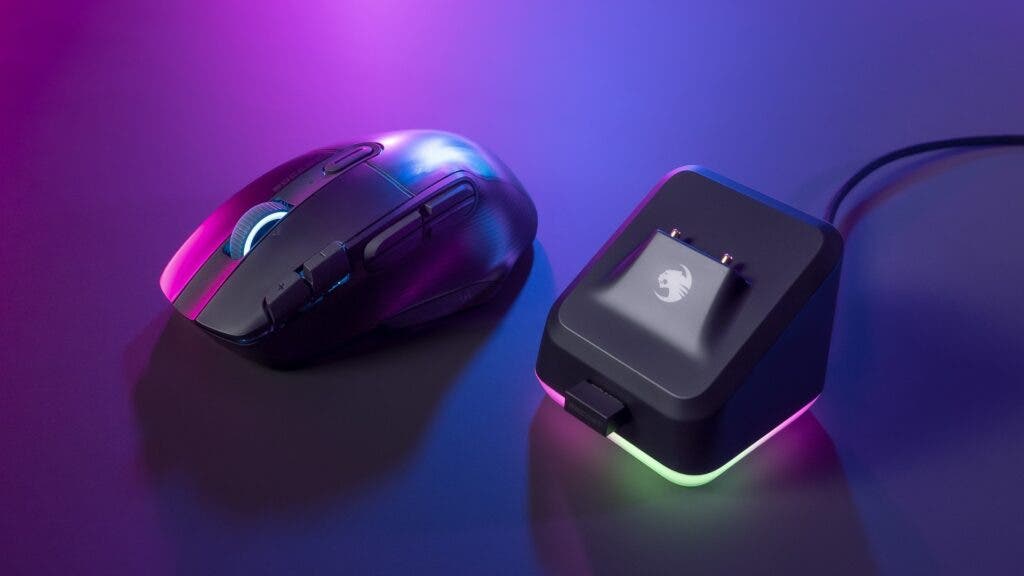 This being a wireless mouse, it supports both 2.4GHz Stellar Wireless (a proprietary wireless technology from ROCCAT) and Bluetooth. By doing so, it allows you to switch between the them with ease, to which I found the stellar wireless mode to be most responsive. The wireless dongle can be plugged into any USB port, but ideally you'll want it to be closest to the mouse. And if you're traveling, you can even nestle the dongle into the underside of the mouse where it fits perfectly. This wireless experience was nearly flawless, with only some minor hiccups, it's really something special.
As you might expect, this too is a NVIDIA Reflex-compatible mouse. By having any mouse that's supported, it then sets the peripheral latency is at its lowest. Combine this with other supported products to further reduce system latency to ensure that you have the purest experience with the lowest possible latency. And in practice, I truly felt like playing games like Valorant, Escape from Tarkov, and Battlefield 2042 felt continually more responsive.
Software
Razer Swarm is the software needed to make any and all changes to your mouse settings. The docking station has a spot in the software, though the only thing you can do is customize the RGB. The Kone XP Air however, has a plethora of options to choose from that comes to no surprise. Most notably you can see the the battery life, turn on notifications to the system tray when it gets low, and even monitor the signal strength live. This is helpful if you begin to see issues where interference might be the cause. There's also an "Energy Saving" mode you can toggle on that dims the lights on the mouse so it uses even less power to maintain that impressive 100 hour battery life. From there you can calibrate the mouse for when to stop transmitting a signal when it is lifted off the mat, as well as for DPI sensitivity. The software for customization is robust and overly satisfying to use.
It's worth noting that I did have some issues with battery life (or detected battery life) in ROCCAT Swarm degrading quicker than it should have. I also had issues with the scroll wheel "bouncing" up and down as I scrolled fast, and it felt like something was wrong. I even saw issues where the mouse didn't track my movements properly, almost like it was jittery. Thankfully, this was all solved prior to release with several Swarm and firmware updates. Every issue I had went away just a few days in having the mouse, and the results have been flawless ever since.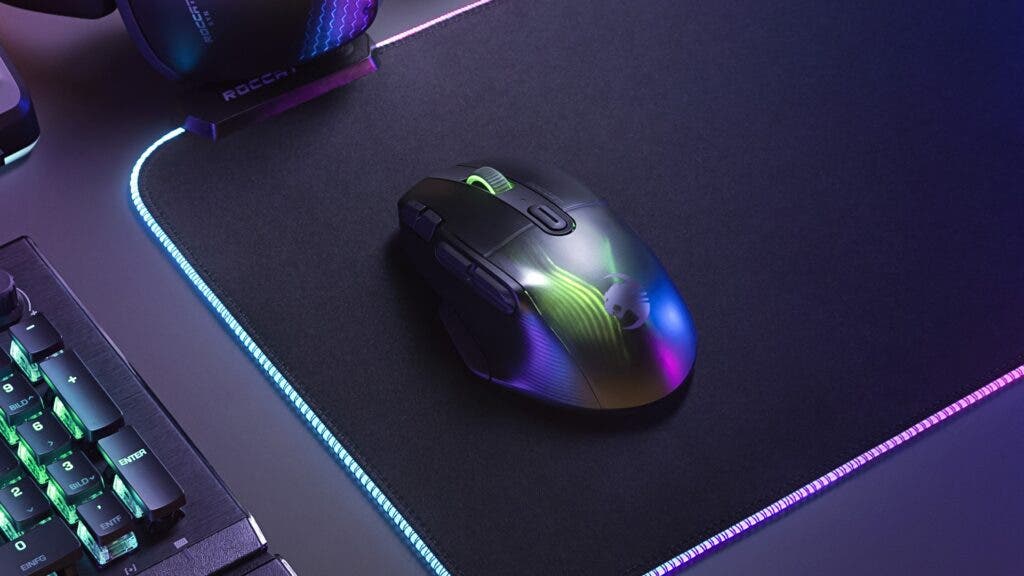 ROCCAT's greatest mice cuts the cord with the Kone XP Air, and the best just gets better. The only caveat in recommending this mouse is its cost, as it is equivalent to the Razer Basilisk Ultimate in terms of features and the price. I'll say this is only for those who absolutely need or swear by wireless technology. It's one of the best mice out there, but not a must-own like its wired counterpart – which costs half the price. I love using this mouse, and whether you play MMOs or FPS', it delivers. The ROCCAT Kone XP Air is an exceptional mouse that does absolutely everything, and more.
The Kone XP Air was provided in advance by ROCCAT for review purposes