From Press Release:
Warsaw, Poland, Thursday 4th May 2023: The bouncing and punching kangaroo Kao is back with the launch today of its latest DLC Bend the Roo'les. This new DLC adds an incredible amount of content to the game with a whole new campaign and a new enemy boss, the Crab King, as well as five new levels with different challenges including a time challenge, rising lava, dimming light, and even a 2D level! "Bend the Roo'les" is now available on every platform for $7.99/€7.99/£6.59. 
Tate Multimedia is also delighted to offer all PC players the base game Kao the Kangaroo for free on the Epic Game Store until May 11th!
Additionally, Kao the Kangaroo: Anniversary Edition is coming out today. This special edition contains the base game, the previously released Oh! Well DLC and the fresh Bend the Roo'les DLC! It's also worth noting that a few extra bonuses have been added to the PC edition as it contains an Art Book and the game's Soundtrack!
Finally, as a reminder, Kao the Kangaroo: The Trilogy also released last week on Steam and the Epic Game Store! This classic compilation includes the original Kao the Kangaroo (2000), Kao the Kangaroo: Round 2 (2003), and Kao the Kangaroo: Mystery of Volcano (2005), providing plenty of retro content to jump and punch your way through!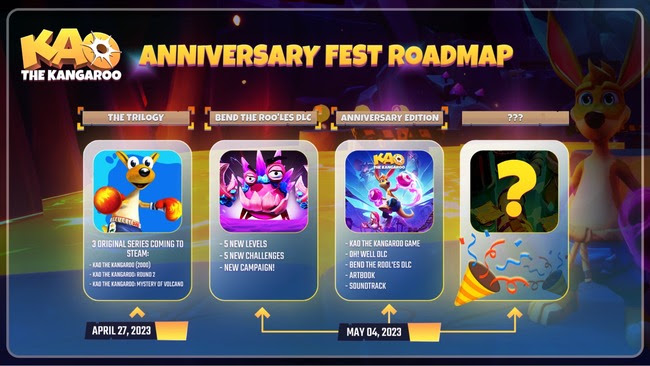 Store links:

– Base game on Steam: https://store.steampowered.com/app/1370140/Kao_the_Kangaroo/
– Bend the Roo'les DLC on Steam: https://store.steampowered.com/app/2249670/Kao_the_Kangaroo__Bend_the_Rooles/
– Kao The Kangaroo Trilogy on Steam: https://store.steampowered.com/bundle/31403/Kao_the_Kangaroo_The_Trilogy/
– Base game on Epic Game Store: https://store.epicgames.com/en-US/p/kao-the-kangaroo-62abe3
– Bend the Roo'les DLC on Epic Game Store: https://store.epicgames.com/en-US/p/kao-the-kangaroo-kao-the-kangaroo-bend-the-rooles-dlc-5c4b8e
– Kao The Kangaroo Trilogy on Epic Game Store: https://store.epicgames.com/en-US/bundles/kao-the-kangaroo-trilogy