News
Jul 31, 2023
HITMAN World of Assassination to receive new Elusive Target mission on all platforms this Fall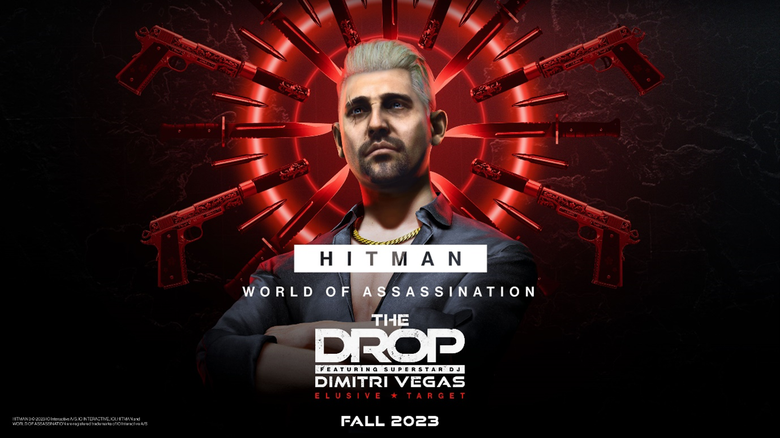 From Press Release:
Copenhagen, Denmark, July 31, 2023 – IO Interactive today announces a brand new Elusive Target mission for HITMAN World of Assassination featuring international superstar DJ and actor Dimitri Vegas. Featuring Dimitri Vegas' likeness and voiceover work, the upcoming mission will be available for free to all HITMAN World of Assassination players later this year and scheduled to release globally on PlayStation®5, PlayStation®4, Xbox Series X|S, Xbox One consoles, Nintendo Switch™ and PC.
Dimitri Vegas will take on the role of "The Drop" – a DJ-turned-drug impresario bent on controlling the scene one way or another.
The new mission was announced during a surprise interruption to Dimitri Vegas and Like Mike' set at Tomorrowland 2023 on July 30th, the largest and most popular electronic dance music festival in the world.
"I'm extremely excited to be a part of the Hitman universe," said Dimitri. "It's always exciting to be involved in creative projects and I'm looking forward to seeing how everyone reacts to my character when the mission launches later this year."

"We're very excited to partner with Dimitri Vegas on a brand new Elusive Target mission in HITMAN World of Assassination," said Hakan Abrak, CEO, IO Interactive. "This will be the first Elusive Target mission that we've created in two years and we're very happy that our passionate community and newcomers to the game will be able to enjoy it for free later this year as part of IO Interactive's 25-year anniversary celebrations."
In HITMAN World of Assassination, Elusive Targets are unique, high-stakes contracts that are only available for a limited time. These missions are free for all players, allowing one chance to assassinate the target and if not successfully completed, the contract cannot be retried. Unique rewards attached to the "The Drop" Elusive Target mission will be revealed at a later date.
# # #