Electronic Arts has taken over the WRC game license, and Colin McRae and DiRT developers Codemasters are in the driver's seat for the first time. The result of this marriage is something new and something borrowed, but nothing to be blue about – it's really fantastic. The simply titled WRC is a festival of rallying's past, present, and future as Codemasters finds their path. WRC is a strong start from the veteran developer, and the next great rallying experience you can't do without.
If you're thinking this is basically "DiRT Rally 3.0 with the WRC license", you'd be mostly right. You'll find a lot of visual language and imagery to that of DiRT Rally 2.0 with the font, color, branding, and locations of the World Rally Championship are here. These two things together work really well together. Though because of this new look and entry, I found WRC to have a pretty bad onboarding experience. There's a Rally School menu option, but the game doesn't prompt you to start here. For anyone who might be picking up this new, or unaware of the prior games, it'd be a great introduction. Rally School is a great tutorial, as it teaches you of the three surface types: gravel, asphalt, and snow across various challenges. It seems like a missed opportunity, or presumptuous that anyone picking this up is somewhat versed on what's going on.
There are two main modes you'll be playing here: Career and Championship. Career mode is where you play the dual role of owner and driver of a vehicle, where it's all about you for management and driving. Here you can work up the ranks of the WRC ladders if you so choose. If managing money isn't your thing, then Championship mode probably is. Here you choose between Junior WRC, WRC 2, and WRC. However, there's no way to bridge from one WRC championship to the next. This mode is also about assuming the role of a team, without it being based on your created driver. Both modes are deep and involved in their own way, and offer two great ways to play.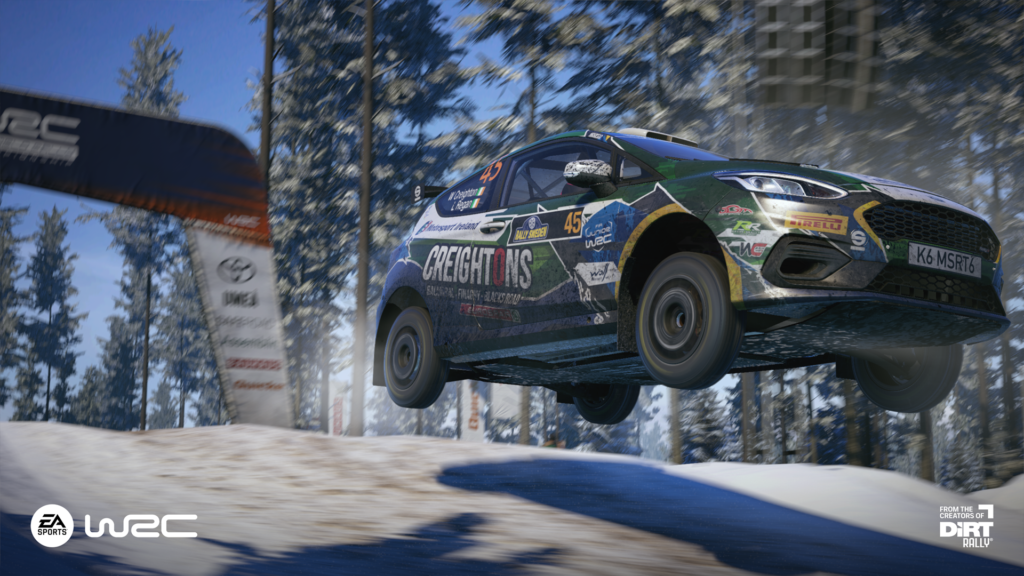 Recreating rally moments from recent and past history is always fun. Moments mode facilitates this, but at the time of this writing, there's only five to choose from – with two of them locked behind EA Play (which I have, but wasn't recognized). I do think KT Games did better with extra content with WRC Generations and prior entries, as there was way more to do and see that really challenged you, like putting you in a limping car or having to deal with the elements. It's a bit of a disappointment to see this mode so bare bones and sparse as it is, but I hope it grows over time.
Quick Play offers you a way to generate or create a custom championship of your favorite courses, or even a full regulatory season using your favorite vehicle such as the 1995 Subaru Impreza WRX. This is a fantastic mode to handpick the type of rally experience you want. i actually found myself spending a lot of time in Time Trial mode. This is essentially what rally racing is, but here you can download ghosts from the worldwide leaderboard or compete against people on your friend's list to beat their best time with a specific vehicle and course. There's nothing better than looking to save precious seconds by outperforming during their mistakes.
This is a rally game, falling more on the simulation side of the house. You'll need to be aware of the type of tires equipped, as well as whether you're all-wheel drive, front-wheel drive, or rear-wheel drive as that'll dictate how you should drive. Momentum is a big part of the game, as you'll want to keep your speed up to ensure good times. This includes hairpin turns, where either a handbrake or Scandinavian flick will get you around it without losing speed. Each rally location features real-world stages that have tight paths, where any little mistake can be a detriment. You can damage your vehicle, so much so that parts fall off, tires lose air, or headlights get broken. You can pull over and fix a flat tire, but any other mechanical or cosmetic damage can only be fixed at certain points of a rally stage. Do too much damage, and you'll either reach terminal damage or not perform well enough to be on the podium. Each location has its own weather like rain or snow, and will affect the handling of each surface as a result. Rest assured, that there are many stages that will take you upwards of fifteen minutes to complete, and is one of the more harrowing things you'll do.
In total, there are 68 vehicles to drive: from modern classics to retro favorites, there's something for everyone to enjoy. I think the most interesting thing about WRC is the current roster of vehicles. The hybrid rally cars are really fascinating, and probably the only connection to Formula One there is. As you brake, you'll store energy into a battery that can immediately be used once you start accelerating again. This gives vehicle an extra boost, and is in-use today. Seeing FIA use renewable energy in vehicles is really exciting for where the sport is heading.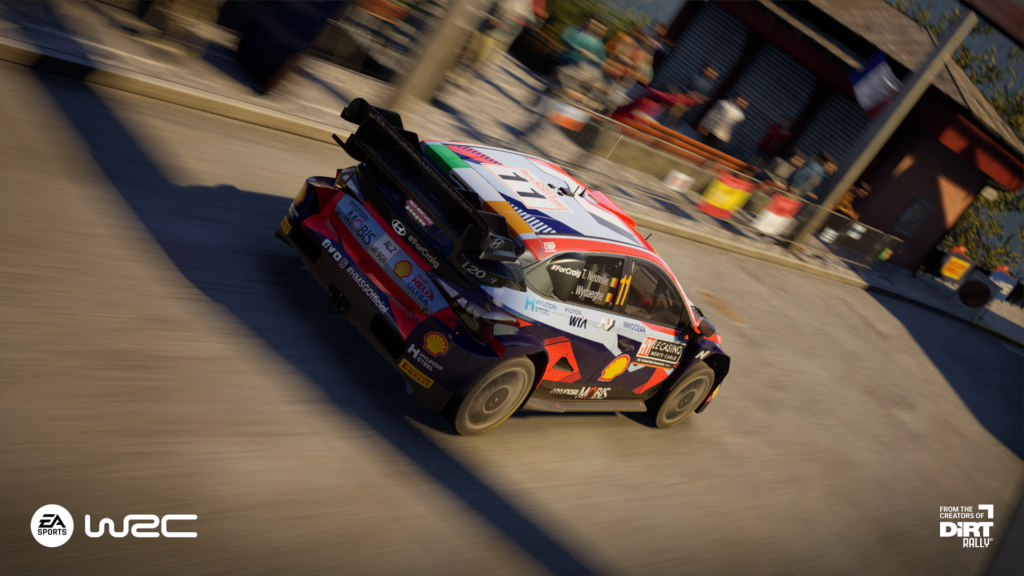 This might end up being an overlooked feature, but the Builder mode is really fantastic. You can create a whole new vehicle without relying on a pre-built. It essentially lets you Frankenstein various parts together to make the rally car of your dreams by selecting each component from the mechanical of the engine and brakes down to the cosmetics of the taillights. Then from there you can apply a custom livery with a personality all its own. After it is built, these machines can be used in free races, career, and championship modes – so long as it fits in with the chosen category. It's a great sensation to see something you built perform well.
Customization plays a big part in WRC , but there are parts that are lacking, and others not. The aforementioned Builder mode is the best the game has to offer. Player customization has you picking from preset faces and designs. In F1 23 (link), you're able to customize a little deeper. There is a Rally Pass, a "battle pass" of sorts that as you level up, will unlock new items that can be used. It seems to rely more on that a wider range of customization options.
I did have a smattering of performance issues during the review period. The thing I found most odd was the fact that only some rally events would stutter and drop below 30fps – and this was after enabling DLSS to try to offset some of this, and other rallies will run at like 60 or 90fps, without any rhyme or reason. Codemasters is always able to smooth out any performance issues shortly after launch. WRC does use Unreal Engine 4, and it looks fantastic still. The game natively supports 21:9 monitors, but doesn't let you customize the HUD to push out the on-screen elements like the progress bar or instrument clusters to the edges. The cockpit view is immersive on its own, but even the third-person camera has its moments. Such as when you're going downhill, and how the camera pulls back on its position, you can really feel the momentum. When everything is working and performing well, this is a gorgeous and immersive rally racer.
My PC Specs:

– Microsoft Windows 11 Pro
– Intel Core i9 13900K @ 5.8GHz
– ASUS ROG RYUJIN II 360 ARGB AIO Liquid CPU Cooler
– G.SKILL TRIDENT Z5 6000MHZ 64GB (32×2) DDR5 RAM
– ASUS ROG Strix GeForce RTX 4080 16GB GDDR6X
– WD_BLACK SN850X M.2 (4 TB)
– LG UltraGear 34GP950B-G (21:9 Ultrawide @ 3440×1440)
– Fanatec CSL Elite Steering Wheel WRC + Elite Pedals
For the first time in many years, I don't have to keep DiRT Rally 2.0 and the annual WRC game installed simultaneously. Additionally, the DiRT series doesn't have to live a life of dual identity anymore. Despite some minor quibbles with some modes being hollow, or some concerns of performance, this freshman offering is simply great – and what smooths a lot of this over is its moderate pricing. WRC puts World Rally Championship on full display, and this next-generation rally renaissance is not to be missed.
A Steam code was provided in advance by the publisher for review purposes