KontrolFreek Unveils The Timely Redesigned Futbol Freek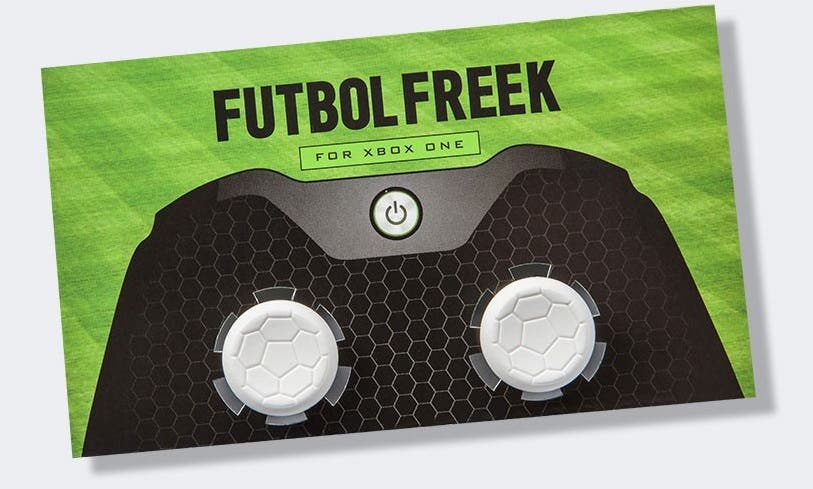 Futbol Freek was explicitly designed to enhance player control in football (or soccer) games like EA's FIFA series and Pro Evolution Soccer. Take control of your game like never before with unmatched grip and maneuverability while adding comfort well into extra time!
Futbol Freek's design was inspired by the classic 32-panel ball resting on a grassy green base. The design is simple yet beautiful—just like the game itself. The grooved, concave thumb pad cups the thumb, ensuring grip and control during mad sprints, counter attacks and sharp cutbacks.
When attached, the added height of Futbol Freek (7.6mm) delivers better accuracy and control without sacrificing agility. Scissor your way through opposing defenses and make perfect passes, accurate crosses, and precise shots on goal without losing your grip – or your cool!
Designed for tournament and competitive play, Futbol Freek has been approved for use in international events.
Increased grip
More precise movements
Improved Maneuverability
Better player control
More accurate shots and passes
Enhanced comfort
Works great in games like:
FIFA 2014
Pro Evolution Soccer 2014
Winning Eleven 2014
EA Sports 2014 FIFA World Cup
Futbol Freek is available to fit the Sony Playstation 4, Microsoft Xbox One or Xbox 360/Playstation 3, each for $10.99.