The HD PVR 2 has seen many iterations, but the latest is a beast that is known as the Hauppauge HD PVR 2 Gaming Edition Plus. It's a mouthful to say, but an absolute pleasure to work with.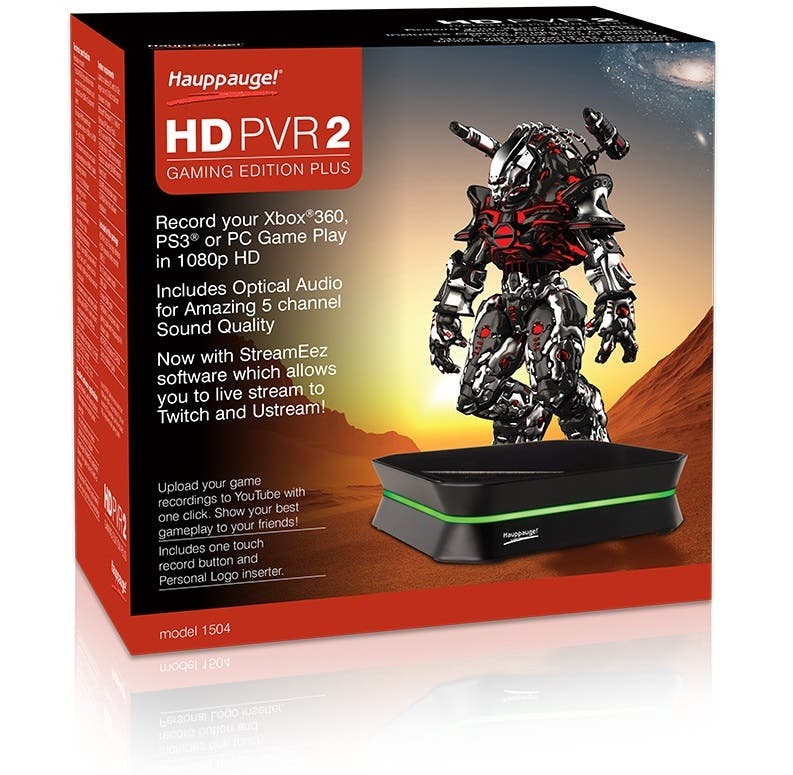 While the box doesn't state it, the HD PVR 2 GE+ does support the recently released PlayStation 4 and Xbox One with no extra setup needed. The systems of recording gameplay on an Xbox One and PS4 are crude, and limited. And for anyone who wants to venture out and promote their own gameplay, would need to invest in a video recorder device such as this. You're also able to record onto PC, Xbox 360, and PlayStation 3 (with supplied A/V cables over HDMI, resulting in a reduction of clarity and digital signal of recording).
Recording gameplay is done with the H.264 codec, which is an MPEG-4 format and pretty standard nowadays. It is able to provide a crisp image with crystal clear audio. However, when recording, your recorded framerate will be 30fps. So games like Resogun, Plants vs Zombies: Garden Warfare, and even Call of Duty: Ghosts will only playback at 30fps. It's a slight bummer not to be able to record in the native framerate, but it otherwise looks great and really smooth when played back.
Setting up the HD PVR 2 GE+ is easy, you connect the HDMI OUT to your TV, and HDMI IN to the console of your choice. The USB connection will send the signal of what you're seeing on the console for recording, and I should note there is a slight delay in actions to what you see on screen, but that is to be expected. Included you'll find an A/C power cord, USB cable, AV cables, and one HDMI cable. These are enough to get you started, and while the length is generous, depending on your setup, you may need to provide your own.
This powered device negates the use of freeware or even paid software on PC to record gameplay. However, in my experience, I had noticable audio lag no matter what the condition. This is something that did not replicate when using the HD PVR Rocket. Since I can't be definitive, I can only suggest that you exercise caution when using the HD PVR 2 Gaming Edition Plus for gameplay on PC.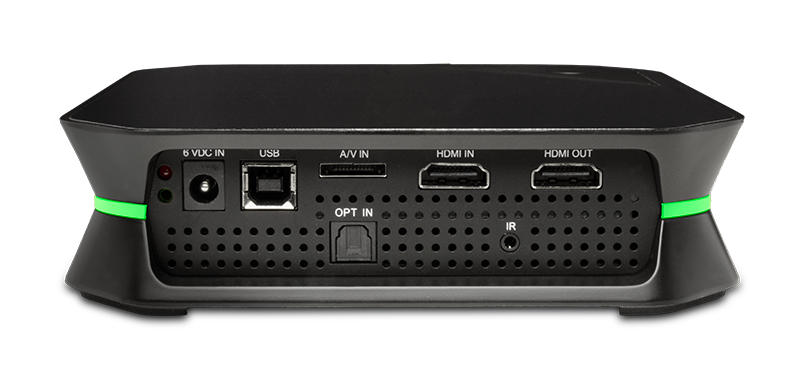 Once everything is connected, you'll get a faint blue light that surrounds the device indicated that it is ready and everything is connected. Once you press the black triangular button or use the software to start recording, it will become enveloped in a green light and is a status that it is recording.
The one-touch recording button is genius. When fully connected, pressing this button will open up the recording software and begin recording almost right away. While it doesn't work retroactively, as in, recording gameplay that happened minutes ago – it will begin recording fast enough that it shouldn't miss much of what's soon to be on your highlight reel.
While I can't explain my specific issues when recording PC gameplay, recording console gameplay was flawless. However, when compared to the HD PVR Rocket, the lack of mobility and 100% reliance on a PC is asking a lot. But if you've got a stationary place to put this, or a laptop to hook it up to when you want to stream or record, this powerhouse is ideal for anyone who wants to do entry to mid-level recording across your consoles, and be able to easily share them with the world.
This hardware unit was provided by Hauppauge for review purposes