Call of Duty: Black Ops III doesn't release until November 6th, but KontrolFreek has already made a Black Ops III branded FPS Freek stick in preparation for this year's Call of Duty. And while you don't have to love Call of Duty or even first-person shooters to appreciate the benefits of these sticks, it would be better if you did due to their aesthetic and branding.
Build specifically for PlayStation 4 and Xbox One, these sticks are hardware add-ons, that simply clip on to your existing sticks without replacing them entirely. They won't damage them upon securely snapping them into place. Only in rare occasions did these ever come off during play, but these will hold in normal circumstances. It will take some getting used to, as these extend the height of the sticks increases by 10mm. It's immediate and apparent of the increased mobility of the sticks which will improve aiming and movement accuracy of both sticks. These work best on FPS games, but improvements can be found in any game.
I don't have small hands, nor do I have big hands. But the height of the KontrolFreek FPS Freek Black Ops III Edition sticks required my fingers to stretch further from their normal positions to adjust, and it'll just come down to whether that's a comfortable change or not. The box has a "preview" to get a feel of the rubber and height, but perhaps you might be able to get a demo of them before making a purchase.
The laser etching of the "III" of the Black Ops logo is smart and surprisingly grippy at the same time. The bold orange of the sticks contrasts to the regular black of both the Xbox One and DualShock 4 controllers to match the series color scheme. Even those who develop sweaty hands are likely not to slip off of this rubber-coated surface.
I found some surprising improvements in Mortal Kombat X where moves require quarter-circle turns to execute a move became a bit easier to pull off. It takes careful placement as this was one of the rare scenarios where too much pressure at this height and using my palm as opposed to a thumb resulted it in popping off during play. Testing with racing games, third-person games, side-scrollers, and others not of the first-person ilk proved to have minimal but interesting improvements. They never felt natural until I played something like Killzone: Shadow Fall or Call of Duty: Advanced Warfare.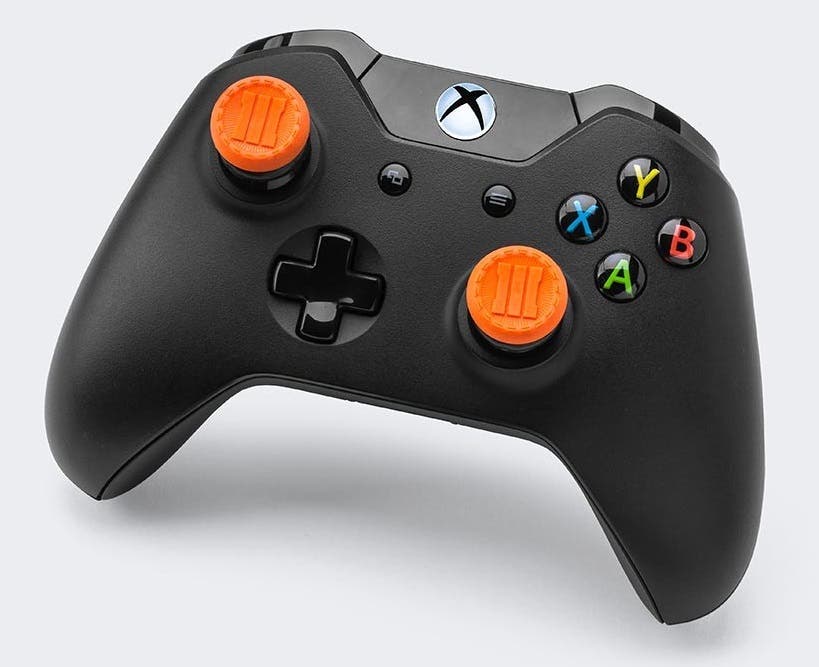 While it's too early to tell, the wear and tear doesn't seem to be much of a factor or concern. It takes an adjustment period, and while it doesn't perform magic, it does help you improve your game. I maintain a healthy K/D ratio in Call of Duty: Advanced Warfare, but I found myself much more into the positive with the added control. The KontrolFreek FPS Freek Black Ops III Edition does exactly as it advertises, giving more control when moving and aiming over what software settings just don't deliver on.
A hardware unit was provided by KontrolFreek for review purposes