We haven't seen a new PGA TOUR game since Tiger Woods PGA TOUR 14 back in 2013. Since then, new consoles have come out and licensing deals have expired. So now, EA Tiburon is back after some time off with a new cover star and new name: Rory McIlroy PGA TOUR. The golf game found here is strong; however, the young golfer's name and credibility do little to elevate what is a no doubt disappointing first entry on this generation of consoles.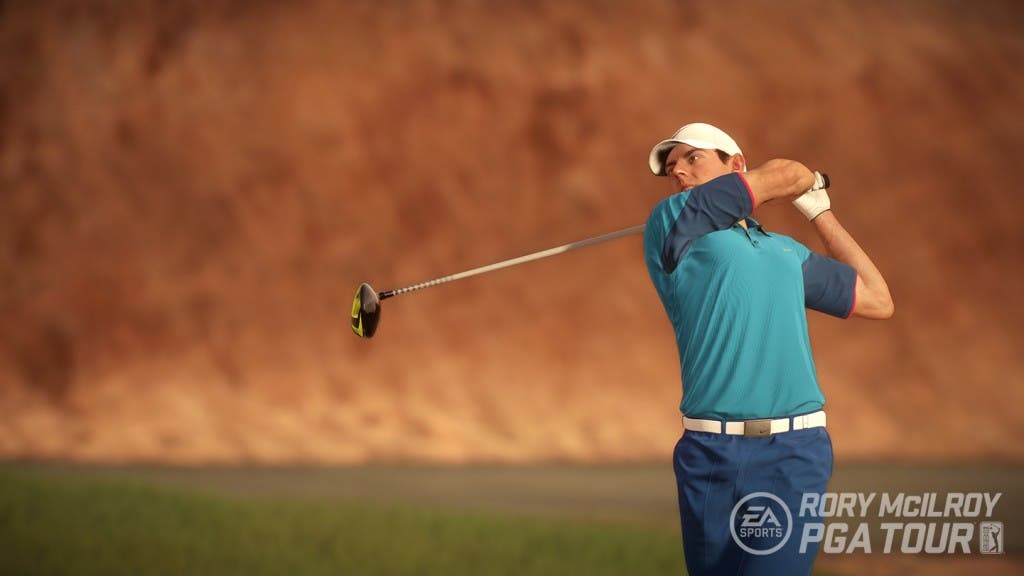 The Prologue that starts you off without even so much as seeing a menu, teaches the basics of playing the game, but it doesn't go in-depth enough for newcomers. Given that this is the debut golf game for EA SPORTS on current-generation consoles, it is entirely possible there are those who've never played the franchise recently or at all. One gripe I have is that there's nothing that teaches you how to putt. There is some training that can be found by playing Challenge #5 in Night Club Challenge mode, but that's an odd place to find it when there's a tutorial / prologue section to the game. Those familiar with other golf games, realistic or not will find a control scheme that works for them: "flicking the stick", "3-click" mechanic, or "tour" which is for those who don't want any assists. If you want a hybrid between them, you can create custom controls that suits your style.
At the end of the Prologue, the game has you playing Rory McIlroy himself during the 2014 U.S. Open and allows you try to recapture his win, or if you do bad enough, change history and have him lose. The holes you play are random and inter-stitched with vignettes of him recounting his feelings during that time. I feel that with the name of Rory McIlroy attached to this game, there could have been a really cool thing to replay Rory's bigger moments during his career. With the lack of Augusta National due to an expiring deal, removes a lot of chances to tell his most interesting stories. But either way, Rory McIlroy could have been used better within the game.
Rory McIlroy PGA TOUR aims to speed things up where possible. Thanks to the new hardware, or the power of the Frostbite 3 engine, the game now loads the entire course at once, rather than a hole-by-hole basis. New commentators, Rich Lerner and Frank Nobilo of the Golf Channel give some fresh voices, but it wasn't too long before I heard repeating dialogue and inaccurate responses to what was on-screen. Online play is simultaneous, thankfully. This is likely to keep things fast and fresh rather than traditional rounds of golf in real life with 3 friends, which can take several hours to complete.
When navigating the menus, it's a very sluggish interface. And it becomes apparent that the modes included in the game are light, represented by the massive buttons that fill up the screen. Compared to something like Madden NFL 15, there's a light offering all around. When compared to previous PGA TOUR games, there's a lot lacking as well. We've seen featuring culling with NHL 15, and it's a shame to see history repeat itself.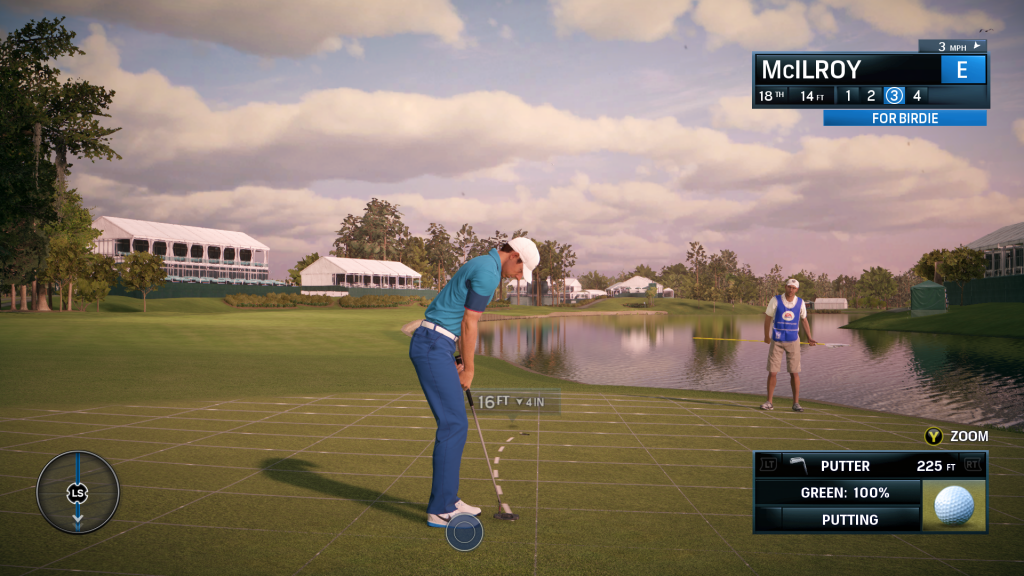 To add to the continual disappointments, are the lack of many notable pro golfers. An omission like Tiger Woods is understandable, but golf legends like Arnold Palmer and Jack Nicklaus are not. It's baffling that even female PGA golfers are not present here, though it should be noted that you can create a female avatar for the career mode.
When you start your PGA career, you'll be presented with laughably terrible character creation tools. For some odd reason, the character creator does not use GameFace or any kind of sculpting seen in recent EA games, it's archaic here. The backstory to your golfer, such as being a Prodigy, Collegiate and Instructor sets the tone of narration from the commentary team. When you nail a big moment, your custom golfer will do some weird celebratory animations that are uncharacteristic of real golf players. As you play, you'll constantly be earning XP, and attribute points are distributed based on usage, these help bring up the overall average of your player to become more competitive.
As previously mentioned, Augusta National will not be present here, but a staple in all simulation golf games, Pebble Beach, is a glaring omission. There does seem to be a tease of some courses returning in the form of DLC, but there's a weak representation of golf courses as a whole. In total, there's only 13 courses (if you pre-ordered, otherwise it is just 12). The courses themselves vary in difficulty and style, as well as a mix of fantasy and realistic. But you'll be seeing them often as you play through the career mode.
The fantasy courses are fantastic, but don't go far enough, which is a weird thing to say. The Grand Canyon is nightmarish of a challenge, with the canyon so close to the course, and rocks that can send your ball careening off the edge. It's also one of the more beautiful-looking courses. Only Battlefield 4's Paracel Storm feels the most radical of courses to include. There's actually some hilarious commentary that to try to deliver straight talk over your player teeing off on a flaming Battleship.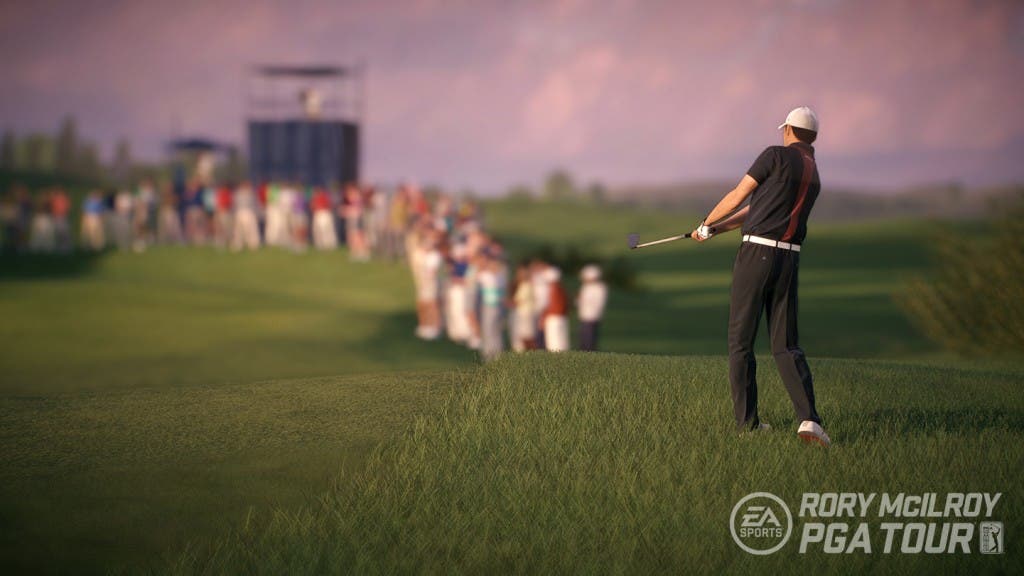 Those looking for a straight-up arcade mode will find some silliness in the Night Club Challenge, which is essentially EA's King of the Course for mobile, but re-purposed for consoles. Depending on how you feel about that game or arcade style playing, will influence your enjoyment here. As you progress through the linear courses, you'll earn stars for your performance and unlock power-ups. Rocket can boost the ball, Sticky Ball which when it lands will stick to the surface, and Pause to hold a ball in mid-air so that an obstacle clears. These are all power-ups that you'll find in the mobile game as well. There are unlockable characters that can be used in all modes. The Night Club Challenge is a neon-infused break from the normal, strict rules of golf that I find enjoyable and increasingly challenging, as the name implies.
Rory McIlroy PGA TOUR is a game that is played very safe in its first outing on current-generation consoles. And while it is a solid game, it's just devoid of features and modes one would come to expect from this series or others of its ilk bearing the EA SPORTS branding. While it is a bare bones experience, there's enjoyment to be had, a control scheme that fits your style, and gorgeous vistas to see while playing. It may not be perfect, but it is a fine golf game.
A PlayStation 4 copy was provided by the publisher for review purposes