It's February, and it's still winter for the northern hemisphere. Colossal Order's latest and second expansion for Cities: Skylines, titled Snowfall is something for long-time players of the game. Snowfall focuses on the effects of harsh winters and the demand on resources it has on the people who live in these climes. It's an expansion that isn't really necessary to the game, but really adds a nice challenge for those looking for something more difficult.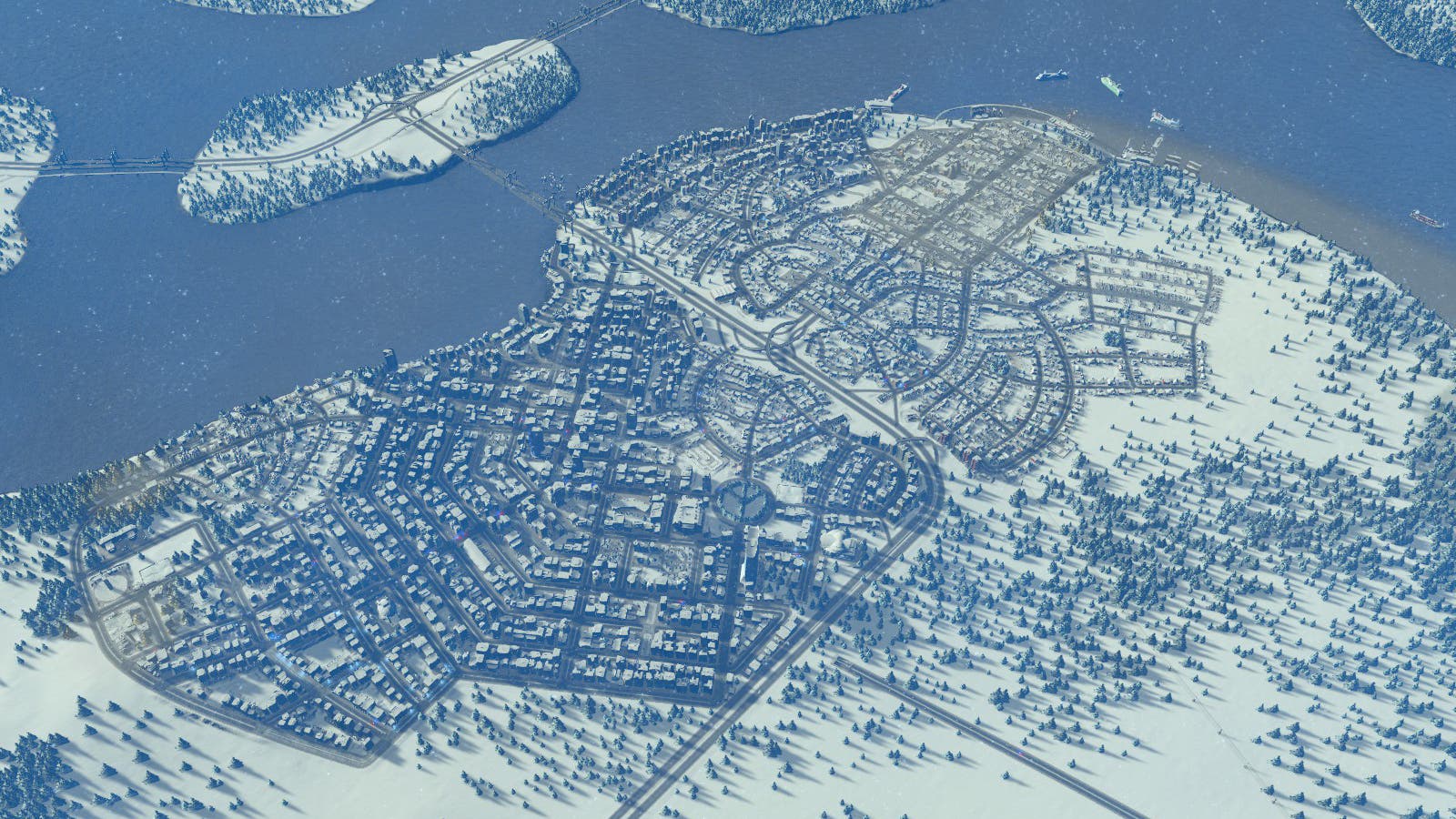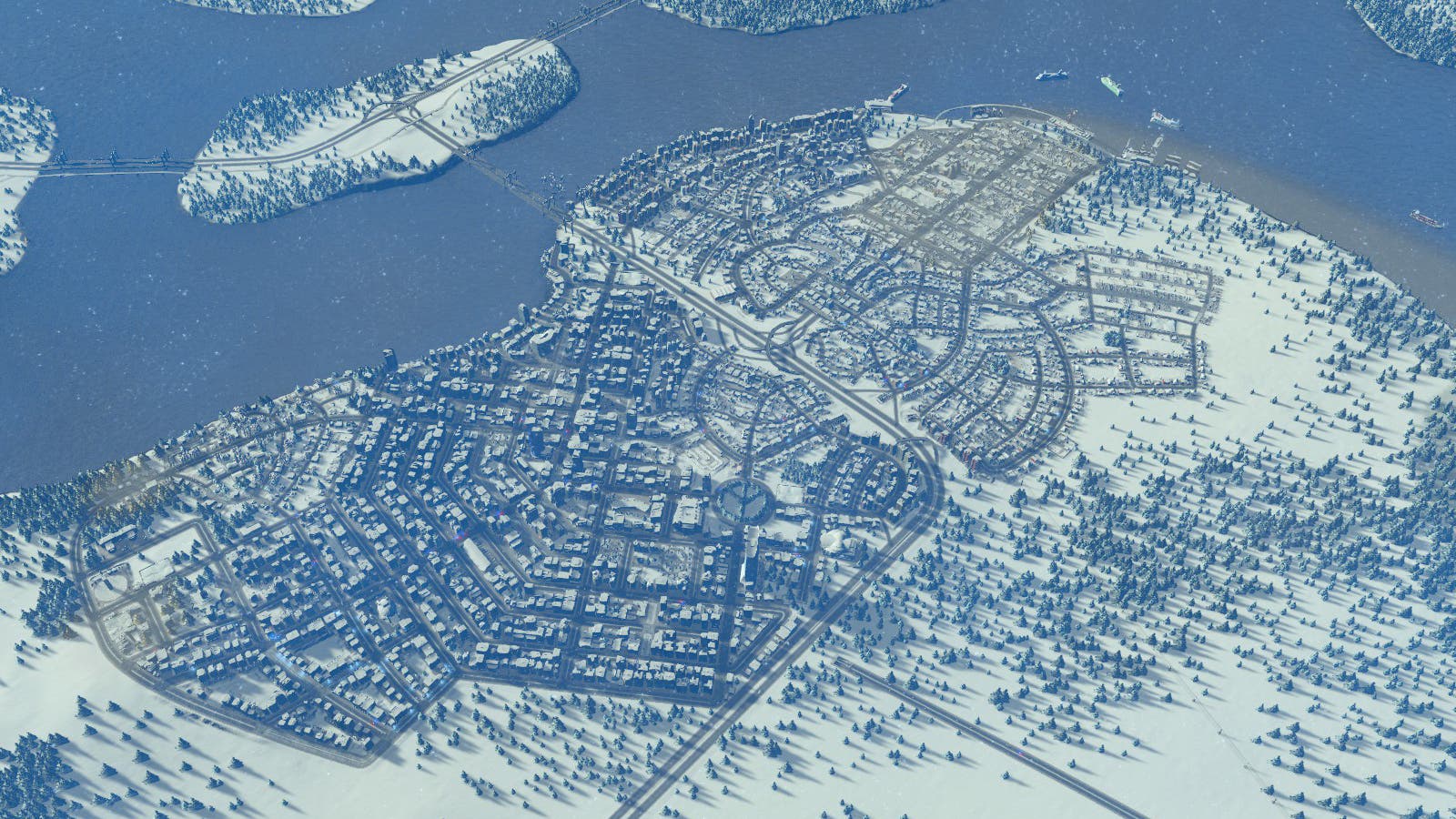 The breakdown of the Snowfall expansion comes in two flavors: paid and free. The free elements add fog, rain, and the titular snow. These are free updates to the game without owning the expansion. As is the ability to add the new type of public transportation, trams. There's even a theme editor for those who want a custom map with enlarged suns, or a tailored theme to call your own.
The content you pay for, gives three winter-themed maps that are added to the list of available starting areas, so cities must be started anew to experience. And existing cities do not experience the snow, only rain and fog. These maps now feature a thermometer that show the temperature, and when the sun goes down, how drastic things change. This makes the content more practical, rather than for visuals.
Snowfall is actually difficult early on, and tough to balance for anyone new to the game. Veterans will appreciate the increase in difficulty for more things to juggle as your budding city develops and your mayoral duties expand. When the temperature falls, the demand for more power and water increases. As such, the need for water-based heating systems will be required. This is done by upgrading your entire piping system, which can prove to be very costly, especially for new cities.
When the snow falls, it looks great in adding character, and your city will positively glow at night. However, the snow accumulates fast and will require you to create a road maintenance crew for snowplows to hit the road. This does slow down traffic, but the trams you can build help balance this out to reduce congestion. The road crews will need a snowfill (equal to a landfill, but you know, for snow) to deposit all the snow collected from the roads, that will melt.
Another expensive and necessary purchases will be to have boiler stations and geothermal plants, but again, it's so hard for a starting city to afford when dealing with the debilitating and freezing weather conditions. There are also upgrade tools to enhance your city during the winter like introducing plaza elements like skating rinks and snowmobile tracks that will enthuse your city during this time. You can even place landmarks like giant Christmas trees.
Snowfall is a lighthearted expansion that adds a visual wonder and splendor to your game. So you won't be seeing cars slipping off the road, or going into accidents, expending the police, fire, and rescue. But you can create new policies for things like studded tires and buildings to be insulated to help things, but they only do so much.
The difficulty introduced with the Snowfall expansion is maybe a bit too front-loaded when playing one of the new snow maps with massive snowfall and temperature drops for a new city to contend with. Cities: Skylines – Snowfall is a worthy expansion to own if you're looking to get more challenge and depth out of it, it's well-priced but with what's offered for free over the paid content, you might not be as willing to fork over the cash for the added annoyances it can bring. However, I can say that this expansion made me a better player as a result of its increased challenge, and the Cities: Skylines – Snowfall is all the better for it.
A Steam code was provided by Paradox for review purposes.