Nightmares from the Deep 3: Davy Jones is the conclusion of the Nightmares of the Deep series, with the stakes being raised to new heights, and Davy Jones sinking to new depths in terms of how far he will go to get what we he wants. While it doesn't go as many places as previous entries, it is the best looking game to date, as well as the best playing, introducing variety at every turn, and adding in extra things to find along the way.
The story this time is when Davy Jones attacks the museum (once again) and your daughter is kidnapped (again), but this time so are you. Your daughter sacrifices herself and signs a pact with Davy Jones that is ironclad. You learn that Davy Jones has signed many pacts over the centuries, and none of them have been able to be broken or even fulfilled because it involves resurrecting Davy Jones' daughter, who is a roaming ghost. There's a bit more sentimentality and focus on family this time around.
Nightmares from the Deep 3: Davy Jones doesn't surprise in terms of how you'll play. It's still about finding hidden objects, moving objects out of a way, and solving various puzzles. However, the intro suggests maybe a unique approach: having you scrounge to escape Davy Jones' ship's brig. Some of the game's best and innovative ideas are in the early parts of the game. Along the way you'll find interesting people like skeletons, witches, and even humans like an alchemist who are willing to help you along the way.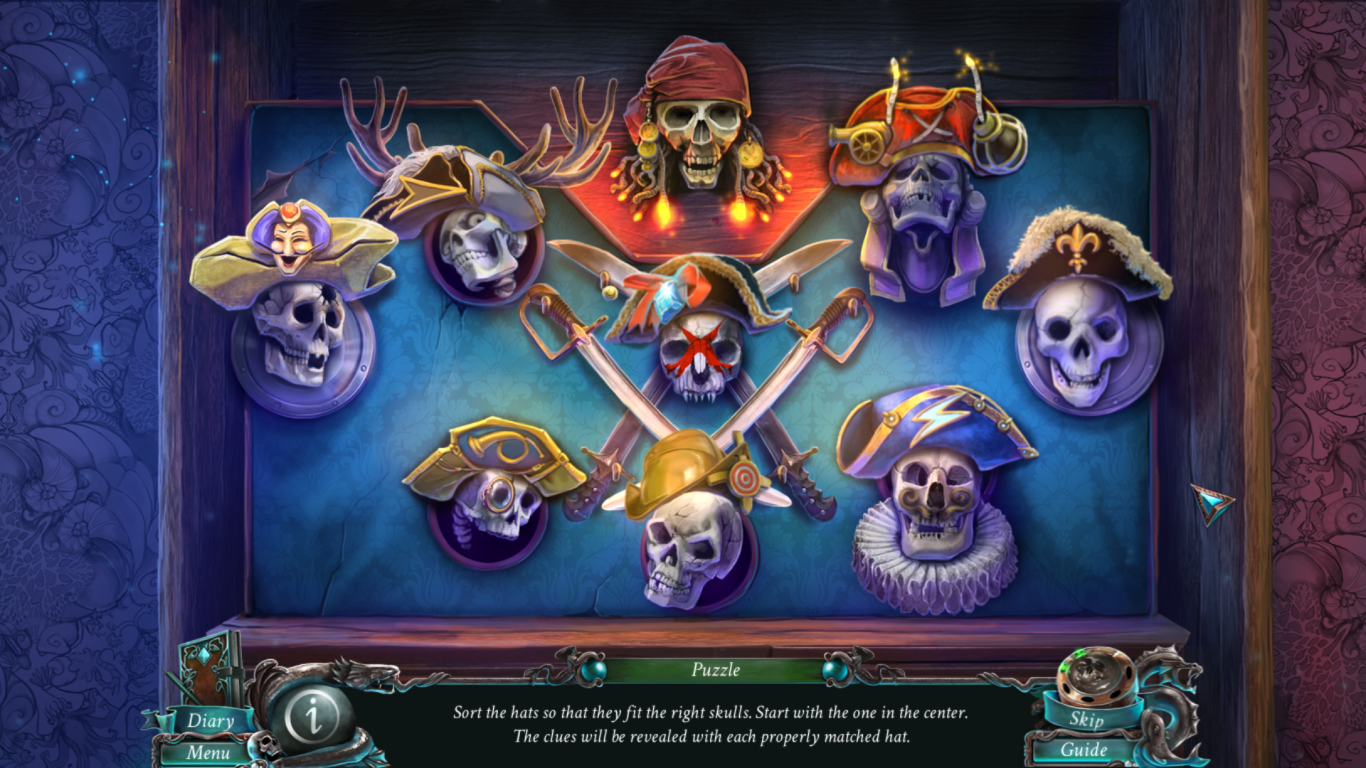 The puzzles are varied and more exotic this time. Of course there's more slide and tile puzzles. The more difficult ones are the alignment ones. These puzzles repeat, but all can be solved logically. With puzzles, there is an option to skip them so you can move on, but they can all be solved with relative ease. You'll be given a couple of maps to help guide you (depending on difficulty), and will again be able to use it to jump between points is again useful and makes a necessary return.
New to the game are collectibles, now finding puzzle pieces, seahorses, and pirate cards. These collectibles exist out of puzzles and hidden objects, so you never get them confused. They add another layer of just spending more time in the game and soaking in its beautiful artwork.
Again, with this game releasing in 2014, character and cutscene video improvements are made, and look as good as ever. Sarah Black is a strong female lead, and has been through the series, but here she shines. Her voicework isn't the bet, but you can tell Sarah Black has been through a lot, and is very resilient and willing to risk life and limb for her family and to secure her own saf
Nightmares from the Deep 3: Davy Jones is longer than Nightmares from the Deep 2: The Siren's Call, coming in at around 5 hours. Each Artifex Mundi game on Steam includes the Collector's Edition content, which after completing the main campaign, unlocks extras like wallpapers, hidden object scenes, and the bonus chapter. As has been the case in the previous games, the bonus chapter is what wraps everything up in a neat bow. You again do more hidden object finding and puzzle solving, but done so well and adds another hour or so to the game. It all feels finite this time.
It's a bit bummer to see this series end, it's been punctuated by a definitive ending, but yet there seems like there could be more to tell. The visuals alone provide dark and moody atmosphere that is unlike any other game, but while Nightmares from the Deep 3: Davy Jones is the best yet, all of them have been fun to play and rewarding on their own. You shouldn't play Nightmares from the Deep 3: Davy Jones without playing the others first. They are worth it.
A Steam code for the game was provided by the publisher for review purposes.