Tenda Technology is back with the AC18, essentially a revision of the AC15 released in 2015. It's a router that offers more of the same in terms of coverage, performance, and reliability, but features a swath of improvements that has replaced my AC15 entirely. This our third review of a router by Tenda Technology, and it does not disappoint. While the AC18 feels like an incremental upgrade from the AC15, it comes highly recommended if you have neither. This is one of, if not the best AC1900 routers on the market today.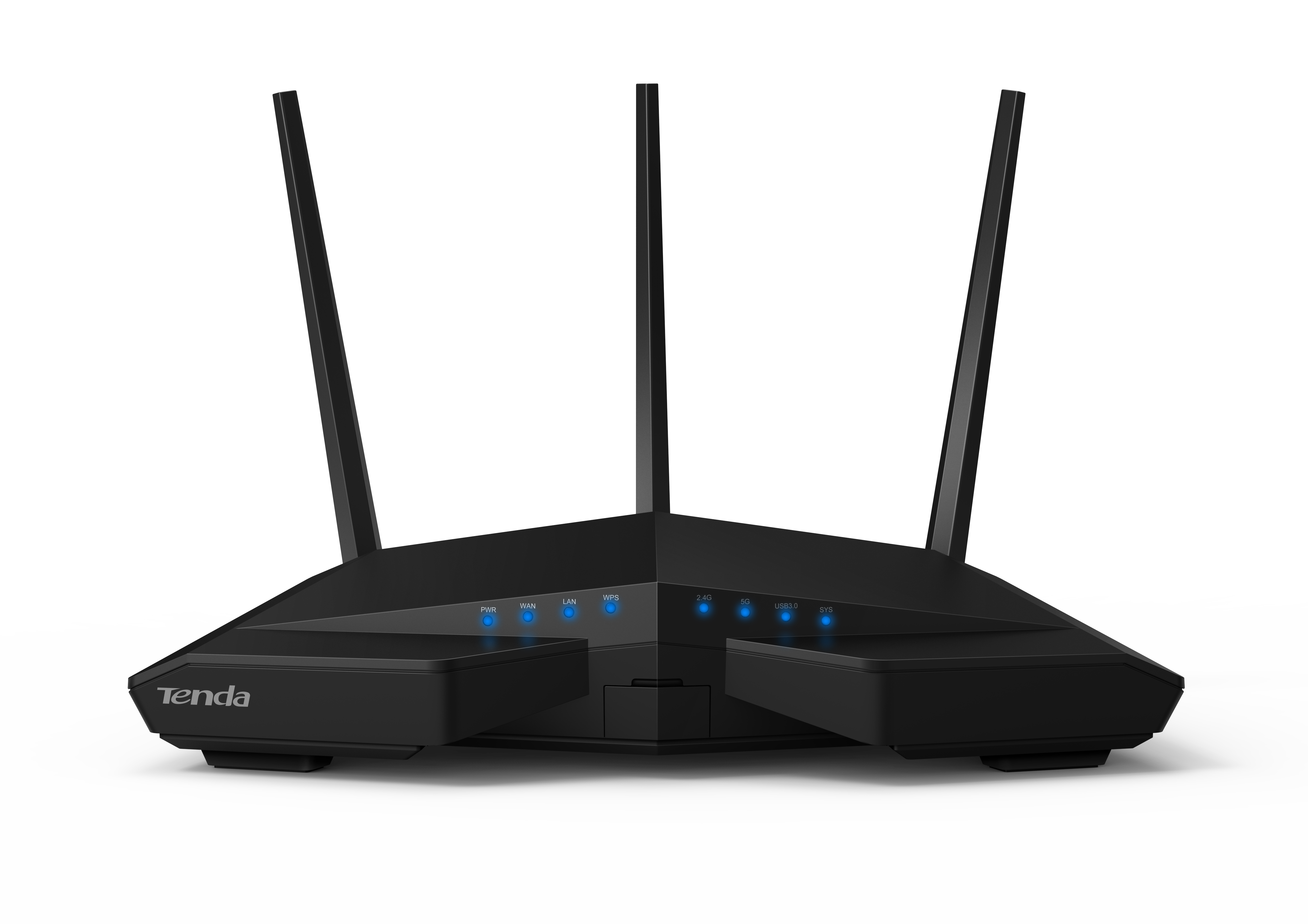 The look and design of the AC18 is one of the first things you notice. It is modeled after the Northrop Grumman B-2 Spirit, an aircraft first used in 1997. It is also much larger than its predecessor, the AC15, as it lays flat rather than standing up and looks omnipotent. This commanding presence is backed up by its capabilities. Externally, I noticed that there's a hidden USB 3.0 port for printer and file sharing. It is revealed by removing a stopper on the front side. One of my largest complaints about the AC15 was that there were only four Gigabit ports. Now there's a standard five Gigabit ports: 1x Gigabit WAN port and 4x Gigabit LAN ports.This finally accommodated all my consoles and cable boxes that more or less demanded a physical connection for stability.
Internally, we see improvements over the AC15 with better CPU, RAM, and memory. There's a Dual Broadcom ARM Cortex-A9 CPU and 256MB DDR3 RAM inside. This powers the 2.4Ghz and 5Ghz channels, giving up to 1900Mbps across both channels. For all this horsepower the AC18 brings to the table, I would have liked it to be an AC2600 or AC3200 capable router for this router. This router is for large homes, covering up to 5300sq ft. The new Beamforming+ technology makes it so it will focus the wi-fi signal to the device connected to it. I was able to go far beyond my home to receive a signal that made it great for things like Spotify or Amazon VIdeo and not be interrupted. In the home, no walls dare try to deflect the signal to any device. It is a powerful router for the home, one that will please all.
Accessing the router is the same, by going to the handy website: TendaWiFi.com. It is here where I saw a UI for the router website, one that's more streamlined and user friendly. At the outset it tells you everything you'd want to know about your router with as few clicks as possible: if a USB device is connected, how many devices are online, and if you're using a wi-fi extender. It also tells you a total current upload and download speed. Also detailed is your WAN IP address and firmware version.
A lot of the options are the same as before, but you can enable a WiFi Schedule, how much power to transmit, if you want Beamforming+ enabled, and if you'll be using wireless repeating. This is more used in a business setting than a personal one, but a guest network can be created so you don't have to give out your WiFi password to anyone you don't want to have it. If you're a parent, you can set controls where specific devices are restricted by date and time. Don't like all the flickering lights on the front? You can turn those off if you'd like. Some games require port forwarding, this can be done through the virtual server interface. A lot of these options are standard for a router, but are included with detailed options.
I still have Comcast XFINITY as my ISP, and my current plan is 105Mbps down and 20Mbps up from them. These tests were done over an Ethernet (CAT5e) connection, and the results were not much of an improvement over the Tenda AC15 router. This is expected behavior, as they are so similar except the innards. Playing games saw similar pings and download speeds across PC, PlayStation 4, and Xbox One.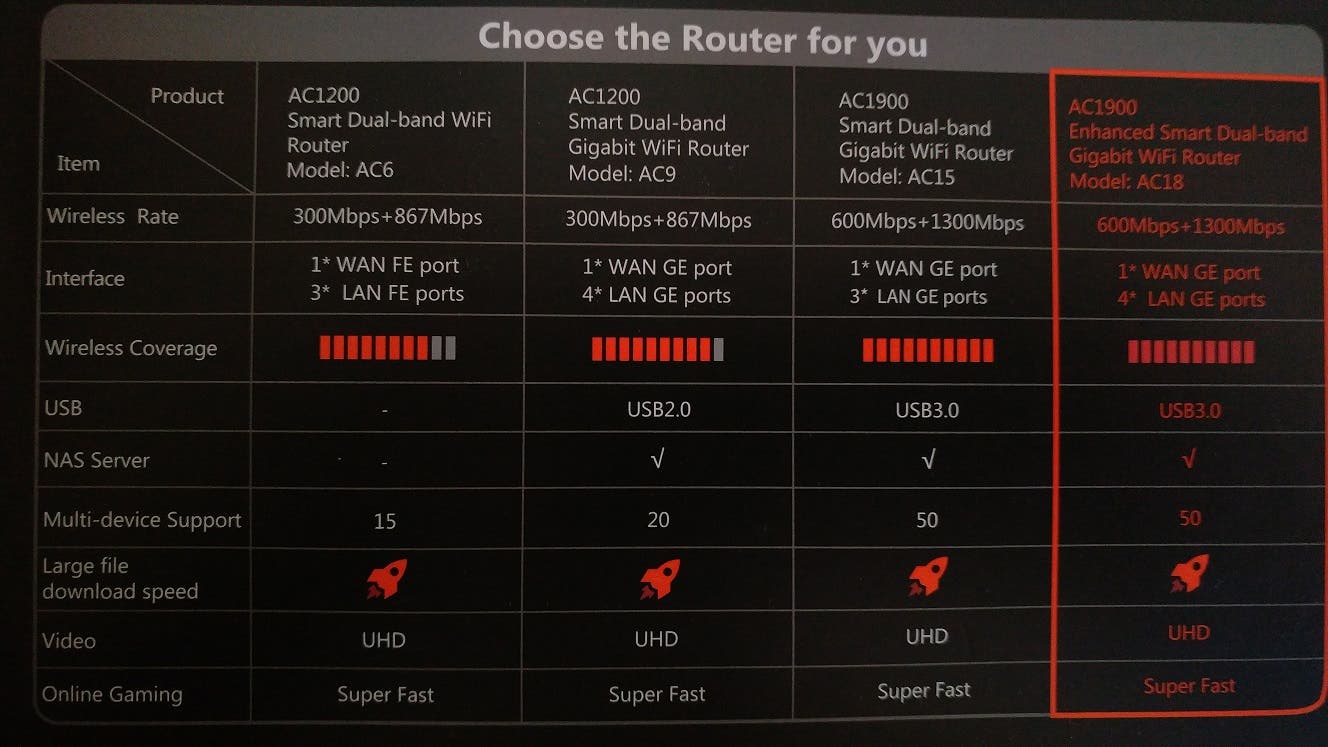 I've stated a number of times already, but the differences between the AC15 and AC18 are more minor than I expected. The processing power is much better and that's really where things stop. The coverage area, speeds, and number of device support is the same. All in all, I find it to be an improvement in my online experiences and with the number of devices connected to the internet in my home, have had no issues with each device getting the speed it needs.
The Tenda AC18 is incredibly fast to setup, easy to maintain, and is dependable from the moment you plug it in. If you already have the Tenda AC15, the Tenda AC18 doesn't really offer you anything new other than better internals. With that said, this is still an affordable and powerful option compared to brands like Asus and Netgear. It is my personal pick for AC1900 routers, though I can't compare them to their competition. If you've needed to upgrade your network, you won't be disappointed with the Tenda AC18 as it gets our highest honors for incredible performance and reliability.
A hardware unit was provided by Tenda Technology for review purposes