Codemasters has done it again, despite being the only official game for the 2018 FIA FORMULA ONE WORLD CHAMPIONSHIP, they have made a game that succeeds its predecessor. F1 2018's are smaller advancements than what F1 2017 achieved, but nonetheless welcome. The career mode for F1 2018 sees the most attention this year, and makes what was once a slog, now an enjoyable and interactive experience that truly feels how a career mode should.
New to the 2018 season for real-life F1 is the noticeable halo cockpit protection device. This is mandatory, so every new vehicle in the game is equipped with them. As a result, visibility is slightly reduced. For gameplay purposes, not being able to see the racing line becomes obscured if you ride it down the middle. It's sometimes like trying to drive with your eyes closed. New circuits for this year make their way into the game, like the much anticipated Paul Ricard and Hockenheim tracks. Probably my favorite thing is the lower and tighter suspension changes, now every car sparks at certain dips of a track and it looks awesome.
For F1 2018 the game, the career mode receives improvements. Now you need to be concerned with behavior on, and off the track. You'll be often interviewed, and asked questions. The way you answer them can be good or bad for you. Sometimes there are questions asked that there's no good way to answer, and will ultimately upset the team. There's even a Telltale Games like pop-up where your team will take note of what was said. Those looking to use career mode as a way to smoothly string together 21 races will be a bit disappointed by the interviews and off-track dealings. Team selection seems to bear more weight, as choosing a popular team like Ferrari will garner more attention your way, and expectations are higher as a result.
During your career you'll be offered invites for special events, these are challenges with modern or classic cars like doing a checkpoint or overtake challenge. These are worthwhile doing as they are a break from the normal races, and give you a chance to earn good will with the team and how you're perceived. There's a respect level that takes you from rookie to veteran based on your performance on the track. Your attitude determined both by on and off the track, you'll either have Sportsmanship or Showmanship.
Being part of a team means you have a healthy rivalry with your teammate. How well or not well you do, determines who is winning the rivalry. As you progress, you'll earn resource points that can be invested in improving your vehicle to be the best it can be. It's a bit fictional in this regard, but makes the game feel more RPG now t hat there's dialogue options involved. Continuing this feeling is that if you leave a team, you can essentially respec your points into other things. Though, if you stay, there's better perks and already an investment.
F1 2018 looks the best yet, borderline photorealistic. Track selection in free modes let you choose to drive during dry or wet conditions. And the rain looks incredible, it's easily the best implementation that feels realistic. Clouds will come and go and create that atmosphere of a moving system. There's other visual upgrades, like to the sky boxes and how god rays are handled. While most of the action is on the track, the periphery got a much-needed enhancement.
Other modes in the game are what you'd expect: Time Trials, Championships, Multiplayer. Events mode sticks out, because they are time-limited challenges where everyone playing the game competes for. It's definitely worth checking out this fictional events to see what you'll have to do. F1 2018 is more geared to the hardcore fans, but casual fans or first-timers will have no problem playing the game thanks to its accessible settings to tune the weekend structure how you like, or what controls feel best for you. F1 2018 recognized my Logitech G27 wheel, and pedals. And I didn't need to make any adjustments or calibrations. It all just worked and felt incredible.
PC Specs of Review System:
– Microsoft Windows 10 Pro
– Intel Core i7 6700k @ 4.2Ghz (Turbo)
– NZXT Kraken X61 106.1 CFM Liquid CPU Cooler
– G.Skill Ripjaws V Series 32GB (2 x 16GB) DDR4-3200 Memory
– EVGA GeForce GTX 1080 FTW 8GB GDDR5X
– Seagate 2TB Barracuda SSD SATA III 6Gb/s Internal SSD Drive
– Logitech G27 Racing Wheel, Shifter, and Pedals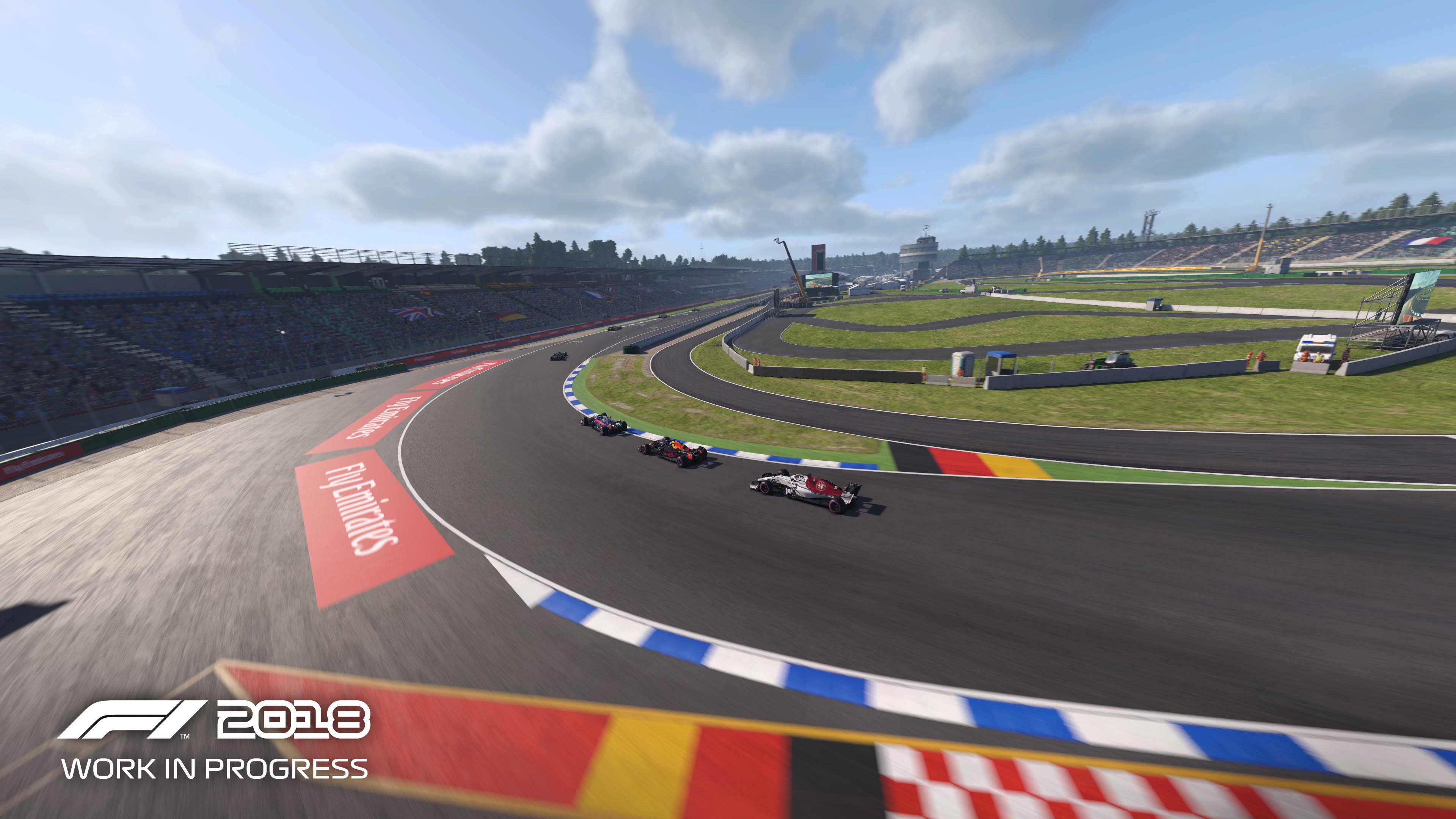 While F1 2018 will feel like an incremental upgrade to F1 2017 for some, it is the nuances that make it a standout. It feels like a more complete broadcast package than ever before. Whether that's something you've cared about before or not, it's immersive as hell. The career mode is more robust, delivering a more authentic experience. With opportunities to race classic F1 machines around new tracks, it's all fantastic to experience. Simply put, F1 2018 has it all.
A pre-release Steam code was provided by the publisher for review purposes