Milestone has the dirt bike racing market cornered. With the MXGP series all about motocross, a discipline with longer, wider courses during the summer months. And the Monster Energy Supercross series encompasses supercross, a discipline with shorter, narrower courses over the spring months. With Monster Energy Supercross – The Official Videogame 3, Milestone demonstrates that they continue to expand and improve the core experience in meaningful ways, making it the best entry to date.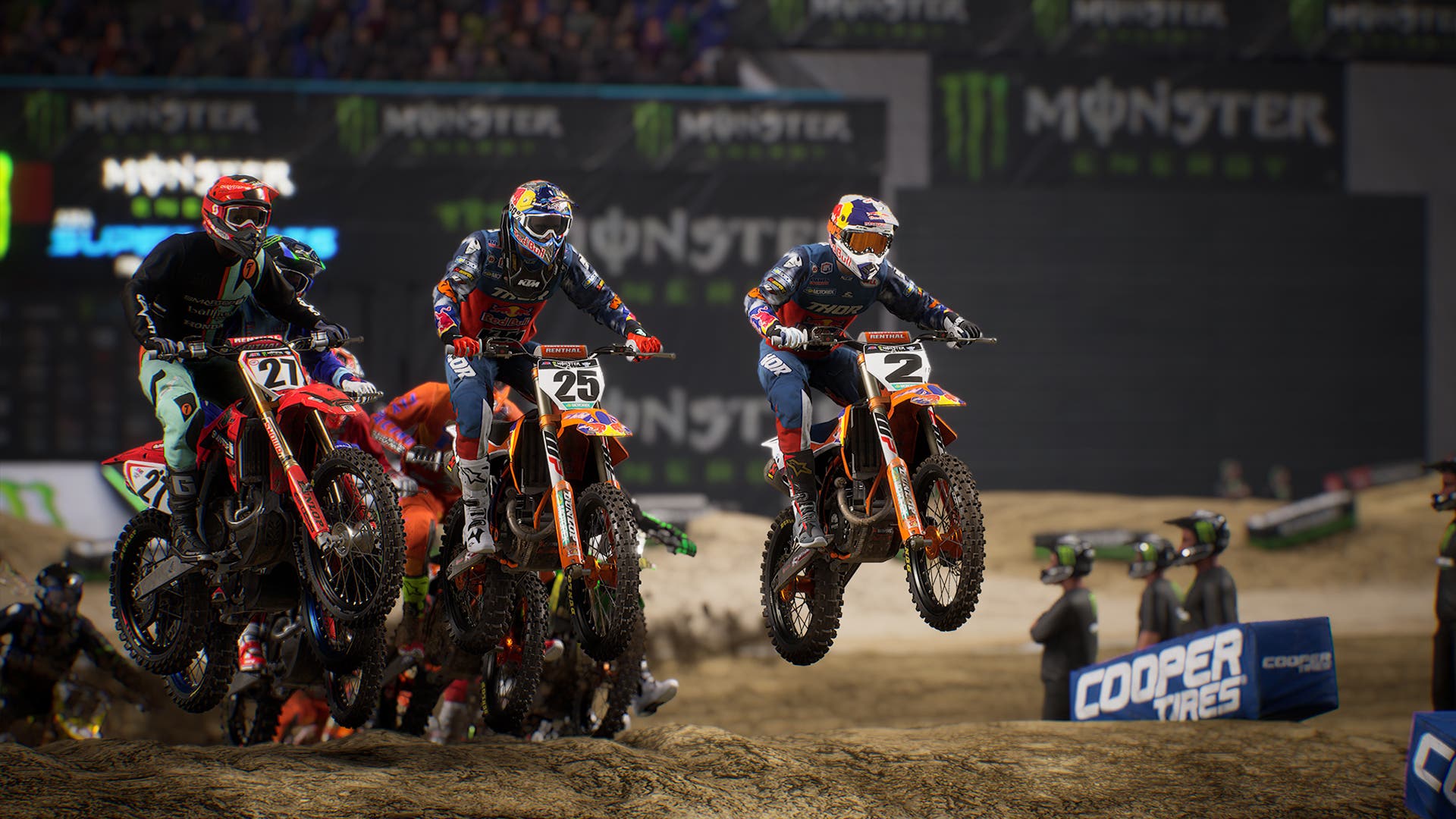 For new or even returning players, you might be disappointed in the short and unsatisfying tutorial. It certainly teaches you the basics, but they are the bare essentials to get moving. It doesn't teach you the nuance to be crossing the finish line. This is where the Challenge mode comes in. It lets you learn by trial and error, you go in a novice but come out the other side with experience and a better understanding. There's five sets of challenges to complete: flow which teaches you how to navigate small bumps, gates which you learn precision riding, holeshot for maximizing initial speed, no scrubs which helps you clear large jumps, and head-to-head which is about overtaking opponents in a short period of time. The challenge mode is immensely helpful and useful. While it doesn't explicitly tell you what to do, the "learn by doing" approach is effective.
Whether starting a career, a grand prix, or a single race, you get the entire 2019 AMA Monster Energy Supercross season comprised of over 100 riders across the 450SX and 250SX categories (meaning the engine classes of 450CC and 250CC, respectively). All of the season's stadiums are present as well. For the first time in the series, you get to fight for the 2019 Championship. There's lots of options you get to set to tailor your experience, with the championship mode being the most alluring.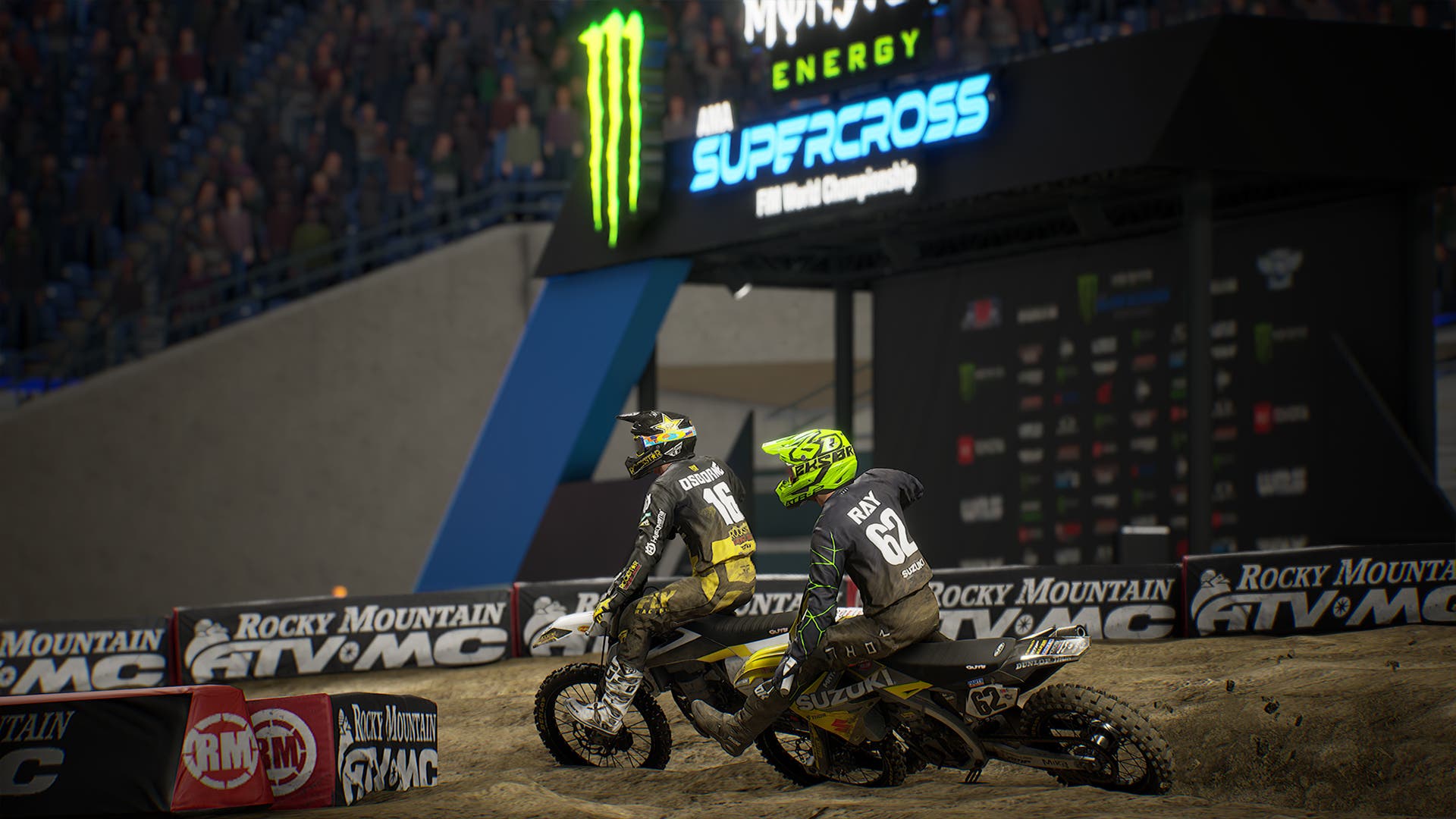 In a traditional racing game, you're probably used to the driving line, the 2D or 3D color-coded guide that helps you around the track to learn when to accelerate and when to brake. Monster Energy Supercross – The Official Videogame 3 gives you a flow line. It's a 3D line that guides you over the dirt mounds accounting for height, distance, and speed. Following them exactly will lead you to victory. It's a wonderful addition that will make it improbable for me to play a prior entry again. As you play, you'll find improvements to the physics, feeling more realistic. Now more than even, there's situations where riders can land on one another and take each other out. It's less forgiving than prior entries, where you'd collide less and be more stable.
For the first time ever, you can now play as a woman in the game, throughout career mode and it's even possible to win the championship. This is a fantastic addition that's absolutely necessary. Following on the heels of women who've broken down the wall to competing in the FIM World Championship, like Vicki Golden. It's inspiring and rewarding, other developers should pay attention.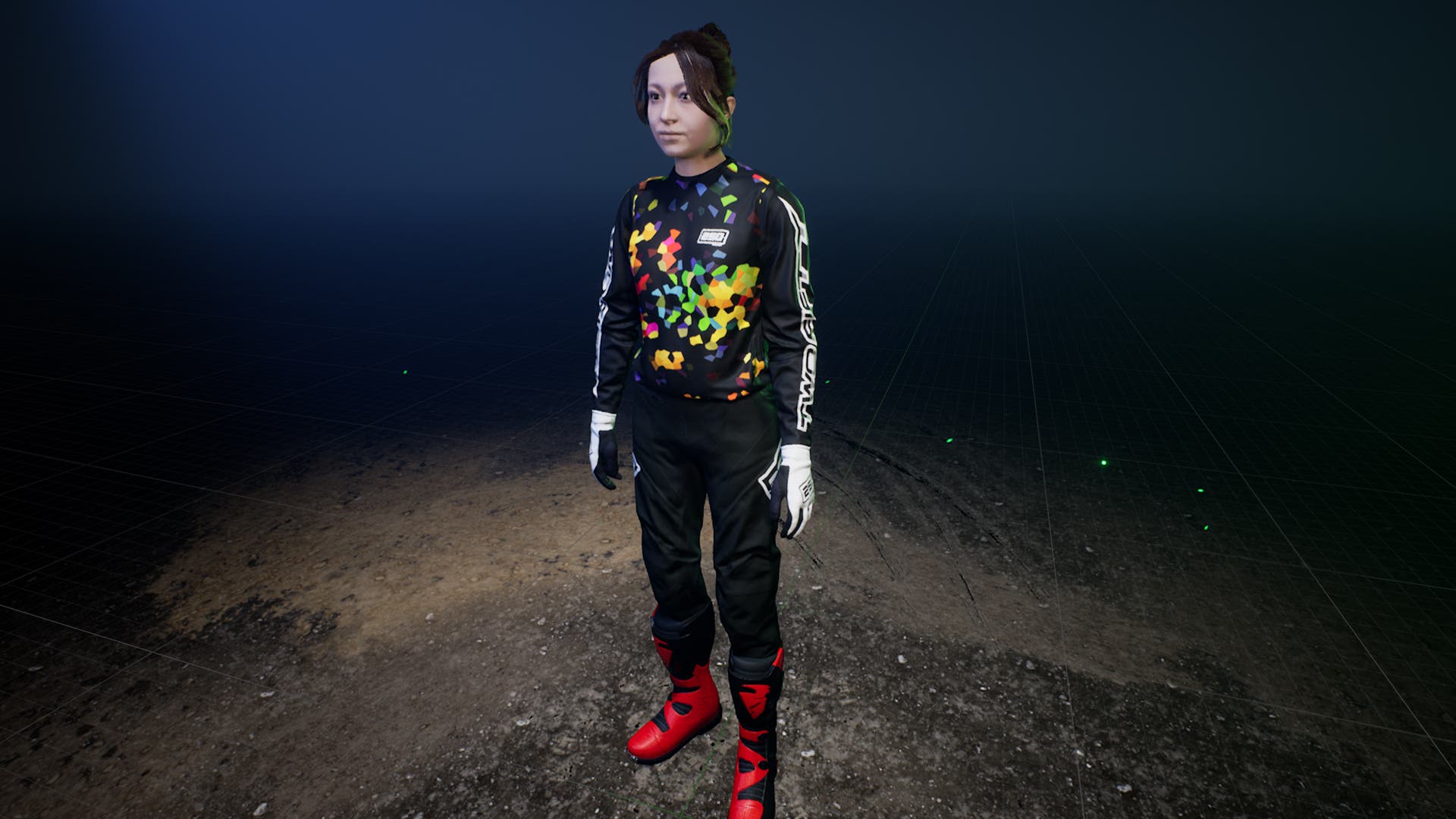 In all modes, you earn money and experience. Doing so unlocks the ability to buy new and better gear, all being cosmetic that don't bear any performance benefits. It would be interesting if Milestone leaned into the RPG element a bit more. It's interesting that you earn XP even in the Compound, a training ground and free roam area to do what you want. The compound has areas to take up challenges and areas, but it's otherwise a place to goof around, while learning something in the process.
There's now a track editor in the game, letting you design your own course with something as minimal as a stadium template. The tools are easy to use with a controller in-hand, and you can quickly get going – there's even a tutorial to guide you. The editor relies on validating your track. So you can't make an impossible track. This then feeds into multiplayer, where you can use your custom-made tracks. Unfortunately though, there's not a way to share or upload your track to a place where others can find them. The multiplayer sees an enhancement with dedicated servers, with public and private lobbies. Everything is pretty standard fare here, with now mini-games bringing some excitement other than pure racing with knockout eliminators, checkpoint racing, and treasure hunts. The multiplayer feels like a suite of options, rather than a bare bones offering from the past entries.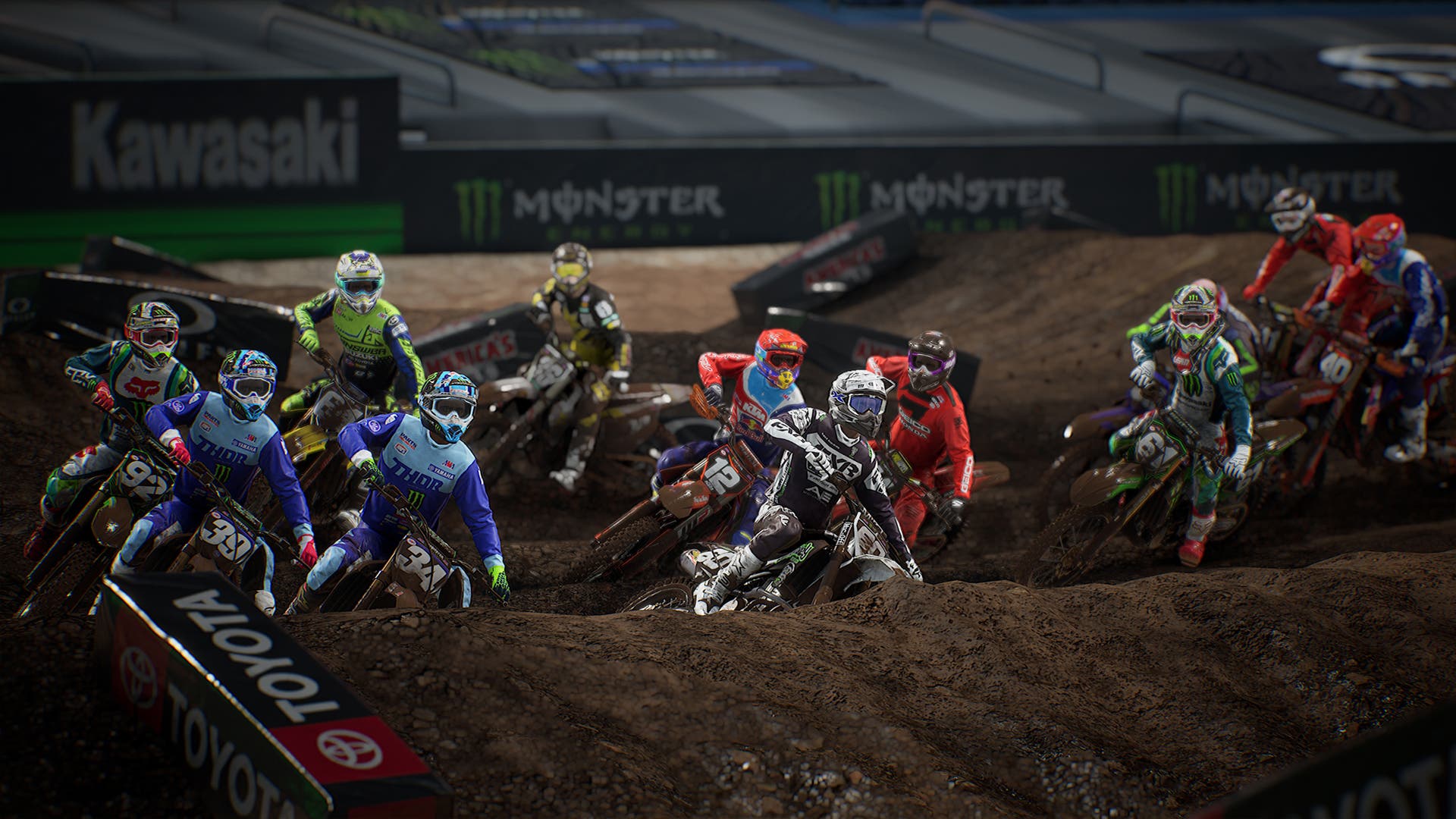 My PC Specs:

– Microsoft Windows 10 Pro
– Intel Core i7 6700k @ 4.2Ghz (Turbo)
– NZXT Kraken X61 106.1 CFM Liquid CPU Cooler
– G.Skill Ripjaws V Series 32GB (2 x 16GB) DDR4-3200 Memory
– EVGA GeForce GTX 1080 FTW 8GB GDDR5X
The Unreal Engine 4 performs splendidly here. There's a bit of an uncanny valley with rippling jerseys as you go around courses. It's absolutely gorgeous in motion, and when still. Unfortunately, the compound being a bigger, wider area looks the worst of the entire game. It's impressive to see dirt collect when on the track for a while, or mud when in wet or rainy conditions. There's attention to detail here.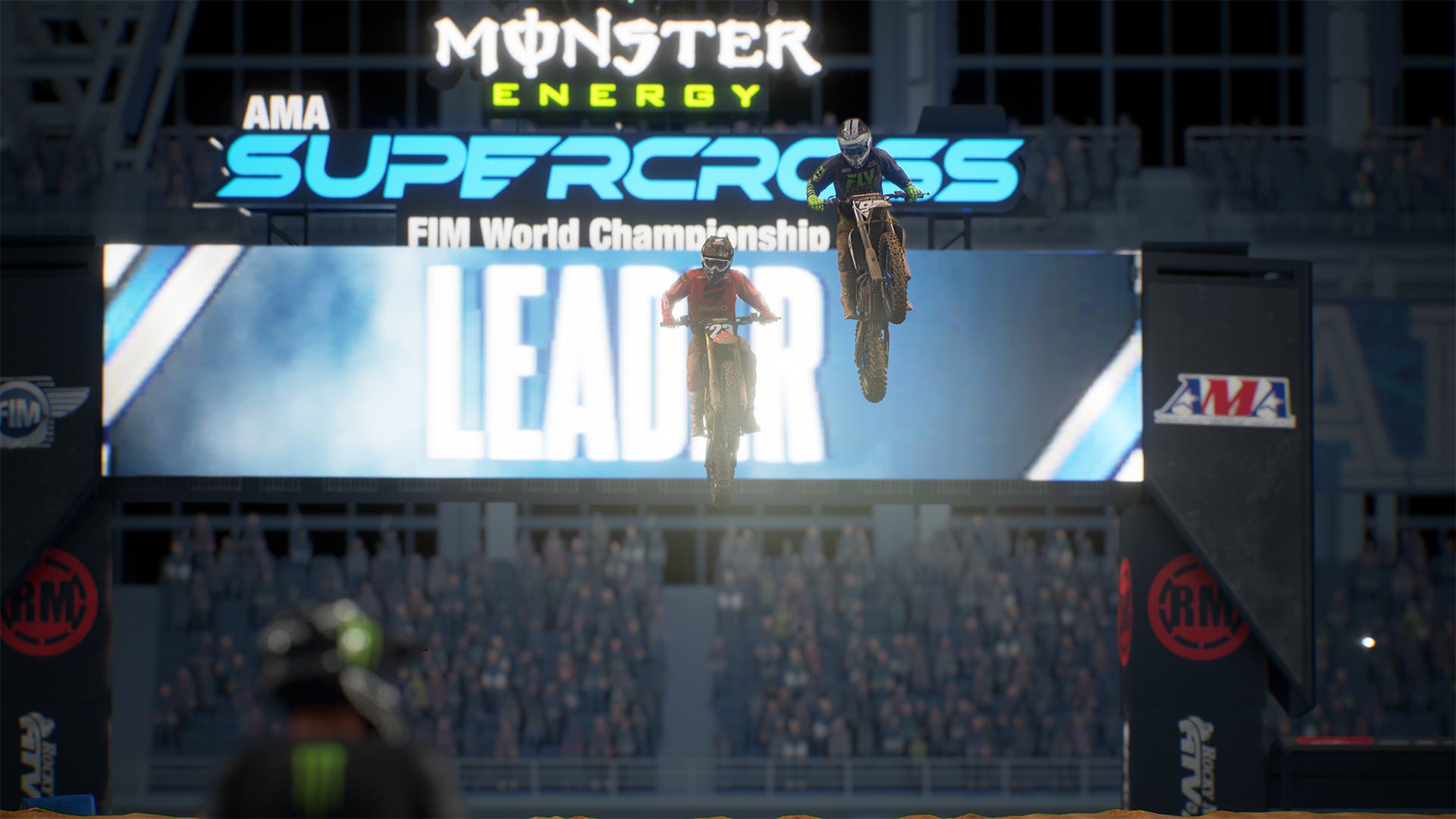 It's clear with Monster Energy Supercross – The Official Videogame 3, it is driven by passion and authenticity for the sport. It's the best in the series, even if it has a few rough edges. The UI takes a few unnecessary extra steps to navigate, but when that's your largest issue, there's little to worry about. The bevy of modes, inclusivity of riders, and wonderful simulation of supercross is unmatched. Now go try it with the first-person camera.
A pre-release Steam code was provided by the publisher for review purposes