WHAT THE GOLF? is not a new game, it's been available on Apple Arcade, recently released on Switch, and already on PC via the Epic Games Store. Now it's finally come to Steam with all updates and some new additions. And since we haven't reviewed this yet, let's talk about how great WHAT THE GOLF? is. The developers at Triband really don't like golf, but made a game around the idea that only tangentially resembles the sport. It's a concept that works really well, and will get its hooks in anyone who plays it. WHAT THE GOLF? is a great example of parody and gameplay in perfect harmony.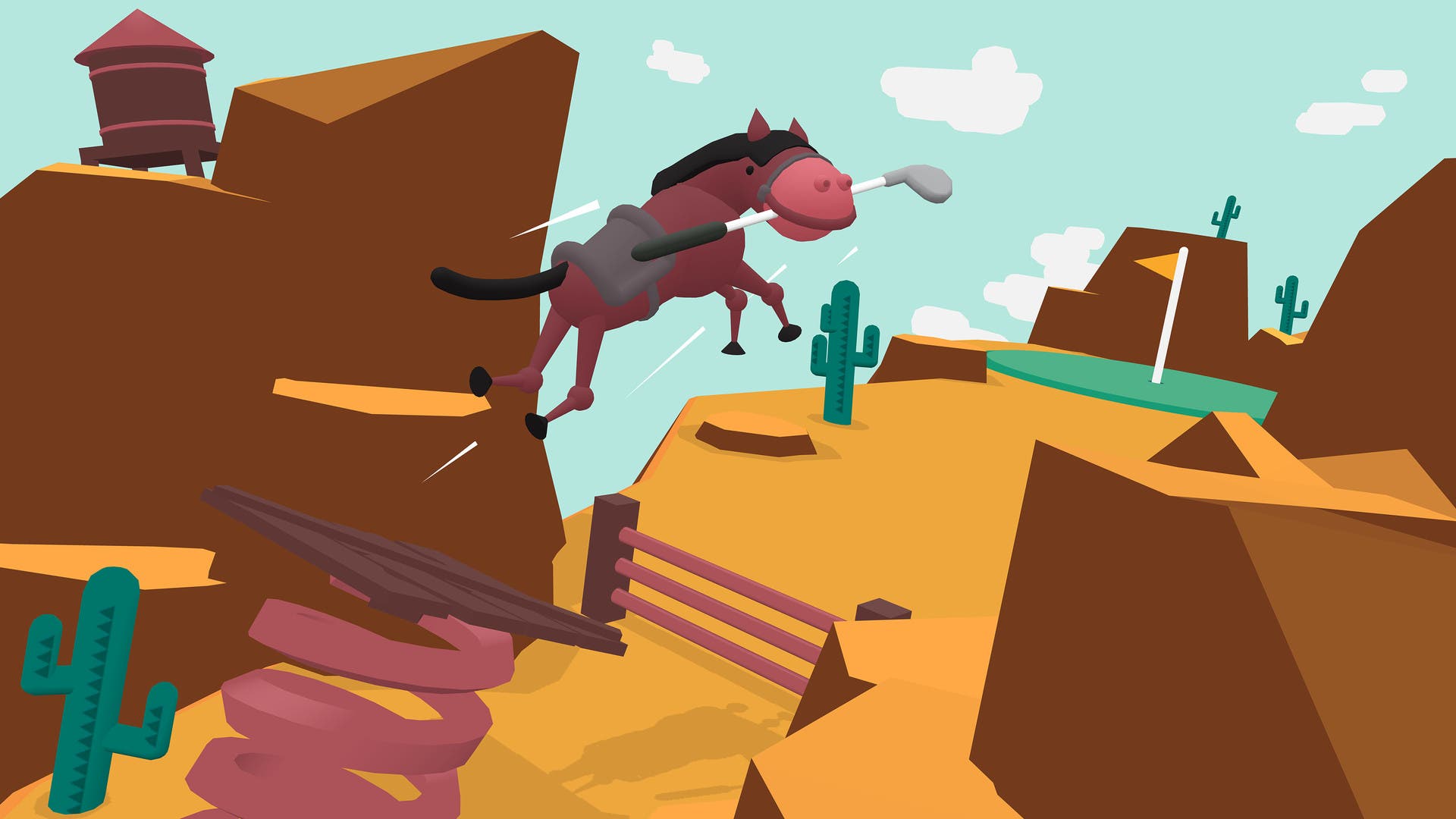 There's no story, you're just thrown into the game with a short tutorial that doesn't tell you anything. Not how to play, not what to do, not what to expect. This works in the game's favor, because through gameplay and just trying stuff do you learn what you should do. After the first introductory levels, the sitcom-level intro solidifies the tone WHAT THE GOLF? is going for.
On PC, the controls are simple and you can use a mouse or controller to do every action in the game. The controller uses the analog sticks. With the mouse, it's just click and drag. For both control types, the on-screen indicator puts an arrow with how much strength the upcoming hit will deliver. And that's it, that's all you need to know on how to play.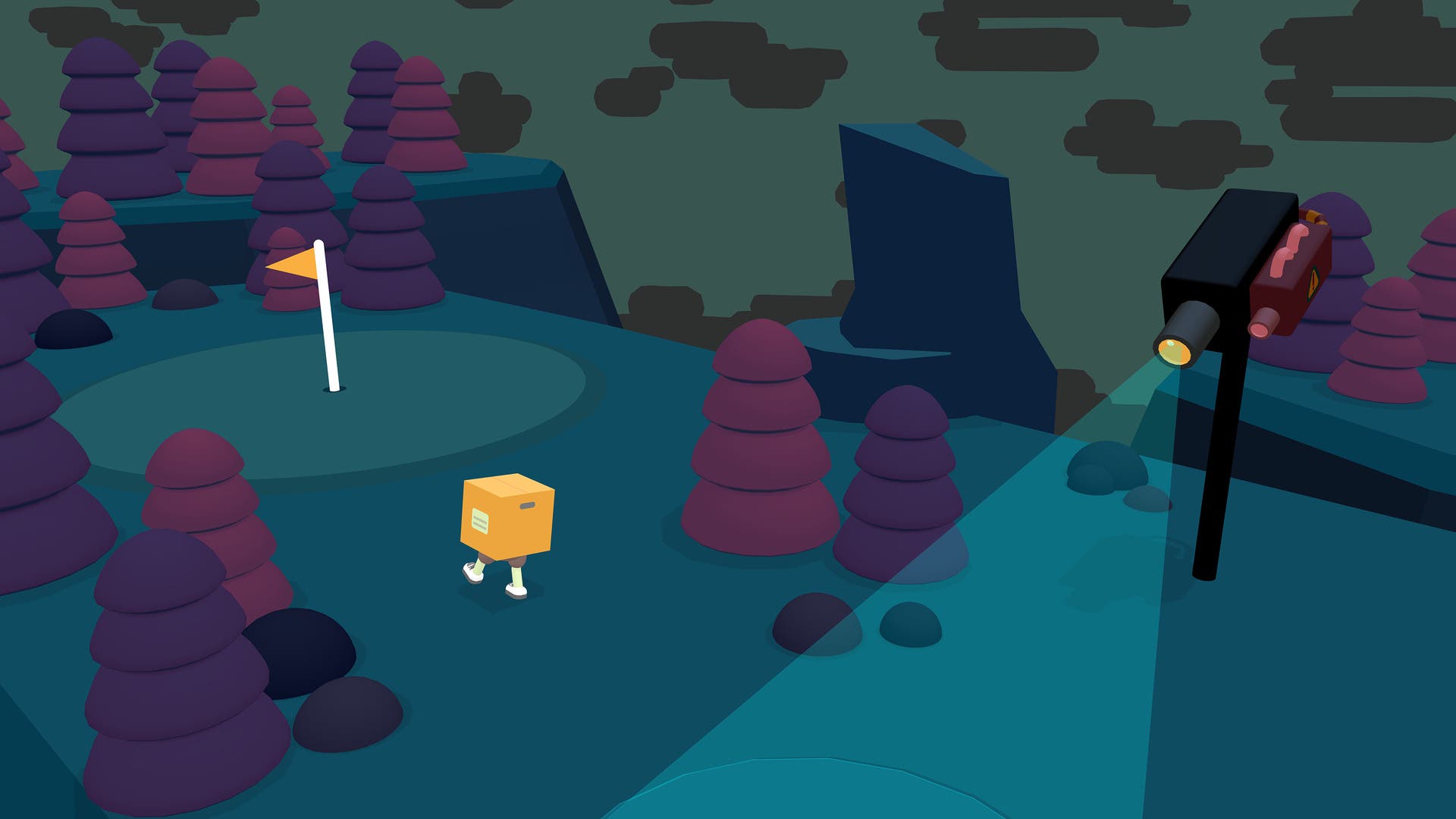 This is and isn't a golf game. While it's deceptively simple at first, but Triband continually defies expectations with every hole. You can complete holes with as many strokes as needed, as at its core it's a puzzle game, with something to solve for. Whether you're a golf fan or not, it's a very fun game once you wrap your head around the looseness of its rules, or lack thereof. There's an astounding 500 levels to play, each with their own tongue-in-cheek mechanic. Sometimes they are singular levels, and then later become a series of mechanic-laden levels before being able to move on. There's lots of surprises to be found, but I don't want to spoil any of the gags. I will say that sometimes you'll be tasked with NOT breaking the thing, just getting to the hole while avoiding exploding items, or even just being surprised what it is you're actually hitting towards the hole — it could be the hole itself. Triband don't ever let you get comfortable with one idea or mechanic for long until they change it up again, and it's so impressive.
You are a golf ball inside some sort of lab that gates your progress in escaping. Starting on Level 10, you'll work your way up levels by simply completing levels at first, but later they'll ask for star completions. Completing a level or hole with a star requires fulfilling additional objectives that essentially remixes the levels. All of the levels can be replayed ad infinitum in their original form with the specific objectives. This level of progression is straightforward but really enthralling to try to do it all.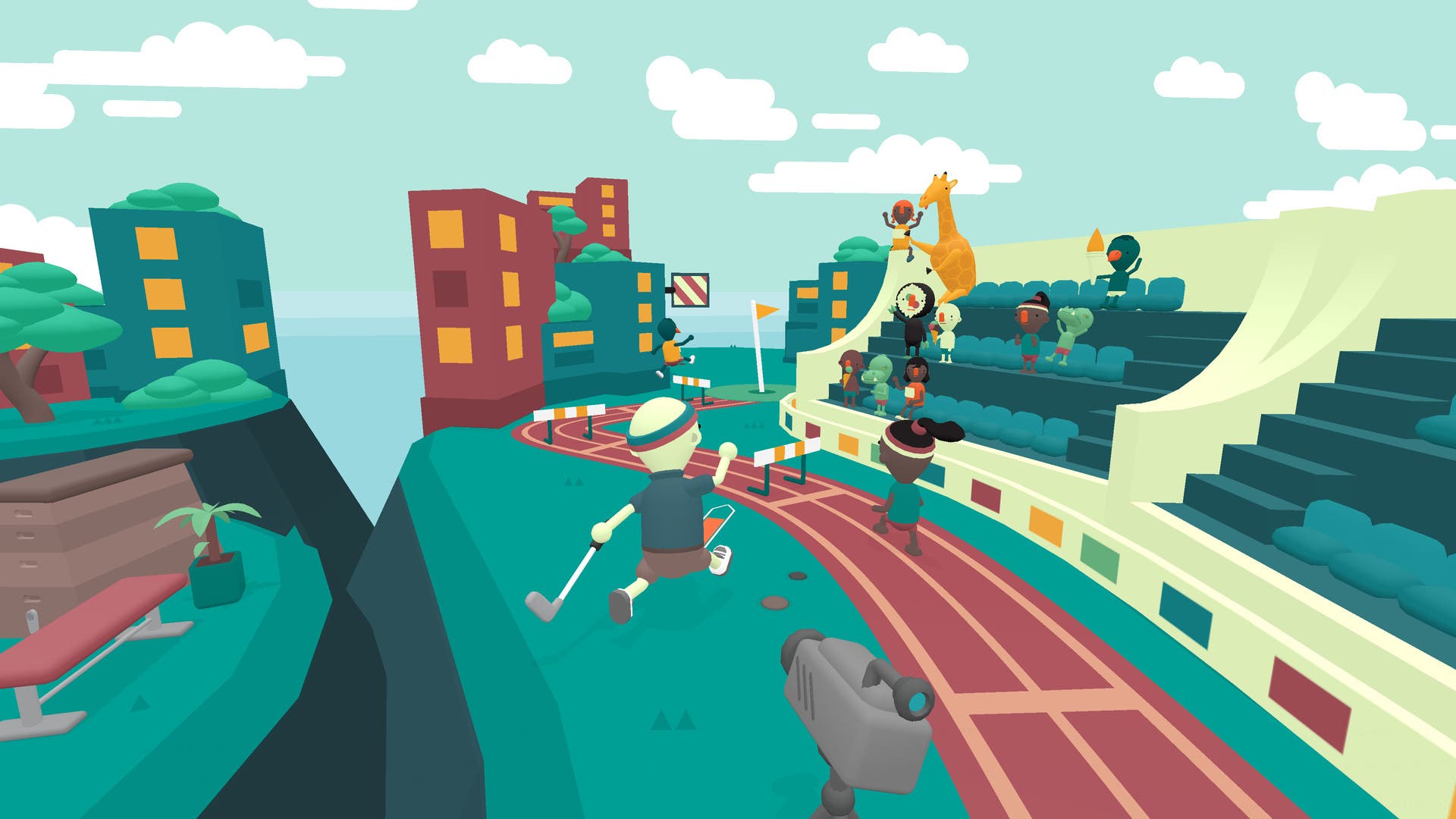 Recently Triband added a 2-player party mode to the game when it released on Switch. Now we get two new adventures, with the latest one focused on sports. And since WHAT THE GOLF? isn't a golf game, this new campaign dives in to the other sports that can be played with this control scheme. And probably the biggest addition, is a work-in-progress Level Editor. It's labeled as an "Early Access" type of thing, but it'll allow you to create the levels you wish Triband would make, and share them. It's going to be interesting the legs this mode has in due time.
With the original launch of WHAT THE GOLF?, there were daily and weekly challenges to partake in. There are leaderboards associated with these challenges to compare against friends and strangers around the world. It's not a new concept, but this is the type of game you'll want to compare yourself to others for. Challenge Me! gives the same level to everyone, and asks you to complete it.
One of the coolest features of the game is within the Quick Play section of the game: "Show To A Friend" gives everyone a vertical slice of the game, which is just the tutorial. Best of all, it doesn't affect your save file. And because of how tightly packed it is in gameplay and surprises, is exactly the snippet of gameplay to be the tipping point in getting people into the game.
Look, this game will run on just about anything, but here's my specs to know that it runs at extremely high framerates.
My PC Specs:
– Microsoft Windows 10 Pro
– Intel Core i9 9900K @ 5Ghz (Turbo)
– Corsair H115i RGB PLATINUM 97 CFM Liquid CPU Cooler
– Corsair Vengeance RGB Pro 32 GB (2 x 16 GB) DDR4-3200 Memory
– EVGA GeForce RTX 2080 Ti 11 GB XC ULTRA GAMING
– Seagate FireCuda SSD (500GB)
– Seagate BarraCuda SSD (1TB / 2TB)
WHAT THE GOLF? is both a delight and a consistently entertaining game as you work to solve its puzzles. It's never frustrating, never overstaying its welcome, and always making you laugh. It's full of fresh ideas with every hole, and the new modes make a great game even better. If you've been holding off on this, now's the perfect time to jump in, and there's multiple ways to get it now. WHAT THE GOLF? reminds you why you love gaming.
A Steam code was provided in advance by the publisher for review purposes