Gaming Headsets run the gamut in quality and cost. At $299, the Audeze Penrose gaming headset sits on the higher end of that spectrum and delivers a rich audio sound, thanks in part to its 100mm planar magnetic drivers. Although considering its Audeze's least expensive option for gaming headsets, the Penrose still feels like a great choice in that price range.
If you're familiar with the company's other gaming headsets, you may know of the Mobius line. Surround sound and 3D audio are some of the stand-out features on that headset, which unfortunately do not make their way into the Penrose. Think of the Penrose as a stripped-down Mobius headset. Now, this isn't a knock against it; I feel it's a benefit. Removing those features brings the price down by about $100, bringing the Penrose into a more reasonable price range. Plus, the Penrose looks the same and uses a similar microphone and drivers to the Mobius, so if style and comfort are important, you'll get the same for less.
What I found to be incredibly useful, though, are the Penrose's variety of connection capabilities. You can use an auxiliary cable to make the headphones wired; you can pop its USB dongle into your PC, PS4, PS5, or Switch for wireless use, or use the headset over Bluetooth 5.0 for PC, PS4, PS5, iOS, and Android. I did find that I had connection issues with Bluetooth on my PS4, with it not always recognizing that it was a usable headset, but the wireless dongle and wired inputs were flawless. I should also mention that they were flawless after a firmware update to the headset. Out of the box, I encountered numerous connection and audio clicks while playing wireless. So be sure to update the firmware as soon as possible to avoid that potential headache. Another feature absolutely cool to me was utilizing the 2.4GHz dongle and Bluetooth simultaneously! I've come to find out later that this feature is seen on other devices now, but it's still cool to listen to a podcast through Bluetooth on my phone while playing something on my PS4. I never took a call or hopped into a discord chat, but I imagine they too would function very well while playing game audio.
Speaking of chat, the Penrose's removable mic is excellent overall. I did a quick test recording on my PC, and it sounded reasonably clear. It may not be something you want to use as a voice-over mic, but this would sound great for chat. I did not attempt to record via the wireless signal, as a wired connection will always have a higher recording quality over wireless, but for chat purposes, I don't see this setup losing that much quality.
Battery life for the Penrose is rated at up to 15 hours with a three-hour charge time. I didn't measure my time exactly as I was playing in chunks, but I found that I didn't need to charge the headset in my 1-2 hour gaming sessions for about two weeks. Very impressive in my minimal use of wireless headsets. The Penrose uses USB-C to USB-A or a USB-C to USB-C for charging, and the cables I felt were of a decent length. Don't expect to use the cable for any audio, though; they are only for charging. Also, be aware that the cables are just plastic, they aren't braided, so if you're hard on cables, you may want to look into using your own.
I downloaded Audeze's software for the headset, AudezeHQ, and it seems ok; it is what you'll need to install firmware updates to the headset. It's available for Windows and Mac, and you can use it to store up to five EQ presets to the headset, turn on and off the side tone, and adjust mic volume. Audeze also has an Android app you can use to change headset settings, an app I could not test as I'm an iPhone owner.
I found the headset to be quite comfortable in my time using it. The earcups fit nicely over my ears, and the weight didn't bother me as much as I thought it might. With it being wireless, there is some heft to this pair, especially on the side with most of the internal equipment. Once on your head, the headset band does a great job securing the Penrose around my head comfortably and evenly. The headset doesn't do Active Noise Canceling, but it does a pretty stand-up job sealing out external noise from around the cups leaving me to focus on the game audio. However, it let through enough bleed that I could still hear my surroundings and listen out for my dogs or the front door.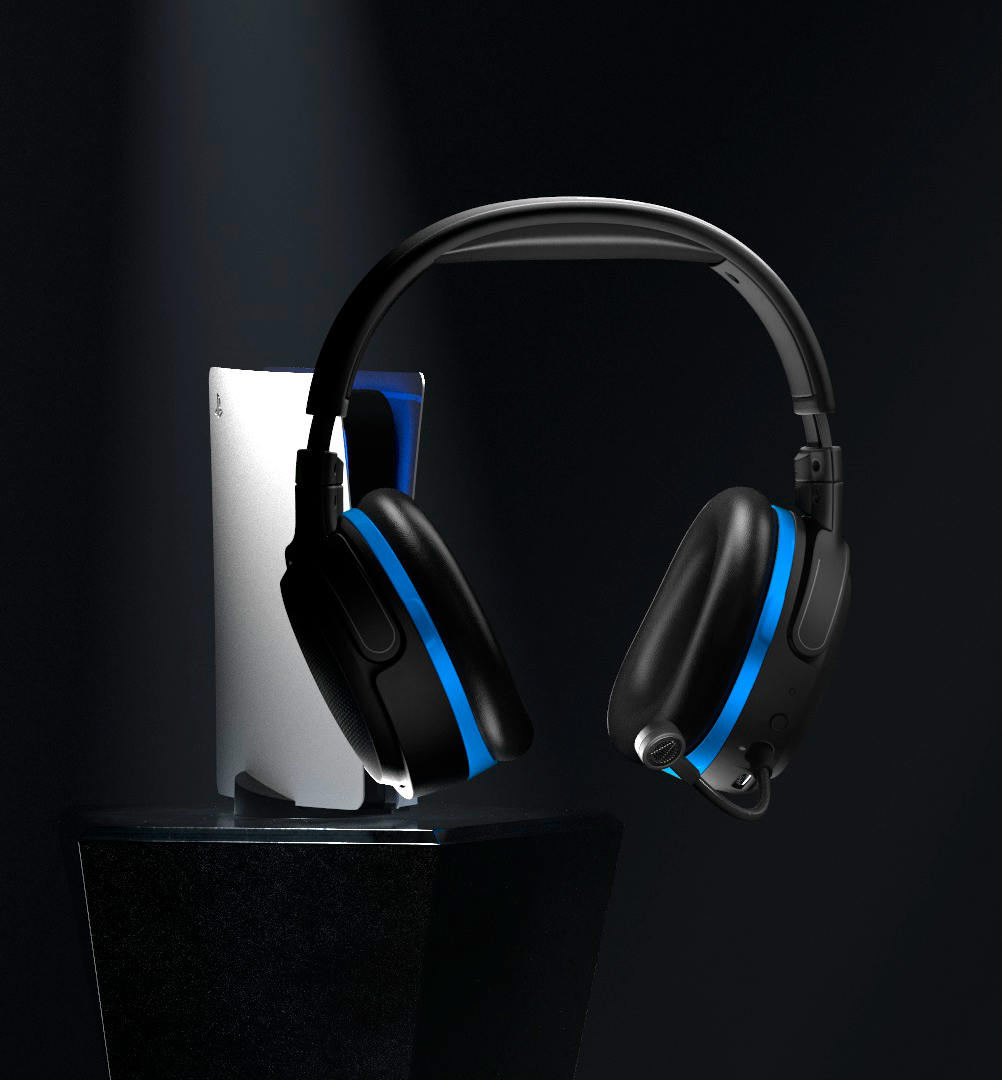 I loved the audio quality coming out of the Audeze Penrose. It was with me as I completed Mass Effect 1 on the Legendary Edition and gave me a whole new audio experience with that game, hearing little sounds I would have never heard over TV speakers, just excellent clarity. With the headset's multiple connection options and the removable mic feature, The Penrose delivers quite a premium sound to back up its $299 price point and has found its way to becoming my primary headset.
A hardware unit was provided by Audeze for review purposes