ROCCAT has been releasing impressive hardware throughout the year, and their latest is a studio-grade USB microphone, set to light a fire in the space. Aimed at mostly content creators and gamers, it's an exciting package that'll appeal to a larger audience. But in the age of working from home either by choice or demand, microphones have become a near-essential component of the home office, so there's something for all here. The ROCCAT Torch is as affordable and stylish as it is a great microphone too.
This is a professional-grade piece of hardware, boasting numbers like "24-bit audio with 48kHz sampling", "zero latency", and "dual condenser capsules". What does that all mean? It means your recordings and livestreams will have the utmost quality. There's zero latency of the audio with regards to the output, as there's a spot for you to plug in 3.5mm headphones and not experience any lag when having conversations with others. This is a problem other microphones have while direct monitoring or recording output. The dual condensers found on this mic enable the 24-bit audio as well as the proprietary whisper mode, as condensers are what allow the microphone to pick up delicate sounds. There's an integrated pop filter to make those hard p's and other sounds not spike the waveform. Lastly, there's three different patterns of picking up voices: cardioid, stereo, and whisper. Cardioid is when recording solo, and in a single direction to pick-up input. Stereo is for multiple people in a room together. And whisper is the same as cardioid, but for recording while your voice is at quieter volumes.
The Torch is a driver-free piece of hardware, meaning it doesn't require software in order to work, it just does. You can optionally install ROCCAT Neon, the new software that ROCCAT is transitioning its users to with its latest hardware releases. It does only control the three-zone RGB lighting on the Torch. You can set the lighting to use AIMO to smartly connect to the rest of your ROCCAT gear, and match accordingly. Or you can set it manually with whatever colors you can dream of across 16.8 million options. Making the Neon software optional instead of required is a huge bonus.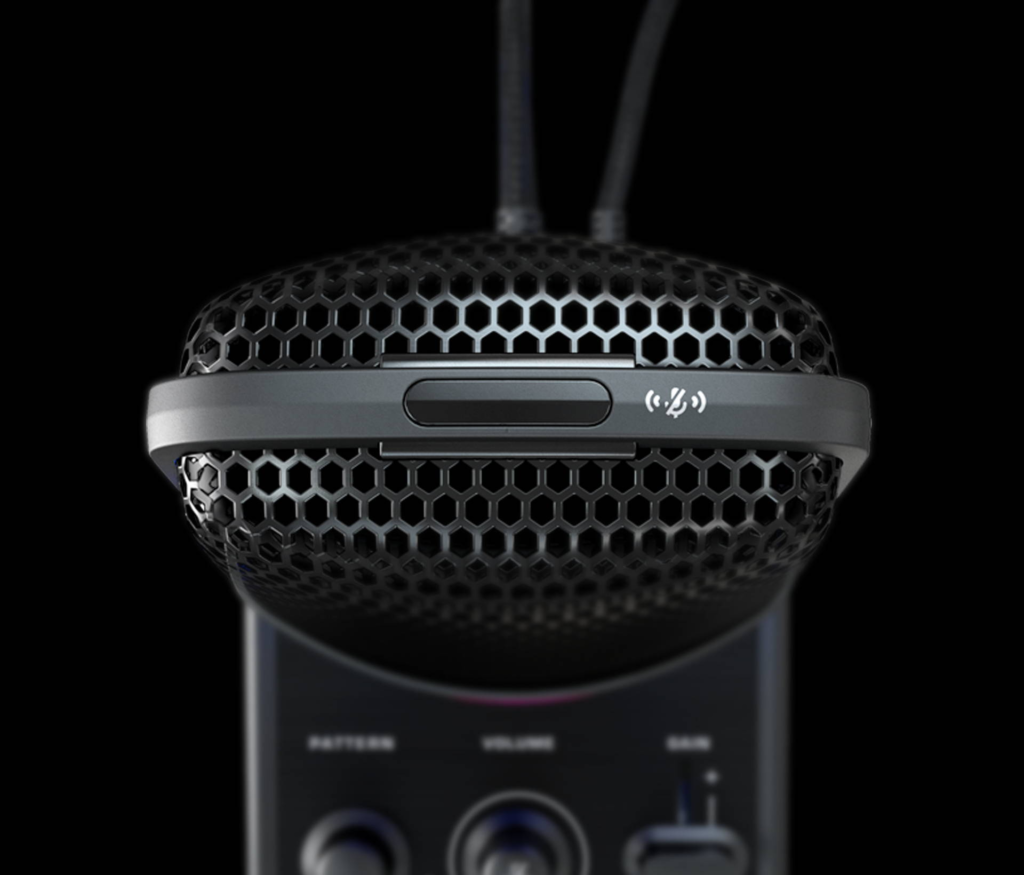 The most unique feature of the whole package is the base, that also serves as a mixer pad. The microphone can easily be affixed to the base (as it is by default), or attached to a mic boom. The mixer pad has a dial for selecting one of the three patterns, a volume knob for output audio, and a gain slider for the microphone's input volume. If you press down on the volume knob, you'll mute the mic. At the bottom of the brushed metal surface of this mixer pad, is some lights that show the status of the mic. When muted, there's the universal red microphone icon with a line through it. When the mic is hot, there's a green "LIVE" LED lit up that has a radio / studio feel to it. For the most part, this is a really neat idea by taking a lot of buttons off the mic itself, and putting them elsewhere. For my setup, it's an extra set of cords that are awkwardly strewn across onto my desk that I couldn't cleanly organize.
The ROCCAT Torch features hands-free mute, where you just wave your hand over the sensor to mute yourself. In practice, this led to instances where I accidentally muted myself. The inverse was also true, as I unintentionally unmuted myself when I meant to stay muted, just because I reached out to grab my water cup. The mixer pad and microphone will display your status clearly. When you're muted, the ROCCAT logo turns red and all other lights are turned off. This gives solid feedback. The only potential issue I can see is if you have the mic's colors set to a static red as your theme.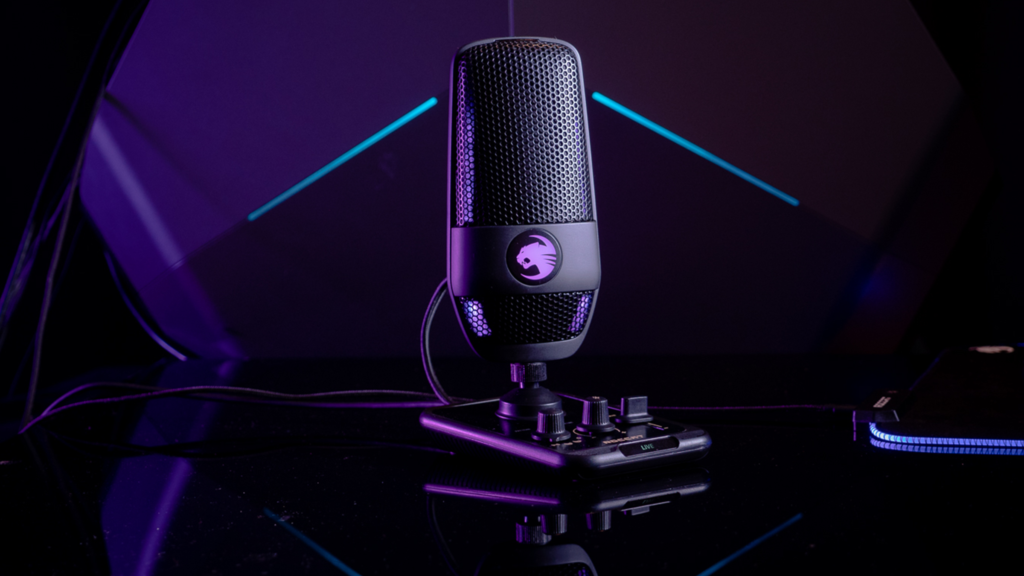 Using the microphone every day since it arrived, has been fun. It works with every audio and video chat program with ease. I had no problems being heard or understood in all scenarios. I then recorded voice samples using three different mics: my Astro A40 headset mic, the HyperX Quadcast S (my previous USB microphone), and finally the ROCCAT Torch. Well, I'm gonna let me speak for myself here:
There's some solid audio out of the ROCCAT Torch, but it does pale in comparison to the HyperX QuadCast S. The Torch in playback and from friends sounds flat, despite the 24-bit other features it has. It's by no means a slouch, and it makes the Astro A40's microphone sound like I'm talking out of a toilet. Don't misunderstand, the ROCCAT Torch is an upgrade in every sense of the word.
The first microphone from ROCCAT is a homerun, but it isn't a grand slam, either. There's room to grow and improve, but if you're looking for your first USB microphone to sound professional, the Torch has you covered. What ROCCAT delivers here is definitely what I'd consider "studio-grade", but it doesn't hold up to something like HyperX's QuadCast S. For the price however, it's a much more affordable option and a notable step-up for any content creator, or aficionado of good-sounding audio regardless of what they do. The ROCCAT Torch is a perfect match for anyone.
The ROCCAT Torch was provided by ROCCAT for review purposes