The things that that come to mind when you see the names HyperX or Kingston is either memory, headsets, or some other gaming peripheral. Until recently, microphones weren't anything anyone thought HyperX would offer, but that started to change that with the release of last year's highly rated Quadcast. Now we get a new model with RGB in the HyperX Quadcast S, building upon an already great microphone. With stellar audio quality, a striking look, and lots of extras at no added cost, the HyperX Quadcast S is an evolution and trailblazer in its class.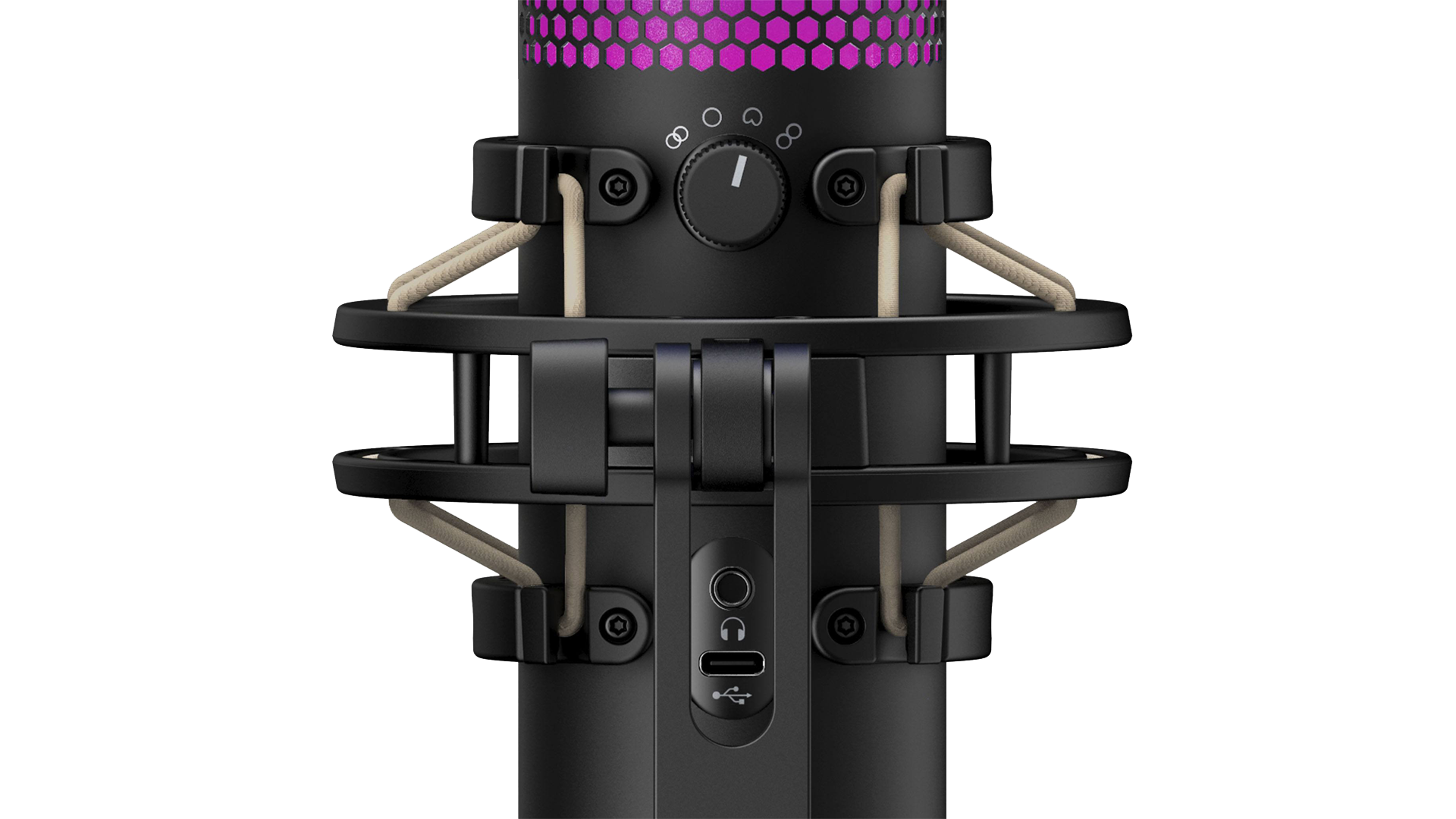 The HyperX Quadcast S is a USB condenser microphone that's catered towards gamers, but will be attractive to on-camera personalities, podcasters, and pretty much anyone else. Now, it's called the Quadcast because it has four modes, or polar patterns. The default is Cardioid for podcasts, recording, streaming, and more. You can also switch to Omnidirectional for multi-person podcasts, Bidirectional for two-person, face-to-face interviews, and Stereo for recording instruments or vocals. This has applications in all areas of recording and streaming, to include multiple person podcasts through a single mic that makes it versatile for you to find more than a one use for it. This'll also reduce the need to buy multiple mics if you're on a budget.
When unboxing the mic, I was impressed that it was fully assembled on its own mic stand that's incredibly sturdy and tall. It's just ready-to-go with only needing to plug in the USB cable. There's an included mic mount adapter, which I used and found it to be incredibly simple, it barely added any time to the setup. I think the coolest thing about this mic is the mute button. Using a capacitive touch sensor, you can touch the top of the mic to mute or unmute. When muted, the colored lighting is fully disabled. When the mic is hot, it lights back up again. You can also adjust the gain slider at the bottom of the microphone, that maybe moves a little too smoothly, but hasn't become an issue.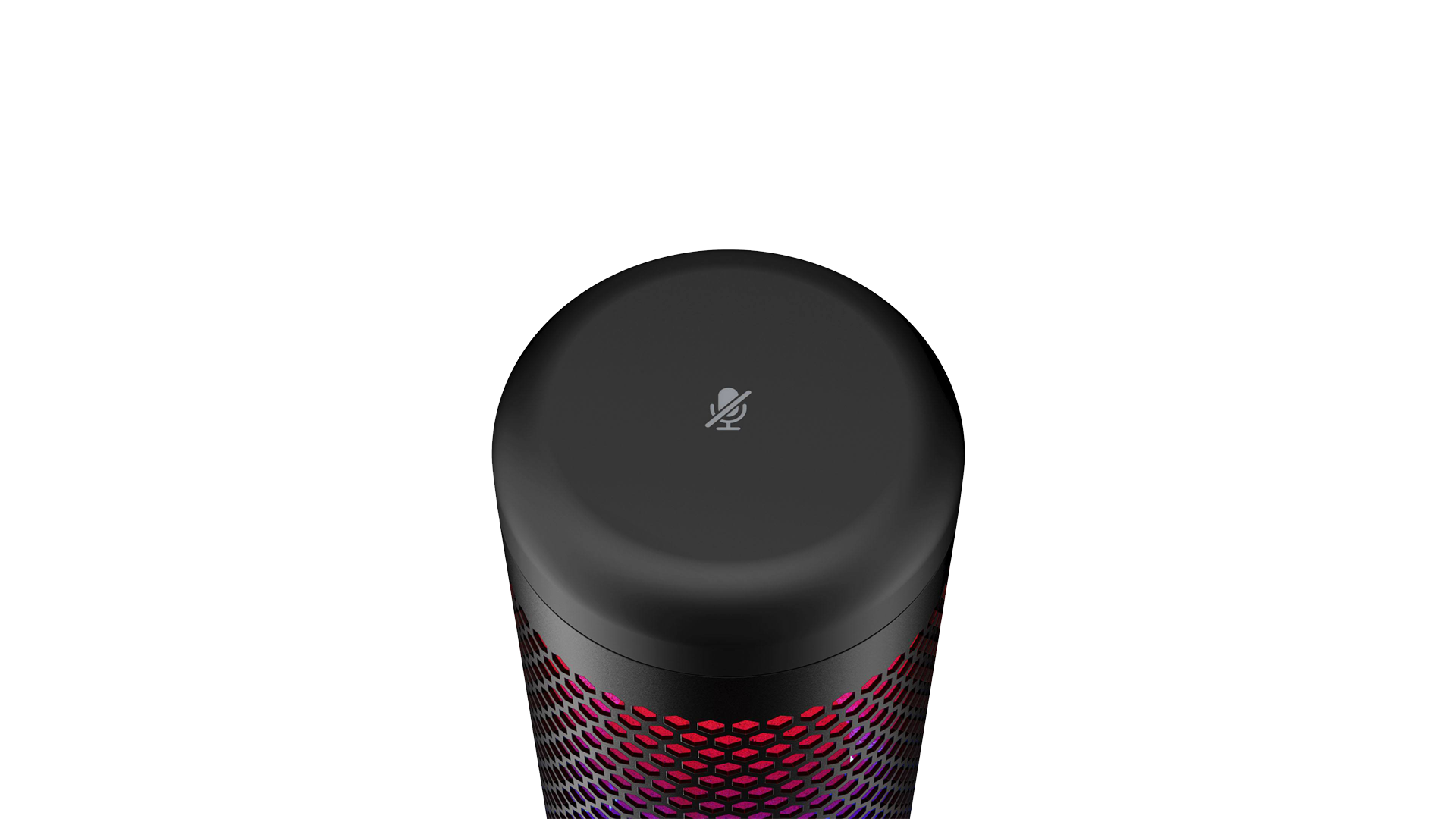 HyperX gave the Quadcast S (as well as the Quadcast) some extras that you'd normally have to buy separate to bring you closer to professional level of streaming or recording. The first is the anti-vibration static mount, this will reduce the vibration sound captured when you accidentally hit your desk or the mic mount. Next is the internal pop filter, normally an add-on to reduce those hard Ps or other plosives when speaking. Trust me, anyone who listens to you will thank you for this, and its inclusion by HyperX will put microphone manufacturers on notice. This microphone also has a condenser, which captures more accurate sounds at a higher sensitivity with less noise that gets picked up on mics of a lower quality. As a package right here, there's a lot to love.
Functionally, the Quadcast S is identical to the Quadcast, but instead of a red LED, the Quadcast S has a two-zone RGB lighting that can be customized. At a full RGB of 16 million colors, let me tell you, it is RGBeautiful in person. As a result of the inclusion of RGB, it does use more power: 5 volts at 220 milliamperes vs 5V 125mA of the original Quadcast. Really the choice comes down to having one color, or many.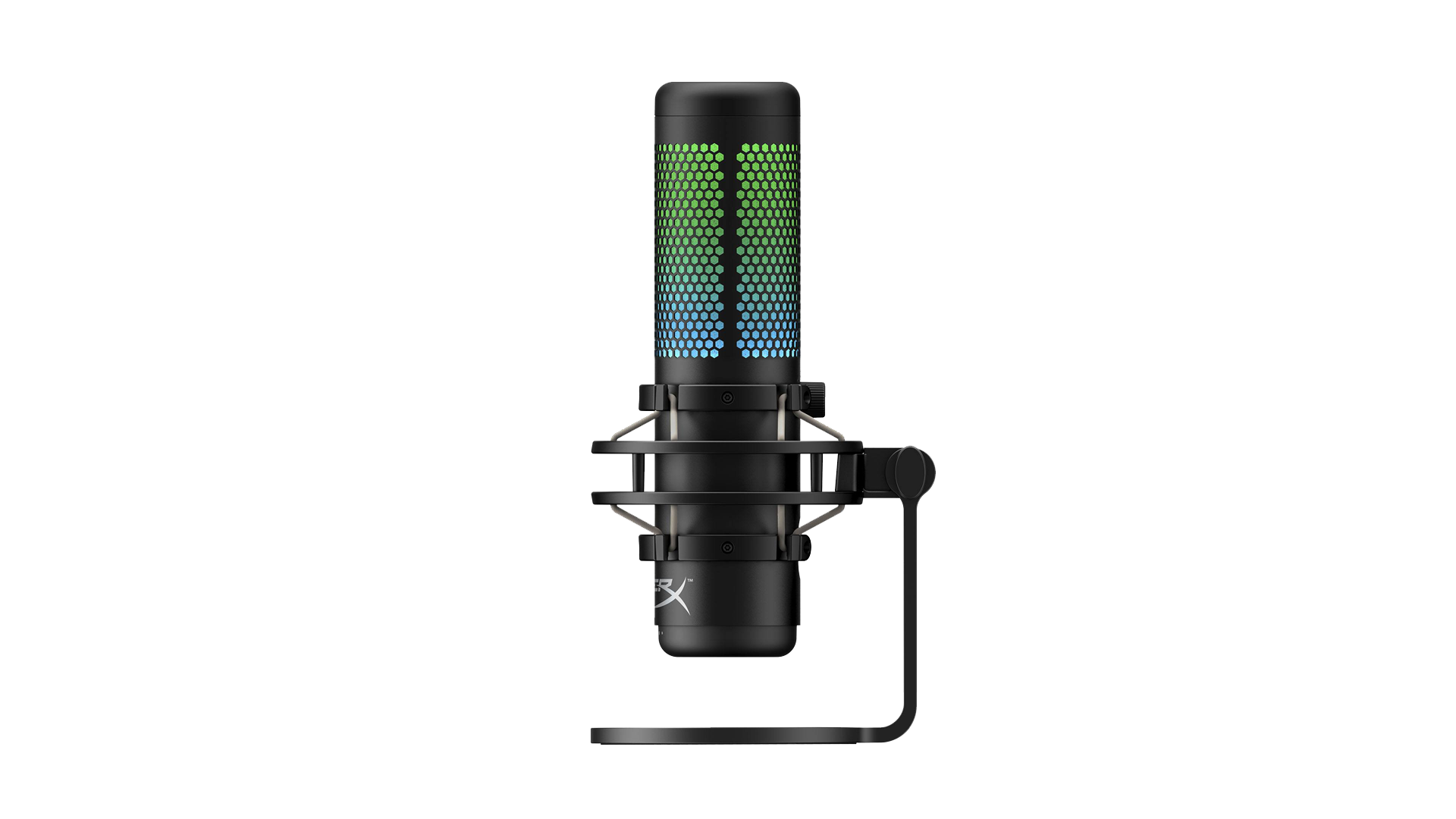 On the software side of things, there's HyperX NGENUITY as a Windows 10 app that lets you control all devices from HyperX. This was my first experience using the software, and it just worked. I did run into a single conflict with RGB Fusion, a piece of software by AORUS to control the RGB lighting on my motherboard and monitor. Having to close RGB Fusion to tweak something on the mic wasn't even an inconvenience.
Two tabs separate what you can do with the Quadcast S. In Audio, you can tell it what polar pattern to use (if you didn't want to use the on-mic controls), set your microphone volume (I kept it default), whether you want to monitor the mic's volume (only if you have a headset directly plugged into the microphone), and set what the headphone volume is. The Lights tab is the most exciting part, as the Audio is a "set it and forget it" kind of thing. Once you dial in the audio, you'll not need to go back. The lighting is where you'll spend most of your time. Here you can set your effects of solid, blink, cycle, lightning, or wave colors. Mix and match them to set a really dynamic look. Then you can target specific zones for the effects. You can then select the colors to use per that effect, and lastly set how fast or slow it all moves. You can save that as a preset, and then save to the mic to apply the settings right away. It's all really intuitive to use and have it do everything you want it to.
This microphone has been certified with Discord, TeamSpeak, and OBS. But it'll work with Skype and just about any other audio software that accepts audio input. It just works on PC, Mac, and PlayStation 4 with little to no effort.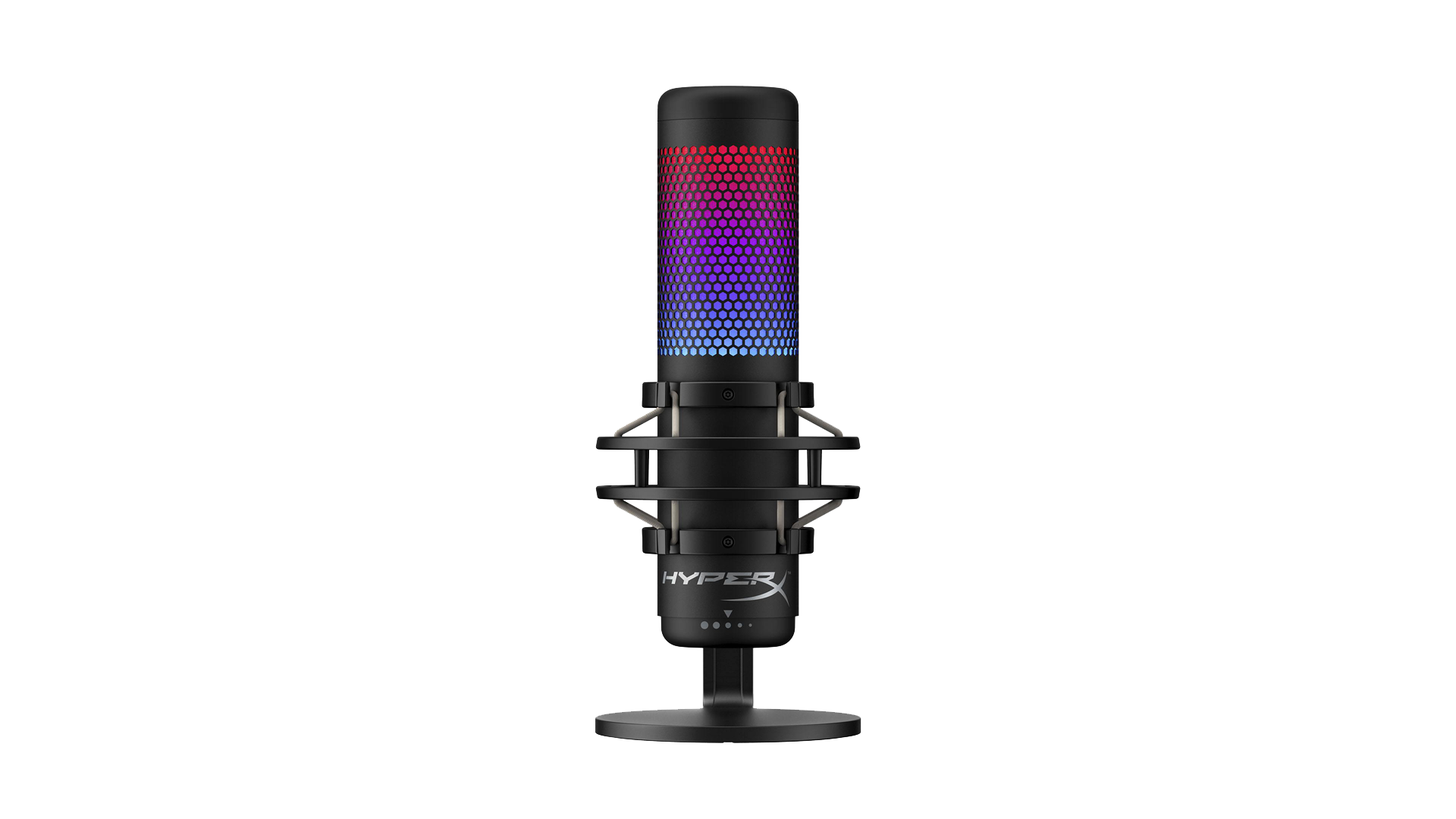 Using the microphone in my day-to-day, it produces really clean audio at 48kHz in 16-bit stereo. I recorded voice samples using three different mics: my Astro A40's headset mic, a Turtle Beach Stream Mic (my previous USB mic), and then the HyperX Quadcast S. Well, I'm gonna let me speak for myself here:
As you can hear, the HyperX Quadcast S is staggeringly clear, crisp, and just professional sounding in a way that'll make you feel more confident in your production. It's the kind of thing that will excite you to create more content, without having to worry about how you sound to others.
The HyperX Quadcast S is in the upper echelon of sound quality as it closes the gap to XLR microphones. With the inclusion of the anti-vibration shock mount and internal pop filter, it's a premium USB condenser microphone. It's got a slick overall aesthetic, and an aggressive price point to match, which is absolutely worth the asking price. Given that the the Quadcast S has been sold out since launch, speaks volumes. If you're looking to save some money, the red Quadcast comes in at $139.99 as it offers the same impressive audio quality, without RGB lighting. The HyperX Quadcast S is the complete package for amateur or professional creators in any space to make top tier, colorful content.
The HyperX Quadcast S was provided by HyperX for review purposes