Most of us have moved at some point in our lives, and I'm sure we're all in agreeance that between packing and unpacking, the most enjoyable of the two is the unpacking. Well, Developers Witch Beam has taken that concept and crafted it into a fun game that scratches that lizard-brain itch for organization and subtly tells a lovely story along the way.
The game chronicles the life of a young woman from the late '90s into her adulthood in 2018. You get to experience different stages in her life, told through the items you unpack into her rooms. These end up being neat little snapshots in time, with period-appropriate décor and things that resemble popular 90's – 2010 stuff. You'll see recognizable DVD cases and game box art that give you a good sense of the period you're in. You'll see the progression of her life as she moves from living with her parents, heads off to college, and eventually living in her own home. With each move, you'll even see the evolution of technology and items you might acquire as you get older; think bathroom stuff for one.
To help build the narrative, you'll unpack other items your character has collected during her time in between moves: important things and mementos like photographs, gifts, diplomas, and art. To understand Unpacking's narrative, you're left to piece her life together by reading into what she has accumulated or even lost over the years. This is all conveyed through a pixel-esque art style that fits the game as a whole, adding to the feeling of calm and serenity. That is until you get to a whole midsection where you're introduced to a live-in boyfriend, and it's undeniable that he is not the best for her. Without spoiling anything, know the dude is a total jerk but that's beside the point. You move on and you continue playing and putting things away.
Aside from the story, the gameplay is surprisingly addictive. Everything has a home, a place where it belongs. You click on a moving box to open, and then you're given an item to put away. Stick it in the wrong spot, and the game will eventually notify you with a red glow that it doesn't belong. You are given some freedom to place the items, but they must be in the correct room. Some things have multiple placement options, like books; they can be laid flat on a bookshelf or stood straight up. Other items can be rotated or stacked on top of one another to save on space; items like coasters, plates, and bowls can be done this way. Sometimes you do run into confusing issues where the game expects a specific item to be placed outside of what the player may believe it should go. One example I ran into was items like kitchen appliances; being a guy with no sense of organization sometimes, I would have placed something like a blender or a rice cooker on free counter space or a table. Not in this game, though. This nit-pickiness led me to re-organize certain areas just to fit these items in, which in itself isn't bad, just slightly annoying.
As you open up boxes in each room, you'll find that some items were packed into the wrong boxes, and you'll have to carry the item into the proper room. Kitchen hand towels or bathroom toilet paper might find their way into living room boxes, or maybe you packed a pair of panties into the same box as your kitchen utensils; either way, you have to get it to the right room. Luckily the game is as chill as it could be. There are no timers and no rush in completing each stage; you're free to get things just the way you want, giving you a true feeling of zen. To aid in that feeling is a wonderfully calm soundtrack. Speaking of audio, Witch Beam did an incredible job with its sound design. Items have a sense of weight and softness, sounds that I wouldn't have expected in a game like this, but ones that are welcomed. You can hear echoes in rooms with tile floors; you get different thumps when placing objects down on softwood versus a hard countertop; and more detailed audio. It's pretty spectacular.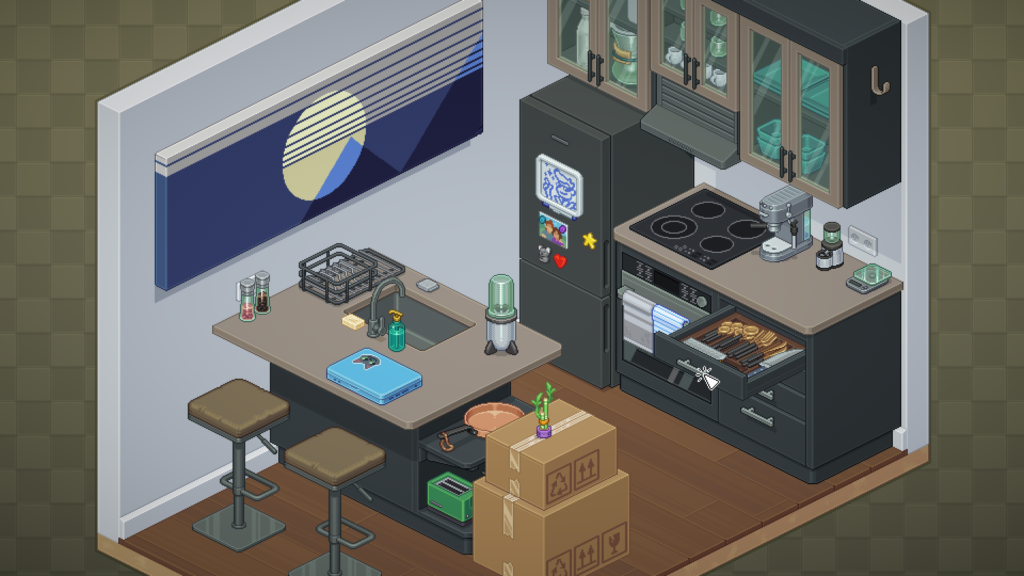 If you're looking for something chill to play in between the stressful first-person shooters this holiday season, you can't go wrong with this calm puzzle game, one that doesn't overstay its welcome either, lasting only a few hours max. At the end of the day, Unpacking unpacks, a captivating story through its use of the stuff we collect in our lives.
A Steam code was provided by the publisher for review purposes