From Press Release:
Mini Motorways, the award-winning minimalist strategy traffic management sim with more than four million players from developer Dinosaur Polo Club, puts the future in the hands of its community with a Mini Metro crossover map voting event today.
30 Mini Metro maps will go head-to-head in a community-driven vote to decide which fan-favorite city will come to Mini Motorways in the next update.
Nominations for maps begin today, with the winner announced on Monday, May 8, 2023 PDT.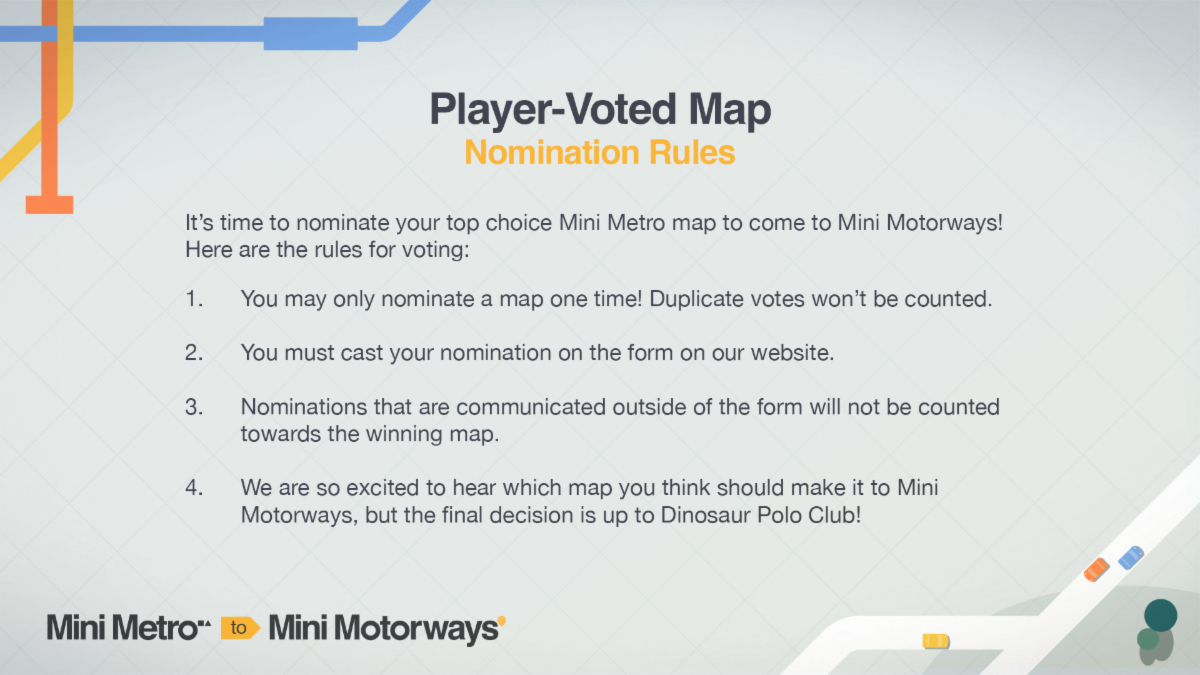 The Mini Collection fanbase has some hard-hitting questions ahead of them while deciding on the newest map.
From London's historic underground and world-renowned waterways to Auckland's coastal metropolis in the southern hemisphere and everything in between, cities from around the world are up for nomination in the next update to Mini Motorways!
Only the community nominations will decide which maps make it to the top four. Share why your favorite city should make it to the final round with #MiniMotorwaysMapVote.
Nominations will be tallied on Mini Metro's birthday, Saturday, April 29th, 2023 PDT! Soon after, Dinosaur Polo Club will reveal the top four maps and players can vote for the final winner.
Stay tuned on Dinosaur Polo Club's social media on Twitter, Facebook, and Instagram for news around a special guest set to announce the top four with the team and celebrate 10 awesome years of Mini Metro.\
The player-voted map will be available for free across all current platforms including Apple Arcade, Nintendo Switch, and PC and Mac via Steam.
For more information, please visit the player voting rules page on the news section of the Dinosaur Polo Club website, and Dinosaur Polo Club's social media on Twitter, Facebook, and Instagram.