Carmageddon: Reincarnation gets 3rd Update while on Early Access, big improvements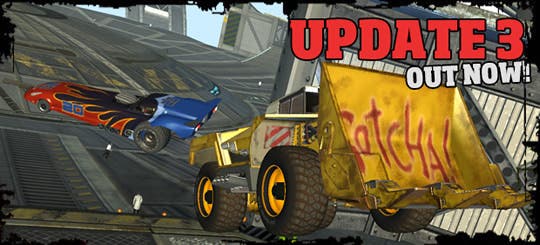 Carmageddon: Reincarnation entered Steam Early Access on March 27th, an this is the third major update to the game. Now, we are seeing tons of new additions and fixes, but now two of the vehicles are complete.

Let's take a look at what NEW goodies have been added and what's been IMPROVED in our latest Update (build Pre-Alpha v0.3.0.5621)

CARS

COMPLETE Annihilator
COMPLETE The Plow INCLUDING driver Don Dumpster!
Revealing The Bear (geometry complete, gameplay ready)
Revealing Tashita (geometry complete except for weapon, gameplay ready)
Revealing Volkswerker (geometry complete, gameplay ready)

ENVIRONMENTS

Bleak City Outskirts

NEW race routes for you to navigate
Building optimisations

City Arena (Sumo)

Complete and cosy NEW level, designed for future Multiplayer fun

Dusty Trails

Tear round these NEW race routes

Rig Wreck

Snow Arena (Iceberg)

NEW routes, created with Multiplayer in mind

Industrial A

GAMEPLAY

NEW Wheelspin control; demanded by Carmafans, implemented by us …because we love ya!!
More PowerUps – Discover the hilarious NEW 'Opponent Ejaculator' and 'Opponent Bodywork Vac' powerups, and revel in the return of some old favourites.

AUDIO

Roaring NEW sound effects and engine noise

TECH

Optimization work on our engine and rendering tech also continues, and you should experience further improvements to the performance of the game on medium spec PCs. See the specs details on the Steam Store page for more information regarding tech requirements. We've also fixed lots of bugs, however, please remember we're still in Early Access, and so the oft-repeated caveats concerning game performance and BUGS still apply!

If you already own the game and your Steam update is set to run automatically, then you won't have to lift a finger; all these new goodies will be downloaded the next time you run Carmageddon: Reincarnation!