The F1 series from Codemasters is annualized for good reason. Each year, FIA Formula One introduces new technologies, and makes interesting changes. Instead of Codemasters being the ones making changes and creating new gameplay mechanics to serve a yearly game (i.e. Madden NFL), the gameplay is served by the changes to the racing it is based on. And for this, the series greatest strength is from the sport itself.
F1 2014 brings forth many changes that come straight from Formula One, the biggest being the mechanics of the race cars now having turbochargers. Now with a very audible whine, do these vehicles quite accurately scream through a track. Now there's improved handling for gamepads, making for the once barely controllable car, is now able to be tamed. The accelerator is mighty touchy, and is not as granualar as I'd like it to be, often spinning my tires at the start or through a turn in the rain.
New tracks to FIA and F1 2014 are Spielberg in Austria, Sochi Autodrom in Russia, and the Hockenheimring makes a return which adds more to last year's version. Even Formula One 2014's Gulf Air Bahrain Grand Prix inclusion is a spectacle. Taking place at night in the middle of the desert, is stunning to take part in, as hundreds of lights illuminate the track, leaving no shadows anywhere to live on the racing line. Generally though, the tracks are pretty bland with standard race fans behind barriers, but does not look very good. That is, until you are in a race with light or heavy rain, this is where both the physics and visuals excel.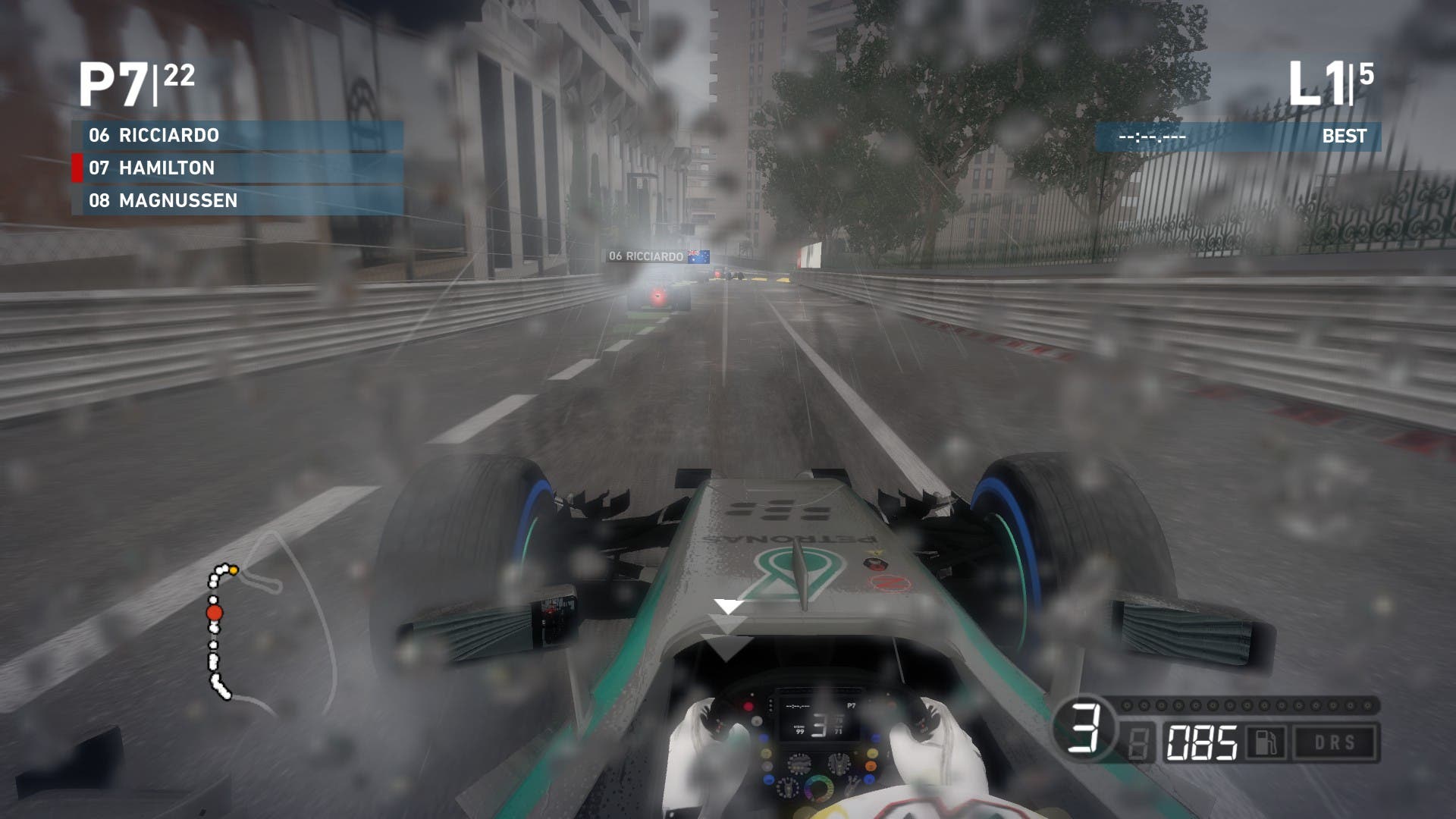 You're not Sebastian Vettel or Lewis Hamilton. You are a nobody who can become a somebody. First, you'll create a driver, choose your helmet, select your name that you want the game to call you (from a limited, European heavy list), and begin. And this year, you have the option to choose to race for any given team. Difficulty markers indicate which teams are more challenging than others. But me and my space helmet chose Ferrari, and from there it's all about my ability.
Turning off assists to make the game harder has no benefit like Codemasters' other games, GRID and DiRT. This is because F1 is more simulation focused than those just mentioned, so anything that could be a benefit would feel too "gamey". But the options are nice to have for any time of racer. This is true with the game's rewind feature, not advertised or in-your-face, but available when you go into instant replay, and especially during a long race, would be nice to give yourself an "undo".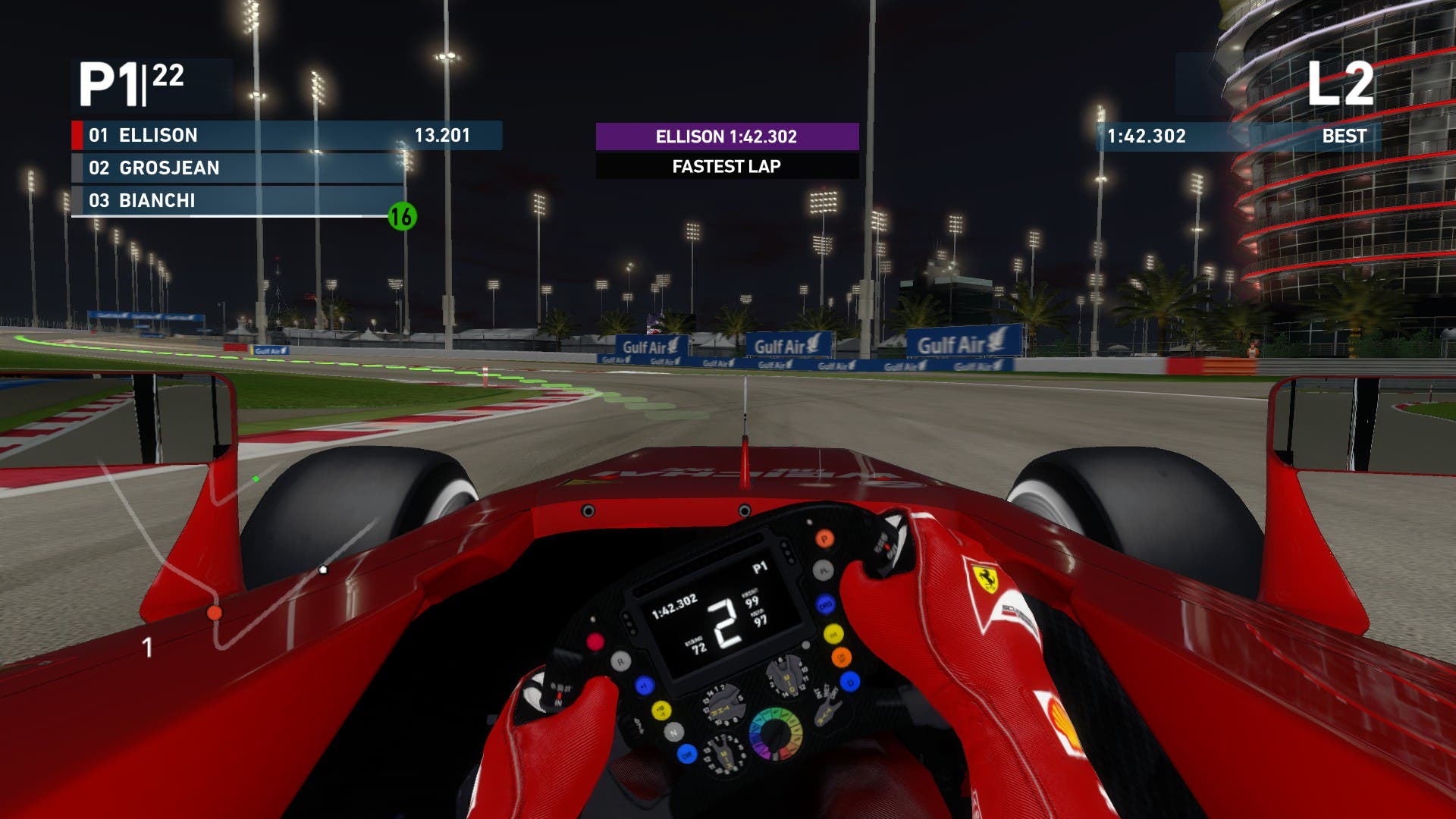 Season Mode now allows you to play through a full season, or a condensed 12 or 7 race season. Scenario Mode places your driver in a real-life scenario with voiceover that explains what you must do. It is much more detailed compared to the text-only version of last year. This year's Season and Scenario Mode have been given some polish, making them more enjoyable as a whole.
As with years prior, you are able to compete in a Co-Operative Multiplayer Season, and save your progress along the way. Regular multiplayer is available, now up to 22 drivers with AI taking over other slots. An interesting concession for last-gen's hardware not being able to accommodate more real drivers. But is more authentic to the racing experience to have the full grid.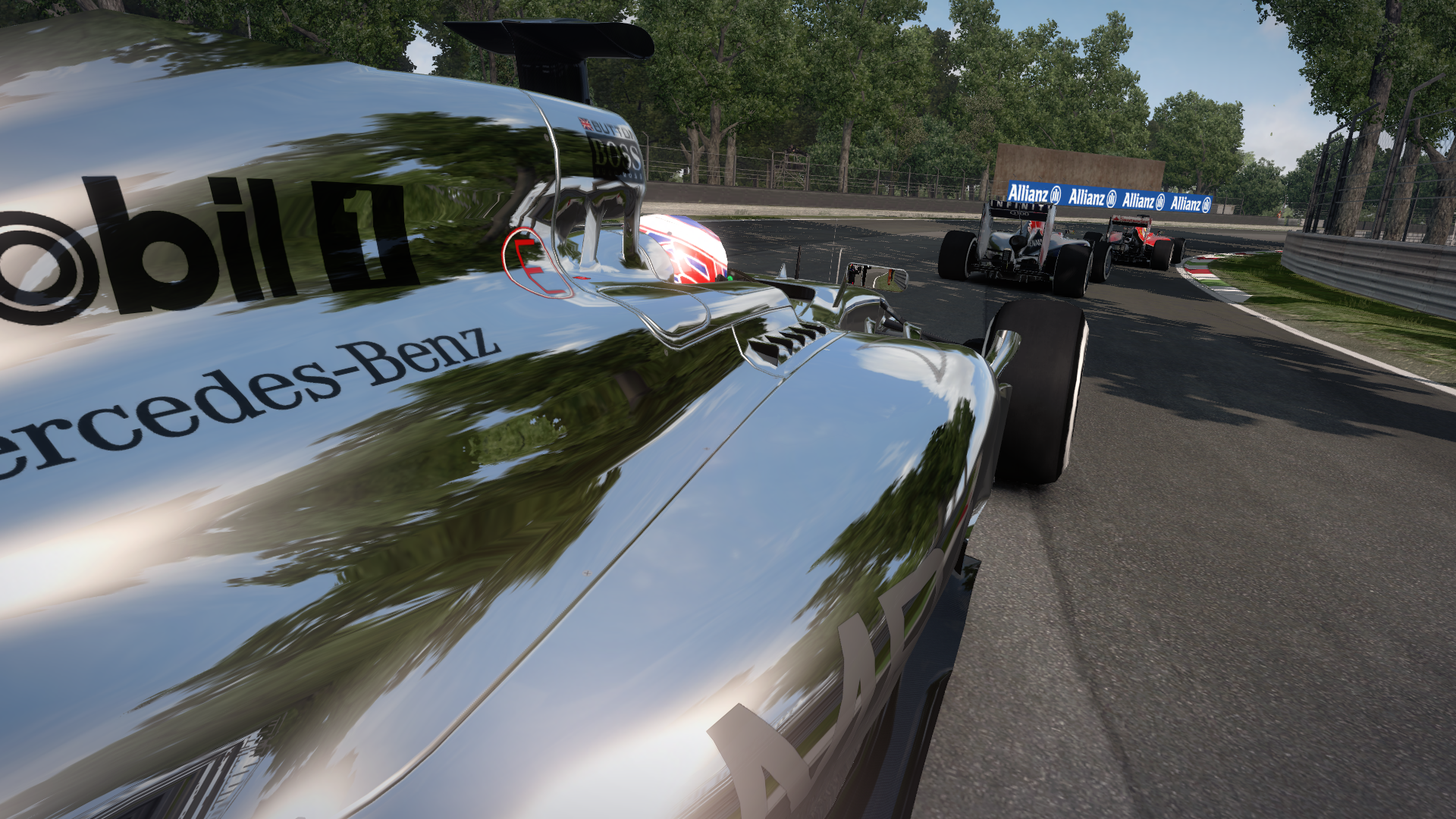 What F1 2014 lacks, is many things. Gone is the Young Driver Test, a great way of teaching everyone new and old to the systems of both Formula 1 and the game itself, is replaced by a one-lap race that determines the right difficulty for you. That's great and all, but hardly a welcome introduction to the game or series.
As such, the game does not explain any of the racing systems to you. Newcomers are sure to be lost with this year's version. After a set number of laps, and when you are within one second of the driver ahead of you, your car's DRS (Drag Reduction System) will be enabled, allowing your rear wing to take on more downforce and increase your overall speed, giving you the chance to overtake. This year, FIA Formula One introduced ERS (Energy Recovery System) to replace KERS (Kinetic Energy Recovery System) that was a mainstay since 2009. Now, ERS delivers more power automatically and overtaking can be accomplished more easily as now the system converts heat and mechanical energy into electrical energy. And the inverse is also true, making ERS more versatile than its predecessor.
Profoundly disappointingly is the removal of the "F1 Classics" mode. Its lack of having a presence in F1 2014 is felt pretty significantly. Celebrating Formula 1's past with scenarios and the ability to drive classic racecars has historical relevance that each year's game could focus on a different era, and keep expanding on.
F1 2014 is on Xbox 360, PlayStation 3, and PC. Already announced earlier this year is that F1 2015 is coming for Xbox One, PlayStation 4, and PC. The PC version is clearly stuck in the middle of this release cycle, and suffers. If you want F1 2014 on old gen, F1 2013 has more content minus the changes to Formula One racing as a whole. If you want F1 2014 on PC, F1 2015 will likely be more graphically impressive, and F1 2013 still has more content to consume.
F1 2014 just feels out of place. And it also looks like it. It's really a shame that this year's entry is so hollow. Codemasters hasn't done anything criminal here. There are many improvements, and all for the better. But the main point of contention is removal of some pretty impressive features and modes that acclimated newcomers. F1 2014 only seems to alienate, new and old fans. Complaints aside, F1 2014 is an incredible simulation of the Formula 1 you simply won't find elsewhere. A damn fine racing game with little incentive to upgrade.
A Steam code was provided by PR for review purposes