Hoplon announces an Open Beta for Heavy Metal Machines – starts today
Hoplon, the developers of Heavy Metal Machines, are pleased to announce that starting January 31, 2017, gamers of all racing stripes will be able to strap into their favorite vehicle and start tearing up the arenas of Metal City. Gamers who want to sign up for the open beta can do so by visiting www.heavymetalmachines.com.
After months of closed beta testing, Heavy Metal Machines is ready to reveal for a bigger group of fans to experience its unique brand of car combat, MOBA action. In addition to being available to more gamers, this open beta introduces a number of significant upgrades, including an all new character.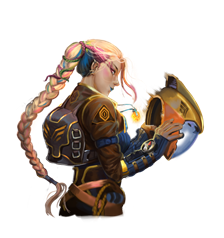 New Character
Photon is a real tech-head, so it makes sense that her vehicle in the arena is one of the most advanced support units in the
game. A support unit, capable of healing teammates, Photon is covered in individual solar panels that draw power to charge its Sparkling Engine. This technology allows this character to not only move at high speeds, but turn herself and her car as intangible as light itself!
New Features
Hoplon is also adding some significant new features to the open beta that will improve upon the experience that players in the closed beta got to take part in. Those new features include:
New Player Game Guide – From the most basic commands such as "how to move your
car" to very in-depth knowledge about droppers and goals, this is the place to learn
everything about Heavy Metal Machines.
Voice Chat – Players can now communicate with their team without the need of any external software. Just hold a key and you're able to ask for a bomb pass or announce that your ultimate is up and ready to wreak havoc in the arena.
Russian Localization – Welcome, Russian players! We are happy to announce that Heavy Metal Machines is now 100% localized to the Russian language.