The Overcooked 2 – Surf 'n' Turf DLC brings more of the same zany fun you'd expect to have in an Overcooked game, adding a sprinkle more challenge to the mix. If you're a fan of the series or just enjoy screaming at your friends, the Surf 'n' Turf DLC is right for you.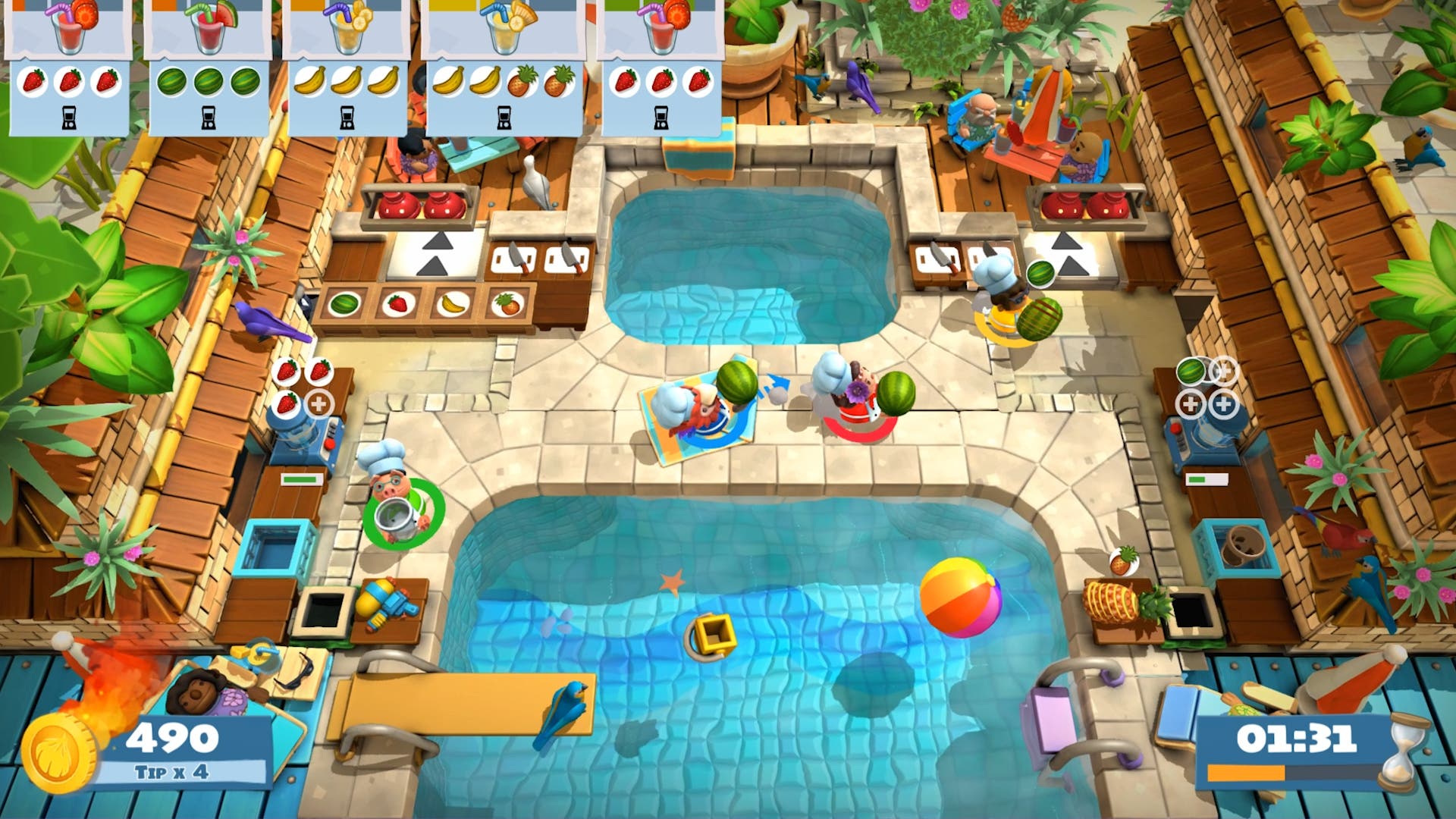 In Surf 'n' Turf, your kitchen staff is whisked away into a new tropical locale. A brand new hub world is there for you to explore with 12 new kitchens to challenge your skills. When I say challenge, boy howdy do I mean challenge. They start you off simple, only blending fruit for smoothies. You think to yourself, how hard can that be, even by myself? Well, it's tough. I found myself barely making 1 star on these new kitchens alone. It's fun, but its some damn hard work.
The DLC does not flaunter, it expects you to know your stuff and have a group of friends who are fearless as well. The difficulty is up but it's not out of reach. There was just enough of a carrot within my grasp that I felt I could do better, leading me to reload and try again. It's that endless loop some games get so right, urging me to play more and messing with my psyche; if I had been a teensy-but more perfect, I would have aced that kitchen.
Setting that bowl of difficulty aside to rest a minute, The theming of Surf 'n' Turf is fun. It's lighthearted and enjoyable. They try to let you feel that sense of calm and relaxation to compliment the anxiousness and stress that comes from completing orders in a timely manner. Most of the kitchens here are small in scale. Your orders don't get too involved, leaving the difficulty for your counter space and maneuverability around the kitchen. Take that first kitchen as an example, there's only one lane connecting each of them and a conga-line of guests will clog it up. If you don't time your moves right, you'll get stuck and waste precious time. You'll want to throw ingredients across to each section. But if you miss and they land in-between, they're lost forever. There's no route to go pick them up. Utilizing more people can alleviate some of the frustration but as with the main game, communication becomes absolutely key.
As I mentioned earlier, the recipes found in Surf 'n' Turf aren't anything too complicated. You'll have to make smoothies with fruits like bananas, pineapples, strawberries, and watermelons. You'll cook up some Kebabs with familiar ingredients from the main game. Plus there are things like burgers to deal with. You'll encounter some new equipment as well, like a water gun to clean from a distance or to extinguish fires.
If you're looking for more Overcooked 2, Surf 'n' Turf is that second helping you're asking for. The kitchens are well designed and the pace is just as tense. It's got that same flavor as before, but is just a little heartier, satisfying your growing appetite.
A Steam code was provided by the publisher for review purposes