The SSD market has come a long way since the early days of high prices and relatively low capacities. The performance gains of NAND flash memory over traditional mechanical hard drives were immediately apparent, though, and compelling enough to convince plenty of early adopters to jump on board to enjoy faster load times for their OS and most-used applications.
We're at an exciting point where the price per Gigabyte has come down significantly, and SSDs are much more accessible to a wider range of consumers, which means there's plenty of room for more players to sell drives. Enter SK hynix, a major manufacturer of memory semiconductors based out of South Korea. They're the third largest manufacturer in the world, which is a strong pedigree for a company jumping into making consumer drives for the US market for the first time.
Starting out at just $49.99 for the lowest capacity 250GB version, the S31 is an aggressively priced drive that performs well and is clearly designed to help SK hynix carve out a foothold in the crowded market.
What's In the Box
The S31 is a no-frills product, and what you get in the box is the drive and nothing more. No mounting accessories, no adapters, no extra software, nada. This isn't necessarily a problem so long as it isn't your first time installing an SSD in your computer, and even then, if you're built your own you probably have whatever you need laying around to mount the drive and get it connected, but it's worth pointing out that this is very much a no-frills package that's geared toward delivering the product at a narrow margin, so if you think you might need additional gear to install SSD or software to manage it, you'll need to purchase that additionally.
The packaging itself is nice looking and it helps lend a more premium feel to the product overall, but you won't think twice about it once you've pulled the drive out and installed it.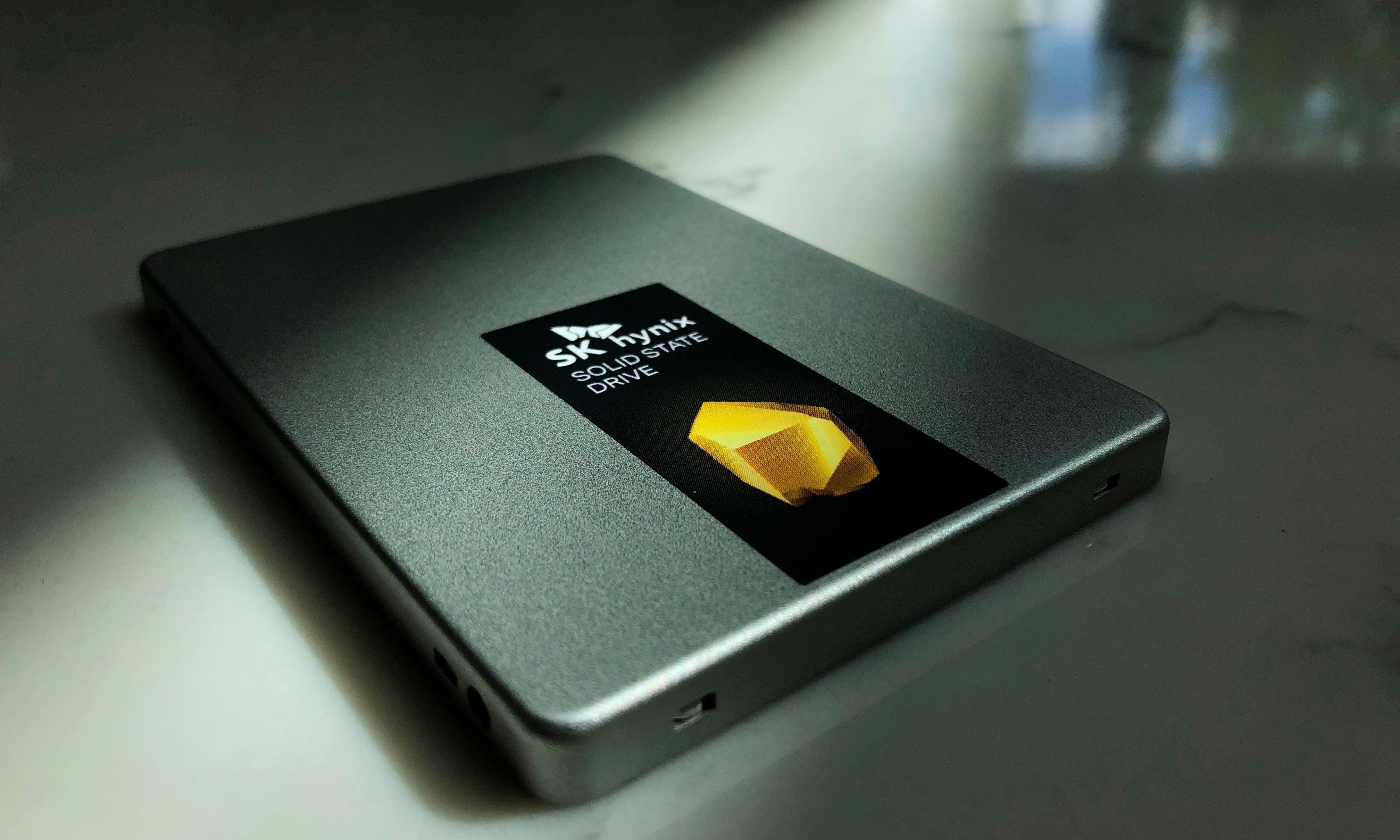 Performance
What really matters is how the drive performs in every day use. Anecdotally, the drive performs comparably with most other SSDs in the same class. Apps load up quickly, file transfers are snappy, and generally speaking performance is well in line with what you'd expect from most mainstream SSDs in 2019. The TBW rating is a little on the low side compared to most of the competition, but if you're not doing write-intensive operations on the regular (like photo and video editing, for example), this doesn't really matter too much.
As for actual performance metrics, here are some benchmarks to demonstrate exactly where the S31 sits in relation to the competition
Crystal Disk Mark
| | SK hynix S31 (1TB) | Samsung 860 EVO (1TB) | Crucial MX300 (525GB) |
| --- | --- | --- | --- |
| Sequential Read | 563.32 MB/s | 563.40 MB/s | 532.30 MB/s |
| Sequential Write | 514.43 MB/s | 533.70 MB/s | 508.20 MB/s |
| Random Read 4KiB (Q= 8,T= 8) | 406.76 MB/s | 405.00 MB/s | 370.90 MB/s |
| Random Write 4KiB (Q= 8,T= 8) | 352.19 MB/s | 362.70 MB/s | 338.80 MB/s |
| Random Read 4KiB (Q= 32,T= 1) | 341.16 MB/s | 343.30 MB/s | 279.00 MB/s |
| Random Write 4KiB (Q= 32,T= 1) | 319.66 MB/s | 329.40 MB/s | 259.50 MB/s |
| Random Read 4KiB (Q= 1,T= 1) | 31.65 MB/s | 44.49 MB/s | 28.43 MB/s |
| Random Write 4KiB (Q= 1,T= 1) | 98.07 MB/s | 111.60 MB/s | 98.87 MB/s |
There's nothing immediately surprising about the numbers here; the S31's performance falls roughly in line with other drives in a similar class, beating out one of Crucial's older offerings in most cases and staying within spitting distance of Samsung's popular mid-tier EVO series.
Given that the performance difference seems fairly slight in most cases, which to buy comes down to pure preference. If you're looking to shave off a few dollars on an expensive build, you can sacrifice some small performance differences to save ten bucks on the SK hynix drive, which isn't a bad compromise.
ATTO Disk Benchmark
SK hynix S31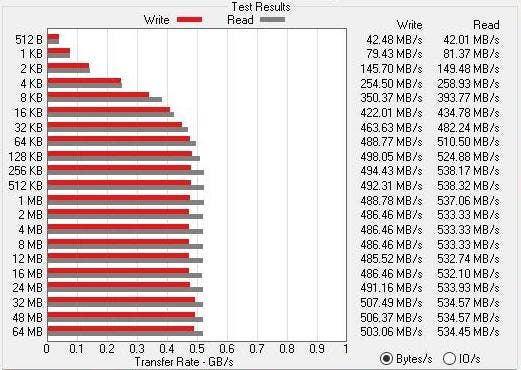 Samsung 860 EVO
Crucial MX300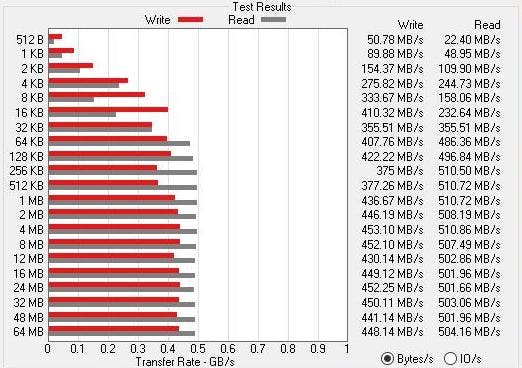 Again, nothing too surprising in this set of benchmarks. The S31 mostly keeps close to the 860 EVO in terms of performance, but doesn't quite achieve the same highs. Somewhat notable is the fact that the discrepancy between the S31's read and write speeds is relatively low, also putting it in a similar weight class to the 860 EVO, but clearly a step above the Crucial drive used for this test. Crucial's current competitive offering, the MX500, comes in a little cheaper than the S31, but the performance difference is broad enough that you'd almost certainly want to choose the S31.
Specs:
Form Factor: 2.5
Bus: SATA III
Sequential Read: 560 MB/s
Sequential Write: 525 MB/s
Controller: SK Hynix "Quartz"
Maximum NAND cell depth: 3-bit
Stacked: 3D NAND
Number of Layers: 72 stacked
Logical main NAND type: TLC as TLC
NAND cache type: TLS as SLC
Available Capacities: 250GB/512GB/1TB
Price per Capacitiy: $49.99/$69.99/$118.99
TBW rating per capacitiy: 200 TBW / 300 TBW / 600 TBW
Warranty: 5 years

Wrap-up
The S31 Gold SSD is a solid first entry from SK hynix, coming in as a strong competitor in a highly saturated market that will keep pace with most upper-middle tier SSDs. Its price point is essentially perfect for the performance on offer, and in practical use it works like a dream once installed. Time will tell how the drive fares as it ages, and how the rest of SK hynix's line compares as they roll out more models. It's certainly not the best option available in its weight class, but for a first-time effort, this is a competitive offering and it is almost as good as you could ask for. And for the budget-minded, the S31 could be an ideal way to split the difference between price and performance.