When DiRT 4 released in 2017, I thought it was a great racing game that offered both simulation and arcade playstyles for different kinds of players. Though, this lack of commitment to either was ultimately a problem. As a result, I felt that it was in a crisis of identity and personality, to which it had neither. Codemasters heard these complaints, because DIRT 5 doesn't have that problem. DIRT 5 is beaming with personality, full of off-road arcade excitement, and every location is vividly detailed, while nearly spilling mud into your lap with every turn – a game that is next-generation, top to bottom.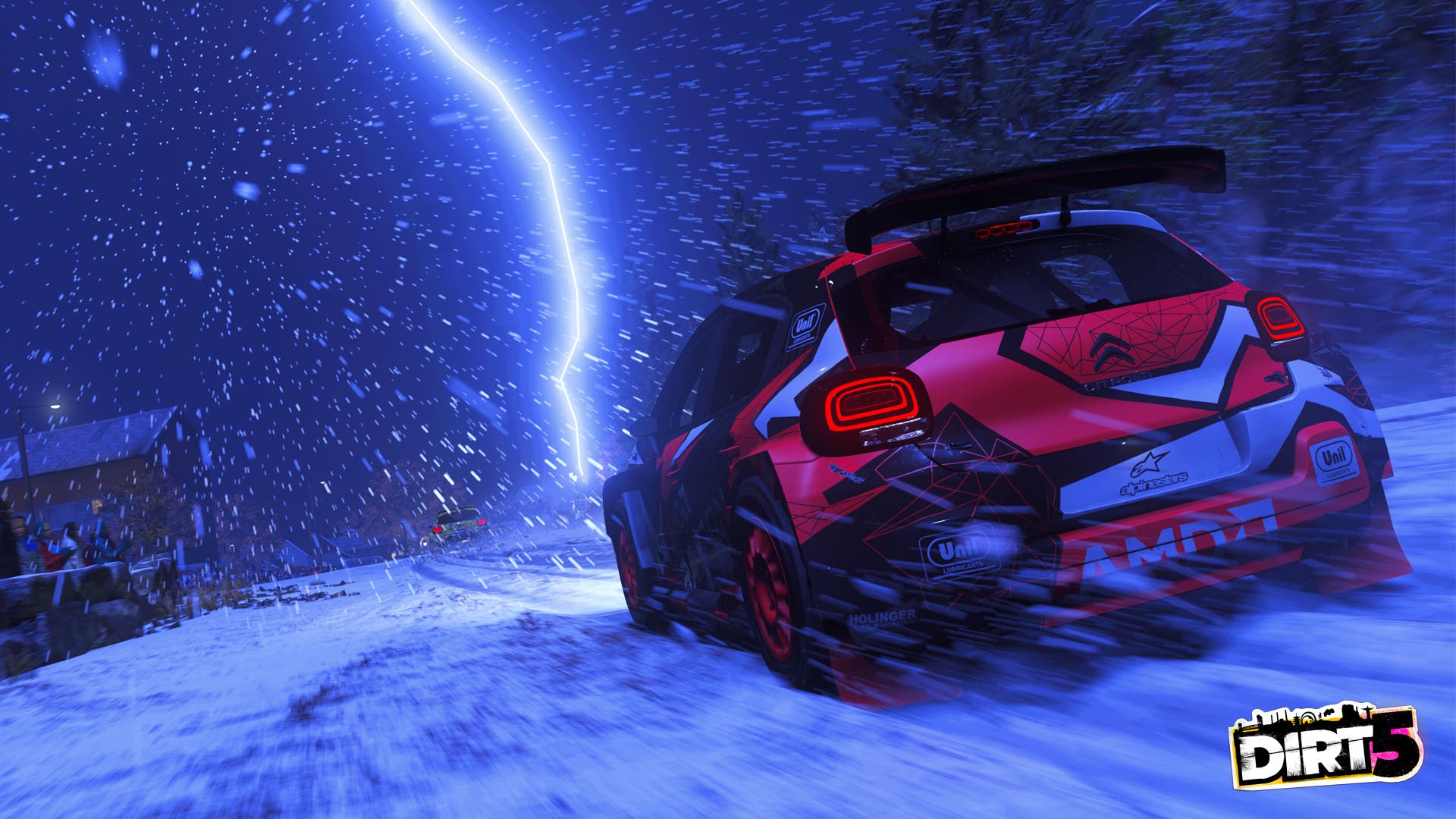 DIRT 5 returns to what made the series popular with the festival and bright colors of DiRT 2 and DiRT 3. The look and feel could be likened to something like Forza Horizon 4, but there's no open-world to traverse. This is very much the arcade racer that this series is known for. Since DiRT Rally 2.0 has now sunset, there's not really a place for those players to go. Many may not like what's available here, especially in terms of handling and controls. Each outing in the game's off-road adventures is a closed track of either circuits, point-to-point, or arenas. There's a wider appeal for a larger audience.
Races are split across several modes: Gymkhana, Rally Raid, Stampede, Path Finder, Land Rush, Ultra Cross, Sprint, and Icebreaker. Ultra Cross is new in name, but it's just an amped up version of Rally Cross. Gymkhana tasks you wish performing the most daring drifts, donuts, and jumps within a set time for the highest score. Ice Breaker is totally new, and puts racers on a closed circuit, completely on ice. Ice Breaker is not only the most visually impressive, but the most demanding, skillswise. I think Path Finder is the next closest, skill-based race type as you have to use power to climb hills, but conserve it so you don't overshoot your jump into a wall, as pacing is key for getting fast times. You'll notice very quickly there's no proper Rally events, there's not even a co-driver for any of the game's modes. You can create your own by setting up a Rally Raid event, setting everything you want to race on, and only having one grid position. This will get you the closest to having Rally in-game, I hope they get added properly sometime in the future.
The campaign is split into chapters with dozens of races, splintering off from one another like branches in trimmed tree. Some events will be locked off via requirements of just completing the event prior, or obtaining a certain number of stamps. As you progress through the chapters, you'll be challenged to a throwdown, which is a one-off event against a single AI player in a boss battle, of sorts. There's thirteen in total, but the stakes are low with no discernable difference in difficulty than any other race. So when you're done, there's not this grandiose moment that you've defeat someone worthwhile. So these moments just feel like any other event than something momentous. There's a lot of events in this campaign to keep you going for over a dozen hours.
What's interesting, is that it doesn't matter if you place first in DIRT 5. At least, not by itself. There are randomly generated objectives to complete, three in total. Completing objectives, and placing well earn you stamps. These stamps are then collected towards progression. Based on the type of race it is, races may be earned solely by getting the fastest time. The objectives, by being randomly generated has its share of concerns. Sometimes the objectives are too easy to achieve, usually within the first thirty seconds or even first lap. Other times, they task you with completing one or two that go against your chances for winning. You can re-roll objectives before you start a race, but it's sometimes hard to tell what's achievable or not before you get into them. The stamps system works well, and is a frictionless way of getting through the campaign that doesn't rely solely on wins in order to progress.
New to DIRT 5 is Playgrounds. It allows you to create, share, and play user-made tracks. The game types you can create are Gymkhana, Smash Attack, and Gate Crasher, all based in an arena. There's a lot of verticality to these levels, and there's a mix of what Codemasters has built, and what some players prior to release have put out. It's off to a great start, and the tools are simple to use, and offer a lot of flexibility in making the kinds of things you yourself would want to play, let alone others. It's a solid mode that will offer longevity after you've exhausted the campaign.
The game's multiplayer supports 4-player split-screen and online for groups of four with more players in each session. Online multiplayer consists of races and party games. The party games feature fan favorites like Vampire, King, and Transporter to delight all. If you're playing the arcade mode or just over split-screen, you can create your own races. Beyond picking one of ten locations, race type, you can set the weather to be dynamic, or something defined like clear, rain, or snow. You can also set the time from a fixed point or at a rate of 30x speed for a progressive time of day during a single race. The weather is easily the best thing in the game, and it's great to have so much control over it for several modes.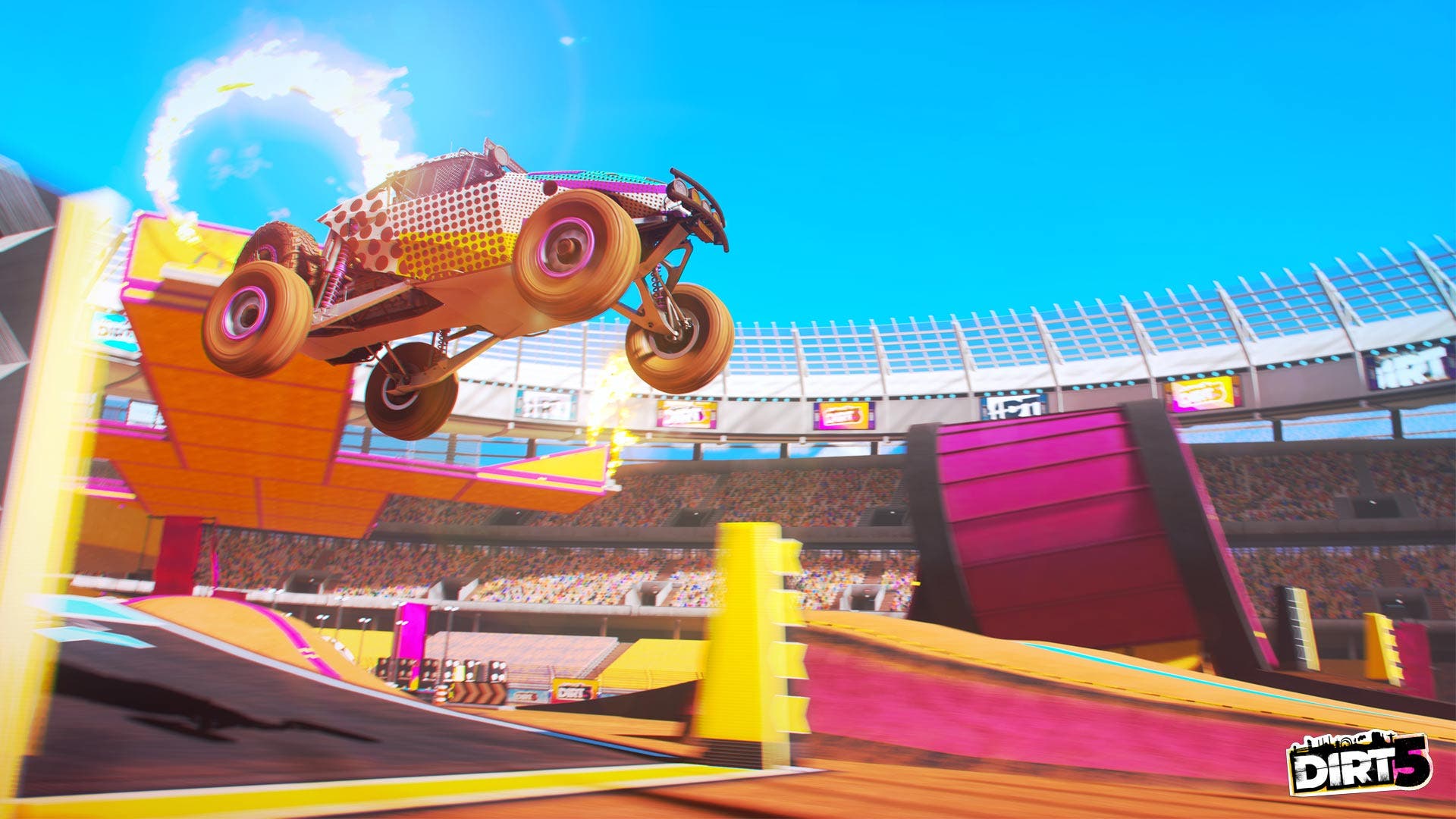 Customization is a big aspect of DIRT 5, not in a gameplay sense of course, but for putting your personal stamp into the race or for others to see online. With player cars, you can create several of your own liveries or unlock specialized ones created for the car in-game. The liveries you can create are nearly limitless, and will be able achieve the look you're going for. For some reason, you can't customize the license plate to say what you want, so I hope you like seeing "DIRT 5" on every car you see. Despite all of the customization, you won't be able to upgrade cars, or tune them for that matter. All the vehicles have set statistics, for better or worse. In terms of a player avatar, you're given a badge that represents the festival nature of the game. You can customize the badge and lanyard, and even adorn it with stickers and special effects. It's nothing revolutionary, but it's different than what you get anywhere else. The game asks what y ou want to be called, but you have a selection of over one hundred nicknames, and sadly there's no "Hawk" audio, but there's a good amount of things. I settled on "Kitten" for a while, and there's something great about having Troy Baker call me 'kitten' all the time.
Troy Baker and Nolan North are together again. AJ is played by Troy Baker, who is not only a racer but a kind of mentor in-game. Nolan North voices Bruno, a complex character that becomes a long-term adversary. James Pumphrey and Nolan Sykes of Donut Media are also present in the game, with hosting the DIRT Podcast. That's four personalities in-game, and they're very overwhelming especially when they're all together. This podcast is only heard in the main menu, so it becomes awkward to just sit there while it happens. You could work on a livery, but if you're itching to go into the next race, you just kinda miss out. The podcast helps move the narrative forward with the interviews and interstitial discussions. It's an interesting way to convey information, but not executed the best. The sound bytes from AJ get extremely repetitive. Especially when an objective wants you to trade paint, that means making contact. That then also means that AJ will scold you for being too aggressive. The voices and personalities provide verve when going through the menus, that any other way would be lifeless.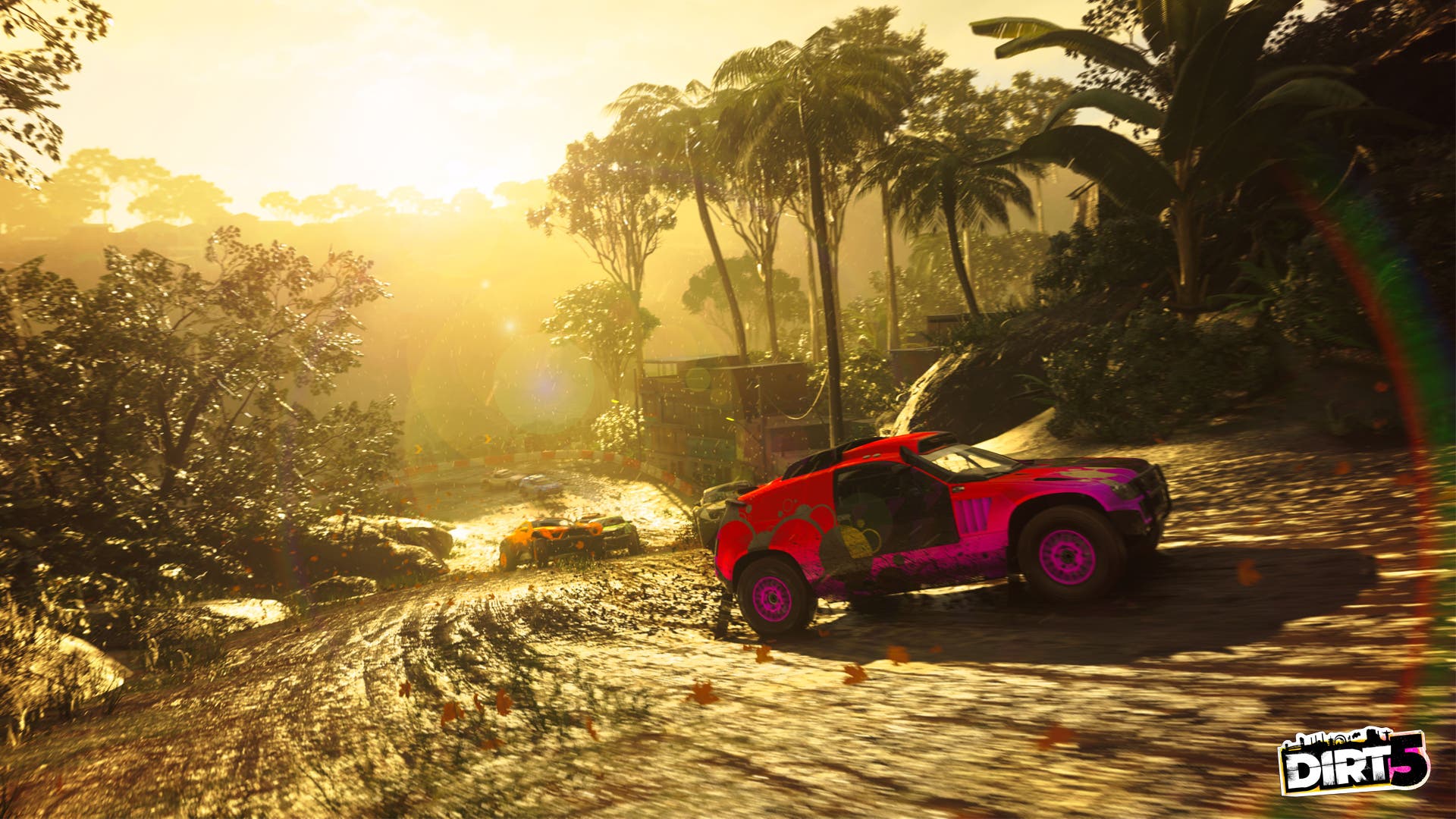 Sponsors play a fundamental part of the game in terms of earning cash and unlocking rewards. You can switch sponsors at any time, and the more you race with them and fulfill obligations, you'll be given rewards that all go towards customizing your vehicles. Sponsors can get maxed out, at level 15. Once you've done everything, you should switch to another as soon as possible to start earning new things. If you place well and satisfy what the sponsor asks of you, money comes very easily in that
Codemasters put a large focus into weather as well as time of day. It's a big deal, and all the better for it. Bright and vivid colors pop everywhere you look. On locales such as Norway, the pink skies actually illuminate the ground below onto the snow, giving it the same hue. It reflects realistically that is very immersive. At night, the skies explode with color as fireworks go off and pyro is sent up into the atmosphere. Whether it is raining or snowing, the ground softens up and you can see all of the tread marks left by previous racers. This game is so wet it should be called MUD. DIRT 5's visuals set a new bar of fidelity as we transition into the next generation.
DIRT 5 has some issues to work out, from minor things like droplets not hitting the windshield of cars to major ones like crashes to desktop. In fact, this game crashes more than Richard Hammond behind the wheel of a hypercar. Most of the bugs I've seen are visual in nature, and some of the gameplay ones do not impact the overall enjoyment. I was able to consistently get 60-80fps, with an average of 65fps. This isn't bad at all, but for a game that offers 4K60fps on the upcoming Xbox Series X and PlayStation 5 consoles, hitting just over 60fps in 1440p feels a bit too low on PC. On the whole, these issues certainly complicates things and adds up, but I think it is something can be smoothed out in future patches and updates.
My PC Specs:

– Microsoft Windows 10 Pro
– Intel Core i9 9900K @ 5Ghz (Turbo)
– Corsair H115i RGB PLATINUM 97 CFM Liquid CPU Cooler
– Corsair Vengeance RGB Pro 32 GB (2 x 16 GB) DDR4-3200 Memory
– EVGA GeForce RTX 2080 Ti 11 GB XC ULTRA GAMING
– Seagate FireCuda SSD (500GB)
– Seagate BarraCuda SSD (1TB + 2TB)
– OWC Aura P12 SSD (2TB)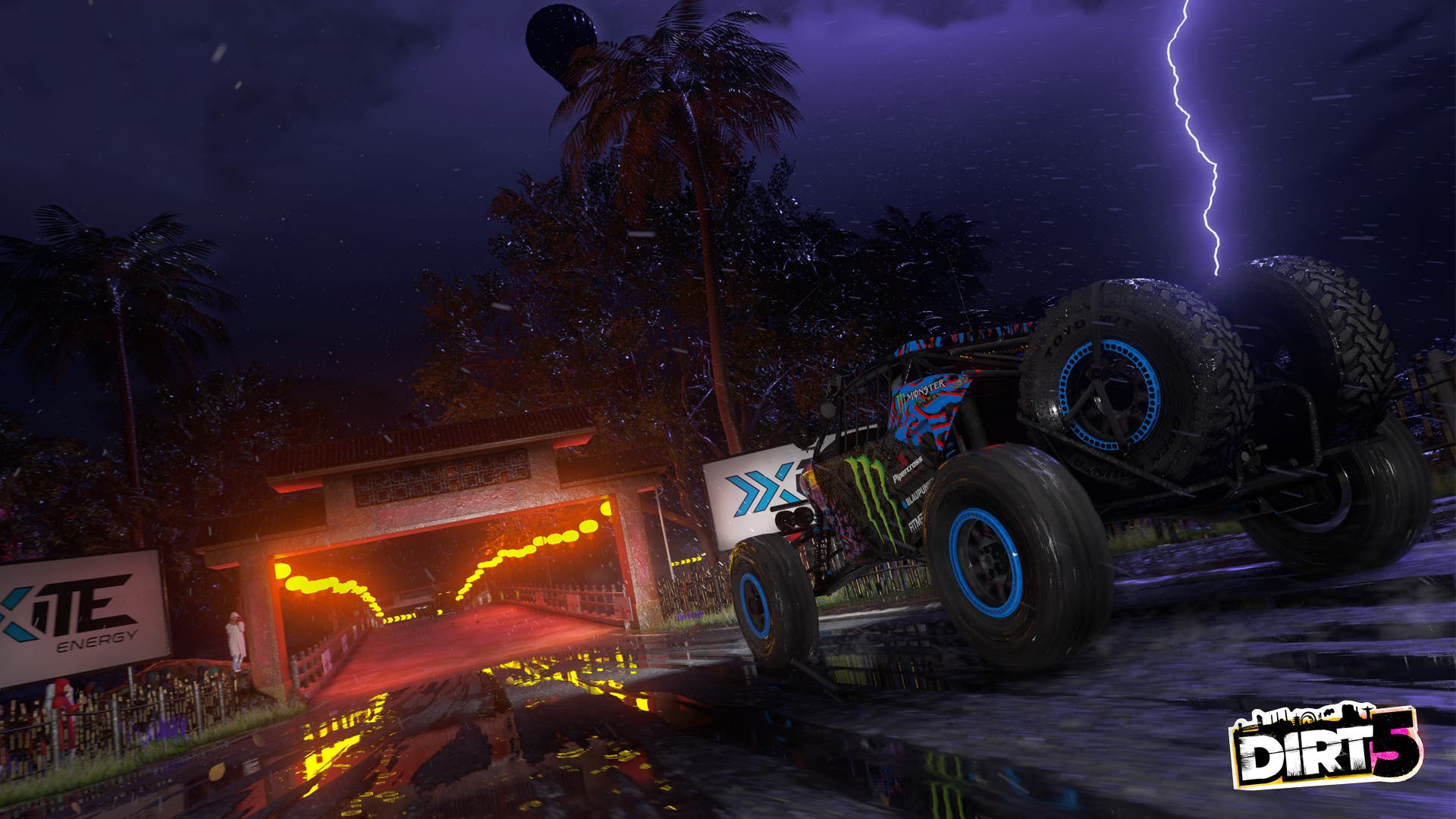 Performance issues and bugs plague what would otherwise be a tremendous game on PC. This is a beautiful game, worts and all, presenting a complex use of particle effects, ultra high textures, and active scenery to tantalize. DIRT 5 is a combination of many styles and disciplines in all things off-road, offering something for everyone. It's an incredibly social game, too, begging to be played with friends near or far. This is very easily the best parts of DiRT 2 and DiRT 3, which adds up to DIRT 5 — that's just math. Codemasters puts fun first, an intrinsic element of all racers, with DIRT 5 excelling at that amid its accessible gameplay and gorgeous graphics.
A Steam code was provided in advance by the publisher for review purposes