The successor to Steep by Ubisoft Annecy is Riders Republic, a game that puts social at the center of everything it does. A steep improvement by being more attractive and has the most important f-word in gaming: fun. With so many options available to you, this extreme sports adventure is in your hands. One minute you can be racing down a mountain in a bicycle, and the next collecting one of the many collectibles, then visiting a landmark. Riders Republic's seamless blend of multiplayer, coop, and singleplayer action works on such a massive scale that it's astounding.
As you become part of the titular republic, you'll have a lot of ridiculousness that instantly reminded me of Amped 3 with using words like "twangle". Steep was self-serious, and Riders Republic couldn't be further from that. When it's time to get down to business, the game asks you to choose between 'racer' and 'trickster' control schemes. Everyone should select racer, as trickster are for more advanced players, and offers more control in the trick, but they're just a portion of the whole game. Once you're in and taking on the different events, you'll find an extreme sports game that takes place in what feels like late Winter and early Spring, encompassing everything from snowboards to mountain bikes to wingsuits. The gameplay feels familiar to both Steep and some Descenders sprinkled in. Which is to say that it's a game that both looks and plays great, making you feel like a pro from the get-go.
Across three sports: mountain bike, ski & snowboard, and wingsuit & rocket wingsuit, there are five careers to chase. You've got bike races, bike tricks, snow races, snow tricks, and air sports. It'll be easy to find one or two sports that speak to you. Branching out is encouraged not only to diversify but also see all there is to offer (which is a lot). There's separate leveling for career (see: player) and the individual sports. Reaching certain tiers in each sport nets you new rewards. Nothing feels forced or that doing yourself a disservice by only focusing on one area. But things do move faster if you engage with them all. If none of that seems appealing, there's a "Zen Mode" that removes all progression and barriers to just let you play and explore without impedance.
Riders Republic uses a solitary system for progression: stars. Stars are earned by just finishing a race, and you don't even have to achieve first place to get them. Secondary objectives may task you with finishing in first place, or by not crashing, achieving a certain time or score, or using a specific vehicle to cross the finish line with. With a max of 7000 stars to obtain, there's lots to do. Not all stars can be obtained the first time, needing to play a race multiple times to get them. It's a system driven only by your own desires to progress and unlock new things, and not by any other governor.
Riders Republic uses a map stitched together by AI by pulling real parks found in the United States from California, Utah, and Wyoming. It strings together these locales to form extreme courses that are exhilarating playgrounds. You've got Mammoth Mountain, Yosemite Valley, Grand Teton, Sequoia, Bryce Canyon, Zion, and the Canyonlands to traverse. It's simply stunning seeing these locations up-close and personal as you do. Nothing about this map feels forced or even too big. It's a massive landscape that utilizes its space well.
There's a first- or third-person view to play. Initially, I was opposed to the first-person view as it felt "too fast" and essentially sensory overload. After a few hours in, first-person is more or less my go-to across all sports, except the wingsuits. First-person view more advantageous in all scenarios where there are others on the track. This was so that I wouldn't have to find myself, often getting lost in the shuffle of bodies and make a mistake. No matter the view, the animations are stellar. Your bike and body will expand and collapse like an accordion to the rough and tumble environments, flexing to the track as you plummet down it. There's a lot of details given to animation and cameras that I really commend.
There are a few gripes I have with Riders Republic. First, doing tricks is a bit awkward under the racer controls. When in the air, you'll be tempted to hold right trigger, but doing so will initiate a trick. More often than not, an accidental cool combo is triggered, only for face to meet dirt. It's annoying in the first few hours, but you'll learn its nuances, or switch to the trickster control scheme. Secondly, and maybe most importantly is that the cosmetics are way too expensive. The shop has items that can be bought using the money earned from playing, but the "good stuff" requires real money. And with multiple versions at various costs, it feels a bit egregious to ask even more money from its consumers so early.
Since this is a game meant to be played online, you'll see players with ghosts populating the landscape. The game always feels full of life, like it's the opening weekend of a park. There's a multitude of multiplayer options to enjoy, such as free-for-all races and tricks, trick battles as a team, and versus. Riders Republic will be remembered and praised for its Mass Races. It's here you and 63 other players will compete in multi-sport races across vast distances for the coveted number one position of rewards and bragging rights. Mass races are utter chaos as it's one of the few modes that enables player collision, and ensures hilarity. Whenever the mass races begin, you can see all players scramble to its location, and it's exciting every time.
Sound has a particular role to play in this game. It's something that can be done so right, or so wrong. Thankfully here it is the former. You'll hear the gravel bouncing off the rim of the tires, the wheels spinning while in gear, the crunch of the snow below the board, and even the air ripple through a parachute. This level of attention cannot be understated, and is one of the many highlights of the game has to offer.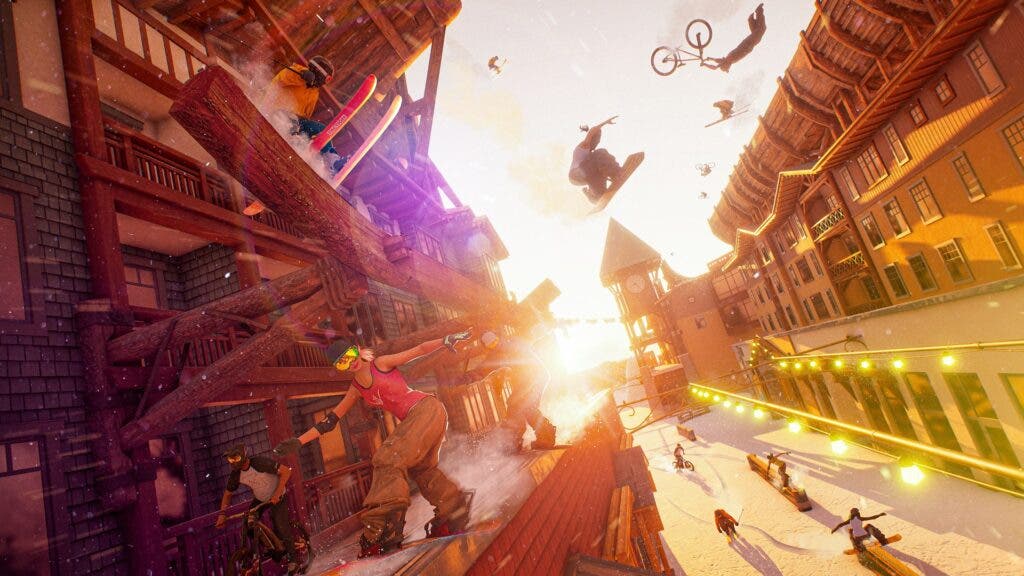 There are certain times where I was in complete awe of Riders Republic. Not only is this a game built for photo mode. Just the way the sun washes over you is enough to stop and stare. I'm hesitant to list this as a complaint, but there's a lot of pop-in when navigating the world. It's especially noticeable when traversing the open-world with a high-speed vehicle. Depending on how you feel about pop-in, this could be a deal breaker. I was able to get 120-140fps on average while playing. It's so gorgeous to see in motion, which is why I'm glad you select the time-of-day from the map screen. Since this is controlled client-side, you're able to select whatever time of day suits you – not what the server's time is.
My PC Specs:

– Microsoft Windows 11 Pro
– Intel Core i9 9900K @ 5Ghz (Turbo)
– Corsair H115i RGB PLATINUM 97 CFM Liquid CPU Cooler
– Corsair Vengeance RGB Pro 32 GB (2 x 16 GB) DDR4-3200 Memory
– EVGA GeForce RTX 3080 Ti 12GB GDDR6X FTW3 ULTRA
– Seagate FireCuda SSD (500GB)
– Seagate BarraCuda SSD (1TB + 2TB)
– OWC Aura P12 NVMe SSD (2TB)
Riders Republic is fast, frenetic, and unequivocally fun. Representing the best of extreme sports with a splash of personality. It's X Games meets Ridiculousness. This is why we come to games: for fun and adventure. Ubisoft Annecy took lessons learned with Steep and Riders Republic is better game because of it. Riders Republic is rambunctious freedom with harrowing sports that's unparalleled excitement.
A Ubisoft Connect code was provided by the publisher for review purposes