From Press Release:
LOS ANGELES, CA – July 28th, 2022​ – Akupara Games, alongside developers Paul Hart and Lee Williams, announces upcoming dungeon crawling adventure game, Cryptmaster. A darkly comedic adventure through a sprawling underworld, you'll need to find clever solutions to intricate problems if you want to escape. Think outside the box to outsmart enemies, progress through obstacles, and solve the mystery at the heart of your own damnation!
Cryptmaster is now available to wishlist on Steam!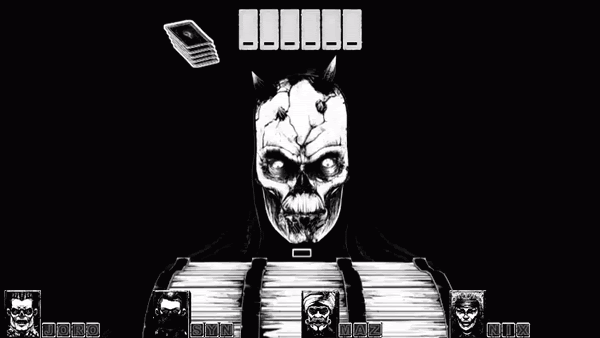 Cryptmaster is a narrative adventure with a nostalgic visual style about a party of recently awakened dead heroes. An eccentric figure, known only as the Cryptmaster, tasks you to journey upwards through the strata of several fantastic underground kingdoms. Along the way meet a myriad of quirky characters, find cryptic puzzles, and combat classic enemies all by typing out your actions!
An irreverent quick-witted adventure, Cryptmaster arms players with the freedom of exploration and approach to every situation. Everything from responding in conversation all the way to attacking a skeleton is triggered by the player typing how they would like to respond. Journey your way through the underground using your words and your wit!
Features:
Say Anything You Want – Interact with the world and conquer quests by typing or speaking any word you can think of – each encounter has multiple solutions to discover!

A Weird, Wild World – Travel through mysterious underground kingdoms and meet talking doors, flirtatious toads, sarcastic ghouls, and more.

Noun You're Playing With Power – Dungeon battles fueled by words – decipher forgotten spells, then type their names in battle to unleash the might of your undead heroes.

Endlessly Evolving Gameplay – You'll constantly encounter new gameplay mechanics – from creature collecting, to card combat, to bard rap-battles & more.
About Paul Hart and Lee Williams
Paul Hart is a programmer and artist with a great deal of experience in the games industry, having previously worked for a number of large studios including PikPok, Creative Assemly and Facepunch. Lee Williams is a writer and narrative designer who has worked on games published by Ubisoft, Epic, Nightdive, and Choice of Games, among many others. His most recent writing credit was for Valheim. This is Paul and Lee's second collaboration, having previously worked together on Fistful of Gun.
About Akupara Games
Akupara Games is an indie game studio based in Los Angeles, California. Composed of veterans of the game industry, Akupara Games focuses their energy and resources as an "indie for indies" studio by providing premier support to other indie studios through development, publishing, porting, and advising. Their mission statement ensures that each project receives a unique experience and personalized support. For more information, visit: AkuparaGames.com